The 2019 Epcot International Flower and Garden Festival takes place March 6 through June 3, 2019. A popular element of the Festival are the Outdoor Kitchens (food booths). This year we'll see 17 booths plus additional locations and their menus were just released!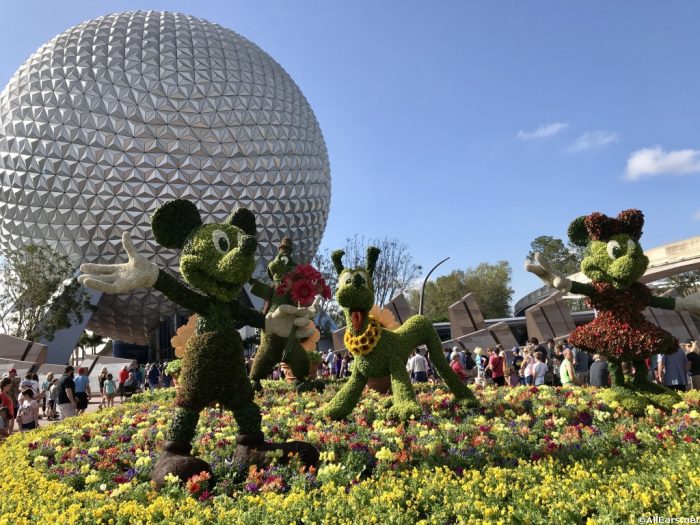 Read all the menus and make your list of must-tries now!
(V) Indicates Vegetarian Friendly Item
(GF) Indicates Gluten Friendly Item
(KA) Indicates Kid Approved Item
Arbor at The Gardener's Terrace – NEW!
Food
Fried Green Tomatoes with Blue Crab-fennel Salad, Remoulade and Smoked Paprika Oil
Smoked Salmon Stack with Avocados, Tomatoes, Sour Cream, Caviar and Focaccia Crostino
Mixed Berry Buttermilk Cake, served with Apple Cider Sorbet (V) (GF) (KA)
Beverage
Original Sin Brewery Black Widow Hard Cider, New York, NY
Florida Beer Company Caribé Strawberry Rose Hard Cider, Cape Canaveral, FL
3 Daughters Brewing Key Lime Apple Hard Cider, St. Petersburg, FL
Karbach Brewing Lemon and Ginger Radler Houston, TX
Seadog Brewing Company Sunfish Ale, Clearwater, FL
Shipyard Brewing Company Grind the Rind Watermelon IPA, Portland, ME
Cider Flight
Beer Flight
Flavor Full Kitchen Hosted by AdventHealth – NEW!
Food
Citrus-poached Salmon with Ancient Grain Salad, Roasted Vegetables, Citrus Greens (GF)
From the Garden: Roasted Beets, Cashew Cheese and Micro Herbs with Lemon-oil Dressing (GF) (V)
Mickey Tart Peanut Butter Mousse with Strawberry Jam and Boba Pearls (V) (KA)
Beverage
Blood Orange Aqua Fresca (non-alcoholic)
Cookie Butter Worms and Dirt (non-alcoholic) (KA)
The Citrus Blossom — NEW!
Food
Lobster Tail with Meyer Lemon Emulsion and Grilled Lemon (GF)
Tuna Tataki with Spicy Yuzu Glaze, Mango, Avocado and Pappadam Crisp
Crispy Citrus Chicken with Orange Aïoli and Baby Greens (GF) (KA)
Citrus Shortcake: Orange Chiffon Cake, Lemon Curd, Mandarins, Whipped Cream, Citrus Crumble (V)
Beverage
Orange Cream Slushy in a Souvenir Orange Bird Sipper Cup (non-alcoholic) (KA)
Islamorada Beer Company Coconut Key Lime Ale, Fort Pierce, FL
First Magnitude Brewing Lemon Hefeweizen, Gainesville, FL
Heavy Seas Brewery TropiCannon Citrus IPA, Halethorpe, MD
Orange Sunshine Wine Slushy
Beer Flight
Trowel & Trellis Hosted by IMPOSSIBLE™ Foods – NEW!
Food
Grilled Street Corn on the Cob with Savory Garlic Spread (GF) (V) (KA)
Farmhouse Meatball with Lentil Bread, Spinach, Marinated Vegetables, Creamy Herb Dressing (V)
Chocolate Pudding Terrarium with Avocado Cream, Matcha Crumb, Pomegranate and Baby Herbs (GF) (V)
Beverage
suja® Organic Cold Pressed Juice: Noon Greens™ (non-alcoholic)
suja® Organic Cold Pressed Juice: Vibrant Probiotic (non-alcoholic)
Bloomin' Blueberry Lemon and Ginger Tea featuring Twinings of London® (non-alcoholic)
Playalinda Brewing Company Tropical Wonderland Wheat Ale, Titusville, FL
Bloomin' Blueberry Lemon and Ginger Tea featuring Twinings of London® with Tito's Handmade Vodka served in a Mason Jar
Northern Bloom
Food
Seared Scallops with French Green Beans, Butter Potatoes, Brown Butter Vinaigrette and Apple-wood Smoked Bacon (GF)
Beef Tenderloin Tips, Mushroom Bordelaise Sauce, Whipped Potatoes with Garden Vegetables (KA)
Griddled Maple Pound Cake with Warm Peach Compote and Sweet Corn Gelato featuring Burton's Maple Syrup (KA)
Beverages
Maple Popcorn Shake (non-alcoholic) (KA)
Unibroue Éphérmère Apple Wheat Ale, Chambly, Québec
Unibroue Blanche de Chambly Belgian White Ale, Chambly, Québec
Unibroue Lune de Miel Amber Ale, Chambly, Québec
Maple Popcorn Shake with Crown Royal Maple Whisky
Beer Flight
La Isla Fresca
Food
Jamaican-braised Beef with Pigeon Pea Rice and Micro Cilantro
Sugar Cane Shrimp Skewer with Steamed Rice and Coconut-Lime Sauce
Tropical Mousse Cake: Layers of Passion Fruit Cake, Coconut Mousse and a
Tropical Fruit Glaze with Fresh Pineapple (KA)
Beverages
Tropical Freeze (non-alcoholic) (KA)
Golden Road Brewing Tart Mango Cart Wheat Ale, Los Angeles, CA
Tropical Freeze with Cruzan Mango Rum
The Honey Bee-stro Hosted by National Honey Board
Food
Roasted Cauliflower with Buckwheat Honey Carrot Purée, Wild Rice Pilaf, Asparagus, Honey-blistered Grapes, Sunflower Brittle and Coriander Flowers (GF) (V)
Honey Tandoori Chicken Flatbread with White Cheddar Cheese, Charred Vegetables, Clover Honey Sour Cream and Micro Citrus Greens
Local Wildflower Honey-mascarpone Cheesecake with Orange Blossom
Honey Ice Cream garnished with Fennel Pollen Meringue Kisses and Petite Lavender Shoots (V) (KA)
Beverages
Honey-peach Cobbler Freeze (non-alcoholic) (KA)
Goodwood Brewing Company Brandy Barrel Honey Ale, Louisville, KY
Florida Orange Groves Winery Orange Blossom Honey Wine, St. Petersburg, FL
Honey-peach Cobbler Freeze with Blueberry Vodka
Pineapple Promenade
Food
Spicy Hot Dog with Pineapple Chutney and Plantain Chips
Pineapple Soft-serve (V) (KA)
Beverages
Frozen Desert Violet Lemonade (non-alcoholic) (KA)
Pineapple Soft-serve Ice Cream with Fanta® (non-alcoholic) (KA)
Coastal Empire Beer Co. Coco Piña Gose, Savannah, GA (flight)
Maui Brewing Co. Pineapple Mana Wheat, Kihei, HI (flight)
SweetWater Brewing Company Goin' Coastal IPA with Pineapple, Atlanta, GA (flight)
Playalinda Brewing Company Violet Lemonade Ale, Titusville, FL
Florida Orange Groves Winery Sparkling Pineapple Wine, St. Petersburg, FL
Pineapple Soft-serve Ice Cream with Parrot Bay Coconut Rum
Pineapple Beer Flight
Jardin de Fiestas
Food
Tlacoyo: Blue Corn Masa topped with Black Bean Spread, Ground Chorizo, Queso Fresco and Mexican Cream
Beef Torta: Braised Beef served on a Crispy Sourdough Roll with Queso Oaxaca, Avocado, Pickled Onions and Jalapeños in a Spicy Habanero Sauce
Tres Leches: Milk-soaked Sponge Cake topped with Cajeta Whipped Cream and Almond Powder
Beverages
Cerveza: Allende Golden Ale Craft Beer served with a Liqueur Floater
Damiana Flower Margarita: Damiana Flower Liqueur, Blanco Tequila, Agave Nectar and Citrus Juices served on the rocks with a Black Ant Salt Rim
Oaxacan Gin & Tonic: Smokey Gin, Black Currant Liqueur, Vermouth, Lime Juice and Tonic Water
Rosé Sangria: Withers Rosé Wine, Tequila Blanco, Elderflower and Ginger Liqueur, Pineapple, Cactus Pear and Ginger Juices
Lotus House
Food
Szechuan Spicy Red-braised Beef Shank over Rice
House-made Crab and Cheese Wontons
Vegetable Spring Rolls (V) (KA)
Beverages
"Panda" Bubble Tea: Classic Milk Tea with Black and White Bobas (non-alcoholic)
Jasmine Draft Beer
Pirates of the China Sea: Dark Rum, Peach Syrup and Piña Colada Mix
Kung Fu Punch: Vodka, Triple Sec, Mango Syrup and Orange Juice
Plum Wine Cooler
Bauernmarkt: Farmer's Market
Food
Potato Pancakes with House-made Apple Sauce (V) (KA)
Potato Pancake with Caramelized Ham, Onions and Herb Sour Cream
Toasted Pretzel Bread topped with Black Forest Ham and Melted Gruyère Cheese (KA)
Warm Cheese Strudel with Mixed Berries (KA)
Beverages
Stiegl Brewery Radler Zitrone, Salzburg, Austria
Paulaner Original Munich Lager, Munich, Germany
Köstritzer Schwarzbier Black Lager, Bad Köstritz, Germany
Hugo Cocktail with Sparkling Wine, Elderflower and Mint
Beer Flight
Primavera Kitchen
Food
Pizza Toscana: Rustic Italian Flatbread with Sweet Sausage, Caramelized Onion, Mozzarella, Asiago and Parmesan Cheeses (KA)
Pomodori Verdi e Mozzarella: Fried Green Tomatoes, Mozzarella Cheese, Balsamic Reduction
Tri-Colored Cheese Tortellini, Sage Butter and Chicken Veloute (KA)
Zeppole: Ricotta Cheese Fritters, Powdered sugar, Raspberry Sauce and Chocolate-hazelnut Drizzle (KA)
Beverages
Peroni Nastro Azzurro Pilsner
Moretti La Rossa
Placido Pinot Grigio
Placido Chianti
Villa Sandi Prosecco
Montegrande Corbinello
Fior d'Arancio Montegrande Moscato
Bellini: Sparkling Wine and Peach Purée
Frozen Italian Margarita with Limoncello and Tequila
The Smokehouse: Barbecue and Brews
Food
Pulled Pig Slider with Coleslaw (KA)
Shredded Beef Brisket with Smoked Potato, Chorizo Fondue and Green Tomato Relish
Beef Brisket Burnt Ends and Smoked Pork Belly Slider with Garlic Sausage, Chorizo, Cheddar Fondue and House-made Pickle
Warm Chocolate Cake with Bourbon-Salted Caramel Sauce and Spiced Pecans (V)
Beverage
Frozen Simply™ Lemonade (non-alcoholic) (KA)
Central 28 Brewing Company Sunshine Greetings Orange Hibiscus Wheat Ale, DeBary, FL
3 Daughters Brewing Phantasmas Spicy Double IPA, St. Petersburg, FL
Shipyard Maple Bacon Stout, Clearwater, FL
Boneshaker Zinfandel, Lodi, CA
Frozen Simply™ Lemonade with Firefly Blackberry Moonshine
Beer Flight
Hanami
Food
Frushi: Fresh Pineapple, Strawberry and Melon rolled with Coconut Rice garnished with Whipped Cream, Berry Sauce Drizzle and Toasted Coconut (V) (KA)
Chilled Soba Noodle Salad with Pan-seared Tuna and Wasabi Dressing
Karaage with Nanban Sauce: Japanese-style Fried Chicken served on a bed of
Shredded Cabbage and topped with a Soy and Vinegar-based Dressing (KA)
Beverages
Kirin Draft Beer
Sayuri "Little Lilly" Nigori Sake
"Ichigo Sun" Strawberry Lemonade Cocktail with Sake, Strawberry Purée and Lemonade
Taste of Marrakesh
Food
Harissa Chicken Kebab with Dried Fruit Couscous Salad
Fried Cauliflower with Capers, Garlic Parsley and Chili-ranch Sauce
Walnut Honey Baklava
Beverages
Desert Rose: Sparkling Wine topped with Pomegranate Liqueur
White Sangria
Casa Beer
Larroque Chardonnay, Meknes
Florida Fresh
Food
Carne Guisada with Black Bean Cake and Cilantro Lime Sour Cream
Spicy Blackened Shrimp and Cheddar Cheese Grits with Brown Gravy and Local Sweet Corn Relish
Key Lime Tart with Toasted Meringue (KA)
Beverages
Watermelon Cucumber Slushy (non-alcoholic)
Tampa Bay Brewing Company Twisted Strawberry Fest Fruit Ale, Tampa, FL
Big Top Brewing Company Conch Republic Key Lime Wheat, Sarasota, FL
First Magnitude Brewing Monarch Milk Stout, Gainesville, FL
Florida Orange Groves Winery Sparkling Key Lime Wine, St Petersburg, FL
Watermelon Cucumber Slushy with Gin
Beer Flight
Fleur de Lys
Food
Vichyssoise aux Concombres: Chilled Cucumber Soup (GF)
Tarte au Chévre: Goat Cheese Tart with Caramelized Onions on a flaky Pastry Crust (V)
Canard Confit à la Provençal: Braised Duck Confit with Tomatoes and Olives on Polenta
Macaron au Chocolat en Sucette: Large Chocolate Macaron Lollipop (GF)
Beverages
La Vie en Rose Frozen Slushy: Grey Goose Vodka Orange, St. Germain Liqueur, White and Red Cranberry Juice
Kir Framboise: Sparkling Wine and Monin Raspberry
Cabernet Sauvignon, Maison de France
Kronenbourg Blanc 1664
Joffrey's Coffee & Tea Carts Specialty Festival Offerings
Beverages
Future World East – Pedal to the Meadow – Frozen Cappuccino topped with Vodka and Kahlúa Liqueur
Canada – Cold Clover – Cold Brew Coffee with Irish Cream Syrup and topped with Baileys Irish Cream Liqueur
Showcase Plaza – Goose on the Loose – Frozen Passion Fruit and Le Citron Vodka topped with Iced Tea
The American Adventure – Bee's Buzz – Frozen Lemonade and Coconut Syrup topped with Pineapple Rum
Additional Locations
Funnel Cake
Food
Key Lime Funnel Cake topped with Crumbled Graham Cracker and Whipped Cream
Block & Hans
Beverage
Lexington Brewing Company Kentucky Vanilla Barrel Cream Ale, Lexington, KY
Short's Brewing Company Local's Light Lager, Bellaire, MI
Dogfish Head Brewery American Beauty Pale Ale, Milton, DE
Brooklyn Brewery Defender IPA, Brooklyn, NY
Golden Road Brewing Pineapple Cart Wheat Ale, Los Angeles, CA
3 Daughters Brewing Hard Rosé Cider, St. Petersburg, FL
Beer Flight
Taste Track
Food
Violet Blueberry Vanilla Croissant Doughnut
Beverage
Berry Tea Mint Julep (non-alcoholic)
Berry Tea Mint Julep with Bourbon
Refreshment Port
Food
Coffee-rubbed Pork Poutine with Barbecue Demi-Glace, Fire-roasted Corn Relish and Cheese Curds
Beverage
Stow Away Mary: Classic Bloody Mary with Absolut Vodka garnished with Pimento-stuffed Olives, Cherry Tomato, Celery, Jumbo Shrimp and
Smokehouse Jerky
Fife & Drum Tavern
Beverage
Short's Brewing Company Soft Parade Shandy, Bellaire, MI
What's on your must-try list? Share your list in the comments below!
Remember! When you're in Disney tag us @allearsnet in your photos!
Want more AllEars.net content? Be sure to check out our YouTube Channel for reviews, news, information and more! 
Subscribe to the AllEars® newsletter so you don't miss any of the latest Disney news!