I like to ask for other folks' opinions about the many potential Hidden Mickeys on Disney property. As you know, some images are more convincing than others. What do you think about the following images?
Study the roof support poles along the left side of the queue at "Walt Disney's Enchanted Tiki Room" in the Magic Kingdom. On the third pole before the change in the outer railing/wall, three depressions in the wood at about eye level bring Mickey to mind. Or do they? (Thanks to Ryan Ott).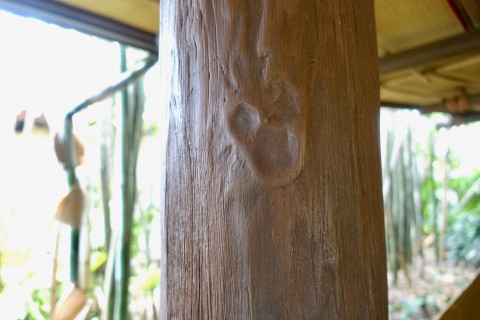 In a display window of the Frontier Trading Post in Frontierland, a barrel stands next to a scale with two round surfaces. When viewed from above, do the circles come together as a classic Hidden Mickey? (Thanks to Cole Gershkovich.)

Several folks have contacted me about the following image over the years. I've felt ambivalent about it, so I thought I'd ask for your opinion. At Mission: SPACE at Epcot, does the positioning of the planets suggest an upside-down classic Mickey? (Thanks to Lincoln and Grayson Girard.)

A few of my out-of-town relatives and I had dinner recently at The Garden Grill Restaurant in Epcot's Land Pavilion. Here's a photo of young Lane proudly showing off his Magic Band in front of classic Mickey plates and dishes. I appreciate when Cast Members honor the Mickey image!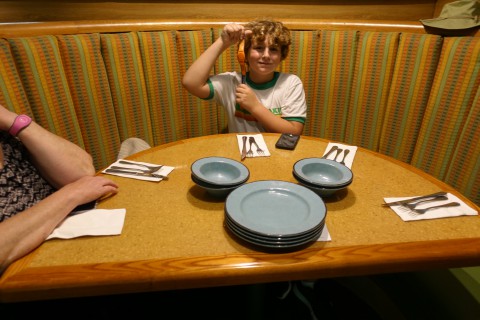 Onward, Hidden Mickeys!
Keep up the search!