from Hidden Mickey Guy Steve Barrett
I wonder about some of the following images.
The first one is from Main Street, U.S.A., on top of a shelf near the ceiling inside the Crystal Arts store. Walk to the left side (as you enter) of the back room of the shop and look high. It's a perspective image, so you must visually position yourself to line up the binoculars behind with the snow globe in front. Does it make a Hidden Mickey? (Thanks to Aiden Gaddis.)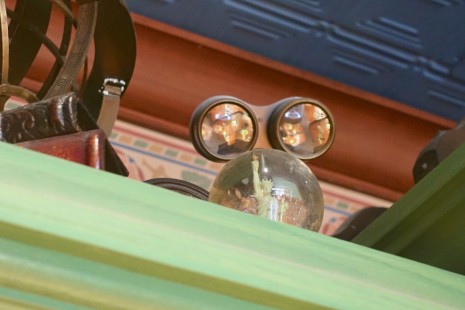 During the early part of your relaxing ride on Tomorrowland Transit Authority PeopleMover, a cityscape is displayed to your left. On the far right end, just before leaving the scene, look for a church with a cross atop a tall steeple. Right in front of the church, three bushes might form a classic three-circle Hidden Mickey, or not? (Thanks to Rob and Kathy Risavy.)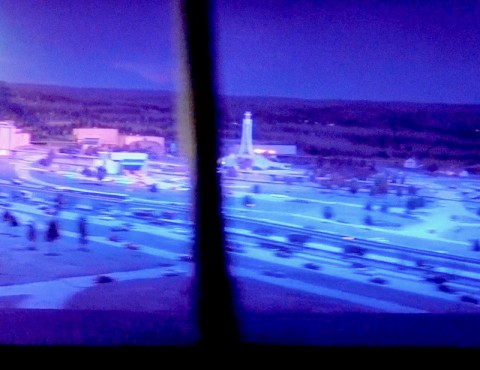 Many decorative Mickeys dot the landscape inside and outside the Disney theme parks. Some border on qualifying as "hidden." Here's a Mickey image on the white information sheet above a telephone inside Cosmic Ray's Starlight Cafe. Is it decorative or hidden? (Thanks to James Girard.)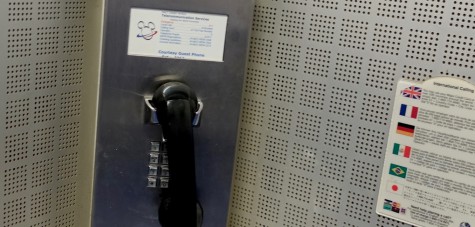 You can usually count on a few returning Hidden Mickeys each holiday season. In Town Square on Main Street, U.S.A., check out the pumpkin doll with Mickey ears, dangling from the blue fist of a pumpkin scarecrow. (The right ear has flopped back flat.)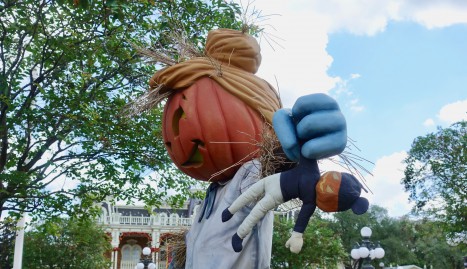 Have fun with Hidden Mickeys!
You can see more Hidden Mickeys from Steve Barrett HERE.