When Star Wars: Galaxy's Edge opens in both Disneyland and Disney's Hollywood Studios next year, each of the new lands will feature a special "watering hole" called Oga's Cantina.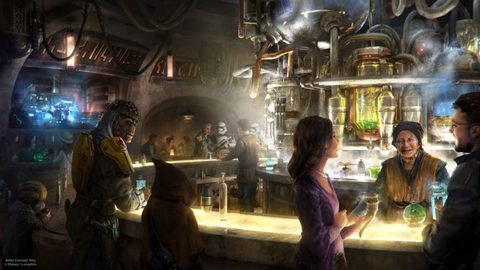 Oga's Cantina will serve up beverages for both adults and children using "otherwordly" methods, poured into unusual drinking vessels. The cantina will be populated with interesting Star Wars-type characters, including Stormtroopers and other familiar faces.
One of the most recognizable to Disney fans will be RX-24, more commonly known as Rex, the comical StarSpeeder 3000 droid who originally piloted Star Tours. Rex now will provide musical entertainment at the cantina as a very talkative DJ.
The cantina's back story is that its alien proprietor, Oga Garra, runs the spot with a strict code of conduct to keep its unruly patrons in check. The place has a history of being a smugglers' safe-haven, though, and is a popular stopping point for those seeking to avoid the authorities — so you never know what may happen there!
Oga's Cantina will open its doors in the Black Spire Outpost at Star Wars: Galaxy's Edge in 2019 at both Disneyland Resort and Walt Disney World Resort.
Are you as excited about this news as we are? Let us know in the comments below!