I've seen some Hidden Mickeys in fleeting moments but have been unable to capture them in photos. At times, I can take videos of fast-moving scenes and isolate Hidden Mickeys within those scenes, as in the first two photos that follow.
On the journey back down from space in "Spaceship Earth," you can play an interactive game about choosing your future. On the touch-screen in front of you, choose any options that include the sea or underwater living. Watch for bubbles that float up the screen, and try to spot a classic (three-circle) Hidden Mickey or two. A possible classic Mickey, sideways to the left, is made of a dark blue 'head' and left 'ear' and a light blue right 'ear,' at the upper left of this first photo. (Thanks to Richard Bent, and Michael Walsh.)
Along the "Gran Fiesta Tour Starring the Three Caballeros" boat ride in Mexico, bubbles whiz by around a snorkeling Donald Duck. Several groups of bubbles have potential classic Mickeys in their midst, including one at the far left of the next photo.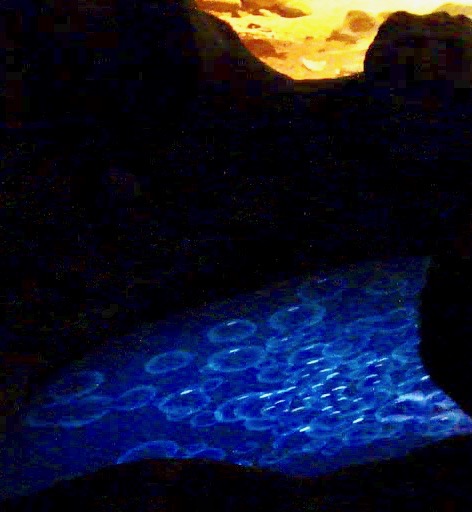 Along the entrance queue of "Spaceship Earth," a possible upside-down classic Mickey is in a cloud formation toward the top of the image of Earth in the mural on the outside wall above you just as you enter to board. Is it close enough? (Thanks to Alex Browning.)
Folks write to me at times about the onion rings on the kitchen table in Figment's upside-down house toward the end of "Journey Into Imagination With Figment." Do the rings resemble a classic Mickey? I check the image periodically to see if anything about them has changed, but they still appear all the same size to me and not proportioned correctly to be a proper classic Mickey. Let me know if you disagree. (Thanks to Andrew Scerbo.)
Along the ceiling of Tangierine Cafe in Morocco, circles in the design might form classic Mickeys at times. What do you think about the images along the middle of the photo? (Thanks to Aiden Gaddis.)
Enjoy the hunt!