Welcome back. Yesterday I discussed the lobby of the BoardWalk Inn & Villas. Today I'll continue my description of this deluxe resort.
One of the most charming spots at the BoardWalk Inn & Villas is the Belle Vue Lounge. Tucked away in a corner of the resort, this "1930's parlor" is the perfect spot to escape into a bygone era. Overstuffed chairs, wicker sofas, and a collection of small tables and chairs provide wonderful possibilities for relaxation and conversation. The walls are lined with books and shelves contain a number of board games for guest use, including Monopoly. Potted plants and fresh flower bouquets complete the experience.
The Belle Vue Lounge also has some interesting oddities from years ago. One of these is a Magic Lantern. This early projection device originated in Europe in the 17th century and was often used by magicians and charlatans to amaze and scare a naïve public. The Magic Lantern came to America sometime in the late 19th century where it continued to be used by magicians. But it also took on a more legitimate use as this was the humble beginnings of the film industry. Enterprising entrepreneurs would charge admission to present a "slide" show to an astonished audience.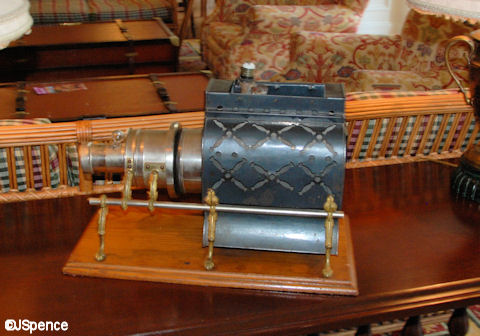 In the morning, a continental breakfast is offered at the Belle Vue Lounge from 6:30am to 11am. Selections include pastries, fruit, cereals, and beverages. From 5pm to 12 midnight, a bartender is on hand to serve you your favorite libation.
You will also notice a number of old-time radios positioned around the room. If you listen closely, you might just hear a broadcast of long ago.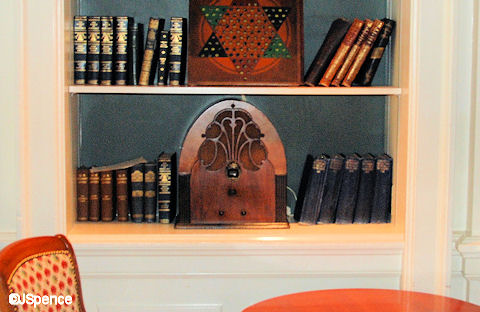 Monopoly is actually a very fitting pastime to be enjoyed while having a beverage at the Belle Vue Lounge. During the Great Depression, Charles Darrow created a new board game. It dealt with the buying, selling, and development of property. As Darrow had vacationed in Atlantic City prior to the stock market crash, he felt that the city's glamor and larger-than-life reputation would add a touch of sophistication to his game. Thus, all of the properties were named after actual streets in this well-known city. Of course the most sought after and expensive title would be that of Boardwalk.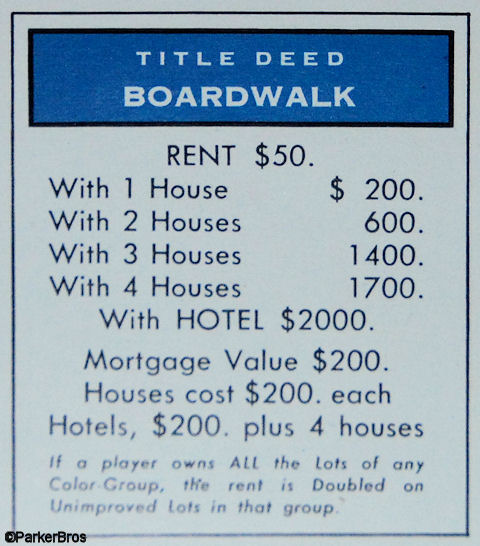 Darrow presented his creation to Parker Brothers, one of the largest manufacturers of games in the country. Parker Brothers turned the game down due to its complex rules and perceived design flaws. Undaunted, Darrow and a friend hand-produced 5,000 sets of Monopoly for the 1934 Christmas season and sold them at a Philadelphia department store. The game was an instant success and Darrow could not keep up with demand. He revisited Parker Brothers and this time the company took notice and bought the game. One year later in 1935, Parker Brothers was producing 20,000 games per week.
It's interesting to note, early Monopoly sets were not the square boards we're familiar with today, but rather painted oilcloth cut into a circle with the familiar properties lining the edge.
Although not available to play, there are several other vintage board games lining the shelves of the Belle Vue Lounge. Two of these are, "Go to the Head of the Class" and "Eddie Cantor's Tell it to the Judge." Next time you're in this room, take a look at these diversions of another era. It's interesting to see how children and their parents were entertained before the electronic age.
Just past the Belle Vue Lounge are the elevators that take you to the 371 rooms of the "Inn" portion of the resort. The following description will be of a standard room.
Just inside the door is a small niche. Within this niche is a chest that contains three drawers and a small refrigerator just big enough to hold a few bottles of water and a collection of snacks.
On top of the chest is a coffee maker, a limited supply of coffee and tea, and cups.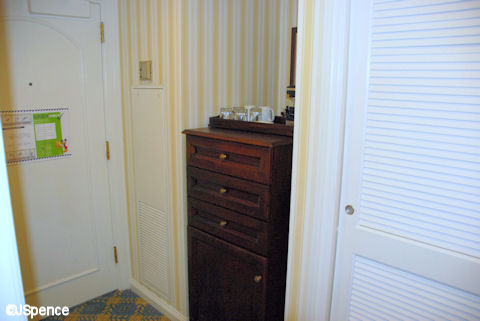 Next to the niche is a large closet. In it you'll find hangers, an iron and ironing board, a collapsible crib, and a safe just large enough for items such as watches, keys, and wallets. Robes are offered in club level rooms and suites.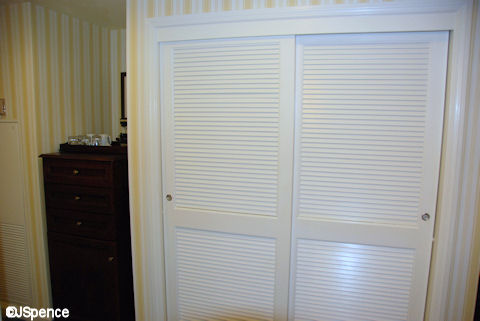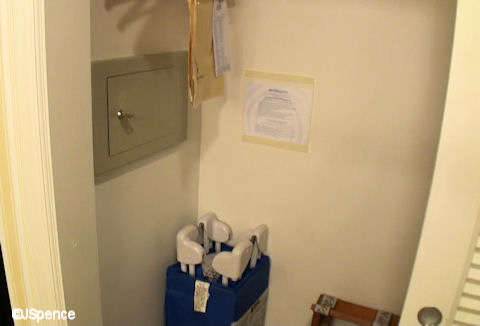 Directly opposite the closet is the vanity area. Here you'll find a spacious counter, two sinks, two oval mirrors, a secondary shelf, and a makeup mirror. The hair dryer can be found on a shelf beneath the sinks. H2O+ shampoo, conditioner, and body wash is also available. This area is brightly lit so you'll have plenty of light for those morning beauty activities that might require extra attention.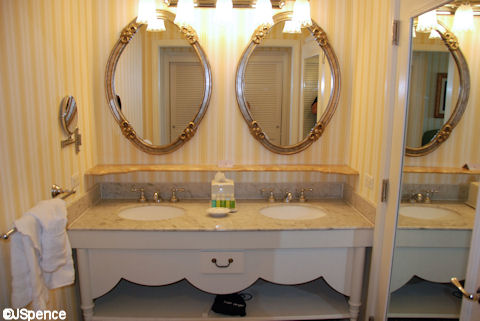 In a separate room are the toilet and the tub/shower. Being a deluxe resort, you will find the towels thick and fluffy.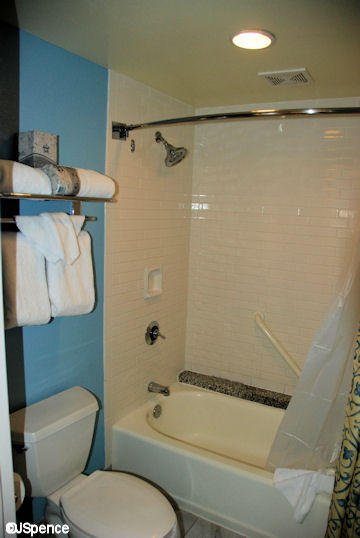 The main room has two queen-sized beds. In keeping with the current deluxe hotel trend, there are no bedspreads, but rather a third sheet on the top of the bed with a decorative throw. A small "BoardWalk" pillow completes the design.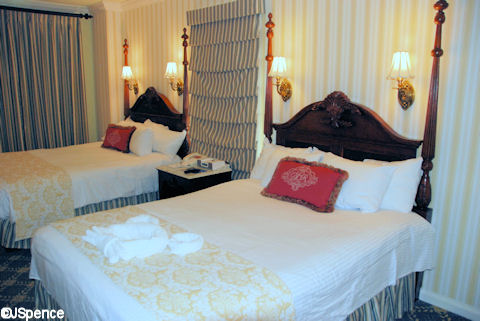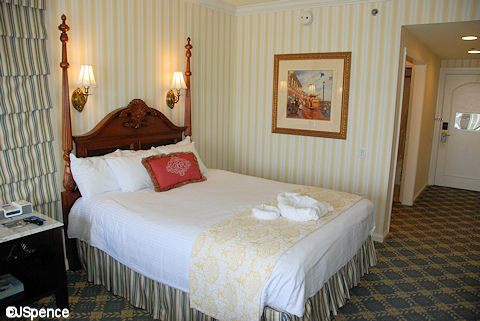 In-between the two beds is a nightstand. Here you'll find a telephone and an alarm clock/radio with an iPod docking station.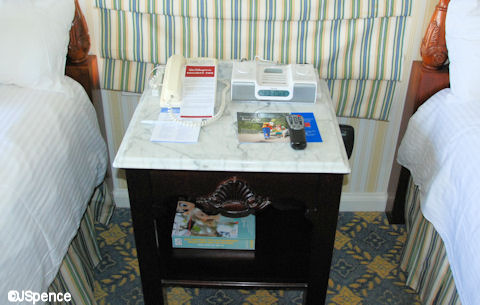 On the opposite wall is a daybed.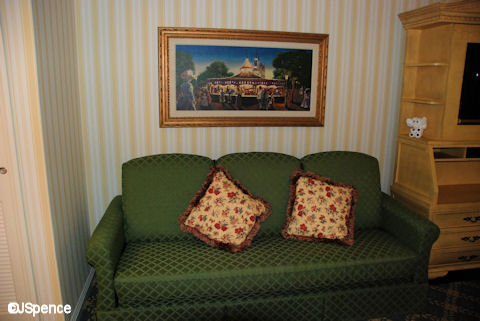 Disney has completed their conversion from tube-style TV to flat-screen at all of their resorts. The chest that houses the BoardWalk TVs is quite attractive and has plenty of storage space. Besides six decent sized drawers, there is shelving on both sides of the piece and cubby holes in the front. Audio/visual connections are also conveniently located so you can plug your video camera into the TV and watch the "dailies."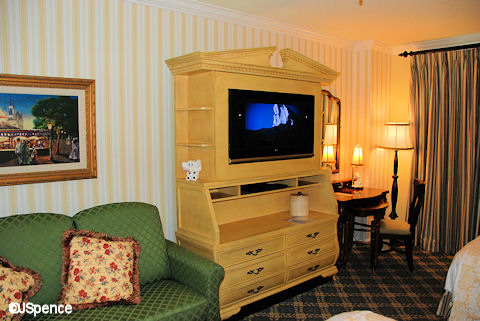 Next to the chest is a desk with a nesting table for laptop use. Free WiFi is now available so there is no longer a need for cable connection. On the desk sits a cute Minnie Mouse lamp. A mirror hangs above.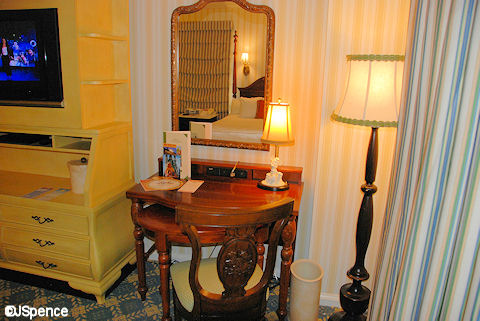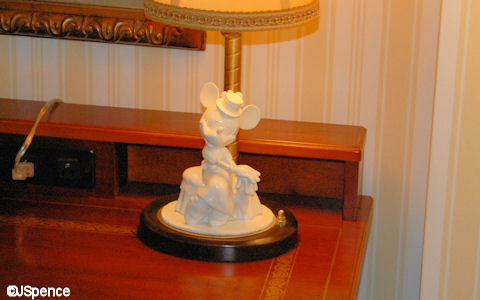 All of the rooms at the BoardWalk Inn have either a balcony or patio. These will vary in shape and design depending on your room location. None of these are very large and can only accommodate two chairs and a small table.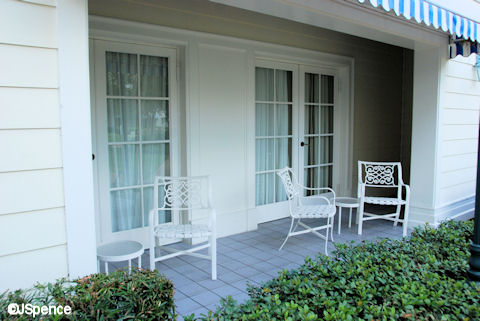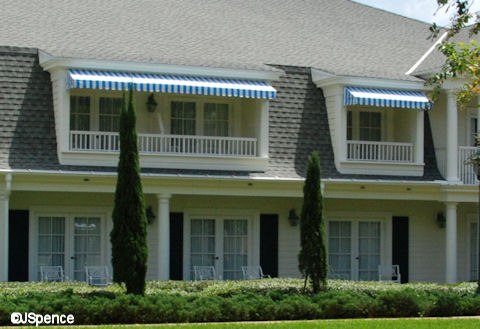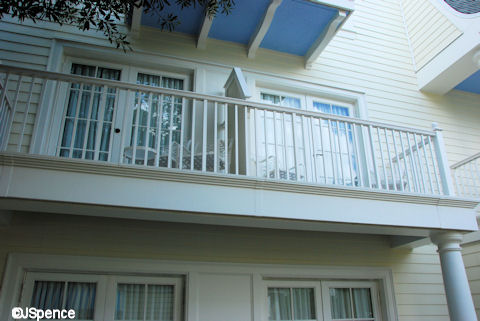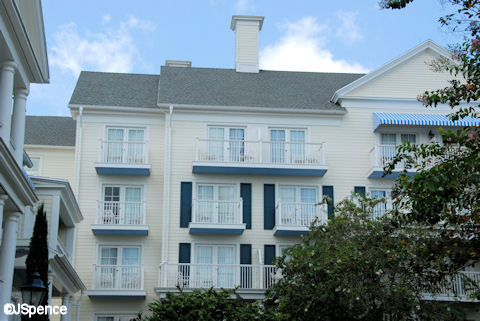 To see an overview of a BoardWalk Inn standard room, check out the video below.
Some of the standard rooms overlook the BoardWalk Promenade and courtyard. Others, the resort entrance. But many rooms have views of a beautifully manicured Rose Courtyard. This garden area is peaceful and serene and one of the most tranquil spots in all of Walt Disney World. A grand staircase leads from the lobby area to the lush lawns and walkways.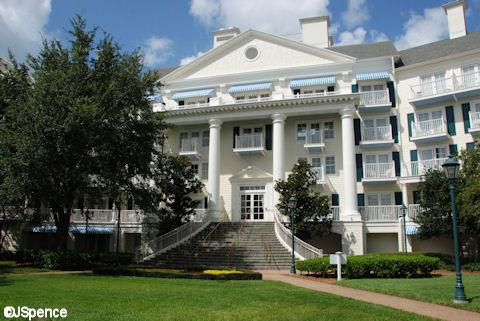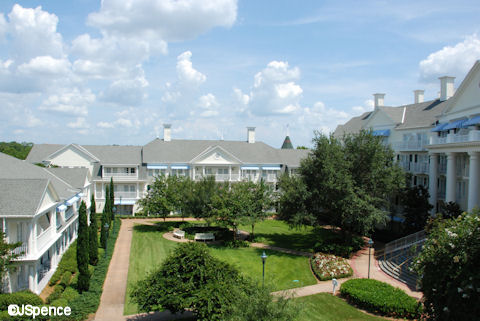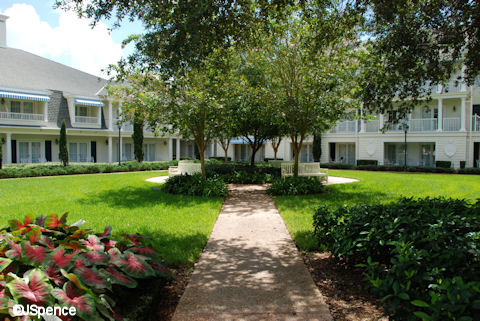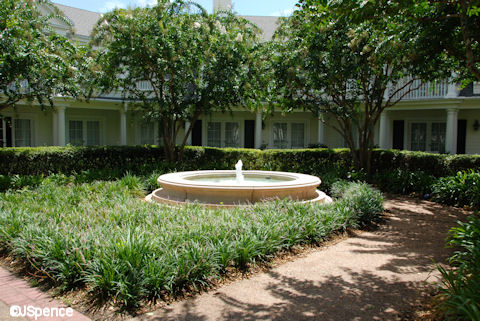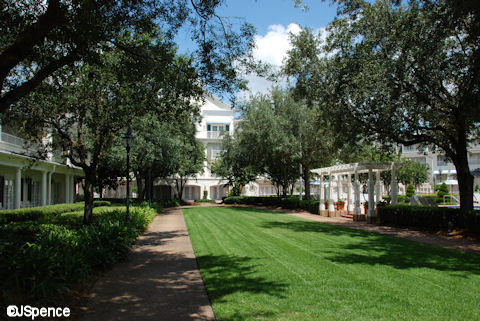 This respite from the World is also where you'll find the "quiet" pool. Although children are certainly welcome, the intent is that this pool area is for leisurely swims, sunning, reading, and unobtrusive conversations. Note, there is no lifeguard on duty at this pool.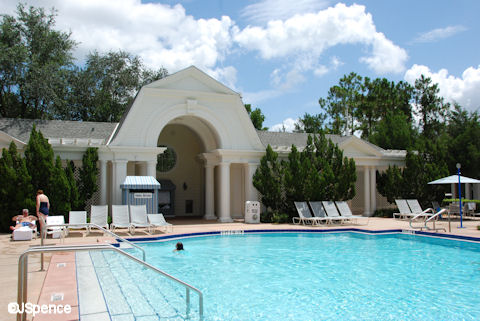 Also found in this area of the resort is a feature unique to all of Walt Disney World. Called the Garden Suites, these 14 rooms do not open onto a central hallway, but instead are accessed via the Rose Courtyard. Although perfect for honeymooners, these rooms can sleep four.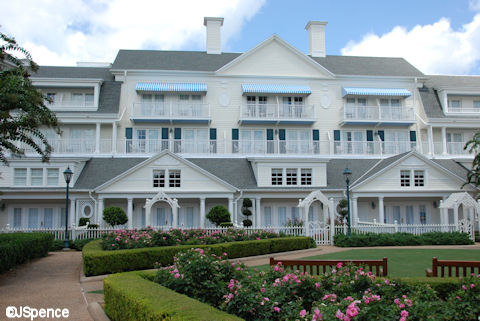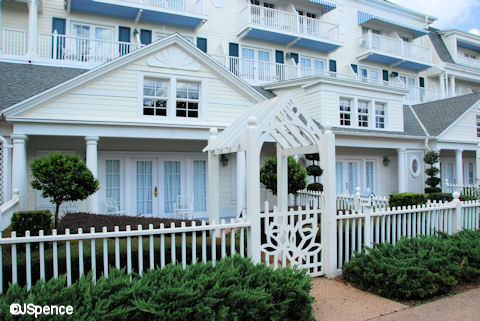 Every suite has its own, uniquely landscaped yard surrounded by a white picket fence. Guests enter their private garden through an arbor, each with its own distinctive gate. A small mailbox sits to the side.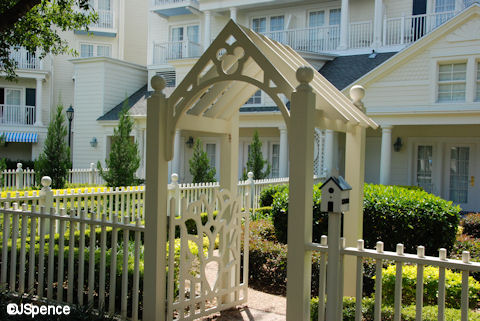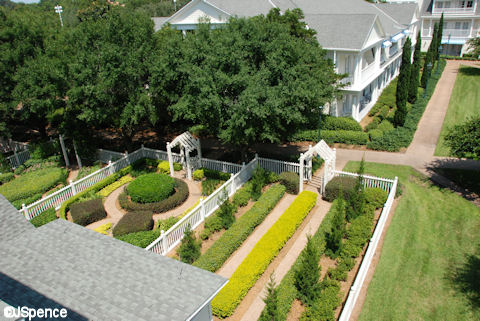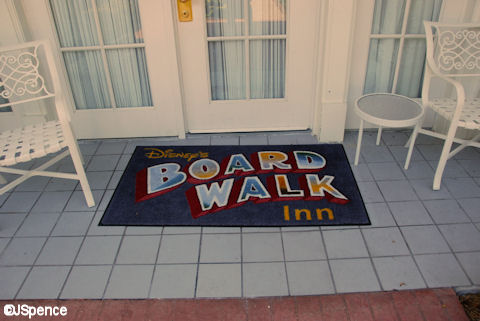 Entering the suite we find a small living room with a sectional sofa. The sofa can be opened out into a double bed. To the side of the room is a console and TV. In a corner is a desk and nesting table.
I felt the placement of the TV did not facilitate easy viewing for most persons on the couch.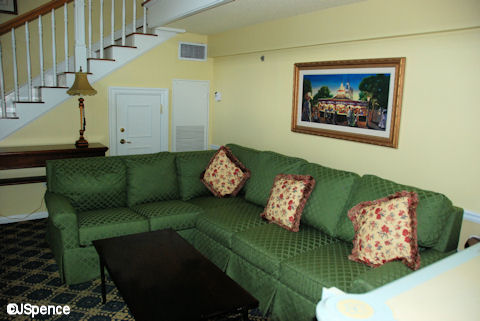 Off of the living room are a kitchenette and a closet. The kitchenette contains a mini-refrigerator, microwave oven, coffee maker, and sink. The closet is a reasonable size, but it only has one door. This makes accessing the back portion of this storage space somewhat difficult. A powder room (toilet and sink) can be found off of the kitchenette. There is no shower or tub on the first floor so if four people are using this room, they must bathe upstairs.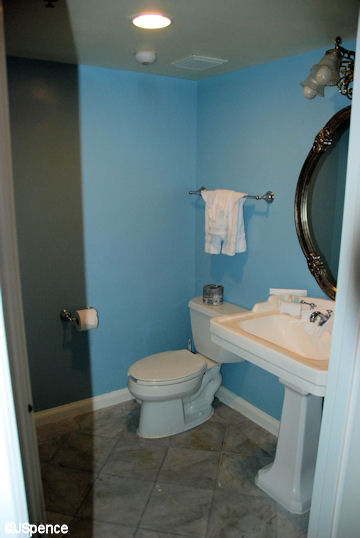 The bedroom is located upstairs in the loft. Since this is an "open" layout, there is no real privacy between the upstairs and downstairs.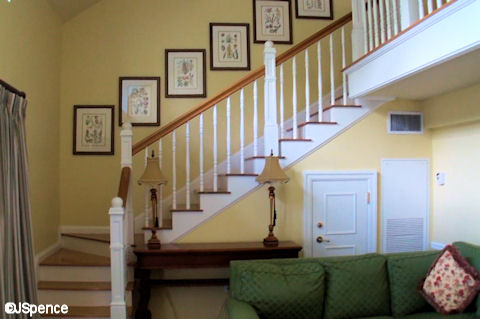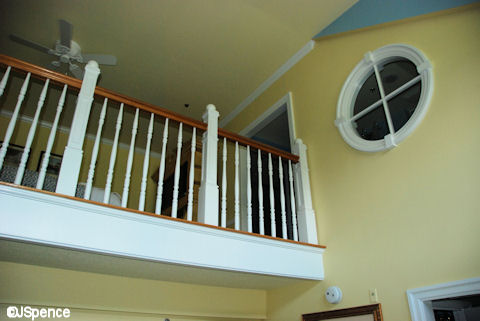 On the second floor you'll find another closet, queen-sized bed, nightstand, small chair, and a chest of drawers and TV. Once again, I noticed that the placement of the TV makes viewing from the bed somewhat difficult. The loft looks out toward small windows.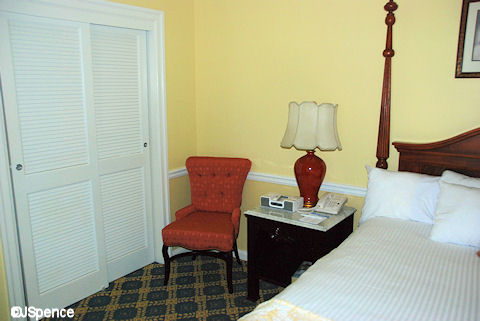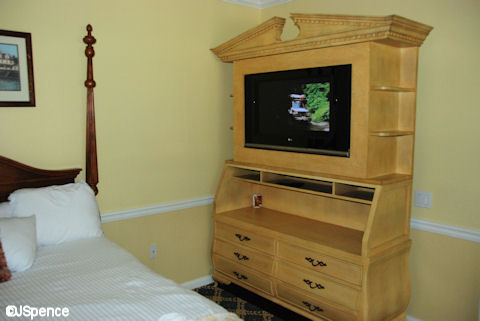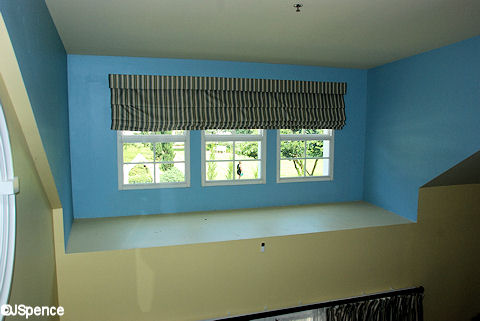 Off of the bedroom is a second bathroom. Here you'll find a marble-topped counter with two sinks and two oval mirrors. Next to the vanity is a large, whirlpool tub surrounded by large mirrors. If you don't like looking at your own naked body, don't bathe here. LOL. But if this isn't a problem, then you're in for a nice relaxing soak.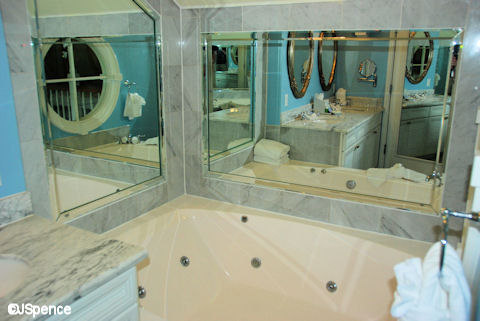 In a separate room you'll find a toilet and a shower big enough for two.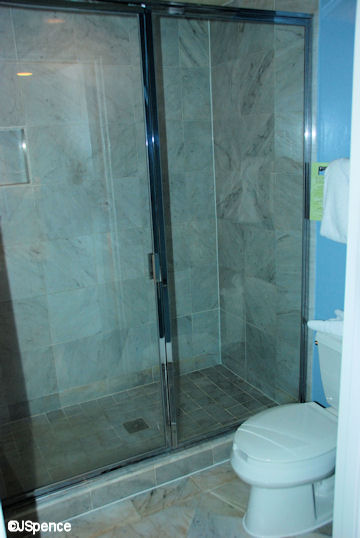 The Garden Suites are charming and perfect for couples in love – and as I said earlier, unique to the BoardWalk Inn. To see an overview of one of these rooms, check out the video below.
As with all Disney deluxe resorts, the BoardWalk Inn offers Club Level rooms and amenities for those willing to spend a little extra. Located on the fourth floor, guests with these privileges have a dedicated concierge staff that will help them make their vacation whatever they want it to be. From restaurant reservations, personal tours, and suggestions you have never even imagined, these well-informed hosts and hostesses are there to make you happy.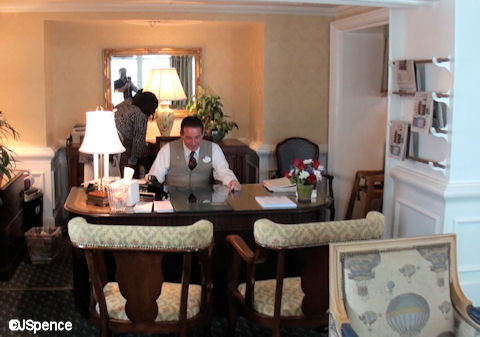 Also available is a special lounge called the Innkeeper's Club. This is a wonderful spot to escape and be pampered. Elegant furniture, fresh flowers, and an attentive staff are on hand to spoil you. The Innkeeper's Club offers a large TV and a collection of Disney classics on DVD.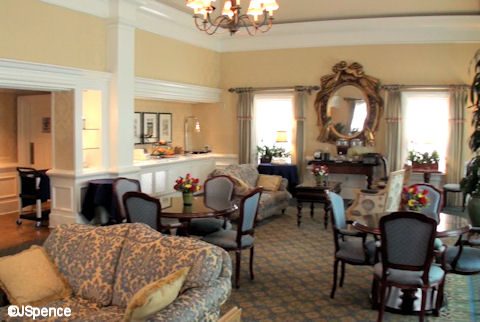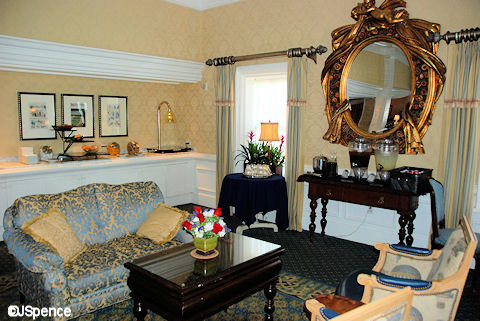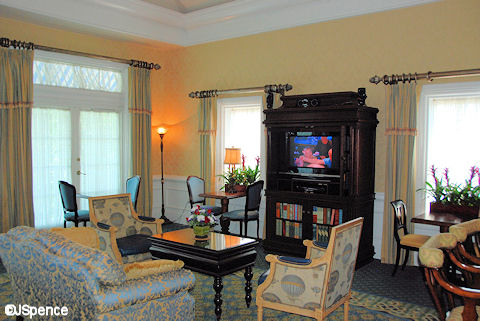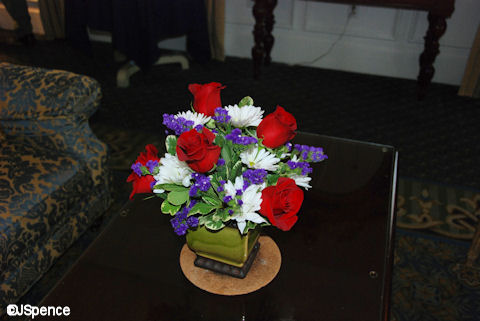 The doors to the lounge open at 6:30am each morning.
Coffee, Tea, Water & Juices – 6:30am to 10:30am
Continental Breakfast – 7:00am to 10:30am
Four Cold Cereals, Hot Oatmeal, Fresh Pastries, Fresh Fruit, Yogurt, and hard-boiled eggs. Skim Milk, 2% Milk, Chocolate Milk, Orange Juice, Water and V-8.
Refreshments – 11:30am to 4:00pm
Fresh made potato chips, fresh baked cookies, various snacks & candies, lemonade, iced tea, water & soda.
Wine & Cheese – 5:00pm to 7:00pm
Two hot appetizers, 3 cheeses, 2 cold salads, vegetable platter, pita bread, crackers, four bottled beers and three wines. Water and soda also available.
Cordials & Desserts – 8:00pm to 10:00pm
Various fresh pastries from the BoardWalk Bakery, four cordial alcohols.
IllumiNations can be viewed from the Lounge balcony although only the fireworks portion can be seen above the trees.
Important Note: the doors remain open all day long from 6:30am to 10:00pm, but services end promptly so the staff can clean up and turn over for the next service offering.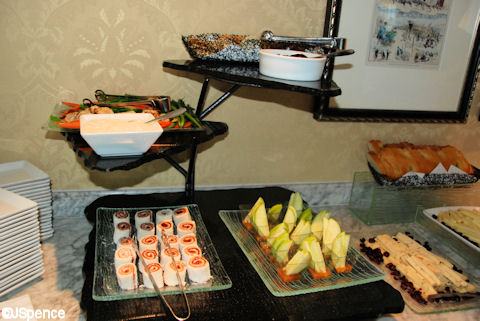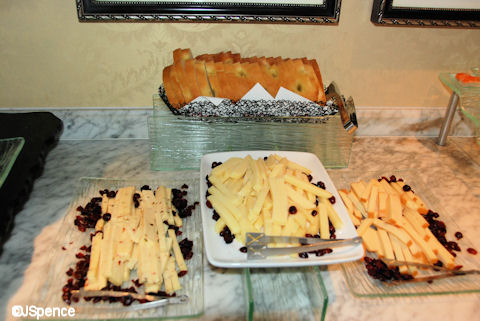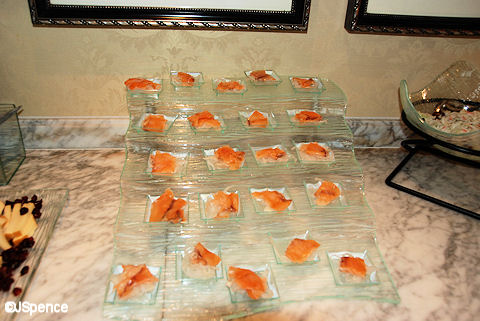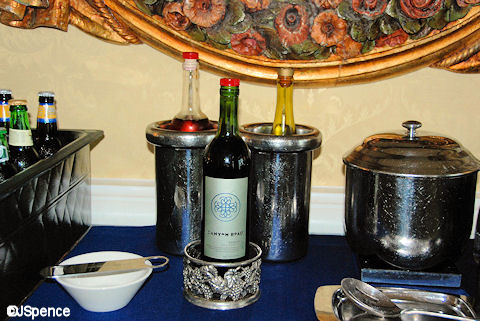 To see an overview of the Innkeeper's Club, check out the video below.
That's it for Part Two of the BoardWalk Inn & Villas. Check back tomorrow for Part Three.