I need to apologize for the delay in getting Part II out there. I've been swamped with "stuff" and projects and family matters and needed to clear a few things, cross the t's and dot the i's…done.
So after a few weeks of reflection I now have an even better perspective on One More Disney
Day.
To Recap:
Preview
Now here is Part II.
Feb 29th, 5:45 PM
My alarm went off. I had slept four hours.
I was ready for part II of this marathon day.
I took a shower to dislodge any cobwebs and put on some fresh "touring clothes" on for the evening….and of course the following morning.
I prepared my backpack…an extra shirt, some water, batteries, some protein bars"¦ready….I would need it all.
Feb. 29th, 6:30 PM
As I drove through the Magic Kingdom Toll Plaza I noticed in the rear view mirror that there seemed to be quite a few sets of headlights following me. This caused me to think that the night would indeed be special…and it was.
As I left the toll plaza and made my way to the parking lot my thoughts were validated. There was a long line to get into the parking lot and for a minute I thought I might not get a parking space, especially when I noticed the line of cars in front of me was being directed into the Mulan lot, the LAST lot on the Heroes side…yikes.
This was a truly a harbinger of what was to be later in the night. Make no mistake about it, I had thoughts that this night would be crowded but traffic was a bit more than I expected. Getting to the parking lot was an experience. Guests trying to leave the TTC parking lot had a real challenge trying to weave their way around the cars coming into the TTC parking lot. It took almost ten minutes for me to get from the toll plaza to my eventual parking spot.
Again, I parked in the Heroes section of the TTC parking lot and in the Mulan portion. For those of you not familiar with the new parking arrangement at the TTC, Mulan is the absolute last portion in the Heroes section. And for the record, I was in the third row from the back so you can guess what word was running through my head"¦capacity.
Some 15 hours earlier I was parked in the first row of the Villains section"¦quite a difference.
Remember this photo….early morning parking for One More Disney Day.
I immediately texted and called a number of friends who I knew were intending to return to the park that evening and told them to head for the park ASAP.
The tram lines were so long that I decided to forego waiting for what would easily be 15 minutes just to have a shot at getting on one and decided to walk to the Ticket and Transportation Center, along with about 50 or 60 other guests.
Feb. 29th, 7:00 PM
As I approached the Magic Kingdom turnstiles again I got the feeling that the crown jewel of Walt Disney World would be experiencing a most unusual evening crowd level one what I was now calling One More Disney Day"¦the evening edition.
Feb, 29th, 7:15 PM
Well, I was right. There seemed to be a lot of energy along Main Street, USA. I noticed a long line to get into the Fire Station where guests would sign up for the new Sorcerers of the Magic Kingdom experience. More on this later.
Before catching up with my colleagues, most of whom were not at the park for the evening push, I decided to just roam around the park and make some observations that appeared to be unique for this evening.
As I walked around the park I noticed that the quick-service and counter service eateries seemed to have longer lines than usual. My guess was that those who had planned ahead, had taken up all the sit-down restaurant reservations.
Another observation which would prove to be something I would notice all night long was the number of guests in line for the Sorcerors of the Magic Kingdom game. Every kisosk I came across had at least a dozen guests in line waiting to see how they would fare in this game.
I found myself texting, tweeting, emailing, posting on FaceBook, and taking photos more than I had originally planned. Within an hour or two I noticed my phone was really going through its battery real fast.
As I made my way to Tommorowland, I noticed just how crowded the park was. The park was so crowded that there were folks on the bridge to Tomorrowland waiting to see Wishes. The crowd surge was almost into Tomorrowland. In fact the edge of the crowd WAS in Tomorrowland.
I decided to take in Carrousel of Progress. There were only five other guests in the attraction with me…I almost fell asleep.
When I left CoP I ran into a few folks who told me of their escapades that day and how they were holding up. I had run into these folks when I first entered the park that morning and they seemed to be still energized and ready to go.
Feb. 29th, 9:15 PM
I checked with my colleagues and made arrangements to catch up them later in the night and I grabbed a quick bite at Pinocchio Village Haus. I could not find an outlet to charge my phone and made a mental note to do so.
Then I remembered earlier in the day, when I was with Mike Newell, how we found outlets at Columbia Harbour house.
I made my way there and, after a while, found a table near an outlet. Success! I plugged in my phone, did a little social media work, and wrote down some notes.
Some 10 minutes after sitting there I could hear screams building from some young children. Now usually young children can of course be expected to get tired and let their parents know it's time to go…but wow the volume on the screams I was hearing was more than I was used to.
I glanced at the time…it was approaching 10 PM. I then glanced at where the screams were coming from. There were two families sitting down and there was a total of five young children between the two families.
I noticed all the family members had the One More Disney Day mouse ears on. That told me that they were among the first 2000 guests to enter the park that morning at…
…wait for it…
…6 AM. I thought that maybe 16 hours in the park may be a bit too much for these kids.
My phone was all charged and I had two extra batteries so I was ready to get through the night.
Feb. 29th, 11:15 PM
I ran into Deb Wills and Deb Koma and we compared notes on what we had observed so far. We were at Adventureland and thought about going into Pirates but the line seemed fairly long.
The two Debs headed off to see what was going on in Fantasyland and I decided to have a Dole Whip.
I got into line at Aloha Isle at 11:40 PM. There were 35 people in line ahead of me…oh and there were two, or maybe three lines. The line I was in was well to the side of Aloha Isle and I could see in the side and see how busy the cast members were in serving the guests that night.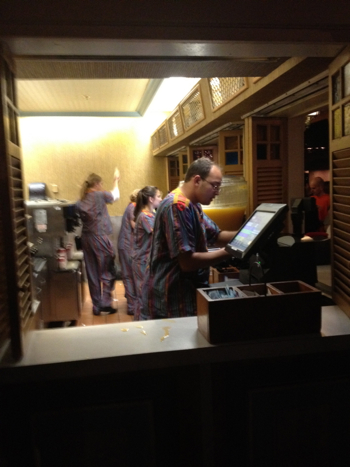 When I got to the counter the Cast Member smiled and said, "How you doing tonight?"
I said, "Well, when I got into line it was February 29th and it looks like when I finally get my Dole Whip it will be March 1st." He laughed and said, "That's a good one…and I believe it, with how busy it is." For the record, my Dole Whip was in my hand at 12:04 AM…I was right in my prediction.
I ate my Dole Whip as I made my way to the Tomorrowland Terrace where Len Testa had decided to hold a cupcake meet. When I got there, I found most of my colleagues among the 200 folks who showed up.
I made some new friends and found some familiar faces and there was much to talk about…in fact I found myself talking until about 2:20 AM.
March 1st, 2:30 AM
Several of us made our way to Main Street USA and we found something we had never seen or would have never expected…a huge crowd…yes I'm going to use the word, throng of people were heading up Main Street.
To put this into perspective, it was very much like what you would see on a summer's day around 9 or 10 in the morning. It was a horde of people…at 2:30 AM.
We said goodbye to a few friends as they were heading out…and some 20 minutes later they would text us saying that the line for the monorail was unbelievable.
There was a lot of activity in front of the castle and we went over there to find several hundred guests taking part in a dance party lead by a very energized DJ on top of a float. This party had been going on for a while and we saw folks ranging in ages from 5 to 75 dancing in the streets.
March 1st, 3:30 AM
Mike Newell and I headed toward Tomorrowland and decided to ride one of Mike's favorite attractions, the Wedway People Mover. So here is a good indication of just how crowded the park was, even at that time of the morning. The conveyer belt that guests stand on to ride up to the platform to get on the cars was STOPPED and there was a line of guests waiting to board the attraction. Remember, there is not much room at the top so, to avoid anyone getting hurt, the belt was stopped.
It was amazing to see the crowds, especially near the Sorcerers game kiosks.
We decided to give Haunted Mansion a try and rode the attraction sometime around 4:15 in the morning. You know the part of the ride where you come out of the attic and your doom buggy turns around and you find yourself flat on your back? Well when that happened both Mike and I said, "Oh no!" Fatigue was setting in.
From there we walked to Adventureland and sat down jujst outside the TIki Room and texted folks…people were still going strong.
At around 5:00 AM Len Testa strolled by and said he had several cups of coffee…needed to be awake for an early morning radio interview. It made me think about all those were not not here and what kind of connections they were using to find out how things were going.
So it's getting close to 5:00 AM and the Sorcerers kiosk near the PoC had 17 people in line, at 5:00 AM. Crazy. Check this photo out…notice the time on the clock.
As we got closer to 5:15 AM Mike Newell and I decided that perhaps it would be a good idea to try and do some live streaming and "bring it home" so to speak.
We made our way towards the Partner's Statue because The Memories, The Magic, and You was scheduled to be shown at 5:30. My plan was to do a live video streaming of this presentation for those who had never seen it and to narrate during the show.
When you go through an experience like spending overnight in The Magic Kingdom and you find yourself somewhat fatigued, there is another phenomenon that befalls you…and that is that you discover that some emotional "layers" are peeled off and this results in a short fuse to anger, laughter, or any sort of emotion.
Well, the fatigue, the atmosphere, the setting, the memories of that night, and the "Tangled" (I See the Light) segment of The Memories, The Magic, and You had quite an effect upon me. I found myself choking up a bit during the narration and decided that what was best for my audience from me…was silence.
As the 6:00 AM hour approached we all wondered if "Kiss Goodnight" would wrap up our amazing, once in a lifetime experience. Mike and I waited and waited and decided it was not going to happen and so we signed off with our audience.
Of course, no fewer than five minutes after we went off the air, the music started and "Kiss Goodnight" had begun.
It was an eerie and surreal moment in my life.
I have been to Walt Disney World many times. I have been privileged and very lucky to see and experience much of what the Walt Disney Company has offered to its guests.
During the showing of "Kiss Goodnight" I struggled to take my eyes off the castle, but I realized that this was a special moment, and I had to do whatever I could to capture the images, the feeling, the uniqueness of this moment.
I was standing some ten feet in front of the Partners Statue and looked around and counted some several hundred guests, who, along with me, were wrapping up there One More Disney Day.
Noone was moving…noone was talking…even the cast members were caught up in the moment. There were a few young children there, and they too were frozen, mesmerized by the music and lights.
We were all experiencing something that none else had ever experienced before.
As the very short presentation (about three minutes) carried on, all my fellow guests continued to stare at the castle. My guess is that they too were caught in the moment and realized how special, how unique, and how "Disney" this moment was.
As the show ended with its signature covering of the castle, I noticed everyone took a collective sigh, and we all slowly turned and made our way down Main Street, USA.
It was approaching 6:30 AM, but it felt very much like it was night.
I found myself walking slowly down Main Street USA….I felt like mores than ever before that I had formed a new relationship with The Magic Kingdom.
It's hard to explain how this area, this place, can have such an effect on the many who continue to visit every day, every week, every year.
We keep coming back…returning to escape from what life deals to us every day…to smile, to laugh, and to cry.
Disney's One More Day experience did not meet my expectations…it truly went beyond that and reminded me as to what draws us to this little theme park in Central Florida.
After close to 40 years of visiting Disney theme parks I finally truly understand what is meant when I am told visiting Walt Disney World, and especially The Magic Kingdom is where "Dreams come true."
For an entire night, through so many experiences, one dream came through for so many guests and that dream was to leave their cares outside the turnstiles…never to step foot inside this place where, for some reason, allows us to put the stresses of life on hold.
That's what we all dream for and that's what Disney delivers.
One More Disney Day allowed thousands to dream for 24 straight hours…but those thousands, including me, did not realize that until…until the 6:00 AM hour…when it was all over.
Will there be another One More Disney Day? I hope so…because when it happens…sign me up…I can't get enough of that dream.
Oh and remember the photo I showed you earlier of where I had parked my car around 4:00 AM the previous morning? Well, some 26 plus hours later I was parked some four rows from the very rear of the last Heroes Parking lot, Mulan. My car is that little spec on the left side.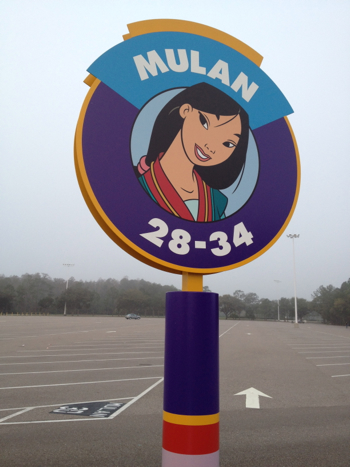 One More Disney Day was over…but the memories will linger.