When it comes to an overall sense of grandeur, there are few places at Disney World that match the majestic beauty of Wilderness Lodge. I would go so far as to argue that no resort at Disney World goes as far as in being able to transport guests to another time and place and make them feel as though they are no longer in the middle of Florida. Inspired by the Great American Northwest National Park lodges from the turn of the 20th century, the theme of harmony with nature is prevalent throughout.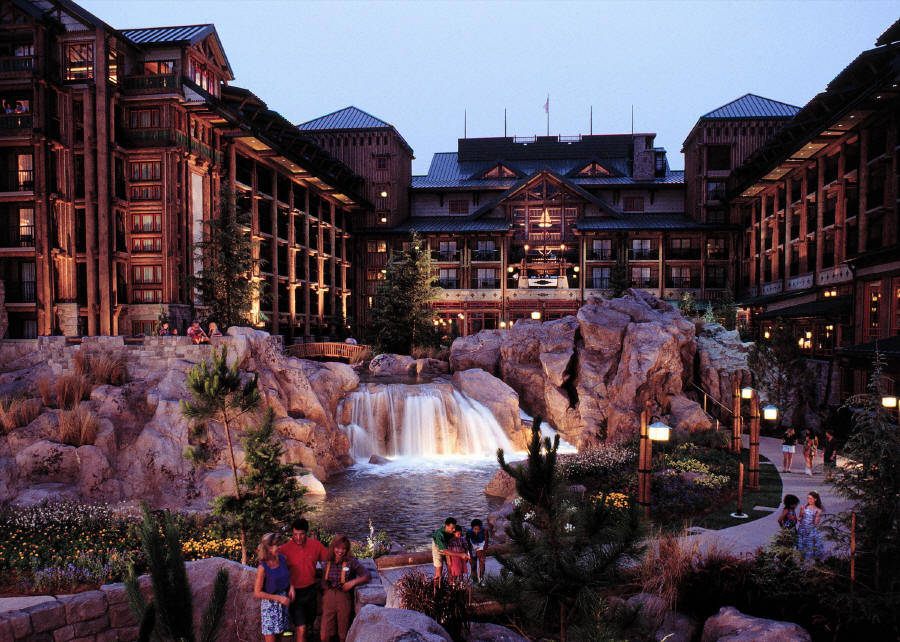 The resort's decor and artifacts pay homage to ancient Native American cultures as well as the pioneering spirit of early American explorers, with the seven-story lobby (built from 85 loads of Lodgepole Pine) and 82-foot-tall fireplace helping to make resort one of the most visually stunning on property.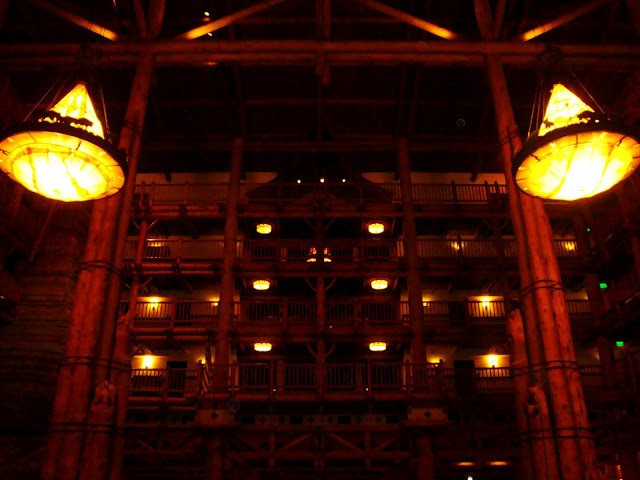 Overall, the resort is what I would consider rustic-elegant and it is only fitting that it features a restaurant worthy of this dignified and impressive setting. Artist Point is one of Disney's Signature Dining Locations and, while it may not have the same notoriety as say a Yachtsman Steakhouse or California Grill, this restaurant offers guests one of the finest dining experiences in all of Disney World.
Overview:
Artist Point, like the rest of Wilderness Lodge, draws its inspiration from the National Park lodges of the Pacific Northwest, an area which encompasses Oregon, Washington, and British Columbia; everything about the restaurant, from its décor to its menu focusing on seafood, sirloins and game to its award winning wine list featuring 131 selections, is reflective of this region.
Artist Point is one of two full service restaurants at Wilderness Lodge, along with the Whispering Canyon Café, but the two could not be more different (you can see my review of Whispering Canyon Café here). Artist Point presents a sharp contrast to the raucous, laid-back, family friendly Whispering Canyon. This is a restaurant that is all about refinement, as reflected in its Signature status. In fact, Artist Point is one of just 16 Signature dining locations in all of Disney World, restaurants that are considered the cream of the crop amongst the numerous dining experiences to be found across property.
One of the marks of the more elegant and refined atmosphere found at Signature restaurants is a dress code. The dress code for Signature restaurants is as follows (as stated on the Disney World website). Men are encouraged to wear khakis, slacks, jeans, dress shorts, and collared shirts. Sport coats are optional. For women it is suggested that they wear capris, skirts, dresses, jeans, dress shorts. There are also certain articles of clothing that are not allowed in the dining room, such as tank tops, swimwear, hats, cut-off or torn clothing. Also, while t-shirts are allowed, the policy is that anything with offensive language or graphics is not acceptable.
Disney defines its Signature restaurants as dining experiences that "provide unparalleled cuisine served in elegant and relaxed settings," and this certainly holds true for Artist Point. It is a restaurant that offers everything you would expect from Disney in terms of atmosphere, food, and service, but elevates it to a whole new level.
Atmosphere:
The sheer impressiveness and sense of grandeur that you get when you enter the lobby of Wilderness Lodge is carried through to Artist Point. Everything about this restaurant is on a large scale, from its high vaulted ceilings, ornate iron lanterns suspended from massive timber columns, immense windows offering beautiful views of Bay Lake and the resort's Silver Creek Falls, and its breathtaking murals and paintings.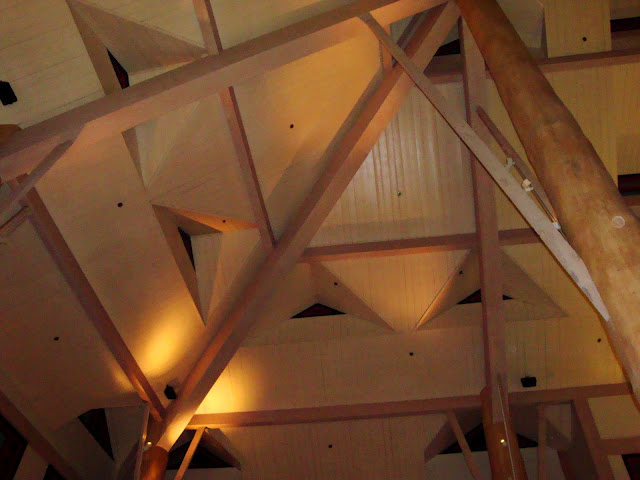 Artist Point is indeed an apt name for the restaurant because its artwork really makes the atmosphere stand out. The restaurant's menu actually presents some background information on the various paintings that are present throughout the dining room. The most striking of the artworks are the massive murals inspired by the work of Thomas Moran.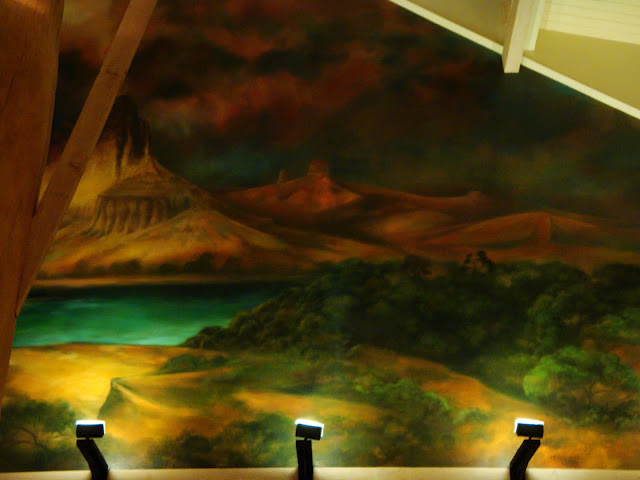 In 1871, Ferdinand Hayden, director of the United States Geological Survey, invited Moran to join his expedition team into the Yellowstone region. During forty days in the wilderness, Moran visually documented over thirty different sites and produced a diary of the expedition's progress and daily activities. His sketches captured the nation's attention and helped inspire Congress to establish the Yellowstone region as the first national park in 1872. The mural in the dining room comes from Moran's sketch of the Green River area of Wyoming.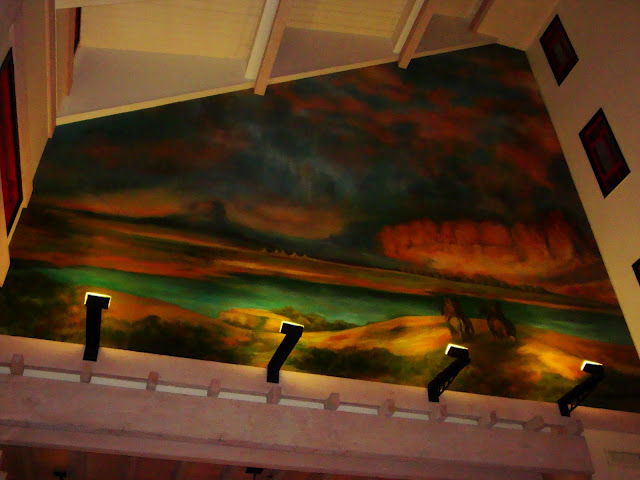 In addition, the dining room also features five six-foot by six-foot paintings inspired by the works of Albert Bierstadt. In 1859, Bierstadt was given the tremendous opportunity of accompanying General Lander on an expedition to survey a wagon route to the Pacific, a route that would eventually become known as the Oregon Trail, and was responsible for sketching much of the natural beauty encountered during the expedition.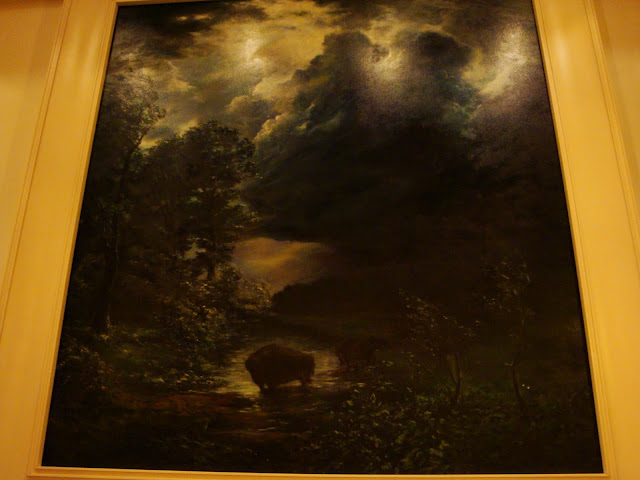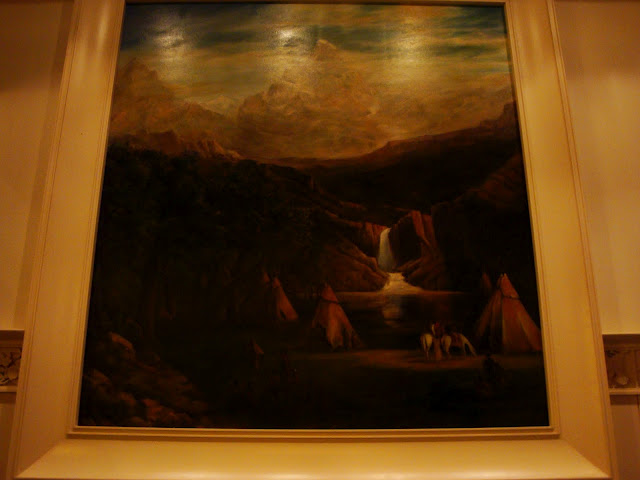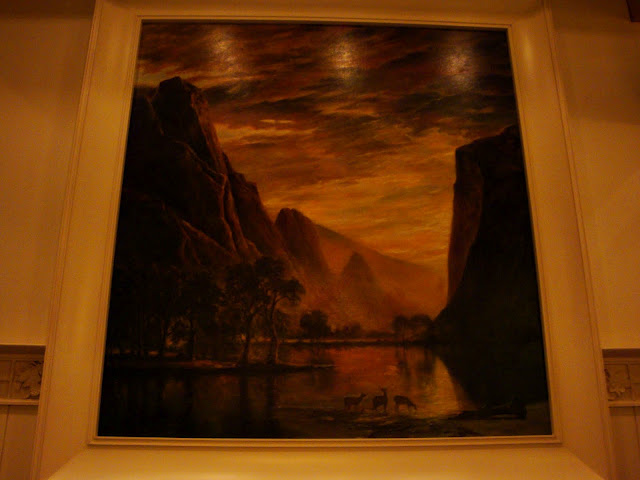 The various artwork found around the dining room really adds to the beauty of the restaurant, but it also helps to solidify the Pacific Northwest theming and pays homage to the resort's National Park inspiration.
One of the other features of Artist Point's atmosphere is its large windows that offer breathtaking views of the resort's grounds. I dined here at night so there was not really much to see, but if you happen to dine here while it is still light out you will be treated to views of Bay Lake, the resort's pool area, and the forested landscaping. The windows really bring the outdoors in, which helps to solidify the rustic feel, in addition to giving the dining room an openness and airiness that is aided by the restaurant's high cathedral ceilings.This is an example of the view you could have from your table: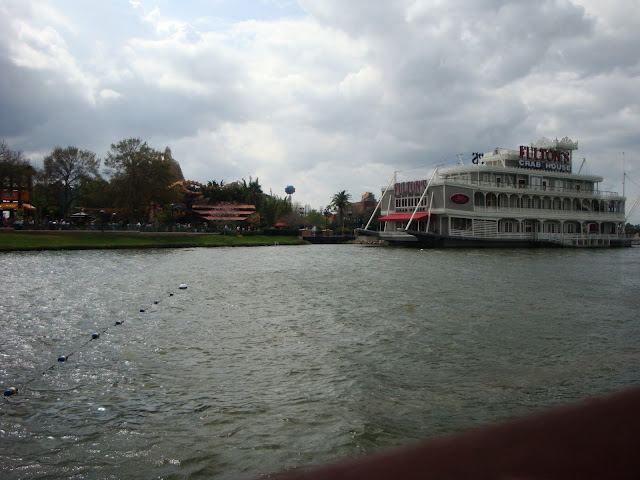 The restaurant's openness is also evident in the sheer size of the dining room. This allows for the tables to not be placed right on top of each other, which helps make the dining experience both more quiet and private. Indeed, this is a restaurant that, despite its grand scale, actually has a very intimate feel. This is the perfect dining location for adults looking for a romantic getaway. The restaurant's refined, upscale feel combined with its immersive Pacific Northwest theme make it a great escape from the hustle and bustle of the theme parks.
The Menu:
One of the marks of a Signature dining location is that their menus change more frequently than most other restaurants in Disney World. The reason for this is that the menus at Signature restaurants reflect what ingredients a fresh and in season at that particular time of year. The one constant with the menu at Artist Point is that it is going to reflect the flavors of the Pacific Northwest. The offerings I describe here reflect what was on the menu when I dined here in early March.
One thing that impressed me most about the menu at Artist Point was the great variety of ingredients used in their dishes. This is definitely a restaurant for the more exotic and adventureous diners, as evidenced first by the appetizer offerings. Among the appetizers featured on the menu were a Smokey Portobello Soup with Roasted Shiitakes and Chive Oil ($10.00), Kettle-Steamed Copper Ale Penn Cove Mussels ($14.00), a Mixed Field Greens Salad ($11.00) with shaved Asian pear, sunflower seed granola, smokey blue cheese, and a champagne vinaigrette, Salt-Roasted Heirloom Beets ($13.00) with truffled chèvre, cider-poached pink lady apples, spiced walnuts, and a mulled wine vinaigrette, a Beef Noodle Bowl ($14.00) in a fragrant oxtail broth, Penn Cove Roasted Oysters with Dungeness Crab Ceviche ($13.00), and a Selection of Artisanal Cheeses ($14.00) including smokey blue cheese, reypenaer, and humboldt fog with seasonal garnishes and walnut toast.
Like the appetizers, the entrée offerings are reflective of the great outdoors of the Pacific Northwest and it all starts with the house specialty, the Cedar Plank-Roasted King Salmon ($35.00) accompanied by autumn squash, root vegetables, baby sprouts, and spice cider reduction. Among the other seafood options on the menu are a Wild-Caught Jumbo Prawn and Crab "Hot Pot" with Mussels ($32.00) with crispy pork, jasmine rice, and a spiced Thai coconut broth, Seared Diver Scallops ($33.00) with parmigiano-reggiano butternut squash risotto, toasted pumpkin seeds, and balsamic vinegar, and Seared Pacific Swordfish ($34.00) with black trumpet mushroom hash, salsify, and a meyer lemon emulsion.
The entrée selections from land include a Pan-Seared All-Natural Airline Chicken ($29.00) with pumpkin fettuccine, Swiss chard, pumpkin seed pesto, and cranberry jam, a Herb-Roasted Veal "Tomahawk" Chop ($46.00) with hunter-style foraged mushrooms, Yukon gold potato smear, and a veal glaze, Grilled Certified Hand-Cut Black Angus Beef Tenderloin ($42.00) served with fried macaroni & cheese, smoked fennel, roasted carrots, poblano ketchup, and chimichurri paint, a Char-Grilled Buffalo Strip Loin ($43.00) with purple potato purée, hazelnut cauliflower polonaise, onion marmalade, and a blackberry pinot noir reduction, and for vegetarians there is the House-Made Sweet Potato Gnocchi ($28.00) served with wild mushrooms, spinach, caper butter, and drunken goat cheese.
You might also want to save room for dessert as the menu features several delectable options. The restaurant's signature dessert is the Artist Point Cobbler ($11.00) with seasonal berries and house-made black raspberry ice cream. There is also the Warm Chocolate Cake ($11.00) featuring warm valrhona chocolate with Grand Marnier chantilly and berry seltzer, a Baked Apple Upside-Down Cake ($10.00) with sweet-and-sour caramel sauce and brown sugar ice cream, and a Vanilla Bean Crème Brûlée ($10.00) with a chocolate-hazelnut biscotti.
For my meal I decided to be adventurous and try something completely new to me. Buffalo is not a dish common to many menus, especially at Disney World. I figured that this was a rare opportunity that I should not pass up and decided to try the Char-Grilled Buffalo Strip Loin. My server recommended that I order the buffalo cooked medium, which would give it a pink color throughout but also accentuate the tenderness and juiciness of the steak. While the buffalo had a slightly stronger, more gamey flavor than beef, if I had not been told it was buffalo then I probably would not have even realized what it was. When you think of buffalo you picture the big, burly animal and would probably imagine the meat to be a little tough, but I was surprised at just how tender the meat was. Buffalo naturally has a more reddish color than beef, so even if you were to order it well-done you could still expect the meat to have a pinkish color. I was very happy that I ordered the steak medium because it really helped bring out the full flavor of the buffalo.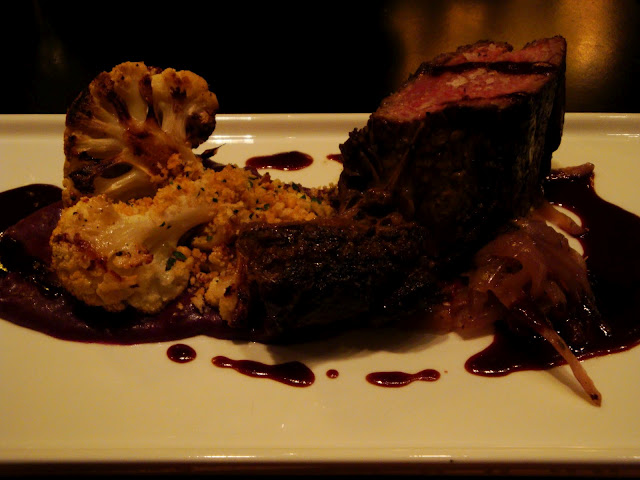 One of the things that impressed me most about the dish was the tremendous amount of flavors that it encompassed. Each of the accompaniments to the buffalo had its own distinct flavor and yet they all blended together perfectly. No one flavor really dominated the others, but instead they seemed to enhance and bring out the best in each other, giving the dish a level of complexity that really separated it from the types of dishes found in non-Signature restaurants. The most unique accompaniment had to be the purple potato puree. While it may have an odd appearance, it had the consistency of smooth mashed potatoes and lent a creamy and subtle sweetness to the dish. The hazelnut cauliflower polonaise presented a definite contrast in texture, but I was also surprised with how well the hazelnut paired with not only the cauliflower but the buffalo as well.
Like the potato puree, the onion marmalade also had a slight sweetness to it, but the real star accompaniment was the blackberry pinot noir reduction. The sauce provided more of a fruity flavor as opposed to that of wine, which presented a perfect compliment to the slight gaminess of the buffalo. My only complaint was that there was not more of the sauce to go along with the generous portion of meat. I think the best way I can sum up this dish in just a couple of words is high quality; everything about it, from the ingredients to the flavors to the presentation, left a lasting impression.
For dessert I decided to try what is considered the restaurant's signature dessert, the Artist Point Cobbler. This dessert usually comes topped with house-made black raspberry ice cream, but I chose just to have some vanilla ice cream on the side instead. The picture of this dessert does not really do it justice, with the berries on top just a garnish that hides the real treat underneath. First, there is the light, flakey crust and beneath that lies the ooey gooey berry goodness that makes the dessert truly special. The berries included rasberries, blackberries, and blueberries and really had the consistency, texture, and flavor that you would expect from the filling of something like a blueberry pie.
Overall this is a very simple dessert, one that can easily be made at home on your own, but its execution was top notch. The cobbler comes served warm and the fruity flavor of the berries combines perfectly with the crust and the vanilla ice cream. This is not an overly sweet dessert and that I why I felt that the vanilla ice cream (as opposed to the raspberry) was a better compliment providing some added sweetness and creaminess to counter the slight tartness of the berries.
Service:
In my past experiences at Signature dining locations I have been completely blown away by the attentive service that I have received. The servers at Signature restaurants generally have fewer tables to wait upon and can therefore pay much closer attention to the guests that they are serving. While I found the service at Artist Point to be very good, it was not necessarily great; there was nothing about my server that really stood out as being special. With a menu that contains so many different, exotic ingredients and flavors I was expecting the sever to give an in-depth explanation of some of the dishes, instead she briefly mentioned what some of the restaurant's more popular items were. My server was certainly very nice and quite pleasant, checking in frequently to make sure I was enjoying every part of my meal, but I did not feel as though her service stood out from anything I would receive at a non-Signature restaurant.
One thing I greatly enjoyed about the service was the pacing of the meal. While not slow by any means, the meal progressed at a leisurely, relaxing pace that really allows you to enjoy not only all the flavors of the meal, taking time to digest between courses, but also the beauty of the atmosphere.
Dining on a Budget:
Another mark of Signature dining locations are their priciness. It is very difficult to dine on a budget when going to one of these restaurants. That being said, you are truly getting what you pay for in terms of the high quality food, atmosphere, and service you receive. If you are looking for a place to splurge on a meal and have a truly memorable experience, then Artist Point and the other Signature restaurants across Disney World are definitely worth a try. However, I certainly would not want to eat at a Signature restaurant every night of my vacation because the cost would be far too high.
Artist Point is on the Disney Dining Plan, but as a Signature restaurant it is worth two table service credits. One way you can save some money at Artist Point is with a discount. The restaurant does participate in Tables in Wonderland and thus members receive its 20% discount. In addition, Annual Passholders can receive at 10% discount although there is no discount for Disney Vacation Club members.
The Overall Experience:
Being my first time dining at Artist Point I was extremely impressed. This is certainly a restaurant that lives up to it Signature status. From the beauty and grandeur of the dining room to the intricate blending of ingredients and flavors in its dishes, Artist Point is one of the more elegant restaurants that I have dined at in all of Disney World. While a menu that is more on the exotic side may not make it appealing to everyone, if you are willing to go a little outside the box and try new things then you will not be disappointed. Artist Point's menu is definitely one of the more unique of the many Disney restaurants that I have dined at, but that is one thing that makes it so appealing. Even though it is certainly not a cheap meal by any means, I left feeling as though I had gotten my money's worth. It is truly a quality dining experience in every aspect and one which I look forward to returning to in the future.
See past reviews by Guest Blogger Andrew Rossi.
Check out Reader Reviews of Artist Point and post your own too!