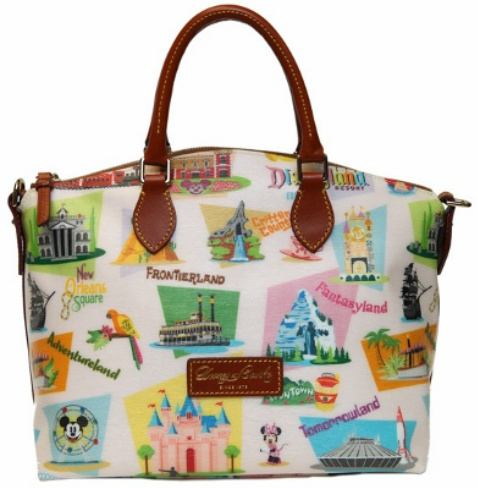 Dooney & Bourke Retro collection
In the last few years, some Disney fans have found a new, high-end souvenir to collect. Who wants to bring home more scrapbooks and T-shirts when you can choose an unusual, well-made handbag? Combining the whimsical designs of Disney with the well-known quality of the Dooney & Bourke brand, these stylish bags have become increasingly popular.
Disney Dooneys, as they are fondly called, are introduced in several new patterns each year. West Coast collectors are eagerly awaiting the release of two new collections on May 12 — just in time for Mother's Day! The Retro collection with a unique color palette depicts traditional graphics and logos of the various lands inside Disneyland. This new line will be available in a variety of silhouettes including a wristlet, mini barrel, tassel tote, satchel and letter carrier as well as an iPad case, which is a first. Prices range from $78 to $268. On the release day, Ian Ray, creative director for Dooney & Bourke, will be signing the new Disney Dooneys from 2 to 5 p.m. at Disney Vault 28.
The second collection, called Buttons, is being kept under wraps until closer to its debut on May 12. Disneyland and Walt Disney World guests will be able to purchase the Buttons collection on its release date. Disney World guests will find the Buttons collection at TrenD at Downtown Disney West Side.
Dooney & Bourke Disney Cruise Line Fantasy Inaugural Voyages collection
A new Disney Cruise Line Dooney & Bourke collection debuted on the maiden voyage of the Disney Fantasy cruise ship earlier this month, and the bags feature more muted colors than most of the Disney Dooney bags we've seen so far. The design incorporates names and icons of all the ships on a blue-gray background.
"To make the new collection even more enticing for Disney Fantasy guests, the select collection silhouettes on the Disney Fantasy will feature leather embossed luggage tags that showcase they were part of the Inaugural Disney Fantasy Voyages," said Laura Caszatt, product developer for Accessories.
The new DCL collection includes a variety of shapes, including a wristlet, mini barrel, Susanna tote, satchel and travel duffle, and prices range from $55 to $395. These bags are exclusive to the Fantasy until this summer, when they will be available on all the DCL ships.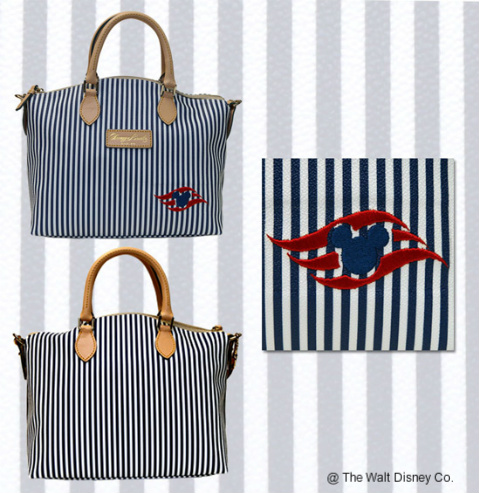 Upcoming Dooney & Bourke Disney Cruise Line collection
Another cruise collection will debut later in 2012 on Hawaiian itineraries. Disney offered a sneak peek at the striped, nautical satchel, which will cost $235. It, too, will have widespread availability on the ships later in the summer.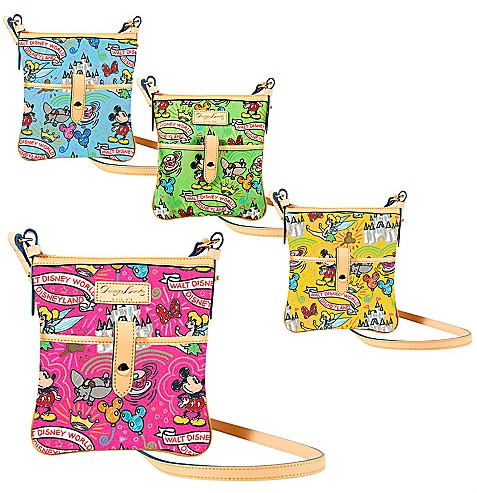 Dooney & Bourke Sketch collection Crossbody bags
Some of the most popular DIsney Dooney & Bourke bags both on land and at sea are from the Sketch Collection, said Erin Catalano, merchandise communication specialist at Walt Disney World Resort. The bags in the Sketch Collection show various colorful icons from the ships or Disneyland or Disney World.
Looking for a deal on these expensive bags? A few discounts can be yours for the asking. Stores on Disney World property that sell Dooney & Bourke bags will honor the 10 percent discount for annual passholders and 20 percent discount for premium annual passholders. Or, Disney Visa cardholders can get a 10 percent discount for any purchase over $50 at Disney World.
Dooney & Bourke Princess collection bucket bag
To find a deal on Disney Dooney & Bourke bags off Disney World property, visit the Dooney & Bourke outlet stores. There is one in Orlando Premium Outlets on Vineland Avenue (near Downtown Disney) and one in Orlando Premium Outlets at the end of International Drive. Both locations usually carry a small selection of Disney Dooneys and sell them at a 40 percent discount. Currently, the Vineland Avenue location has the Princess bucket bag for $99. (It originally sold for $165.) At the International Drive location, shoppers will find the Princess bucket bag, plus the Princess satchel with black background for $132. (It originally sold for $220.) That location also has several of the 2011 Disney Dream Inaugural Voyages Crossbody Bag for $74. (It originally sold for $165.) If you wished you had purchased one last year, now is your chance!
If you're not on vacation, you can still purchase Disney Dooney & Bourke bags. DisneyStore.com carries most of the bags you will find at Disneyland and Walt Disney World, and occasionally even offers Disney Cruise Line bags. Currently, there are 27 bags for sale, and two of those are 2011 Disney Dream Inaugural Voyages bags, which have been marked down 40 percent. The website also has the Disney Sketch Crossbody Bag in four colors marked down 24 percent. Plus, any Dooney & Bourke purchase allows you to buy a Sketch credit card holder/keychain for $15. The one drawback with ordering online is that you cannot choose the pattern placement. For bags with a uniform pattern, such as the Minnie Mouse bows, this is irrelevant, but for patterns such as the popular Sketch collections, it can make a difference.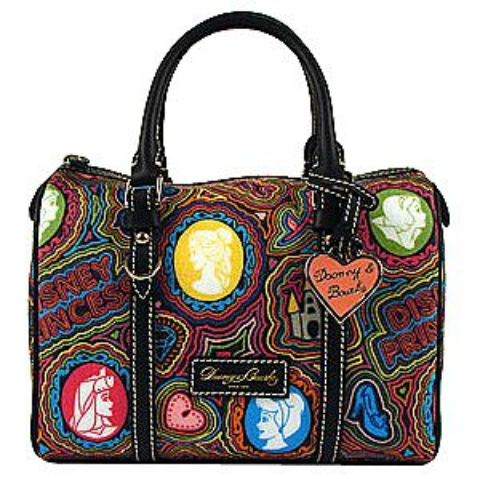 Dooney & Bourke Princess collection satchel