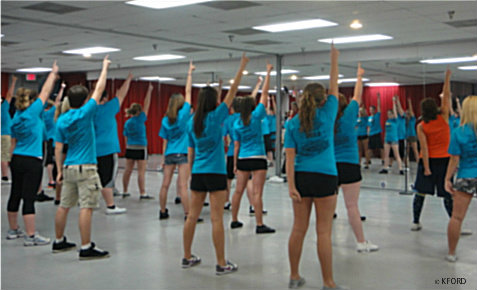 Decatur Central High students learn choreography during a Disney Performing Arts workshop.
When I grew up in suburban Indianapolis, our high schools didn't have show choirs — there was band, marching band and choir. But that was way before "Glee" capitalized on the popularity of the show choirs in schools today.
Yesterday, I watched performers from another Indianapolis high school, Decatur Central, take part in a Disney Performing Arts workshop. Tucked away in a studio behind Epcot — "back stage" as Disney likes to call the area — the students learned two dance routines for songs for which they had prepared the vocals in advance of their trip. There were jazz hands, jazz squares, a shake-and-bake step, original moves from the students, and even some high-fiving in the mix.
Their instructor, Thomas Murphy, is a longtime Disney performer and choreographer. In fact, he helped design the Disney Channel Rocks! street dance party at Disney's Hollywood Studios. He also performed at Tokyo Disney's "Disney World is Your World" show, which is the source of the workshop's two songs — "D-Pop Magic" and "Disney World Is Your World."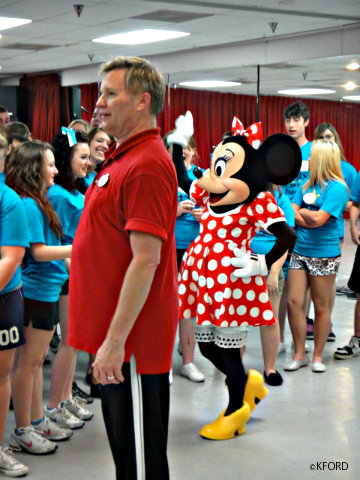 Thomas Murphy and Minnie Mouse danced with the vocalists.

Murphy's upbeat personality kept the kids moving and motivated — even at a 9 a.m. call time, which is practically the middle of the night for teenagers. He encouraged the vocalists to keep smiling when onstage, even if they make a mistake. "Performing is not from the neck down," he told them.
Decatur Central was participating in Disney's Show Choir Magic session, a workshop the group added to their Walt Disney World experience. The goal of the course is to give students a glimpse into the life of a professional performer.
The main objective for the 29 students traveling to Orlando, however, was to perform an original piece they prepared back home in Indiana on a Disney World stage for visitors. The group had to audition to be chosen for this honor. They fulfilled that dream Wednesday night at Downtown Disney.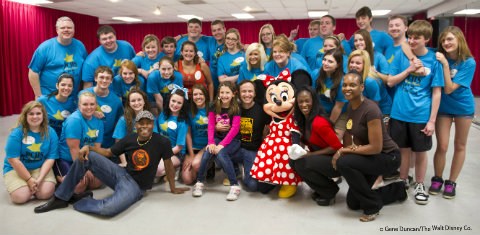 The Indianapolis show choir poses with Minnie Mouse and 'The Lion King' performers.
Before they left the workshop, though, there were a few surprises in store for the vocalists. First, Minnie Mouse popped into the room and joined their dance routine. She knew all their moves and was not shy about leading the students with Murphy. Then, the group performed for a panel of "Disney show producers." What the students didn't know, though, was that the "producers" actually were performers from the national stage tour of "The Lion King."
"The Lion King," which is celebrating its tenth anniversary, is in Orlando at the Bob Carr Performing Arts Centre through May 14. Four performers from the Grammy-award and six-time Tony award-winning show answered questions from the students. The performers were Nick Cordileone (who plays Timon) and Amyia Burrell, Electra Weston and Paul Sadler (all ensemble performers).
Students ask questions of performers from the national stage tour of 'The Lion King.'
The Decatur Central students asked a variety of questions, including how to pursue a performing arts career and what makes professional performers nervous on stage, and they requested Cordileone voice Timon for them, which he happily did.
But what really got everyone laughing was when the performers talked about times they had flubbed their scenes and what they did to recover on stage. Sadler described his first role in "Phantom of the Opera" and completely forgetting his opening lines. He said he tried to buy himself time to think by running around the stage growling. His cast mates, of course, knew he should be speaking and had to turn away so they wouldn't laugh during the production, he said.
For Weston, it was an incident that occurred when she was playing Queen Sarabi in "The Lion King." She and Mufasa are supposed to present Simba to the other animals from atop Pride Rock. Unfortunately, they were halfway up the rock when it was discovered that she wasn't holding the lion cub. They both debated what to do, before Mufasa ran back to get Simba, and Weston had to maintain her composure and try to look regal in the process.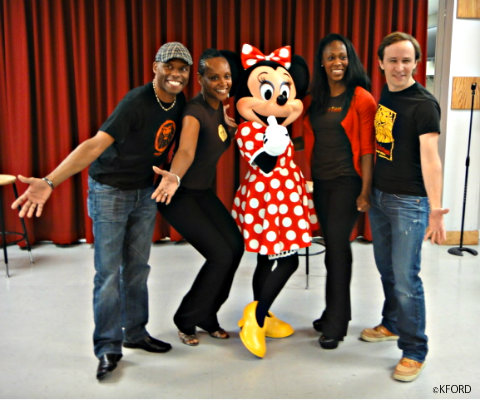 'The Lion King' cast members (from left): Paul Sadler, Electra Weston, Amyia Burrell and Nick Cordileone.
Clearly, with real-world anecdotes such as these and more, the students received valuable insight into acting, stage productions and how to create performance magic – something Disney excels at every day for its park guests.
Tomorrow, I'll share my interview with "The Lion King" cast member Amyia Burrell, who was once a Disney Parks performer.