I see a lot of photographs from Disney parks each week from my contacts on flickr, Google+, Twitter and Disney message forums. That means I see a lot of photos in these two categories: Snapshots and Postcards. Before I go farther, these are my definitions and opinions and not those of AllEars.net.
A snapshot is a photo of something which has distractions of one kind or another. The subject maybe clear or lost in the distractions. Bad compositions fall into this category. I have hundreds of these kinds of photos. Many hold memories for me of places, people and things. They are put in albums and galleries to be shared with family and friends. Nothing people would consider buying if they saw it on a postcard.
This photo of the Yacht Club Resort at Walt Disney World is a prime example of a snapshot. While the subject is the Yacht Club and I used leading lines to lead your eyes to the resort, there are distractions. The most obvious is the large shadow from the lighthouse in the lower left. The other distraction is the boat on the edge of the left border. Remember to look around the edges before you press the shutter or on the LCD screen before you leave the location of an important photo.
Snapshot of the Yacht Club Resort from the lighthouse.
Nikon D700/28-300VR, 1/200s, f/14, ISO 200, EV -0.3, 28mm focal length.
How to make this snapshot into a postcard? A postcard photo is one which I feel a person would buy in a shop of a place they are visiting to show other people where they have been. These are the photos I share online with my contacts and all of you here. To do this, I first walked up the dock towards the Yacht Club a few feet to eliminate the shadow and zoomed in the lens to clean up the edges.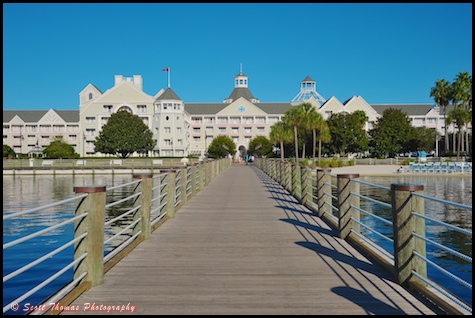 Postcard of the Yacht Club Resort from the lighthouse.
Nikon D700/28-300VR, 1/250s, f/16, ISO 200, EV -0.3, 40mm focal length.
While this photo will never be in the Yacht Club's store, I believe it could be.