I promised that I would make regular trips to the Magic Kingdom to keep you informed of any new additions and updates to Storybook Circus. Well I visited a couple of days ago (April 23, 2012) and nothing new has been opened in this area. Sigh. However, I do have some additional information to share with you.
First, I snapped a couple of pictures of the new "Casey Jr. Splash 'N' Soak Station" currently under construction. As I mentioned in an earlier blog, this water play area will be situated on a train turntable located beside the roundhouse/restrooms. As you can see, construction is well underway.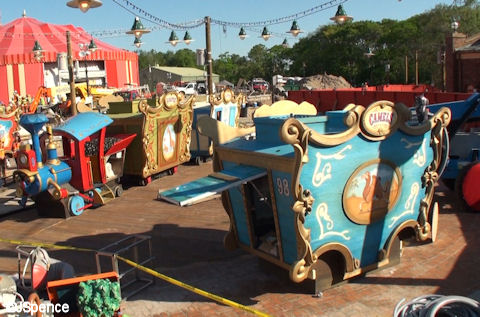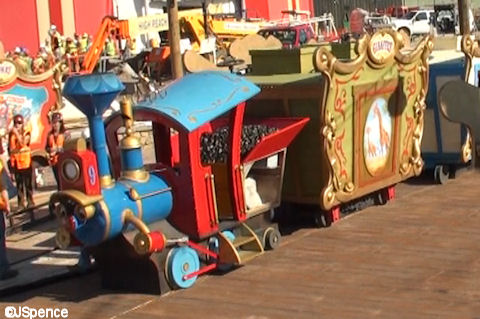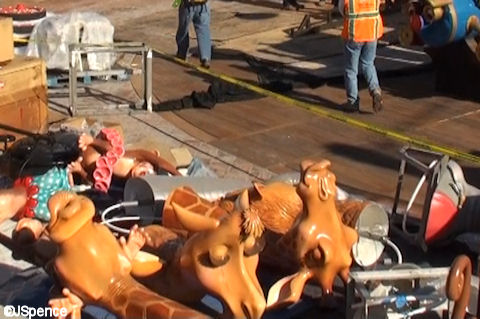 I asked a Barnstormer cast member if she had any idea when this area would be opening. She told me that Disney is hoping for June, but as with any project, this date is subject to change.
I also asked the cast member if The Barnstormer would eventually be outfitted with FastPass. She confirmed that it would.
As you might know, anytime Disney replaces an old attraction with something new, they honor the outgoing ride with some sort of remembrance. For example, inside "The Many Adventures of Winnie the Pooh" attraction is a portrait of Mr. Toad handing over the deed to Owl.
Well even though "The Barnstormer" is not technically a new ride, but just a retheming of an old attraction, "The Barnstormer at Goofy's Wiseacre Farm" has been honored with a remembrance. If you look behind "The Barnstormer" sign that graces the entrance, you can see the jumbled letters that once read "Wiseacre Farm."
Since I had nothing new to report and Storybook Circus was not crowded, I decided to use this opportunity to videotape the rethemed "The Barnstormer." Watching this three minute video might be the shortest you'll ever wait to experience this attraction. Enjoy.
While I was at the Magic Kingdom, I ventured over to Adventureland to check out the recently reopened Sunshine Tree Terrace – and its new/old mascot.
In 1969, the Florida Citrus Commission became one of the first sponsors to associate itself with a Magic Kingdom attraction: The Sunshine Pavilion which included the Sunshine Tree Terrace and the Enchanted Tiki Room. To help promote citrus products nationwide and a frozen beverage known as the Citrus Swirl sold at the Sunshine Tree Terrace, publicity art designer Don MacLaughlin created the Orange Bird. Although this character only appeared in "live" form at the Magic Kingdom, the Orange Bird became famous nationwide as he appeared on billboards and television ads across the country promoting citrus products. In addition, the Sherman Brothers penned a tune, "The Orange Bird Song" which was recorded by Anita Bryant.
The Florida Citrus Commission ended their sponsorship in 1986 and the Orange Bird slipped into Disney history. However, this character had a resurgence at Tokyo Disneyland in 2004 to coincide with Japan's annual Orange Day celebration held on April 14th.
But this character of yesteryear has been brought back to the Magic Kingdom — well sort of. When the Sunshine Tree Terrace reopened last week, our little friend was added to the refreshment stand's sign. He can also be seen perched at the back of the restaurant with a crate of oranges. According to a recent blog by Kevin Kidney, this Orange Bird is an original artifact from 1971 that had been lost for years and only recently uncovered. In addition, the Citrus Swirl (orange slush with vanilla soft-serve ice cream) has been brought back and added to the menu. To see the complete offerings of the Sunshine Tree Terrace, click here.
Two Orange Bird t-shirts and a pin can be found at the nearby shop. As the months continue, additional Orange Bird souvenirs will be offered.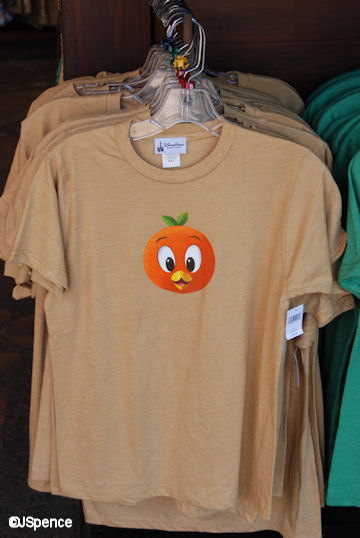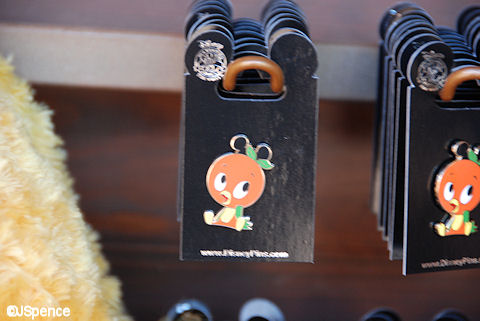 That's it for this update. Even though my regular blogs are posted on Mondays, you never know what you might find from me during the rest of the week. So check in occasionally.