I read "Dear Abby" every day. She often gives great advice – and sometimes, not so great. Occasionally, she'll run a letter written by one of her readers reminding us to behave "correctly" under certain circumstances. For example, a bank teller might write in suggesting that we have all of our paperwork completed before reaching the window. And a supermarket checker might suggest not getting into the "Ten Items or Less" line unless you actually have ten items or less.
I always laugh when I read these columns because I know that the intended audience never recognizes themselves in these situations. We always believe it's the "other" guy misbehaving, not ourselves. But despite the fact that I think these articles are basically useless at changing human behavior, I'm going to write my own version of this "advice" column in connection with visiting Disney parks. I'm hoping against hope that it might make people rethink some of their actions. Silly me.
First, and foremost, I want to cut everyone some slack. When people pass through the turnstiles, they leave their brains behind – myself included. Disney parks offer so many sights, and sounds, and smells that it overwhelms the senses. There is so much happening all around us that it's impossible to process it all. It's little wonder that we behave differently inside the Magic Kingdom than we do on the outside. People have a sense of wellbeing in a Disney park. We think nothing bad can happen to us inside the magical world of Disney. For example, the person who works in a big city and crosses many busy streets in their daily life without incident, will be the same person who trips over a curb on Main Street. Like I said, we leave our brains someplace else when we enter a Disney park.
So here I go with my list of suggestions aimed at "certain" guests. Not you, my faithful readers, but the "other" guy.
Bag Check:
Unfortunately, the world we live in is not as innocent as the one Walt left in 1966. Today, security guards must check all guests' bags before they enter a park. And the key word here is "ALL." If you have a purse, a camera bag, a Disney bag wadded up in the back of your stroller, any container that can be closed and does not fit in your pocket, you MUST let a security guard check its contents. You CANNOT go through the "No Bags" line. It's that simple.
And if you do accidently find yourself in the "No Bags" line and the security guard asks you to proceed to Bag Check, don't ask him or her to make an exception for you and check your bag(s). If they make an exception for you, then they have to make an exception for the next guy. This just complicates the job they're trying to do and slows down the line for those guests who don't have bags waiting behind you.
Photography:
In the days of real film and developing, if someone walked in front of me just as I was snapping a picture, I would be annoyed. But not so much anymore. In the age of digital photography, I just shrug and take another picture. Since most people are kind enough to wait while guests snap a photo, I have to believe those who pass in front of me were just so caught up in the moment that they never noticed me and my camera. I know I've unthinkingly walked in front of my share of photographs.
However"¦ I would like to offer some suggestions to would-be photographers.
If you're taking a picture across a busy walkway or thoroughfare, you do not have five minutes to compose the perfect shot. You have roughly 10 seconds. That's about all the time people are willing to wait for you. You need to point and shoot.
If you're group is posing in front of an icon, like the entrance sign to an attraction, or a fountain, or topiary, or the Partners statue, move away from the icon once the picture has been taken. The photographer should not join the group in front of the icon to discuss the merits of the photograph and try to determine if a second shot is needed. There are others waiting to take the same picture.
Cast members and recorded messages will often ask that guests refrain from using flash photography on certain attractions. Please comply. It is very annoying to those around you.
Doorways & Escalators:
There is something about doorways that compels people to stop dead in their tracks once they reach this opening. I don't know why, but they do.
If you are exiting an attraction or shop, do NOT stop in the middle of the doorway. There are people behind you who want to exit (or enter). Please proceed to a less trafficked area to take care of whatever it is that needs taking care of.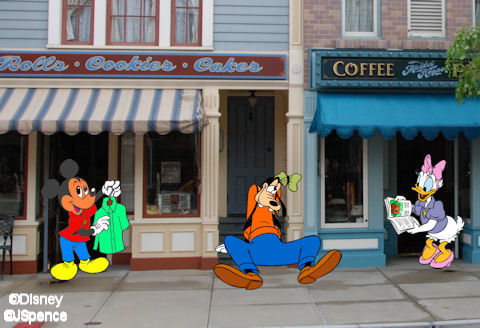 In this same vein, do not stop at the top or bottom of an escalator. Move away! There are most probably people riding behind you and the escalator is going to deposit them into the space you're occupying.
Counter Service Restaurants:
Disney does their best to post their menus conspicuously so folks can read them and make up their minds BEFORE getting in line. I understand that if the line is long, you might get into queue beforehand with the thought that all decisions can be made in advance of reaching the cashier. But I'm amazed at the people I encounter that haven't even looked at the menu until they are asked by the cast member what they'd like to order. This is NOT the time to be querying your party. This should have been done earlier.
And another thing that baffles me is the matter of payment. People really seem surprised when the cashier asks for money. Please have your credit card, room charge, or cash out and ready to give to the cashier. After ordering, is not the time to be opening your purse or wallet to search for a form of payment. This should have been done while you were in line.
Confined Spaces:
More often than not, Disney parks are crowded. This means we must share our personal space with total strangers. For most people, this really isn't a problem and at Disney it often promotes some great conversations when waiting in long lines. But I would like to offer a few reminders.
For those of you wearing a backpack, your back now extends 8 to 12 inches further than it usually does. Remember, when you're standing in a crowded line or on the monorail, you cannot make quick twists and turns. If you do, you will whack the people standing next to you with your backpack. The same is also true for those of you with long hair. When you abruptly turn your head, your hair hits a stranger in the face.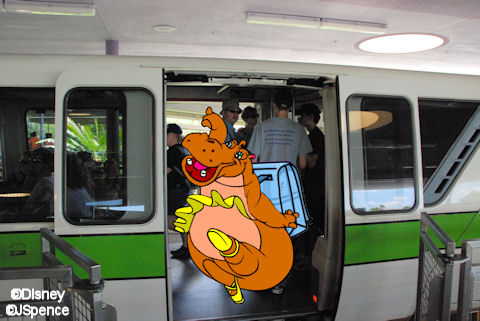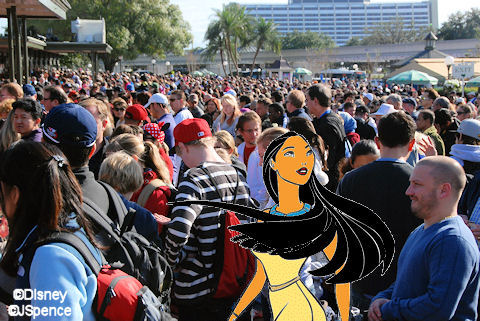 When a group of two or more is walking along a sidewalk or narrow passageway, and they encounter another group of two or more coming toward them, BOTH parties need to form single file lines so everyone can pass easily. I have grown tired of always being the person who yields so the other party won't be "inconvenienced."
Wheelchairs & Strollers:
Maneuvering a wheelchair in a congested park can be a challenge. It's difficult enough to find an opening for a small child let alone a bulky wheelchair on a crowded day. And many people perceive that the wheelchair will be moving slower than they want to walk, so they cut in front of it as to not be "inconvenienced" by its slower pace – which only makes it all the more difficult for the chair-bound person and their party to move through the crowds. So please, give the person seated in the wheelchair and their "driver" a break. Are you really in so much of a hurry that you can't allow them to proceed in front of you?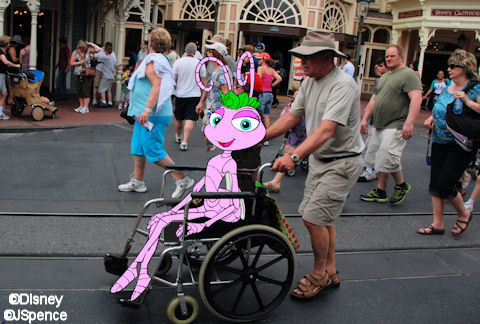 I really, really, really feel sorry for people pushing a stroller in a crowded Disney park. Maneuvering one of these baby-carriers can be a difficult challenge when traversing from one attraction to the next. I know my heels have been bruised more than once by a distracted parent. For the most part, I'm pretty understanding. These things happen when it gets crowded. However, my patience grows thin when I'm hit by the same stroller more than once.
Complaints:
Cast members are fantastic! However, things sometimes go wrong that are completely out of their control. When things do go awry, try to assess the situation. Was it really the cast member's fault? If it was, ask to speak to a supervisor – or go to Guest Relations. If it wasn't the cast member's fault, don't take it out on them. Ask to speak to a supervisor – or go to Guest Relations.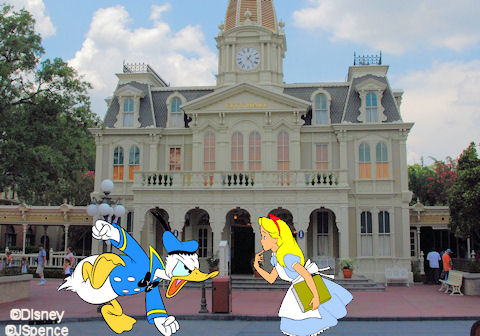 I have a good friend who works attractions in the Magic Kingdom. She has told me that guests have cursed her, kicked her, and spit on her just because things didn't play out the way they believed they should. I was appalled to learn this.
Diapers:
All restrooms, both men's and women's, have changing tables. Use them. Even if the diaper is just wet, I don't want you changing your baby at the table or bench next to me. Especially when I'm eating. Unfortunately, this has happened to me more times than I care to remember. Yuck!
Smoking:
Believe it or not, I'm not going to come down on smokers here. I rarely encounter people smoking outside of the designated areas. I believe that designated smoking areas have become so common in the U.S. that most smokers are fully aware that they need to check the policy before lighting up. I find it's usually visitors from countries with less stringent rules that smoke inappropriately while visiting the parks. If you do run into someone smoking, you can politely inform them of the guidelines in place at Disney. However, I think a better idea would be to let a cast member know. They have all been trained on how to approach guests in these situations.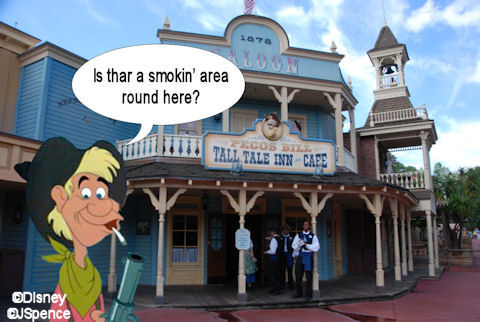 Language:
Keep it clean. There are children everywhere (and adults too who don't want to hear it).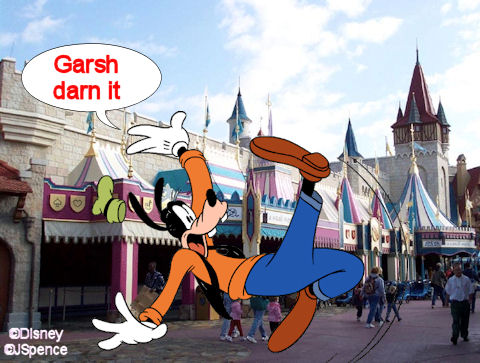 Don't talk during the attraction:
Many people have visited the parks so often that they become blasé about the attractions. All too often, I will encounter guests carrying on lengthy and loud conversations during an attraction's preshow. For example, the Stretch Room of the Haunted Mansion, or the preshow for Ellen's Energy Exchange, or the recording room on Rock 'N' Roller Coaster are often full of talkers.
Please remember, even though you can recite the dialoged word for word, the people standing next to you may be visiting for the first time and would like to hear what's going on.
Theater Seating:
When a cast member asks that you move all the way to the end of a row (or three-quarters of the way when the show isn't full), please comply. Do not plop yourself down in the middle of the row and force everyone else to go around you. If you don't want to sit at the end, then don't be the first person to rush through the entrance doors. Hold back and let a few people into the theater before you.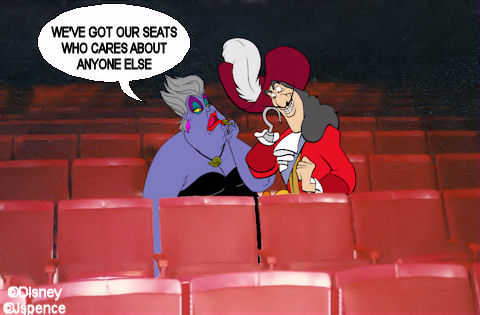 Cell phones:
Cell phones are a fact of life today. We're constantly checking our email, texting, and chatting with others. And that's fine. However, once again, there is a time and place – and rides and attractions is NOT the place. It's annoying to others.
In addition, when you're on a call within a restaurant, try to talk in your normal tone and volume. If you need to "speak up" in order for your listener to hear you, then those sitting around you can now hear you as well – and they don't really care that Uncle Bob needs a colonoscopy.
Don't feed the animals:
I know it's tempting. I know they're cute. But human food isn't good for our woodland friends. I know what you're thinking – one French fry won't hurt them. But dozens and dozens of fries will. Feeding the animals has to stop with each of us.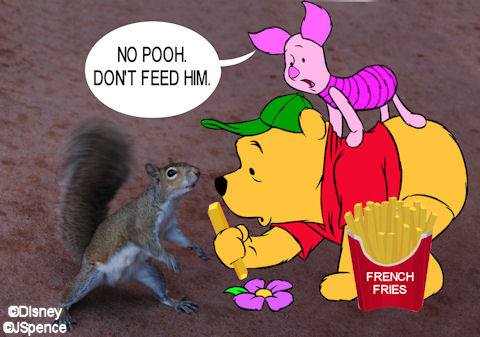 Dress appropriately:
So far in this blog, all of my suggestions for appropriate behavior have been pretty cut and dried. It's easy to take an objective look at what I've presented – but how people dress is far more subjective than objective. What right do I have to tell anyone what they can and cannot wear? None! However, Disney used to do just that.
When I worked at Disneyland in the '70's, Disney routinely stationed plain-clothed security guards at the entrance to the park. Their purpose was to inconspicuously examine how guests were dressed and deny them entrance if they felt their outfit was too suggestive or their clothing contained offensive language or depicted drug use. Those days are long gone. Today's mores are not what they were in the '70's and we live in a far more progressive society. Trust me when I say, a good 2% – 3%% of the people visiting Disneyland and Walt Disney World today would not have been admitted to the parks back then.
I'm not a prude. Far from it. I routinely see t-shirts at the parks that crack me up. Yet, I wonder how appropriate they are at Disney as some of them boarder on risqué. Is this really the place to hint at sexual content? Can't these statements be made someplace else?
Disney will ask people to change clothes if they encounter a guest sporting a truly offensive word or slogan, but there is little they can do when brand names hint at impropriety (like French Connection United Kingdom).
All I ask is that you remember there are children everywhere at Disney. How much skin needs to be shown and how suggestive does your t-shirt really need to be? Save the bathing suit for the waterparks and the risqué t-shirt for a tailgate party.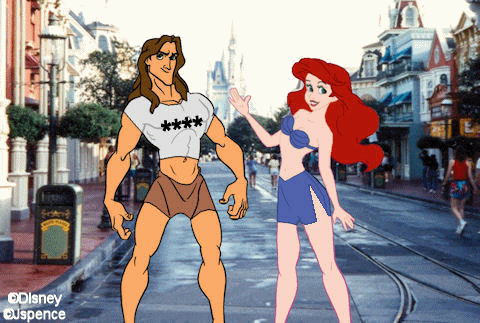 Is Jack the perfect Disney guest?:
Nope. I try. But I'm human too. Even I "forget" sometimes. But when I commit a transgression, I try to apologize quickly with a humble smile.
In conclusion:
I'm glad to know that none of my readers really needed to read this blog and that they would never lapse into less than perfect Disney behavior. However, if you know one of those "other" people, be sure to tell them about my article.