Yesterday I discussed Epcot's International Gateway. Today I'll cover Showcase Plaza and Millennium Village.
Showcace Plaza
Showcase Plaza is located at the entrance of World Showcase. This is the area surrounding the two Tower Shops. Early plans for Epcot called for a modern structure to be located here that would house the American Adventure. However, the Imagineers didn't want it to look like Disney was showing favoritism to the United States and eventually moved this attraction to its current location at the back of the park.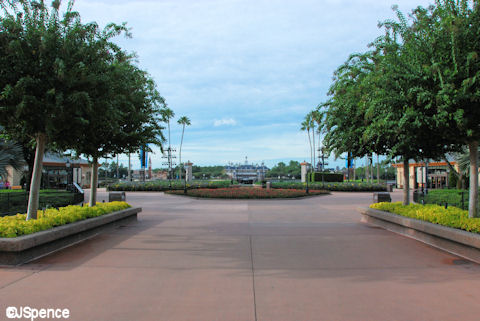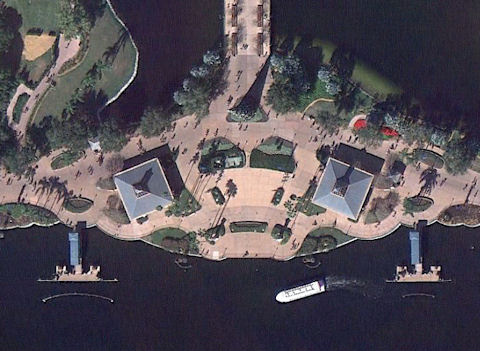 Disney makes a lot of money by the selling of souvenirs – so much so that it affects their bottom line. The Imagineers were keenly aware of this when designing Epcot. However, early plans called for a more "adult" park and the Imagineers didn't feel plush Mickeys and Princess costumes should be seen in such grand pavilions as the Universe of Energy and Spaceship Earth. It was also decided that the shops in World Showcase would only carry merchandise manufactured in each individual nation. This concept would completely rule out the selling of Disney branded souvenirs, the big money maker, in half of the park. At the Magic Kingdom and Disneyland, a shop could be tucked into every nook and cranny, but not at Epcot. So what were they to do?
There first solution was to build one large shop in the Communicore section of Future World. (This area is now called Innoventions.) This shop would be named Centorium (now Mouse Gear) and would be Epcot's version of the Emporium found on Main Street in the Magic Kingdom. Notice how similar the names Centorium and Emporium are. This was no accident. Disney wanted guests to make this connection. Centorium would sell the typical Disney souvenirs guests clamor for – the same items that were sold at the Emporium. But savvy marketers and designers knew that many guests would miss this shop completely, so there needed to be more locations where guests could buy Disney branded merchandise. Enter the Tower Shops.
To make sure most everyone had a chance to buy Disney souvenirs, the Imagineers placed two stores at the entrance to World Showcase. These would be known collectively as the Tower Shops and individually as Disney Traders and Port of Entry. Unless guests took one of the smaller east or west walkways leading from Future World to World Showcase, they would walk by at least one of these stores.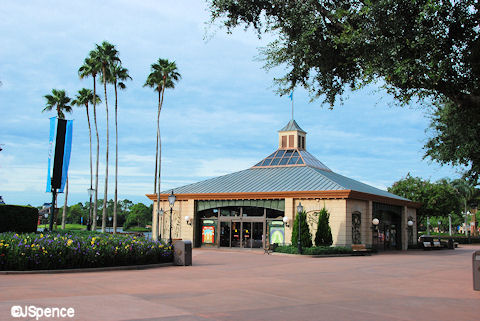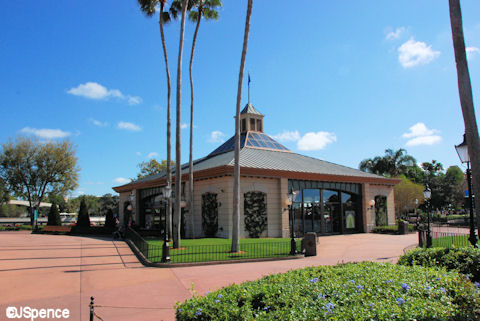 Disney Traders and Port of Entry were designed with a nonspecific international look. These buildings would feel at home at any port around the world where they would process people and goods entering and leaving a country. In the early years, this theme was more apparent inside the shops, but with few exceptions, Disney merchandise now hides many of the buildings' interior details.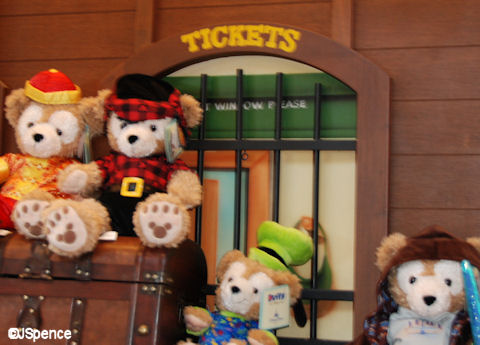 Disney Traders still offers an international feel with multinational vignettes displayed around the ceiling.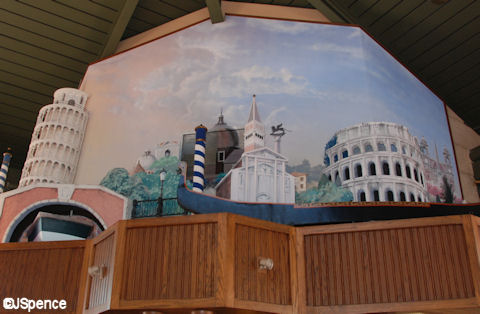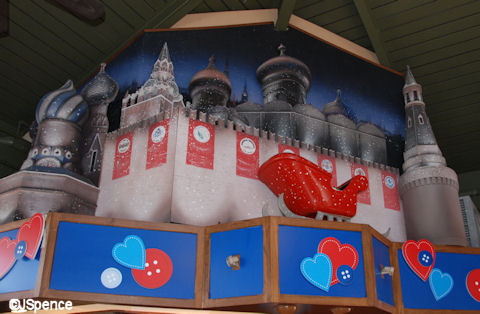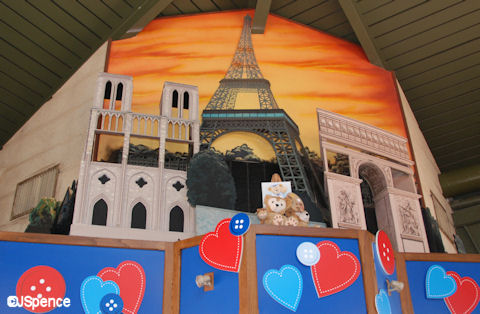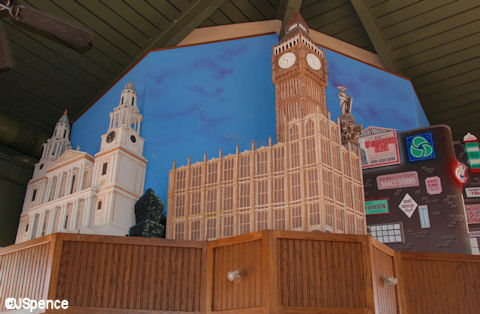 For the most part, Disney Traders has been given over to plush characters, especially Duffy and his international costumes. The story of Duffy can be read on posters located on the exterior of the building.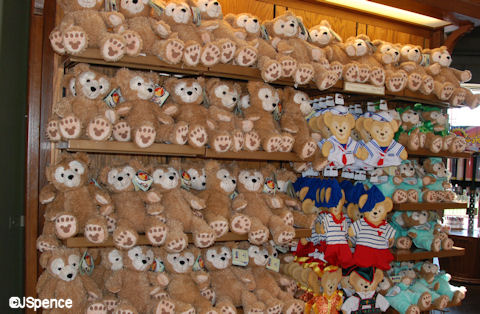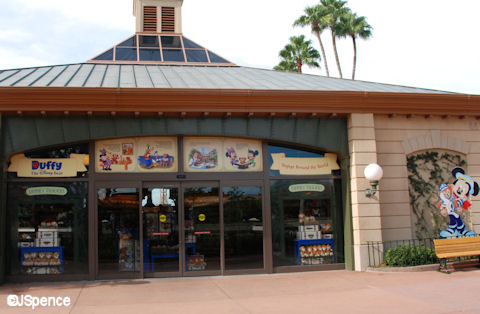 Here is the official Disney version of how Duffy came into existence.
One day, Mickey was getting ready to set sail on a long sea voyage. Minnie made Mickey a special teddy bear to take with him so he would never be lonely.
Mickey loved the bear and named him Duffy. Mickey and Duffy sailed around the world. They visited all sorts of exciting places and made lots of friends along the way.
Mickey and Duffy took pictures with their new pals and made memories that would last a lifetime.
At the end of their voyage, Mickey and Duffy sailed back home to share all their magical memories with Minnie.
To further promote Duffy, a permanent Meet-&-Greet area has been built for him across from Disney Traders.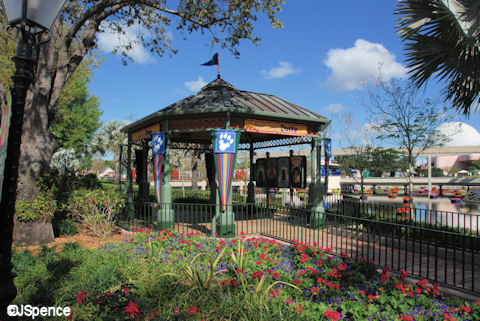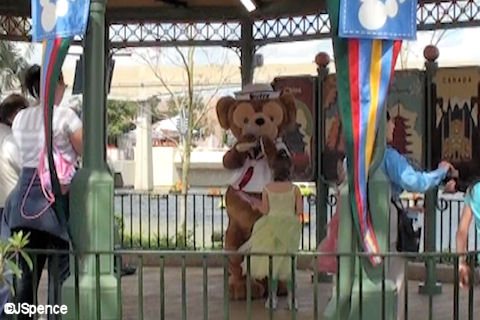 It's interesting to note, an identical bear to Duffy was sold at Walt Disney World shortly after Y2K. However, he did not sell well and was quickly discontinued. This same bear was also sold at the Tokyo Disney Resort during this time, but unlike the U.S., he was given the name Duffy and became a cult phenomenon with the Japanese. Wanting to capitalize on this success, the American marketers reintroduced Duffy to the U.S. parks, gave him a backstory, and aggressively promoted him. When Duffy was first reintroduced to Walt Disney World, he was to be an exclusive item and sold only at Epcot. But within a couple of weeks of his debut, he could be found at all of the parks and resorts.
Although Duffy's popularity in the U.S. still lags significantly behind his Japanese brothers, he has proven to be successful.
The second shop in Showcase Plaza, Port of Entry, mainly sells Disney clothing and other Disney branded souvenirs. The only international theming remaining in this building is an overhead globe.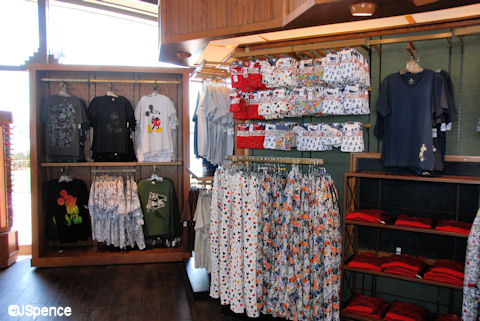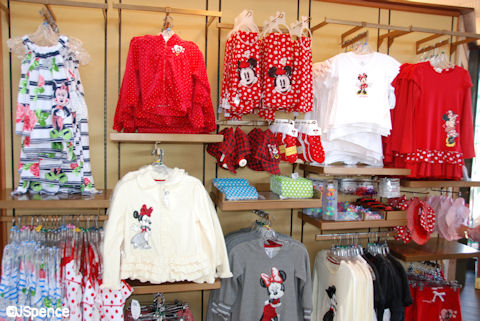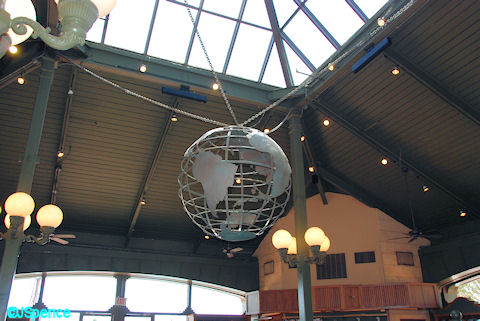 It's no accident that the Friendship Landings are located near the Tower Shops as they would provide services to the travelers leaving and arriving from these ports.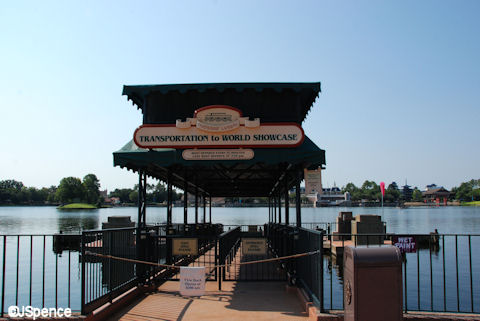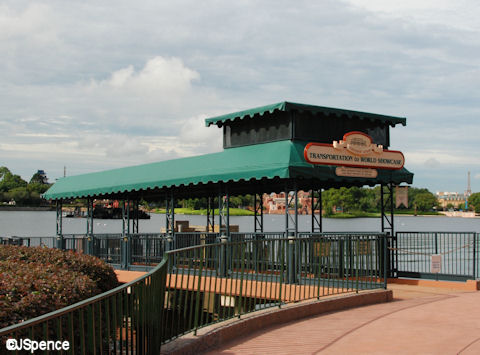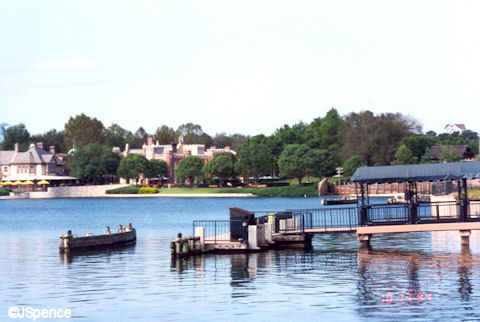 The East Friendship Landing (near Disney Traders) provides water taxi service to the Germany Pavilion and the West Friendship Landing (near Port of Entry) provides transportation to the Morocco Pavilion. Often between 11am and noon, only one Friendship boat is available for transportation across World Showcase Lagoon. Note, the boat may skip the East or West landing during this time and only make three stops along its journey.
Between the Tower shops is a vast area designed to offer unparalleled vistas of World Showcase, including IllumiNations in the evening. However, sections of this expanse are often rented to private groups or organizations.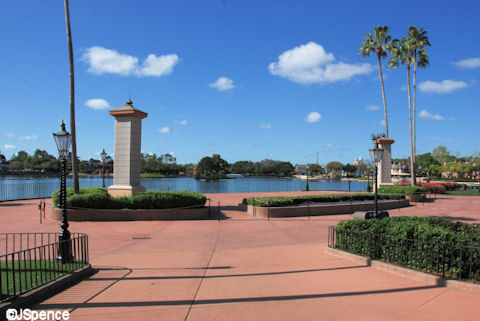 Near the railing of this plaza is a telescope. From it you can catch close-up views of the World Showcase nations. And the good news is, it doesn't require a coin to operate. It's free.
The last point of interest in Showcase Plaza is Refreshment Port. Once again, notice how the word "port" has been incorporated into the name to help guests understand they're on a journey around the world. In addition, the architecture is very similar to the Tower Shops.
Refreshment Port is a snack bar that currently offers Chicken & Cheddar Poppers, Chicken Sandwiches, Crispy Fried Shrimp, and other goodies. To see the complete menu, click here.
To see the sights of International Gateway and Showcase Plaza, check out the video below.
World ShowPlace Events Pavilion
The last topic in my World Showcase tour is about the World ShowPlace Events Pavilion. This temporary structure, although now probably permanent, is used to host Disney events and is rented to private organizations for convention activities. It is located between the United Kingdom and Canada Pavilions.
So how did this "not-quite-up-to-Disney-standards" events pavilion come into being?
As the new millennium approached, Disney knew this would be a wonderful marketing opportunity. Since this would be a worldwide celebration, it was decided that Epcot would host most of the Disney World celebrations because of its "international" theme. To help kick things off, one of the best Walt Disney World logos ever created was designed and Mickey's sorcerer's hand was built above Spaceship Earth holding the number 2000.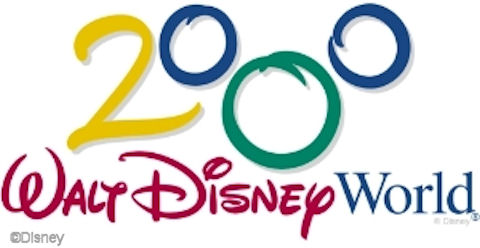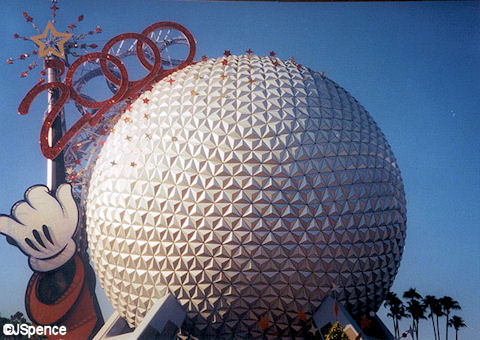 But Disney needed more than a new logo and Mickey's hand to entice visitors to visit Walt Disney World over their 15 month celebration. They needed a new attraction.
Ever since Epcot opened, guests have continually asked, "When are you going to add new countries to World Showcase?" So Disney decided to do just that – well, sort of. They came up with the idea of Millennium Village, a spot along the World Showcase promenade where nations not already represented at Epcot could join in the festivities and spotlight their country. To house the new nations of the Epcot community, Disney built a 60,000 foot, tent-like exhibition hall between the Canada and United Kingdom Pavilions and dubbed it Millennium Village. The hall's construction was simple and inexpensive so that when the celebration ended, it could easily be dismantled.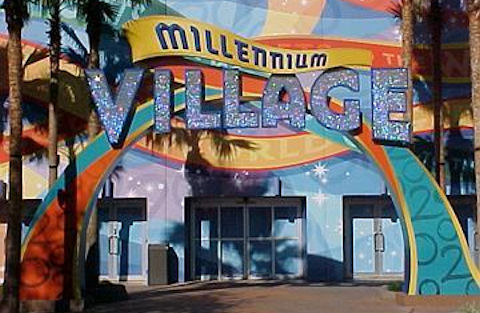 When Millennium Village opened on October 1, 1999, more than 50 countries had signed on to be part of the celebration. Some exhibits consisted of little more than a small area where cast members could chat with guests about their homeland. Other countries presented interactive exhibits where guests could play games, watch movies, or participate in some sort of cultural ceremony.
A bit of controversy did arise around the Israel exhibit before the Millennium Village opened. The Arab League threatened to boycott Walt Disney World if Jerusalem was depicted as the capital of Israel. However, Disney would not allow the Arab League to see any of the advance plans. Eventually, the matter was settled at the United Nations when Disney gave its word that Jerusalem would not be mentioned in this context.
A few other events and additions came to Epcot to help celebrate the new millennium. Some of these were:
Millennium Central — a re-themed area in front of the Fountain of Nations
IllumiNations 2000 Reflections of Earth – an updated nightly fireworks show
Tapestry of Nations – a new parade for World Showcase
The Millennium celebration ended on January 1, 2001. Overall, the Millennium Village was successful and drew daily crowds. However, I personally don't believe it "hit a home run." In many ways, its concept was similar to Innoventions. It contained many great exhibits, but these exhibits required time and energy if you were to get anything out of them. Most guests want to be entertained when visiting Disney World. They don't want to "study."
After Millennium Village closed, it was decided to keep the "temporary" pavilion and use it to hold special events at Epcot. Since the pavilion already had an adjacent kitchen, this facility would be able to feed large groups and play a major role each year at the Epcot International Food & Wine Festival.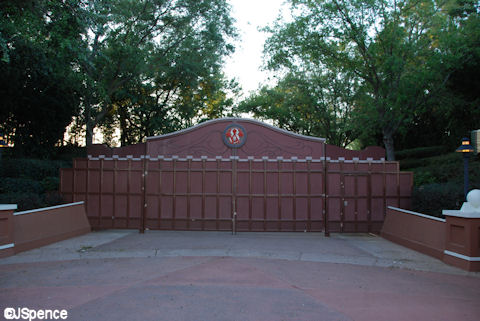 This concludes my tour of World Showcase and its many pavilions and facilities. I sure hope you've been paying attention because in the weeks to come, there is going to be a test! Don't worry. It will be open book.