Julie Andrews and Anne Hathaway star in "The Princess Diaries" and "The Princess Diaries: Royal Engagement."
The first National Princess Week begins tomorrow, April 22, and its founders want to invite children "to celebrate the sparkle and wonder of every princess — real, aspiring or imagined."
Academy Award-winning actress, singer and best-selling children's book author Julie Andrews is the face of the campaign. She starred with Anne Hathaway in two "The Princess Diaries" movies, which are being re-released on their 10th anniversary, and has co-authored with her daughter the popular "The Very Fairy Princess" series.
This collaboration between Target and The Walt Disney Company aims to allow children to create their own princess activities in their home towns. But if you're lucky enough to be visiting Walt Disney World, the home of the Disney Princesses, there are many experiences to be found, both large and small.
Here are some suggestions, based on my own family's experiences and ideas adapted from Andrews' ideas at http://julieandrewscollection.com/30-ways-to-celebrate-national-princess-week/
1. Start your day by wearing a tiara and keep it on everywhere you go. Bring your own from home, or you can purchase one in just about every gift store on Disney World property.
2. Build your own castle. If you are staying at a Disney World resort or planning to visit one of the water parks, find the sandy area and get to work designing a palace for royalty. A fun way to build the foundation is with the castle mold sold in most gift shops for about $6, and it makes a great inexpensive souvenir afterward. (For tips on visiting the Disney water parks, see my newsletter article at /ae/issue651.htm)
3. Take a carriage ride and learn how to step into a carriage with grace and practice your royal wave. Andrews offers these suggestions:
** To enter a carriage, turn your body slightly sideways, and step in with the foot closet to the carriage. Bend forward slightly and lower yourself onto the seat. Draw your outside leg in after you. You can also keep both legs together and sit first, then draw them up and in after you. Do the reverse when exiting.
** To perform a royal wave, hold your arm out straight, bend it at the elbow, then with a relaxed, open palm, rotate your wrist side-to-side lightly, as you would if you were screwing in a light bulb.
Carriages leave from Port Orleans Riverside and Fort Wilderness resorts and cost $45 per group. (For details, see /blogs/guestblog/2012/04/disney_worlds_fort_wilderness.html)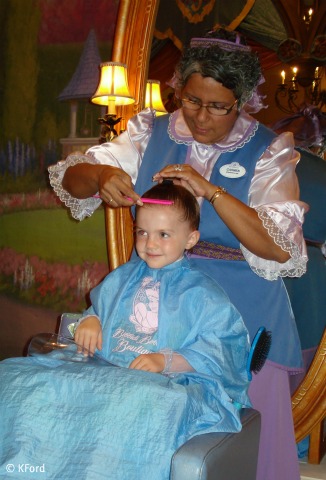 Girls can choose from three Princess hairstyles at the Bibbidi Bobbidi Boutique.
4. Make a reservation for the Bibbidi Bobbidi Boutique at Downtown Disney or inside the Magic Kingdom. At these salons, Fairy Godmothers-in-training will transform each girl into the princess she's always dreamed of being. Choose your royal treatments — from hair, makeup, nails and an outfit. Prices start at $54.95. My daughter was transformed into Ariel when she was 4 and Belle when she was 7, and she was so excited about the experiences. (You can read more, plus see photos and video, at /blogs/guestblog/2012/03/magical_makeovers_at_disney_wo.html)
5. Visit the Grand Floridian Resort & Spa for the My Disney Girl's Perfectly Princess Tea. "Rose Petal," a magical rose, hosts this event with Princess Aurora (Sleeping Beauty) for children ages 3 to 11 daily (except Tuesdays and Saturdays) from 10:30 to noon. The party includes a sing-along, stories and traditional foods served with tea or apple juice. Girls receive "My Disney Girl" 18-inch doll dressed in a Princess Aurora gown with accessories, a tiara, Princess link bracelet, princess scrapbook page, a rose, and a "Best Friend" certificate. (Boys receive a Duffy the Disney Bear instead of the doll.) The price is $250 plus tax (includes gratuity) for one adult and one child. (Read guest reviews of this experience on AllEars.net at /din/girlstea.htm)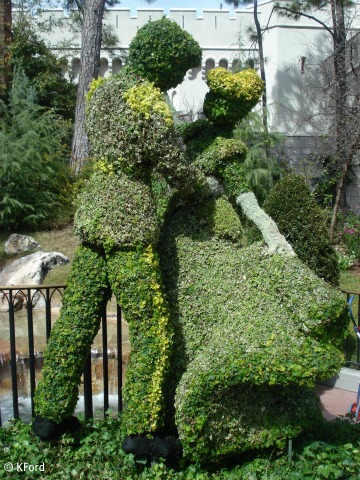 Topiaries featuring royal couples are showcased at the Epcot International Flower & Garden Festival.
6. At the Epcot International Flower & Garden Festival (through May 20), look for the princess-shaped topiaries in World Showcase. Classic Disney couples can be found between the United Kingdom and France pavilions, and characters from "Beauty and the Beast" are located in the fresh-cut flower gardens of France. In Germany, you'll find Snow White and the Seven Dwarfs in topiary. (AllEars has explored every nook and cranny of the festival and you can find details at /tp/ep/fg12/epcot-flower-and-garden-festival-2012.htm)
7. See your favorite princesses in live performances at Disney's Hollywood Studios. Belle appears in her own 30-minute Broadway-style show daily at the Theater of the Stars, and Ariel tells her story during a 17-minute show at The Voyage of the Little Mermaid. On select nights, several of the Disney Princesses take part in Fantasmic!, a 25-minute show using water sprays as a backdrop for animation combined with live-action characters. (Get the lay of the land with this DHS page: /tp/mgm/mgm.htm)
8. Take a ride on Snow White's Scary Adventures at the Magic Kingdom before it closes on May 31. It is one of the original rides from when the theme park opened 1971, though it was reworked in 1994 to make it less frightening. When the Fantasyland expansion construction is finished next year, there will be a new Dwarfs' cottage and Seven Dwarfs Mine Train roller coaster. (You can stay up-to-date on the new Fantasyland rides and attractions at /tp/mk/fant_expansion.htm)
Guests can meet Cinderella before their meal in her castle at Magic Kingdom.
9. Meet your favorite Disney Princesses in person for photos and autographs. Epcot and Magic Kingdom are the places to go for these encounters. Most of the princesses can be found inside the Town Square Theater at Magic Kingdom's entrance, though a few, such as Tiana, Ariel and Jasmine, are out in the park. Rapunzel moved last week from the Fairytale Courtyard to the Town Square Courtyard to make room for Brave's Merida in mid-May. At Epcot, the Disney Princesses can be seen outside various World Showcase pavilions, including Mulan in China. Check the daily guide for specific locations and times. (Plus, here are tips for finding your favorite princess: /tp/fur.htm)
10. Dine with the Disney Princesses. Cinderella hosts a breakfast, lunch and dinner in her castle at the Magic Kingdom with her Fairy Godmother and other princesses. My son and daughter really enjoyed this experience, both for the characters and the location. Reservations go quickly, so be prepared to book these meals exactly 180 days out. At Epcot, share a meal with royalty at Akershus Castle Royal Banquet Hall in the Norway Pavilion. At the Grand Floridian, guests can join Cinderella, Prince Charming, Lady Tremain (her stepmother), Drucilla and Anastasia (her stepsisters) at Cinderella's Happily Ever After Dinner. This buffet is one of the tastiest character meals, and the banter between the stepsisters and their mother is hilarious. Plus, little girls have a rare opportunity to dance with Prince Charming. (Find out how to plan your character meal at /din/cb.htm)
Finally, at the end of your day, let your little princess snuggle in bed with some princess pajamas and a princess storybook before she dreams of all the fun she had celebrating the Disney princesses. Andrews suggests foregoing any peas under the mattress.