So now that I have fully recovered from "One More Disney Day", it's time to reflect on the event.
Feb. 29th, 2:45 am
I had set my alarm to go off at 3:00 am, but was worried so much that I would oversleep that I beat the alarm, just as I do on the morning of a race.
I took a quick shower, made sure all my essential were in my backpack, most importantly extra batteries, and took off for The Magic Kingdom. Wow, it was quite foggy on this morning.
Feb. 29th, 3:45 am
I parked in the first row at the Ticket and Transportation Center (TTC) Parking Lot and walked over to the TTC. I found about 150 people already there, waiting for the monorail.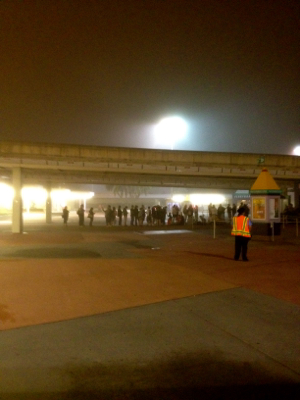 I was there no less than five minutes when a large contingent of guests arrived, which prompted the cast members to make use of the rope queues. I ended up in the right rope queue which moved me about 20 people back from the monorail ramp. It was now about 4:30 am.
Feb. 29th, 4:45 am
I managed to squeeze onto not the first, but the second monorail car headed for The Magic Kingdom. When the announcement came over that we would be among the first to enter the park that day the car erupted with cheers. It was at that moment that the child in me was stirred to excitement…imagine being a child on this day and how excited you would be to go to The Magic Kingdom? That's how it felt.
Feb 29th, 5:00 am
I checked in at the media table to the far left of the turnstiles, received my special wristband, and had my Annual Pass scanned. As I entered the park I received my One More Disney Day Mickey Ears…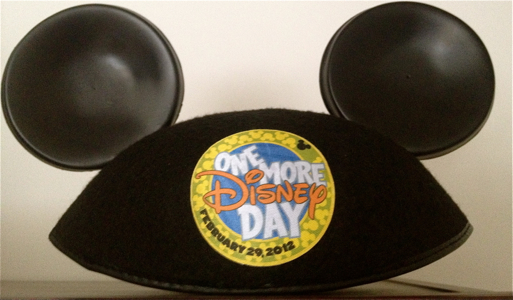 …and my special One More Disney Day Button, both of which by now as you read this blog, have already made their presence felt on eBay.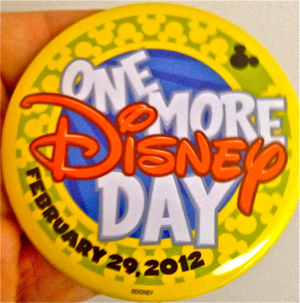 I then waited with some other lucky folks for rope drop. We were on the left side of the Train Station area. The right side turnstiles had hundreds of guests ready to head for their favorite attraction. I snapped this photo of the Train Station to capture the moment.
Now, if you were standing in my shoes and turned about 125 degrees to your right you would have seen Mickey and Minnie in pajamas in front of several media cameras covering this event.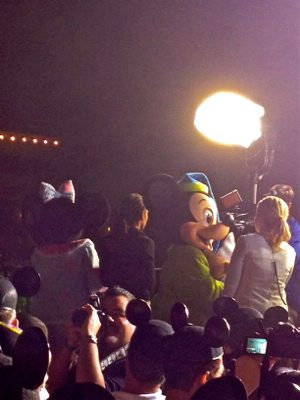 There were several local television stations covering this event and, in fact, there was one right behind me talking to a family and I may have been on local television…or at least my back was on local television.
Feb. 29th, 5:55 am
The Magic Kingdom's Family of the Day and the Mayor proudly welcomed everyone to The Magic Kingdom and we are allowed to enter. One point worth noting, this opening was very much like any other park day opening as there was no special fireworks or music.
Feb. 29, 6:15 am
Once inside the Magic Kingdom I headed over to the hospitality station at Tony's where I received my gift"¦another hat and a OMDD shirt, and enjoyed breakfast with my AllEars colleagues Deb Wills and Deb Koma and my WDWTODAY colleague Mike Newell of MouseWorldRadio.
Feb. 29th, 7:00-9:00 am
After a pleasant breakfast, at which we tried to map out exactly how we would navigate through the day, Mike Newell and I decided to try and do a live stream cast from The Magic Kingdom. With fingers crossed we started at 7:00 am and we were off.
We walked up Main Street, USA and interviewed a few folks and basically took our audience on a tour of the Magic Kingdom on this very special day.
Many of those we talked to said they planned to stay for the entire 24 hours and in many cases had huge backpacks with supplies to help them make it through the day and the night ahead.
We noticed that for the first few hours the park's guests were very dispersed throughout, much unlike Extra Magic Hour Mornings where only certain attractions were open.
We walked around to all the lands and even took out viewers on the Walt Disney Railroad and the Tomorrowland People Mover. It was great knowing that we were helping those who could not be there see what was going on.
As we walked into Adventureland and came across Aloha Isle, several of our viewers suggested that we have a Dole Whip…at 7:20 am. I had a Dole Whip and Mike had cold caffeine to give him a boost.
As I had mentioned, since practically all attractions were up and running at 6:00 am, most of the guests were looking at no more than a 15 minute queue lines. Of course this would change as the day wore on.
This day was certainly a novelty for the Cast Members as well and they seemed to have an extra spark of magic in their step.
Broadcasting and talking for two straight hours can be quite challenging, but on this particular day it was more of a novelty than a challenge. We closed the broadcast just after 9:00 am and headed over to the AllEars Meet at Pinocchio Haus. We told everyone we would try to broadcast later on that day and evening.
Feb. 29th 9:30 am – 11:30 am
We attended the AllEars meet at Pinocchio Haus and with that came visits from old friends and also visits from new friends.
We ran into a couple of guests who planned to eat at every restaurant and counter and experience every attraction and parade during the 24 hours the park would be open. I never saw them again after that meet so I don't know if they were successful. As I ran down the list of park restaurants and asked if they had ADRs, they nodded their heads "Yes!"
But there is more. They also planned to experience every attraction, every parade, the nighttime fireworks, and every other component of The Magic Kingdom. They picked the right day to try and do this.
I had also heard second hand that there was a contingent of hardcore fans who were determined to experience "100 attractions" that day. I guess that meant attending 100 attraction events as The Magic Kingdom falls short of 100 attractions…slightly.
Feb. 29th 11:30 am
After the meet we seemed to be quite happy just sitting down and watching the crowd. As it was approaching Noon we realized we had been up for at least nine hours already and had 18 hours to go. We were getting tired and discussed leaving the park to rest and get recharged for the big overnight marathon. Before leaving we decided to check the Haunted Mansion. It was then that we realized that the crowds were beginning to build and that wait times would begin to grow. The 15-minute wait for Haunted Mansion at 7:30 am was now approaching 45 minutes at mid-day. Yikes.
I had a concern that the park would hit capacity later in the day and early evening when the other three parks closed.
Feb. 29th, 12:30 pm
I left the Magic Kingdom and headed back to my room. I had parked so close to the TTC I walked to my rental car. The following photo shows how close I actually parked.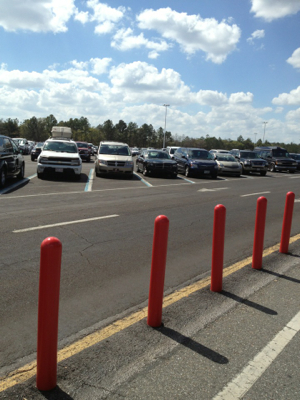 Along the way back to my room I stopped for lunch and jotted down some notes regarding what I wanted to accomplish when I returned later on in the day.
My first goal was to make sure I got into The Magic Kingdom.
Feb. 29th, 1:45 pm
I arrived at my room and realized I had been up for almost 12 hours. That plus the fact that I had slept only a few hours the night before in anticipation of this day, made it easy for me to quickly nod off for a very important nap.
Feb 29th, 5:45 pm
No sooner did I fall asleep when my alarm went off. Holy cow, I slept for four hours but it seemed like four minutes. I took a refreshing shower, checked on my supplies, which included an extra shirt, extra batteries, and an assortment of protein bars and water for the long haul.
I was ready for part II of this marathon day.