by Guest Blogger Al Williamson
The Pixar 25th Anniversary Weekend was held the weekend of May 14-15th at EPCOT. I had gotten an email from Pixar earlier in the week and being a huge Disney Pixar fan, and seeing who they had for guest speakers, I quickly signed up. I was able to attend the Sunday afternoon event which was held at Pixar Celebration Central in an area between the Canada and United Kingdom pavilions.
The entrance was laid out with a long red carpet flanked by large murals of the hit Pixar films, which were ordained with artwork and trivia from the individual movies.
Once you entered the Central building, there were character meet-and-greet sections where visitors could meet with characters like Carl and Buddy from UP, Mr. Incredible and Elastigirl from The Incredibles, or Lots-O-Huggin Bear from Toy Story 3. Needless to say, this area had lots of the smaller fans and their parents vying for picture time with their favorite Pixar characters.
Next to this area was a large convention-type room which was set up with around 300 seats. There were several screens with the largest being centered on the main stage next to a small couch and seat for the special guests.
There were four sessions offered that day: Jay Ward – "Cars 101: Inspiration for All the CARacters You Know and Love", Jonas Rivera – "Pixar: Celebrating 25 Years of Animation", Michael Giacchino -"Behind the Music: A Score is Born" and a Roundtable Session with Jay Ward, Jonas Rivera and Shawn Krause, a Pixar animator. Needless to say, I had signed up for all four sessions and made it a point to always tried to find a seat near the front.
Before each session, the attendees were welcomed by a trio of Green Army Men, direct from the Toy Story films, who conducted a Q & A with the audience with Pixar trivia questions and awarded the correct answers with Pixar swag (which was a combination hat that included Mickey ears, Lightning McQueen eyes, Goofy ears and small hat and Tow Mater teeth. As my sister would say, "It was so ugly, it was cute.")
Of course, with the upcoming release of CARS 2, it stood to reason the first guest speaker was Jay Ward, whose official Pixar title is CARS Franchise Guardian. Jay's role with the CARS films was character team manager and car consultant to director John Lassiter. During his presentation, Jay showed the audience images of some of the new characters that will be introduced in CARS 2.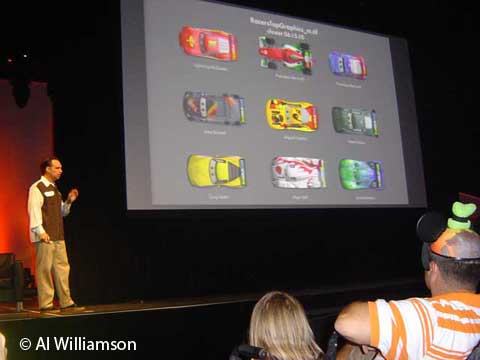 Because the next film's setting will be a world-wide race, he spoke of some of the challenges the Pixar team faced, such as applying character design to a character car based on a Formula 1 racer. He also spoke about Pixar's attention to detail when trying to mimic the surface found on a car's surface. Jay's presentation really set the tone for the rest of sessions and ended as it began, with yet another CARS 2 trailer.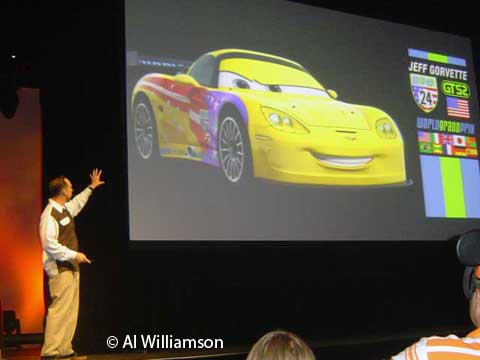 The next speaker was Joshua Rivera, producer of Pixar's Academy award winning UP.
Joshua's talk was on Pixar Studio's 25 years but he also illuminated the audience with stories of the UP production. For instance, the design for the main character, Carl. was based on a square– which suggested a rigid, immobile persona– as opposed to his wife Ellie's design, which was based on a circle– which indicates an open, free-spirit persona and how the balloons (round) lifted the house (square) away from its moorings and off to adventure. He also showed a slide where the Disney archives had loaned Pixar the hand-painted background artwork from Peter Pan for analysis by the Pixar artists for the UP jungle scenes.
Joshua was a real trooper, as he croaked through his talk, his voice raspy from what he claimed was a result of screaming on the Tower of Terror ride the night before. His presentation truly represented the Pixar magic and how the studio continues to produce classics with strong stories and characters that audiences care about– be they a cranky old man, a plastic toy cowboy or a rusty metal robot.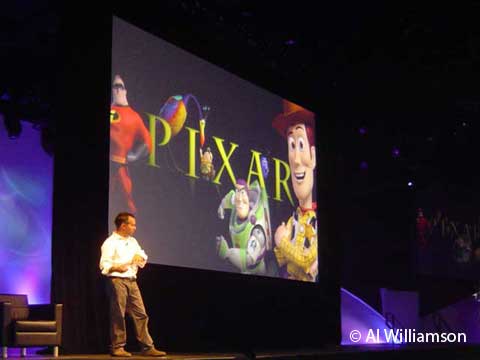 I have to admit I was really looking forward to the next speaker, Michael Giacchio, who composed the musical score for one of my all-time favorite Pixar's films, The Incredibles.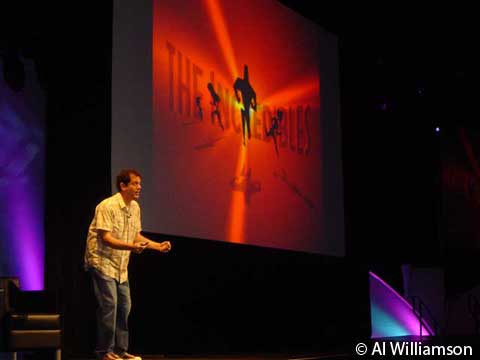 Michael regaled the crowd with his own personal film history, starting with showing one of his own "home made" films made as a adolescent film director to how, as a Disney game producer, he impressed Steven Spielburg with his music score for The Lost Word video game.
This led to gigs with J.J. Abrams (Alias, Lost) and ultimately garnered the composer a call from Brad Bird, who was working on The Incredibles. This association with Pixar continued with his score of UP, which garnered Michael the Academy Award for Best Musical Score. A highlight was when Michael showed an excerpt from the film with the initial score, then the same clip with the final score. Both versions were good but the final version was indicative of how Michael's music helps elicit the emotions that great films evoke.
Michael also spoke of being a true Disney fan and told how he had called his brother the night before from the very spot they had stood when they visited Disney World back in 1973. (His brother's response was "Do you know what time it is?!") Michael has also scored other films, such as the latest Star Trek, and drew cheers from the audience when he let it slip there will be another Star Trek film. Maybe I'm showing my bias but his session was, by far, the best!
The final session was a discussion that had Jay Ward and Joshua Rivera joined by Pixar animator, Shawn Krause.
Shawn has worked on almost all the Pixar feature films and was supervising animator for the UP feature. Their discussion, prompted by supplemental questions that were texted in from the audience, ranged from how technology has changed their work (such as how much different it was animating the characters for Toy Story compared to Toy Story 3 ) to what makes Pixar such great place to work (it's the people.)
While Shawn and Jay were enthusiastic about their love of working at Pixar, poor Joshua could only croak his way through some of the responses. But you have to give the guy credit– he just couldn't let the audience down– and gave it his best. He even took a picture of the audience from the stage. They ended their discussion answering "What's the best thing about working at Pixar?" (Joshua says it's the cereal– but there's not enough space for that story) and the evening wrapped with the guys receiving a standing ovation. And then, a final glimpse at the CARS 2 trailer. You gotta love Disney marketing.
All in all, it was truly a wonderful afternoon of sessions. I'm so thankful that Disney and Pixar took the time and effort to put on such an event for Disney World. Many times, I get the feeling that many Disney events happen in California because, naturally, of proximity. Its nice that every once and awhile, Disney World gets them too. Especially when it includes Pixar.