Wednesday, May 11
We checked in at our resort a day before the D23 events began so that we could get settled at the resort and eat at a couple of our favorite places. We spent the morning at Epcot.
The renovations in Mouse Gear are finished. When you walk in, at least at the Test Track entrance, there is a sign that shows you the layout of the store.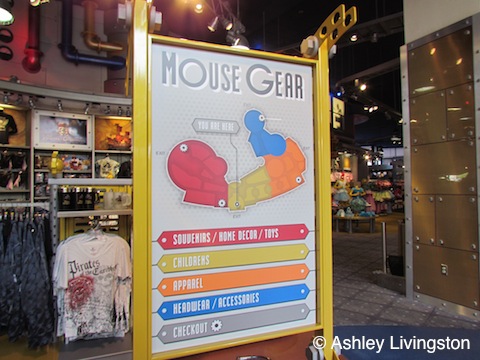 There are signs overhead like this one that will direct you to the different sections.
They have some fitting rooms available if you want to try something on.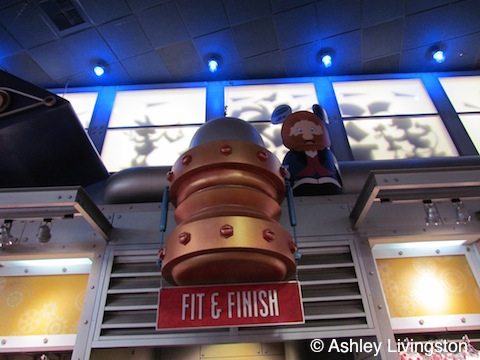 They have a nice jewelry and watch section. There is a small selection of the Dooney + Bourke bags there, too.
At the World Showcase entrance, Tow Mater has joined Lightning McQueen.
The flags are still up behind Lightning McQueen and Tow Mater.
Since our room was ready after lunch, we headed back and went through the Magic Kingdom gate. The far right lane, usually used for buses is being worked on so that lane and the second-to-right lane are blocked off. Buses are going through the third-to-last right lane. It made getting over to go to our resort a tad hairy. Please use caution going through that area if you're going to any of the Magic Kingdom area resorts until they are finished!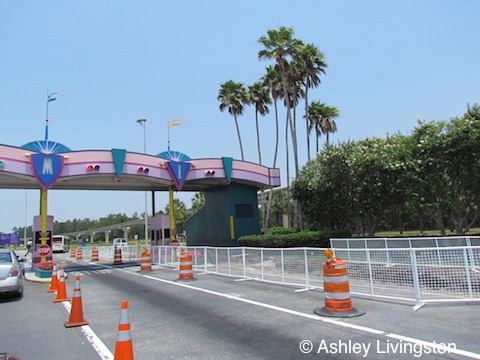 Thursday, May 12
When we registered for D23's Great Disney Scavenger Hunt, we were told which park we would begin with. We were assigned Epcot. There was a a check-in table near Guest Relations outside the main gates.
We liked these posters at the ticket booths.
There was some work going on at this Innoventions area.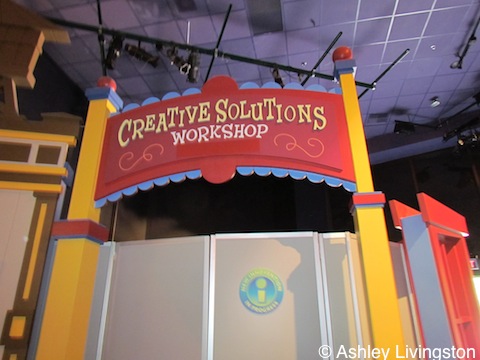 There was some work going on in the back of the China pavilion.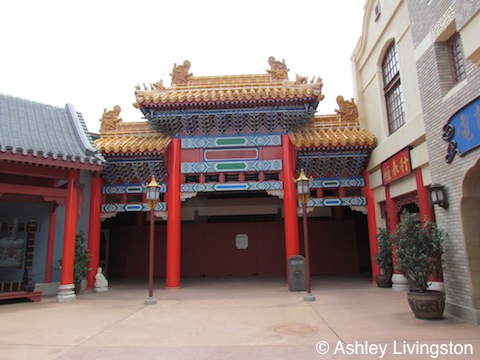 We had four hours to complete the hunt at Epcot. When we were done, we went back to the resort to regroup and to take the bus to Magic Kingdom.
The Wilderness Lodge bus stop refurbishment is complete.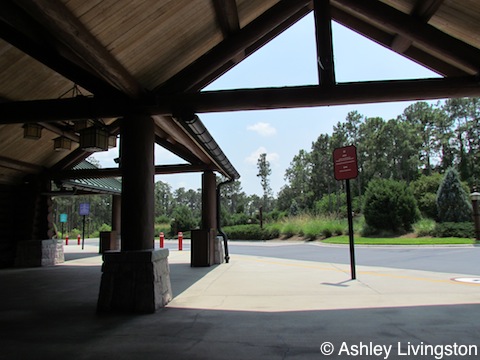 We grabbed a quick dinner before we started the Magic Kingdom portion of our day.
The Confectionery is still partially under scrims.
The area next to City Hall still has Mr. And Mrs. Easter Bunny's backdrop up.
The Carousel of Progress' sign is being worked on.
There were some walls up near the Lunching Pad.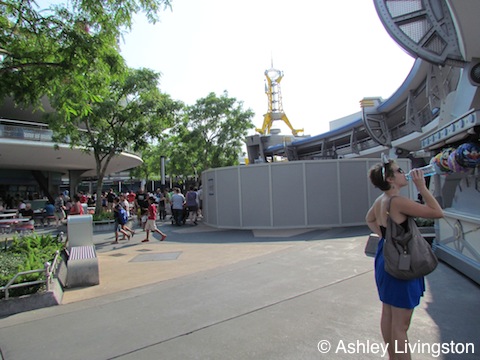 There's been a lot of progress on this building (I had previously called it a 'wall' because that's what it looked like). There were several construction machines running behind the wall.
They have added more trees so it's harder to see over the walls in Fantasyland.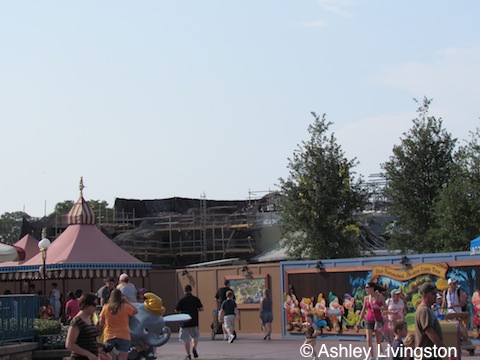 The walls around the back of the castle were down.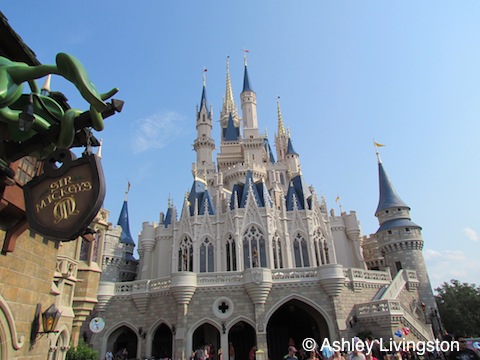 There were walls around Cinderella Fountain.
There were walls up around the dock to the Liberty Belle. The Liberty Belle IS running – go around to the right side of the walls to wait/board.
At bus station A at Magic Kingdom, stop number 3 is behind walls (the picture is very blurry… sorry!) so it's hard to see Wilderness Lodge's stop behind the walls but it is there. At the stop, we saw some work going on at the end of station B's line.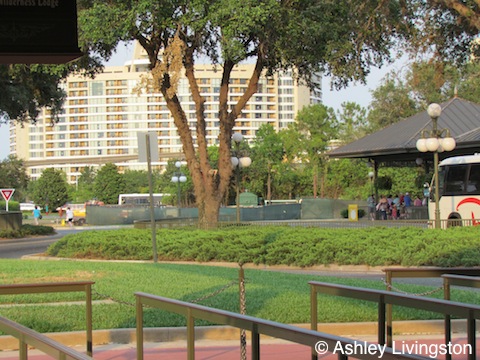 When we left Wilderness Lodge, we thought something looked different near the store but couldn't figure out what. When we came back, we looked over to say hi to the PhotoPass Cast Members who were always there… only they weren't there because the PhotoPass desk has been taken out!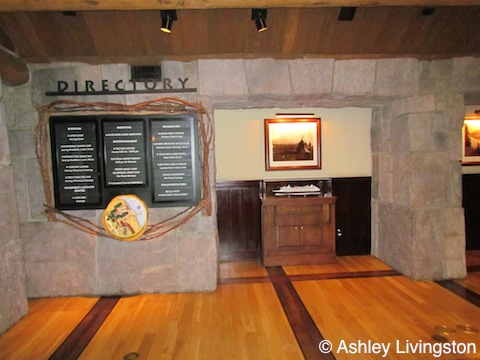 Friday, May 13
We began Day 2 of the Great Disney Scavenger Hunt at Animal Kingdom. We were told a lot of people had the same idea because Animal Kingdom doesn't offer much shade in the afternoons and it was kind of, er, hot!
Animal Kingdom's questions had us running all over the park and the only thing that really caught my eye as new/changing was the fact that Primeval Whirl had walls around it.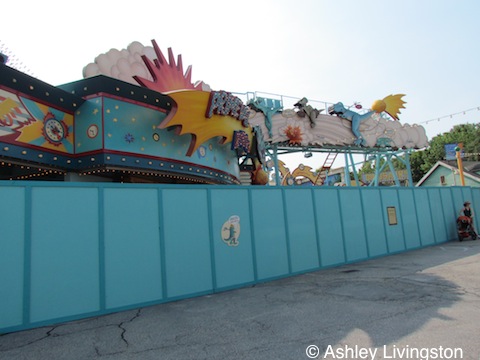 In all honesty, it was so crowded at Animal Kingdom that I couldn't easily take pictures (it was wall-to-wall people in some places) and we were under such a time crunch- we had 3 hours to complete Animal Kingdom and the book had us running back and forth- so I was looking around but I wasn't *looking* around. I'll be back there soon, though.
Studios was our fourth and final park and, honestly, our favorite for the scavenger hunt. I was able to take more pictures as we walked around.
There was a sign at Guest Relations outside the park letting you know that you could purchase tickets at the ticket booths as well.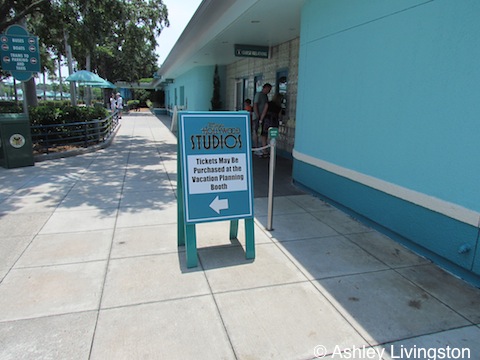 The stage has been set up in front of the hat.
The walls around what will become the new Winnie the Pooh meet-and-greet had some cute decorations.
There were some walls in the Magic of Animation queue.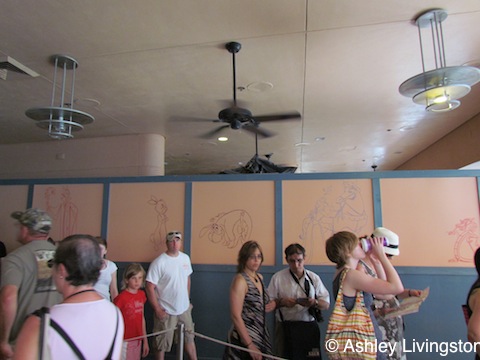 There were some walls on Sunset Boulevard.
All of the scaffolding was down on Tower of Terror.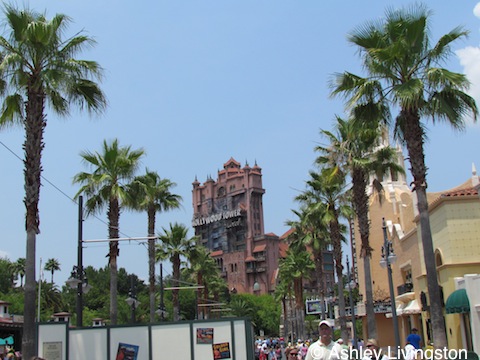 There was a 'Cars 2' poster up near Pixar Place and I don't recall seeing this face painting station before.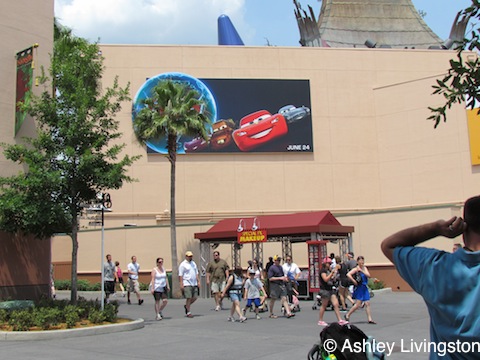 The walls are decorated around the delayed Phineas and Ferb meet-and-greet.
All of the new signs were up at Star Tours (yay!!!!!).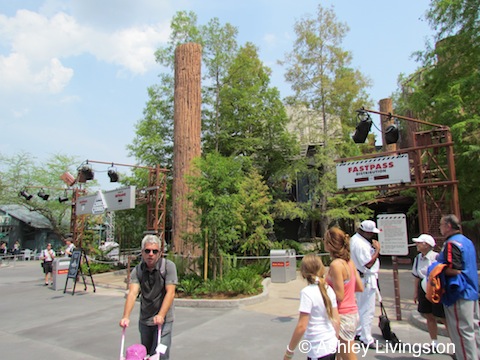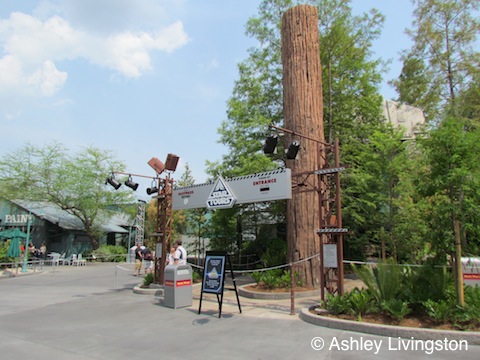 The Jedi Training Academy Stage looked refreshed and the new attraction poster was up.
Saturday, May 14
The Destination D event began. Day 1 was a lot of fun and I saw a lot of footage that I had never seen before. I've seen tons of Disneyland footage but not that much from Disney World so that was a great. There were lots of stories and laughs. The archives have a small exhibit and this piece from Minnie's kitchen in ToonTown has been saved for the archives.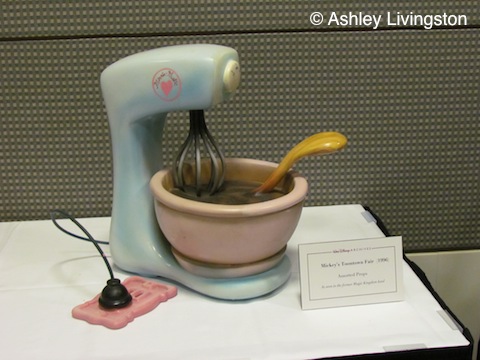 The only other thing to report from Saturday is it's another day close to when Star Tours reopens!! Can you tell I'm excited about Star Tours? 🙂
Sunday, May 15
They announced that the Enchanted Tiki Room (Under New Management) will be reshaped to be similar to Tropical Serenade, which opened with Magic Kingdom in 1971. The new version will be called Enchanted Tiki Room.
Monday, May 16
We went over to Studios to have a look around. On Streets of America, these banners were up over the street.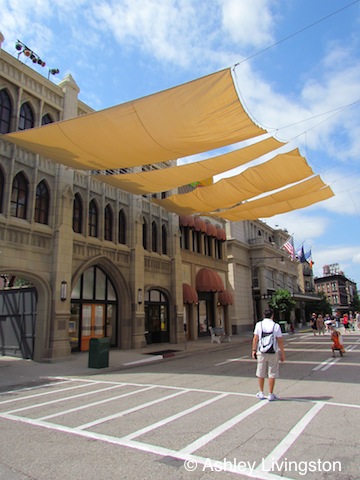 We saw this "box" around the palm tree.