Today I had the good fortune of attending the very first Garden Town Breakfast. This brand new event is part of Epcot's Flower and Garden Festival and was held in the Garden Town Festival Center. For those of you who don't know, the Garden Town Festival Center is in the Wonders of Life pavilion which is located between the Universe of Energy and the Mission: Space pavilions.
Here's the official Walt Disney World description of this breakfast:
"Garden Town Breakfast, 10:30 am – 12:30 pm, March 21, April 18 & May 16. Enjoy a welcome breakfast buffet prepared by our Disney chefs that will include a special selection of fresh ingredients from our own Land Pavilion while having the opportunity to learn some garden and culinary techniques from professional horticulturists and chefs. Chefs will demonstrate how to prepare the plated dessert. Sangria will be served with breakfast and you even receive a special gift. The cost is $60.00 per person – gratuity is included and theme park admission is required. To make reservations, please call 407-WDW-Fest Can't attend this weekend? We also plan to host the Garden Town Breakfast on April 18th and May 16th."
I arrived in Epcot around 10:00 am and headed right over to the Garden Town Festival Center. This sign is located just after you pass through the walkway between Innoventions and Mouse Gear.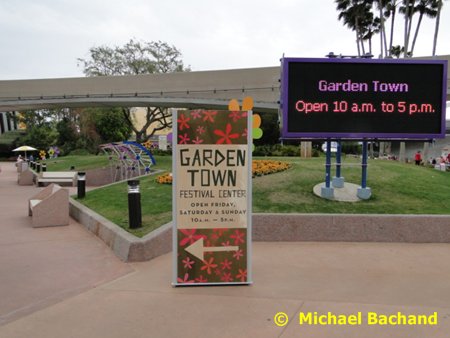 Here's a shot looking into the Garden Town Festival Center.
A close-up of the "Welcome" sign.
The "check-in" desk was located at the back of the pavilion. I was required to show a picture ID as the Cast Members checked me in
At the check in desk I was given a ticket with the word "Sunflower" on it. As I was later to find out each table had the name of a flower assigned to it. So, I was to be seated at the "Sunflower" table.
At approximately 10:30 am were were led into a backstage area and up an elevator to the second floor. When we got off the elevator we were offered a glass of Sangria to sip as we found our tables.
There were ten tables that sat six people set up in the room. So, the maximum capacity was sixty guests. However, since all the tables weren't full my guess is that there was only around 52 or 53 people there.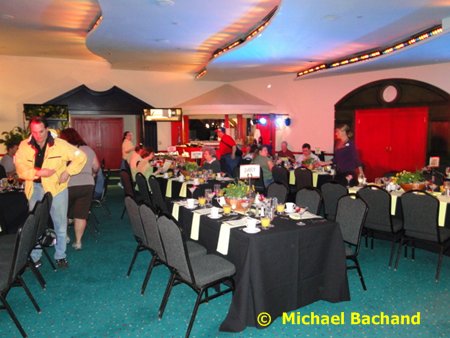 The front of the room was set up for the gardening presentation.
Also, in the front of the room was the cooking demo location.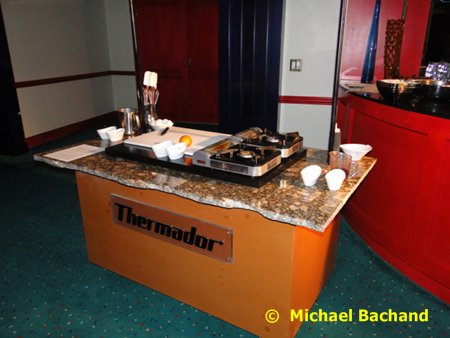 The tables were beautifully decorated. As you can see, I was at the "Sunflower" table with a very nice and friendly group of Disney fans.
And this is what my place setting looked like. The sheet of paper contains the recipe for the desert that I was later to enjoy. I'll explain more about that later on in the blog.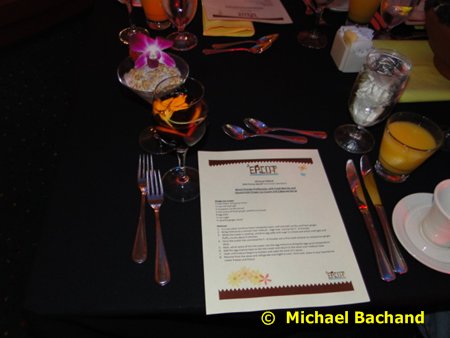 In the back of the room was a large circular area that had three food stations. This was a breakfast buffet with both hot and cold items to choose from.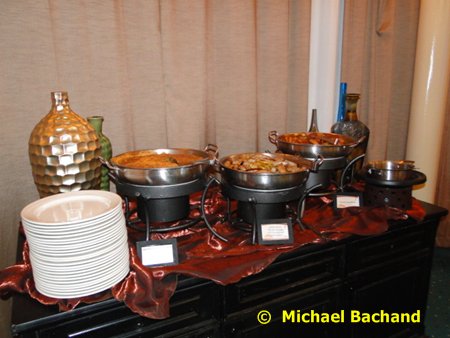 OK, want to know what we had to eat? The following pictures are of the labels that were located under the food.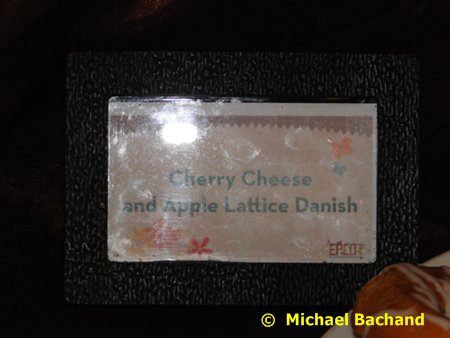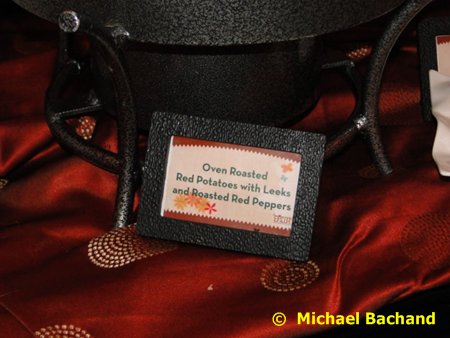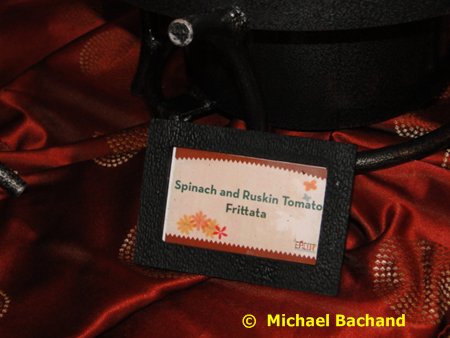 So, did that make you hungry? Well, let me tell you the food was outstanding! And there was plenty of it. I think they could have served another sixty people with all the food they had.
Once everyone had their food, Eric Darden, Area Manager, Disney's Horticulture and Pest Management, got up to speak.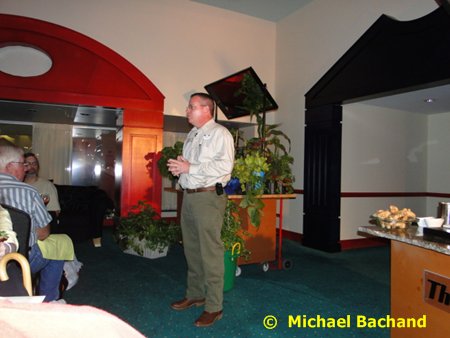 Eric spoke for about twenty minutes and then spent some time answering questions. Eric's presentation centered around gardening in Florida. He talked about both "container" gardening and "in-ground" gardening. He gave some great tips on how to plant and grow herbs and vegetables in containers. He discussed soil mix, fertilizing, liquid feed and harvesting. In addition, he suggested that if you were to start an "in-ground" garden to start small and to make sure that you have good soil. Some of the other topics he covered were pests/insects, heirlooms, compost, and weed control. Eric also suggested to use the University of Florida web site as a source of very good gardening information.
All in all, in the short period of time that Eric had, I thought he did an excellent job. I must admit he got me excited about the prospects of starting my own herb container garden.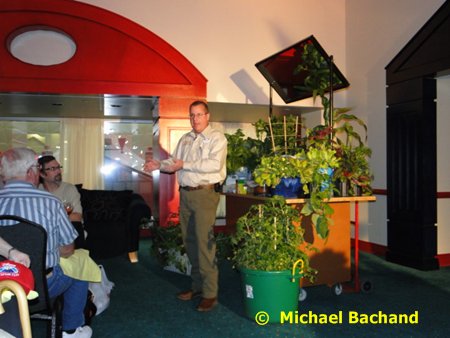 Eric was followed by Chef Michael Dillard, Walt Disney World Park Event Operations. Chef Michael's group is the largest catering group in all of Walt Disney World and were the one's who prepared our fantastic breakfast buffet.
As I mentioned earlier, everyone was given a sheet with recipes on it. The recipe was for "Blood Orange Profiteroles with Fresh Berries and Housemade Ginger Ice Cream and Cabernet Syrup". Chef Michael demonstrated how to make the "Ginger Ice Cream", the "Cabernet Syrup" and the "Blood Orange Mousse" as we watched. Along the way he talked about many cooking techniques and tips. Chef Michael did an excellent job, however, my only two complaints were 1) the demonstration table that Chef Michael used had an overhead mirror so you could see what he was doing on the table. Well, that wasn't visible from every table; mine included. So, we had to take his word for what was happening. The second issue is that it thought a greater emphasis should have been placed on "gardening" and not "food". The Food and Wine Festival has enough cooking demos.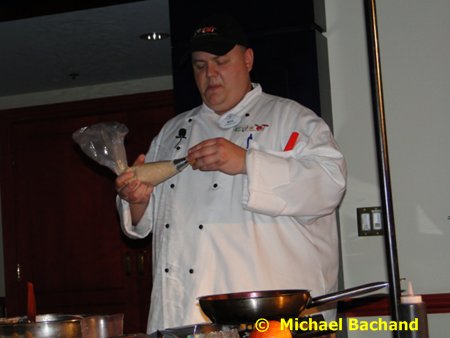 The following two pictures are of the recipe. If anyone is interested in getting a copy just let me know. But be forewarned, I don't consider these easy to do recipes.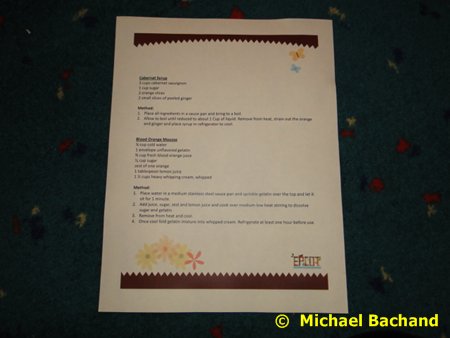 Now here is what the "Blood Orange Profiteroles with Fresh Berries and Housemade Ginger Ice Cream and Cabernet Syrup" looked like before I devoured it. -:)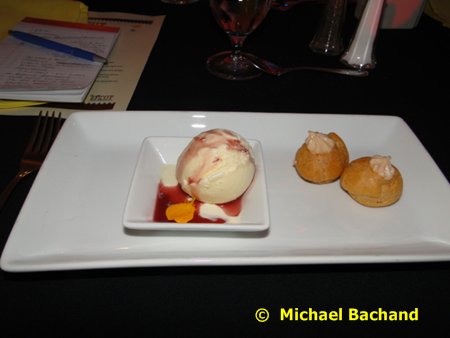 As I said, we were on the second floor of the pavilion. Here's looking down from the windows that were in the room we were in.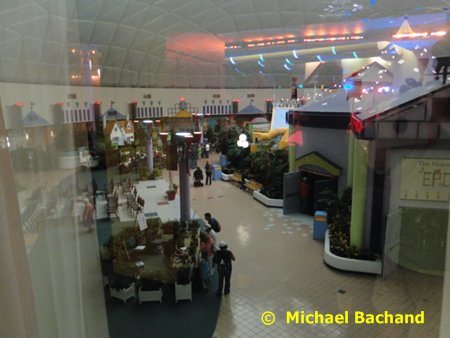 Both Eric and Chef Michael stayed and made themselves very accessible to anyone who had questions or wanted to talk to them.
Around 12:30 pm we all got back on the elevator and headed back down. Before we left the backstage area we were each given a bag with a beautiful herb plant inside.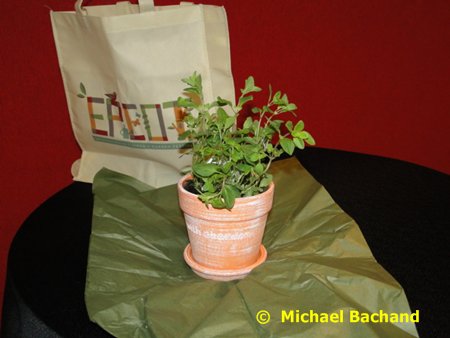 In addition, we were given a Fast Pass for either Maelstrom, Mission: Space or Living with the Land. This kind of surprised me, a FastPass for these attractions was a nice gesture, however, it would have been more meaningful if it was for Soarin and/or Test Track.
Here's a picture looking up to the room where the breakfast was held. As you can see, you can't see in the windows from the pavilion.
Overall, I would highly recommend this breakfast. However, as I said before, I think that the cooking demo, although excellent, made this feel more like a Food and Wine event than the Flower and Garden event that it was. I would have preferred to have a second Disney Horticulturist speak and give tips rather than the cooking demo. Also, I did mention to one of the Disney managers there about the cooking demo "mirror" problem. She noticed the same thing and said they'd work on fixing that. Knowing Disney I'm sure it will be corrected by the next breakfast.
Please let me know if you have any specific questions regarding this event or any comments you may have.
Finally, be one of the first people to hear when my newest blogs go live on AllEars.net by joining "DisneyMike's World" Facebook group.
Well, that's all for now. As my good friend says "see ya real soon"…DizneyMike
Hey, see this little green button? Well, it allows you to share this blog with your family and friends quite easily. Give it a try; it's pretty neat!