The Great Movie Ride Celebrity Hand and Footprints Disney's Hollywood Studios
At the end of Hollywood Boulevard, dead center, stands a magnificent reproduction of the famous Mann's Chinese Theater, home to The Great Movie Ride.

In front of the theater, many celebrities have left their handprints or footprints in cement, in much the same way as has been done at the original theater. The following is the current (as of February 2014) complete list of the hand/footprints at the location, in alphabetical order, thanks to Disney Historian and AllEars.Net feature writer Jim Korkis: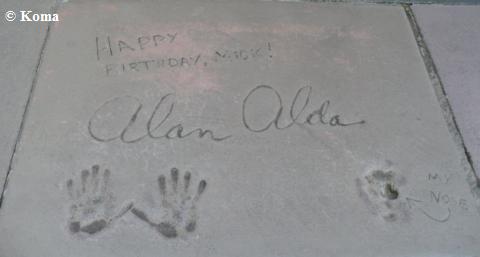 Eddie Albert (9-21-90)
June Allyson (8-21-89)
Alan Alda (No date. He also imprinted his nose and wrote "my nose" with an arrow going to it.)
Harry Anderson (4-29-89 "Love You Mickey" He drew his trademark hat and tie.)
Annette (5-1-89 She did not include her last name, "Funicello".)
Lauren Bacall (4-29-89)
Warren Beatty (6-14-90 He put the initials "D.T." in parentheses because at the time he was starring as Dick Tracy in the movie of the same name.
Robby Benson (No date but probably 11-2-1991 "The Beast". Also includes the imprints of his wife Karla and daughter Lyric. He also wrote "Baby—heart shape—on the way" which refers to his son Zephyr.)
Pat Boone (11-3-89)
George Burns (5-1-89 Part of his famous cigar is also imprinted.)
Carol Burnett (6-25-1988 "Happy Birthday Mickey! We Love You!!" She wrote "Luv" and then crossed it out and wrote "Love".)
LeVar Burton (5-25-99 The "Le" can be clearly read on the beige block but the rest is a mess.)
C-3PO and R2-D2 (12-89)
Carol Channing (2-9-93 "XXXs")
Cyd Charisse (5-10-89)
Chevy Chase (3-24-96)
Dick Clark (6-1-90 He scribbled in the logo for American Bandstand.)
Jackie Cooper (No date. "I'm honored.")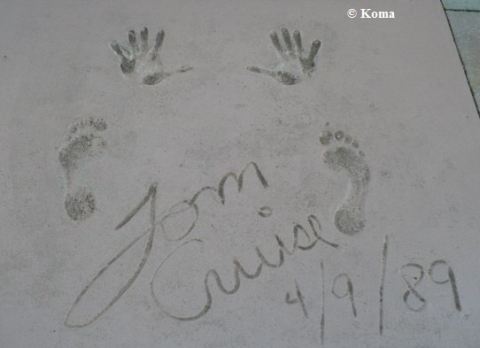 David Copperfield (1-4-94 "It Was Magical!")
Macaulay Culkin (2-22-91 "Home Alone")
Tom Cruise (4-9-89 He imprinted his bare feet.)
Tony Curtis (3-27-92 He drew a landscape with three mountains and a quarter moon.)
Geena Davis (6-10-92)
Rebecca DeMornay (1991 "Love and God bless.")
Gerard Depardieu (2-10-96 "Merci")
Danny DeVito (6-17-90 Also includes imprints of his wife Rhea and their three children Jake, Gracie and Lucy.)
Neil Diamond (2-93 "Love")
Phyllis Diller (1989. She drew a caricature of her face.)
Donald Duck (5-1-89 "The One and Only (star symbol)!!!")
Patty Duke (No date. In the lower left hand corner is the name "anna" in lower case, a reference to her real name Anna Marie Duke.)
Douglas Fairbanks Jr. (10-1-90)
Jamie Farr (5-25-96)
Harrison Ford (1-9-91)
John Forsythe (No date. "Grauman's Chinese Eat Your Heart Out!")
Michael J. Fox (5-29-99)
Estelle Getty (4-17-89)
Bobcat Goldthwait (No date. He imprinted bare feet and wrote "Don't Spit Here". Also includes the name of his first wife, Ann, and their daughter Tasha.)
Goofy (5-1-89 The "5" is written backwards and there are pupils in the "O"s of the name to look like eyes. "Gawrsh—I'm Stuck!")
Louis Gossett Jr. (8-6-89)
Elliott Gould (12-29-89)
Mark Hamill (1-13-90)
Daryl Hannah (2-13-89 "XO" Imprinted her bare feet and then drew the outline of a mermaid tail flippers around them as a reference to her role in the film Splash from 1984.)
Jim Henson (8-28-89 Also the signature of Kermit the Frog and an illustration of Kermit's head and left hand waving by Henson. One of the few blocks actually done in place. Henson's own Kermit puppet's hands are imprinted.)
Audrey Hepburn (4-29-89 This is one month earlier than the park opening because Miss Hepburn attended a press preview.)
Pee-Wee Herman (2-13-89 "Aarrrrrr!!! Your pal". Also an imprint of his bowtie.)
Charlton Heston (12-7-95 A fan called out the actor's name while he was signing so Charlton looked up briefly and was distracted so he wrote "Charton" without the letter "l".)
Dustin Hoffman (No date.)
Hulk Hogan (11-9-93)
Bob Hope (5-1-89)
Ernie Hudson (No date.)
Kate Jackson (4-16-89)
Michael Jackson (1-13-90)
Samuel L. Jackson (3-3-95)
Billy Joel (3-20-90 "Cheers! With Love Christie Brinkley". A hand drawn heart in each corner of the block. Brinkley was his wife at the time.)
Van Johnson (2-22-93 He drew a smiley face with slanted eyes.)
George Kennedy (12-23-91)
Charlie Korsmo (6-14-1990)
Dorothy Lamour (9-12-90)
Michael Landon (11-13-88)
Angela Lansbury (11-2-91 "Beauty & The Beast Mrs. Potts")
Jerry Lewis (4-10-96)
Ray Liotta (2-18-95)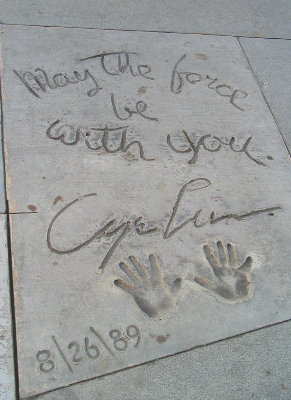 George Lucas (8-26-89 "May The Force Be With You")
Ann Margaret (3-31-94)
Steve Martin (1991. He put in his handprints and then drew arrows to them and wrote "feet".)
Rue McClanahan (4-17-89)
Ed McMahon (6-15-92)
Bette Midler (No date.)
Ann Miller (8-8-91)
Liza Minnelli (3-20-90 "Love" She imprinted bare feet.)
Mary Tyler Moore (5-8-93)
Rick Moranis (4-30-89)
Pat Morita (8-15-91 Bare feet imprinted.)
Mickey Mouse (5-1-89 "Gosh! This is Swell!")
Minnie Mouse (5-1-89 "Thanks Everyone XOXO". There are hearts over the "i"s in her first name.)
Leonard Nimoy (1989 "Live Long and Prosper.")
Donald O'Connor (11-15-91)
Maureen O'Sullivan (2-21-92 She drew a heart with an arrow going through it and a butterfly.)
Jack Palance (1-15-97)
Roger Rabbit (5-1-89.) "PL-LL-LEESE"
Tony Randall (4-16-89. "XOX" He drew three stars on the block. Two were the Star of David.)
Regis Philbin (10-2-1991 also includes Kathie Lee Gifford and the hands and feet of her son, Cody.)
Jane Powell (8-30-89 "Cheers!")
Jason Priestly (1998. Someone must really dislike this actor best known as Brandon Walsh on the television show Beverly Hills 90210 as his last name on this white block has been almost completely defaced by someone digging across it.)
Burt Reynolds (6-23-88 "Love")
John Ritter (1-17-1948…yes Ritter wrote "1948". His left foot print is fine but with his right foot print he went around to the other side of the block and imprinted it so it is upside down.)
The Rocketeer (6-21-91 Besides foot prints, there are blast marks from his rocket pack behind his feet.)
Jane Russell (2-8-92)
Susan Sarandon (3-21-99)
Charlie Sheen (9-17-94 His signature is almost indistinguishable.)
Martin Short (11-1-89)
The Ruby Slippers ("worn by Judy Garland. The Wizard of Oz 1939" These authentic slippers were displayed in the queue to The Great Movie Ride for many years but were only on loan from the owner and have since been removed.)
Sylvester Stallone (12/13/90 In a box he put the name "Oscar" referring to his character's name in the film he was working on of the same name that was filming at Disney MGM Studios.)
Suzanne Somers (4-15-89)
Sally Jo Sousa (10-22-91 " Perdy. Maisie. Disney's 101 Dalmatians." There are also dog paw prints. Sousa is an animal trainer who worked on the live-action film.)
Sissy Spacek (No date. Also written "and kids" referring to her daughters Schulyer and Madison)
Sally Struthers (No date but she drew two hearts, four "X"s and a flower)
Lily Tomlin (12-3-94)
John Travolta (6-18-89)
Cicely Tyson (4-29-89)
Dick Van Dyke (4-14-89)
Jim Varney (No date. "To Mickey. Congrats.")
Patrick Wayne (4-29-89 "Good Luck" Patrick is the son of John Wayne.)
Betty White (2-24-91)
Cindy Williams (6-22-88)
Robin Williams (12-28-90 "Carpe Per Diem". For his hand prints, he did right, left and another right. There are also the names of his second wife, Marsha, and his two children Zak and Zelda. His third child, Cody, was born November 1991 so does not appear.)
If you have comments or tips to share with others about Disney's Hollywood Studios' Great Movie Ride, please email us. Thank you.