When it comes to planning your Disney World vacation, you're probably already thinking of all the attractions you can't wait to ride and all of the Disney Characters you would love to meet. But have you thought about this VERY important aspect of your vacation: what you would most like to EAT?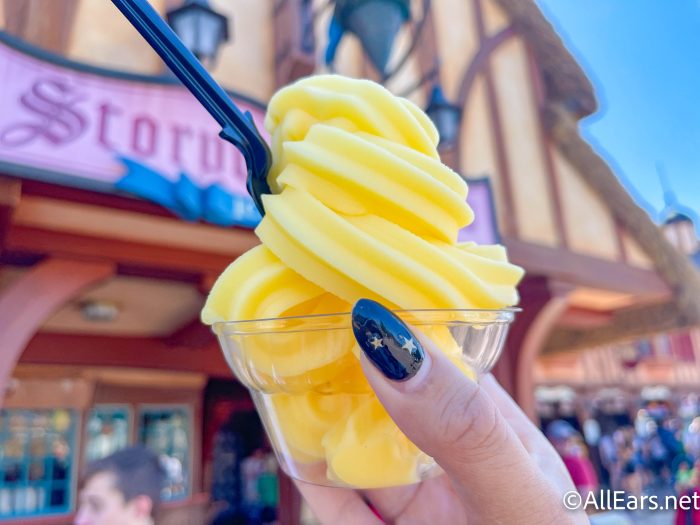 There are so many fantastic dining options around Disney World, and there are some… well, not-so-exciting, or memorable, or maybe just not as well worth the dough.
So we've taken it upon ourselves to do the sorting for you, and are simply presenting you with the BEST food in Disney World for 2023 right here! We'll be sharing the TOP PICKS for Quick Service and Table Service restaurants, along with the must-try snacks in each theme park, Disney Springs, and Disney World Resort hotels!
Our strategy: we're combing our own lists of must-eats, such as the Best Food in Magic Kingdom, EPCOT, and Animal Kingdom, with results from All Ears Reader Dining Reviews.
Grab a fork and get ready to DIG IN!
The BEST Quick Service Food in Disney World
Magic Kingdom
We have to hand it to Columbia Harbour House in Magic Kingdom's Liberty Square. It's got everything from fried goodies galore to healthier options like grilled salmon to a New England Seafood Boil that's hard to believe is a Quick Service dish!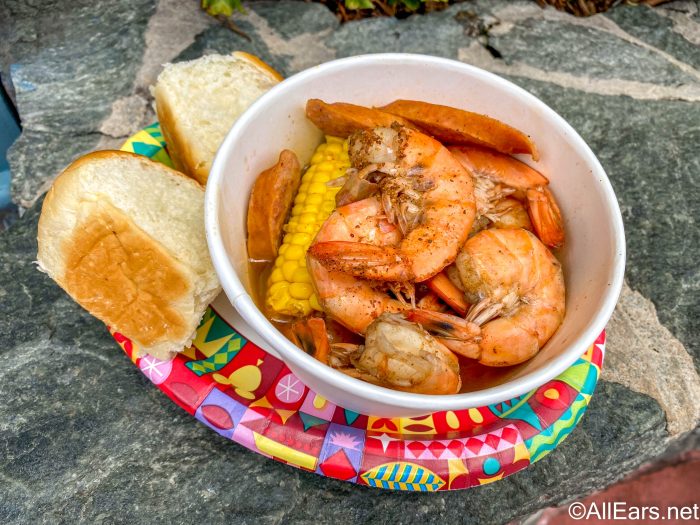 Though there is yummy Mexican fare at Pecos Bill Tall Tale Inn and Café and scrumptious loaded hot dogs at Casey's Corner, the charming Columbia Harbour House simply ups the ante when it comes to "fast food" at Magic Kingdom, offering a bit o' surf, a bit o' turf, some classic counter service options, and healthier fare… it really does offer something for everyone.
EPCOT
There's definitely something to be said for having a HUGE variety of goodies to choose from (like you'll find at spots in EPCOT like Les Halles Boulangerie Patisserie and Karamell-Kuche). But there's also something to be said for doing one thing, and doing it very well.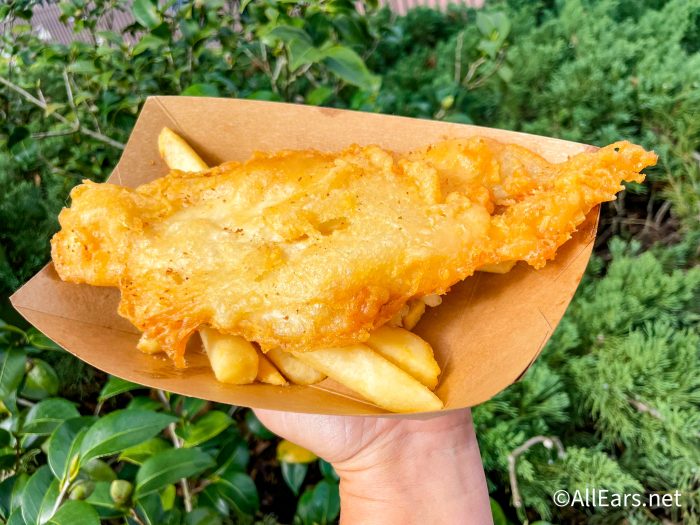 That's how the Fish & Chips at Yorkshire County Fish Shop in the United Kingdom pavilion ended up at the top of our list of Best Quick Service in EPCOT!
Disney's Hollywood Studios
Nostalgic classics served up with a twist… that's what you'll find at Woody's Lunch Box in Toy Story Land!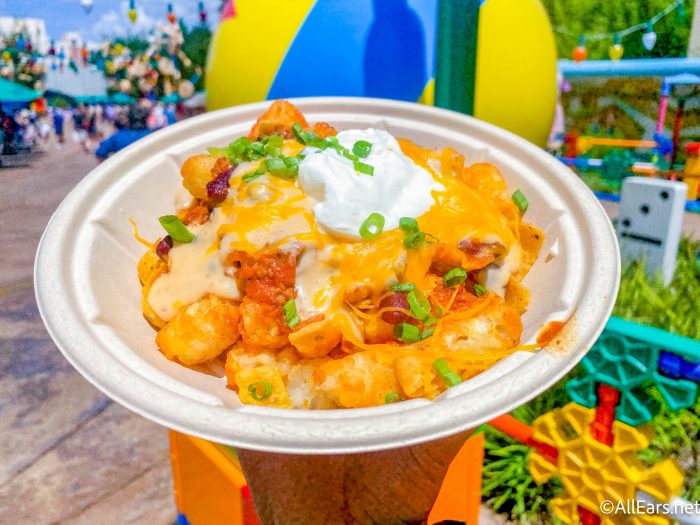 From Totchos to Lunch Box Tarts to a terrifically gooey Grilled Cheese, the fun fare at Woody's Lunch Box rarely disappoints.
Disney's Animal Kingdom
Satu'li Canteen in Pandora comes out swinging thanks to truly unique food options that are also INCREDIBLY tasty!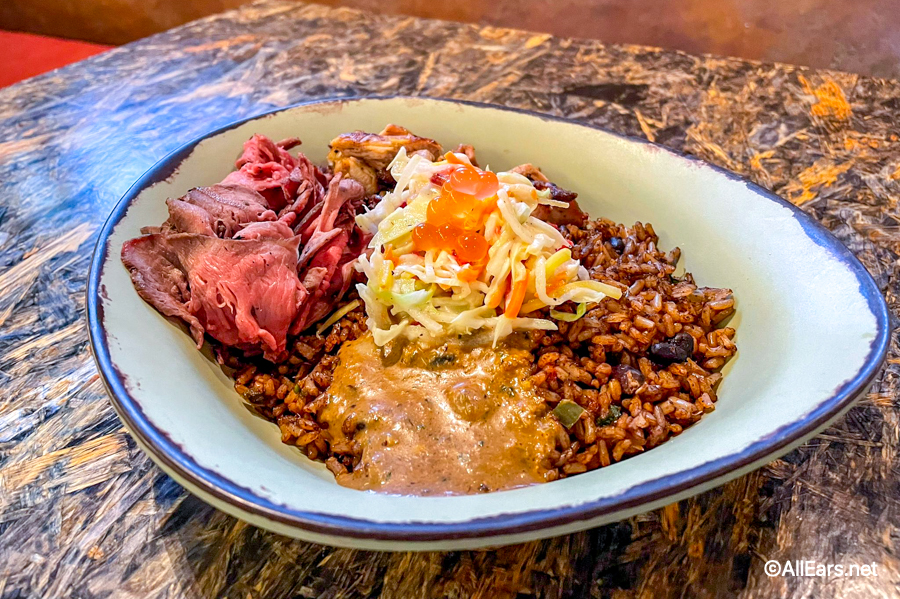 The menu here is not huge, but choices remain abundant thanks to options for customizing your choice of Satu'li Bowls. We find ourselves coming back for the Cheeseburger Pods again and again, too.
Disney Springs
It's tough to ignore the enticing smell of BARBEQUE in the air when you're anywhere near The Polite Pig in Disney Springs.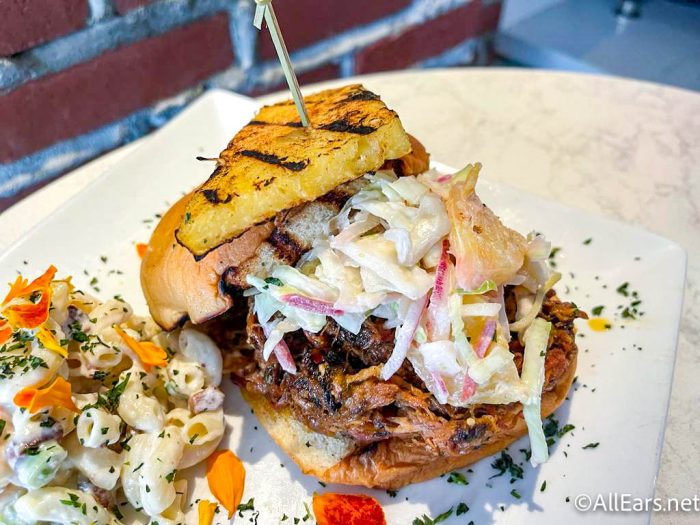 What's even tougher? Making your choice from the selections of hearty entrees, yummy market sides, and seasonal Chef's Specials!
Disney World Resort Hotels
Capt. Cook's in Disney's Polynesian Village Resort is another spot that presents a smaller menu.
But with hits like Tonga Toast for breakfast and Pulled Pork Nachos for the rest of day, who needs more?
The BEST Table Service Food in Disney World
Magic Kingdom
Hmmm… it's a tough choice when it comes to best Table Service dining at Magic Kingdom. Is it the iconic Cinderella's Royal Table? The stunning Be Our Guest Restaurant? The Crystal Palace featuring Pooh and pals? Actually… no.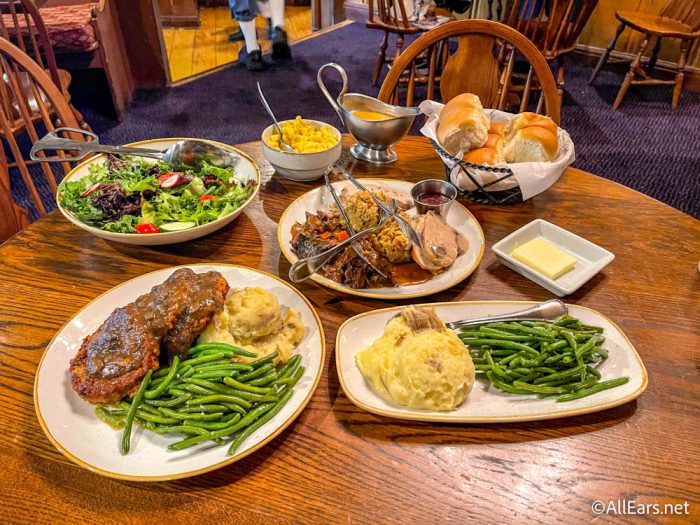 Coming it with a whopping 94% Recommended Rating in our Magic Kingdom dining reviews is Liberty Tree Tavern! And we must say… this kudo is well-deserved! Liberty Tree Tavern serves a Thanksgiving Feast all year long… AND it's all-you-care-to-enjoy!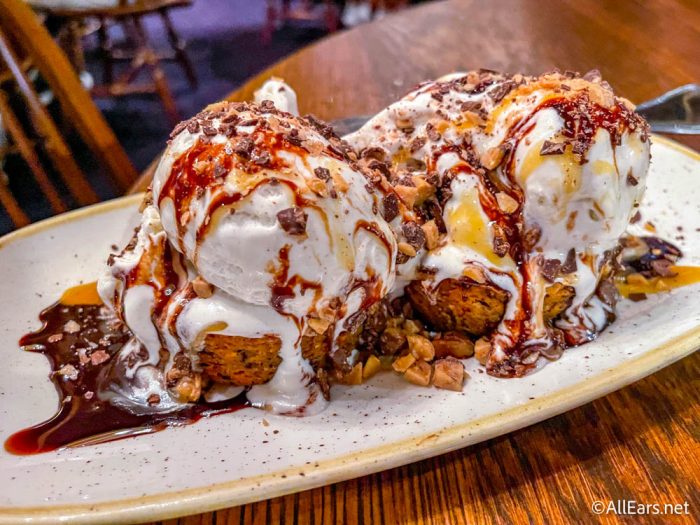 And you simply CAN'T MISS the signature dessert: Ooey Gooey Toffee Cake! I'll just let that picture speak for itself…
EPCOT
The best Table Service Restaurant in EPCOT — Garden Grill — is about to get even BETTER… because BREAKFAST is returning to this beloved Character Meal on June 14th, 2023!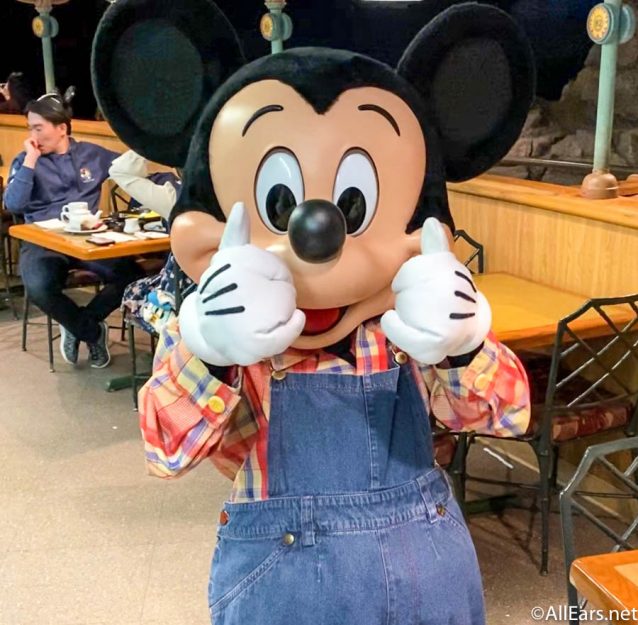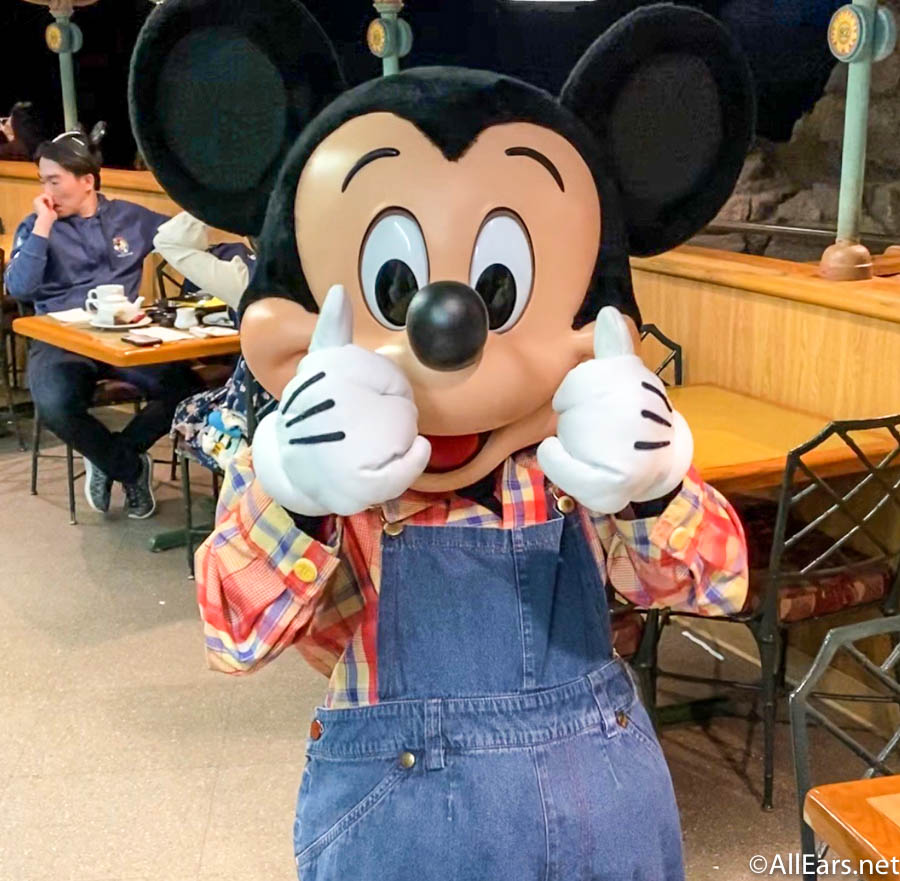 The food — which is all-you-care-to-enjoy served in family-style fashion — is solid, and you get to enjoy this meal along with tableside visits from Chip, Dale, Pluto, and Farmer Mickey! What's not to love? Oh, and did I mention that this restaurant ROTATES above the Living with the Land attraction in The Land pavilion? We love it, and our readers do, too!
Disney's Hollywood Studios
An impeccable atmosphere, comfort food classics, completely fun Cast Members… 50s Prime Time Cafe is firing on all cylinders when it comes to Table Service in Disney's Hollywood Studios.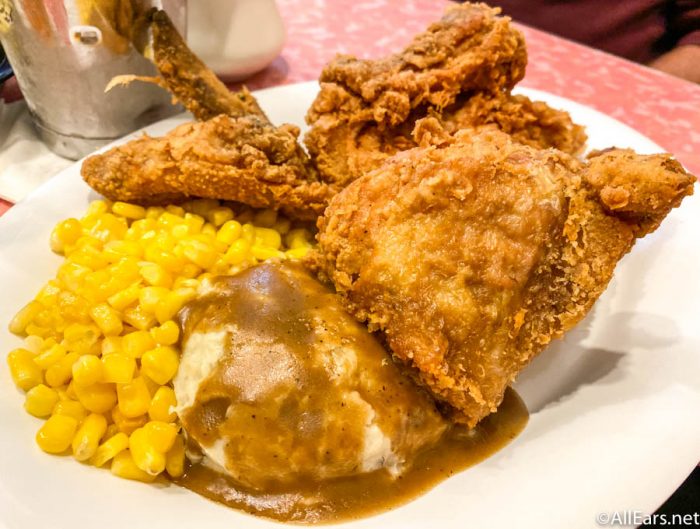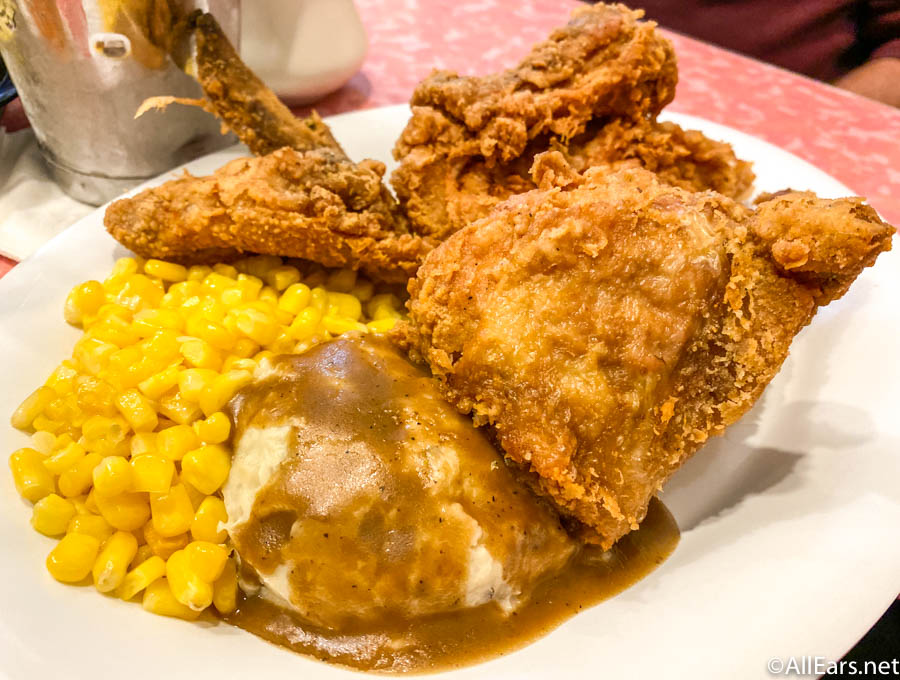 You'll definitely want to become a member of the Clean Plate Club here!
Disney's Animal Kingdom
How about an all-you-care-to-enjoy buffet featuring both flavorful African fare and familiar favorites in the presence of Mickey Mouse, Donald Duck, Daisy Duck, and Goofy?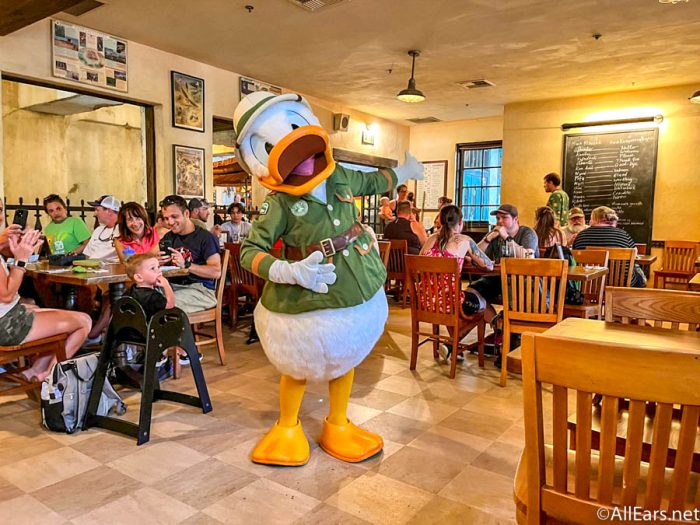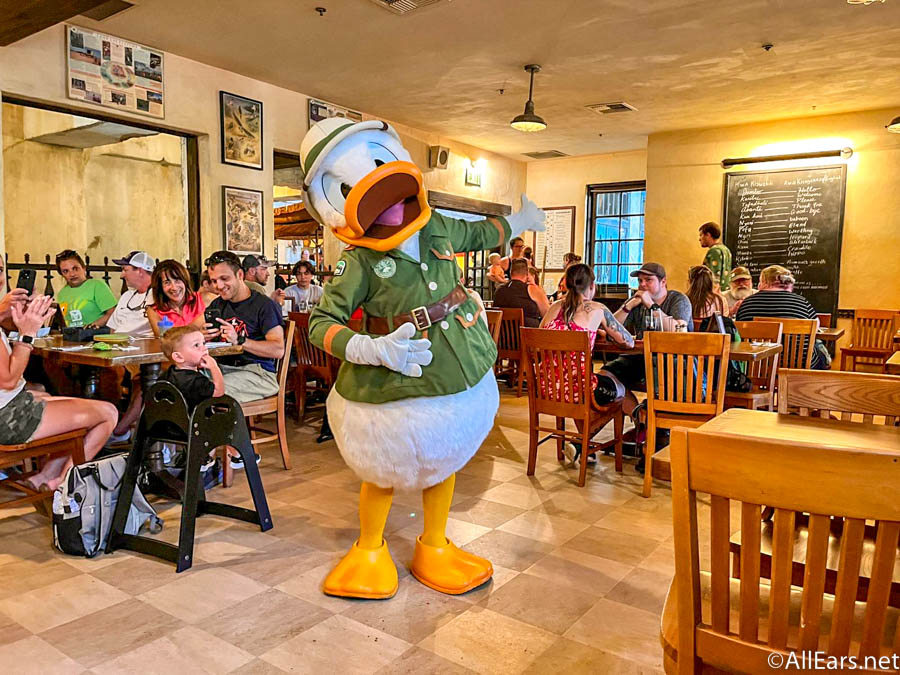 Not bad, right? That's what Tusker House Restaurant has to offer in Disney's Animal Kingdom!
That said, we also have to give a nod to Nomad Lounge.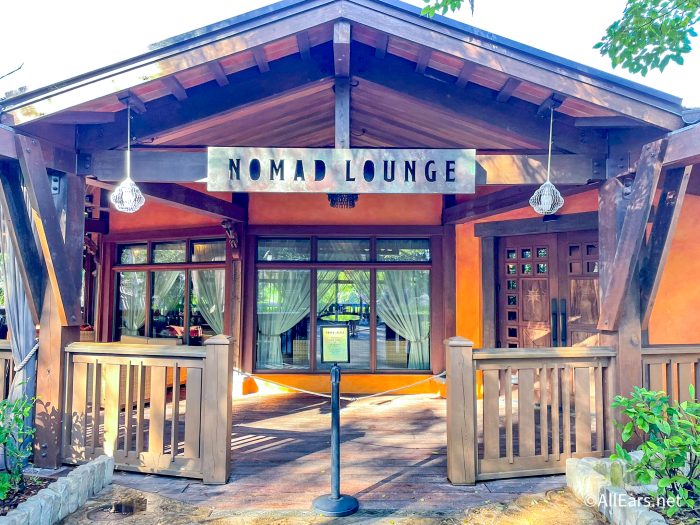 Though this cozy watering hole is not a traditional Table Service restaurant, it is a truly inviting spot with crafted cocktails (and delicious eats including Tiffins Bread Service) which invites you to sit, stay, and relax awhile.
Disney Springs
Homecomin' by Chef Art Smith has been a hit from Day One.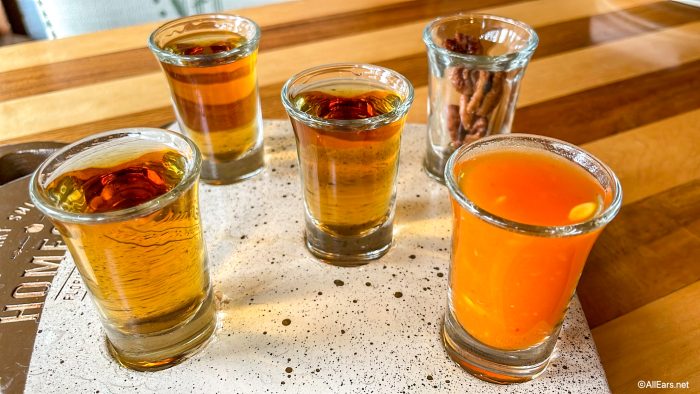 Whether you partake in the Rise 'n Shine Brunch on weekends, grab a fun Mooshine Flight, or hit up lunch or dinner for some delicious Southern fare, you're bound to enjoy your visit "HOME."
Disney World Resort Hotels
How does ONE restaurant earn TWO nods in one category? By serving up not one, but TWO unique — and yet equally memorable — dining experiences! Topolino's Terrace — Flavors of the Riviera features a truly fantastic Character Meal for Breakfast a la Art with Mickey & Friends…
… while the evening presents Signature Dining in a stunning setting.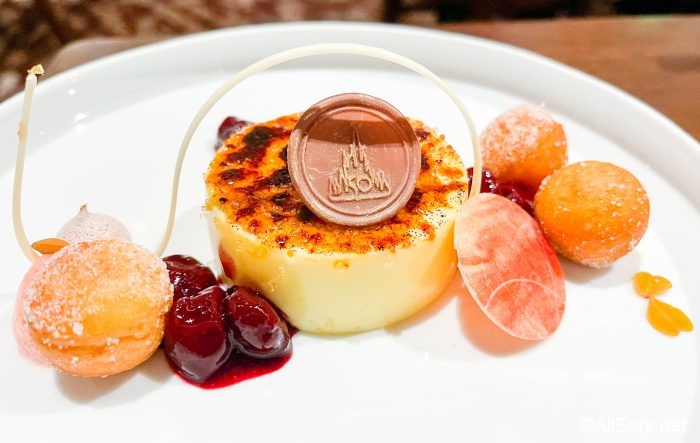 Though Topolino's home at Disney's Riviera Resort is a bit out of the way (though it's easily accessible by the Disney Skyliner), we think you'll find it's worth the trek.
The BEST Snacks in Disney World
Magic Kingdom
Oh, my… from DOLE Whip to Cheeseburger Springs Rolls to Corn Dog Nuggets and beyond, Magic Kingdom is a snack lover's dream. How do you pick just one? It's tough, but…  We're giving this one to the Fresh Fruit Waffle Sandwich from Sleepy Hollow Refreshments.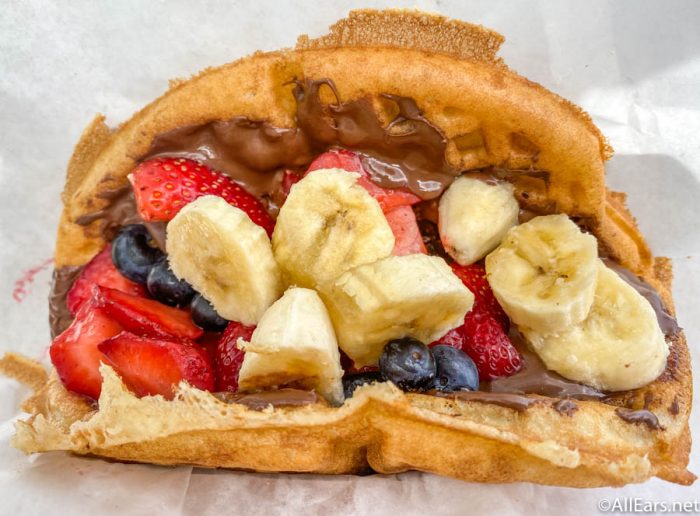 Is it breakfast? Is it a dessert? Is it a snack that's practically as HUGE as a meal? Is it a waffle completely covered with bunches of fresh fruit and NUTELLA?
Yes, yes, yes, and YES!
EPCOT
I'm about to cheat. Why? Because HOW do you narrow down the BEST SNACK from Les Halles Boulangerie Patisserie in EPCOT's France pavilion?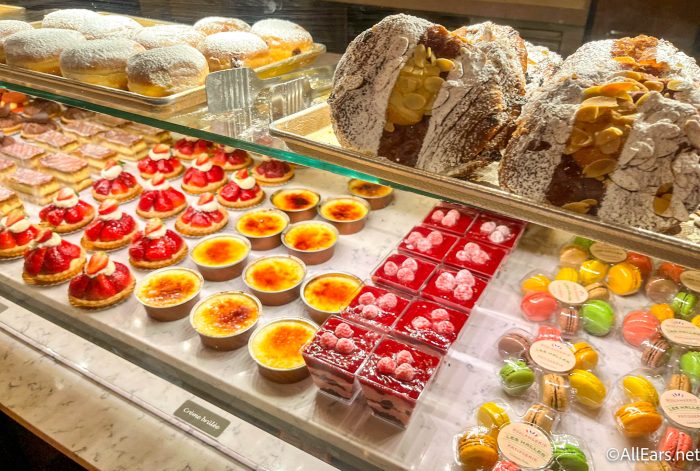 You DON'T. You pick several goodies that stick out to you from the abundant choices in the bakery case and share with your friends and family. Or don't. 😉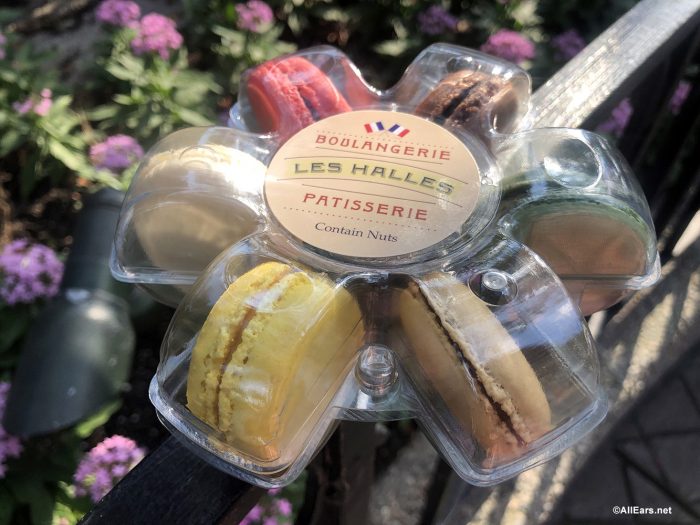 It's simply hard to go wrong with anything at this lovely French bakery.
Disney's Hollywood Studios
The Carrot Cake Cookie at The Trolley Car Cafe (Starbucks) serves up a thick layer of cream cheese frosting between two HUGE, soft rounds of carrot cake for an unforgettable treat.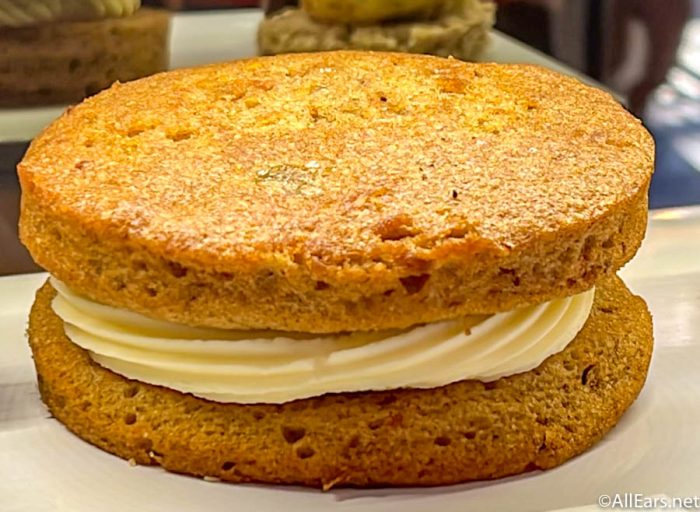 This is one snack you definitely won't find in your Starbucks back home!
Disney's Animal Kingdom
You'd think it would be tough to improve on a House-made Ice Cream Cookie Sandwich with a generous scoop of ice cream tucked between two fresh-baked cookies. But somehow, the Seasonal Ice Cream Cookie Sandwiches at Dino-Bite Snacks manage to do exactly that!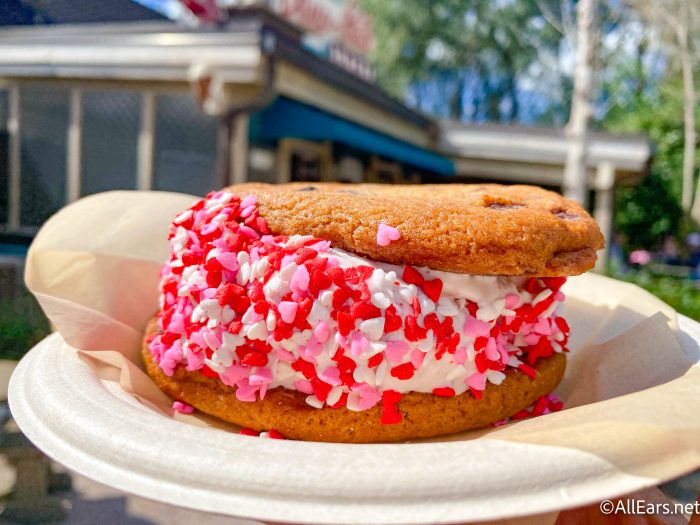 Time and time again, from Valentine's Day to St. Patrick's Day, and from fall into the holidays, these cold and creamy treats continue to impress with their unique flavor combos. Stop by  and see what's on the menu during your visit!
Disney Springs
Why are people willing to stand in lines like THIS at Gideon's Bakehouse?
Because they walk out with cookies like THIS…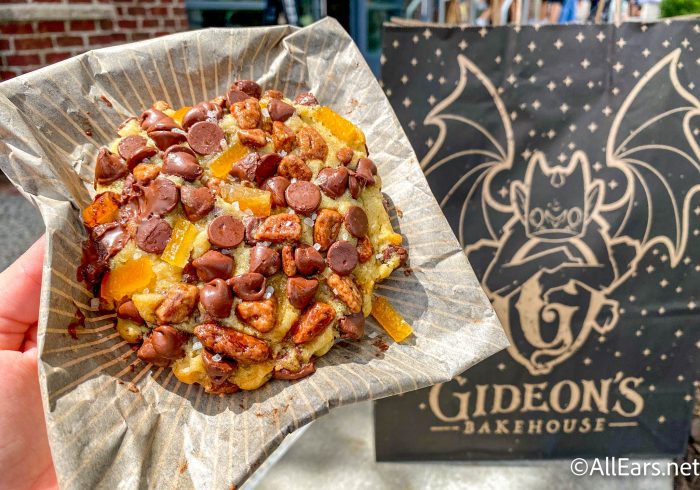 Enough said.
Disney World Resort Hotels
The Mickey Beignets at Port Orleans Resort — French Quarter were once served at Sassagoula Floatworks and Food Factory.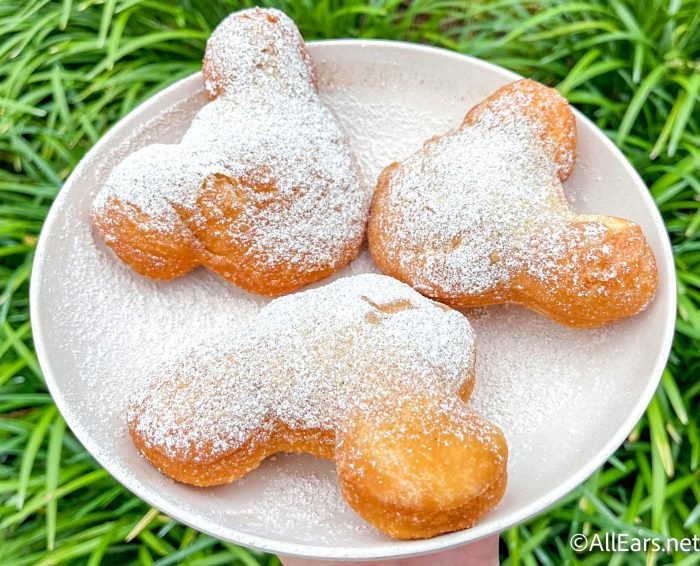 But this signature snack is so popular that it now has its very own dedicated spot at Scat Cat's Club — Cafe where you can enjoy these hot-from-the-fryer goodies on their own with a generous dusting of powdered sugar or even as a Mickey Beignet Sundae!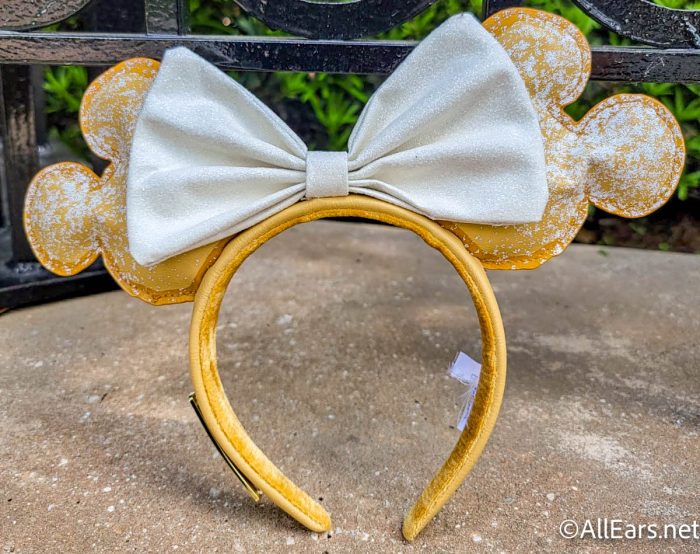 This snack is so well loved that it's even got its own pair of Minnie Ears so you LITERALLY NEVER HAVE TO BE WITHOUT YOUR MICKEY BEIGNETS!
Whew! We hope this list helps you narrow down some of your dining choices in Disney World! (Speaking of… have you heard the news? The Disney Dining Plan is on it's way BACK to Disney World in 2024! Find out more HERE!)