Few things can ruin your Disney World trip faster than the stark realization that you're so hungry.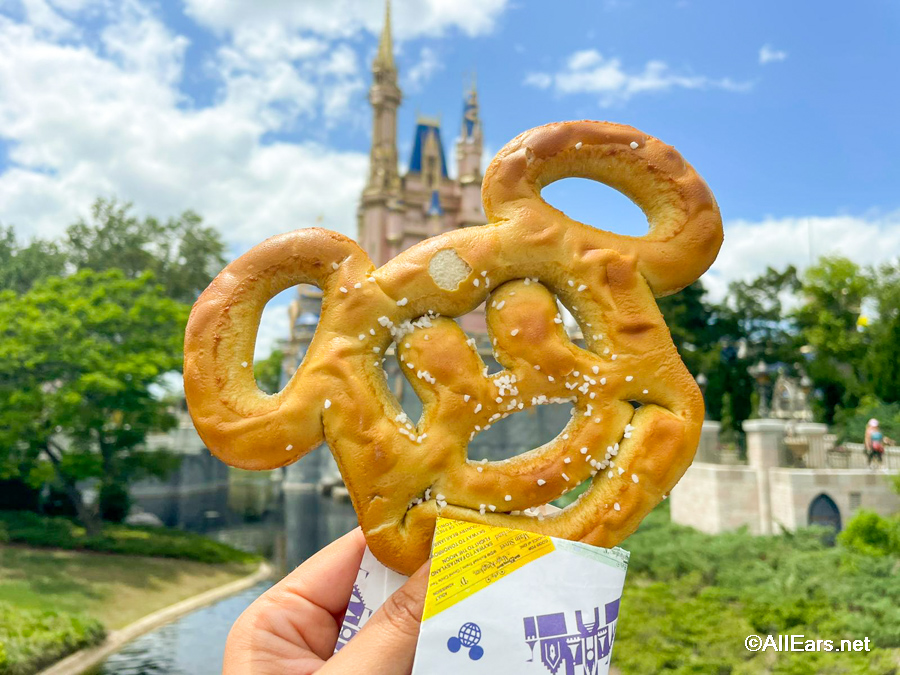 Whether you're looking for a hearty meal or something quick to hold you over, you can probably find it if you know where to look — and that's where we come in. We've tried all sorts of Disney World foods, and this time we're sharing the BEST food in Magic Kingdom for 2023!
The next time you visit Magic Kingdom, make sure these foods are on your must-get list!
You don't even have to make it very far into the park to grab the first food on our list. Corn Dog Nuggets from Casey's Corner certainly hit the spot for those who can't leave a Disney park without some sort of frankfurter experience.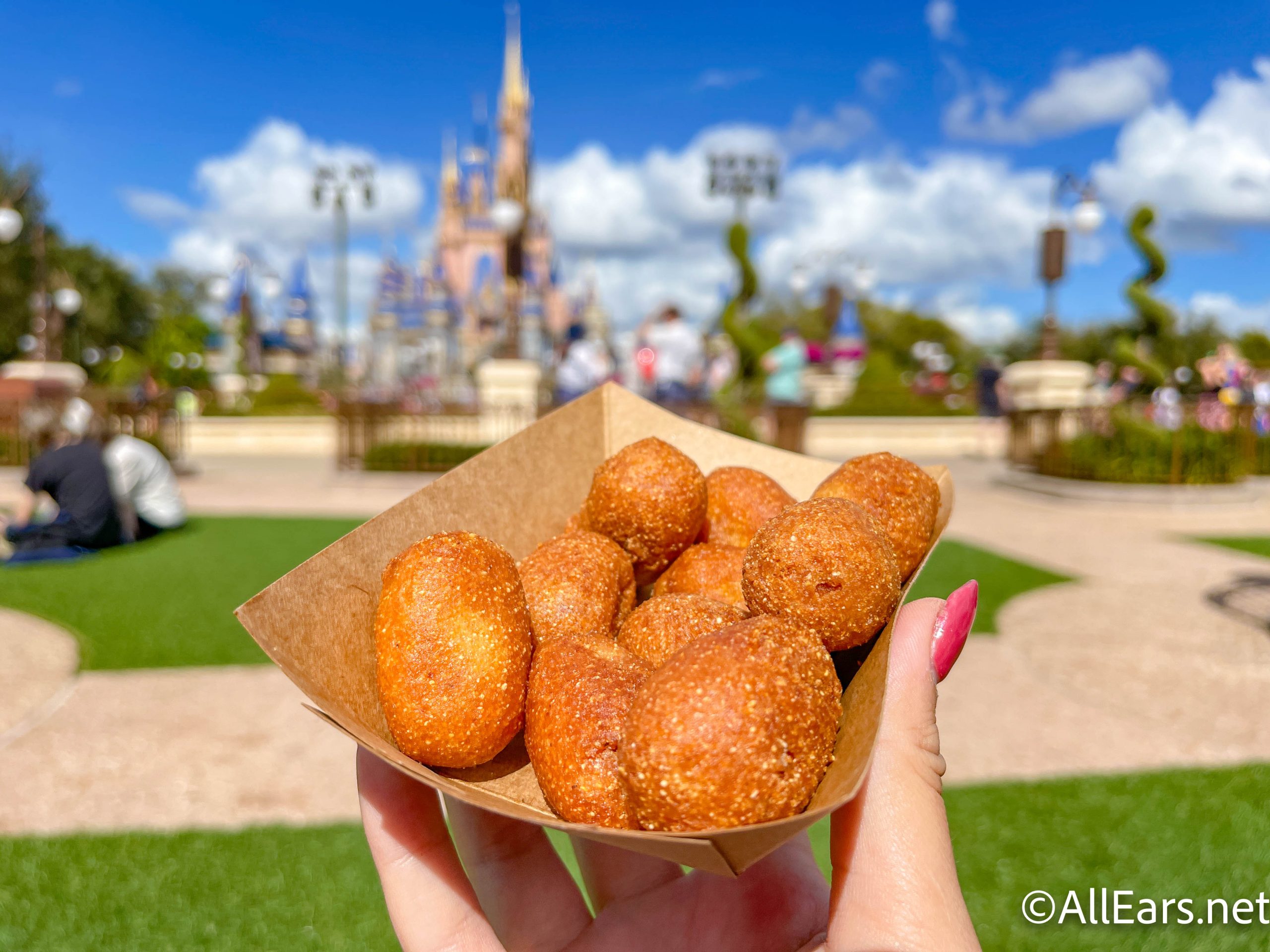 These warm, crispy, fried golden nuggets are made even better by ordering a side of plastic cheese. Okay, it's not really plastic, just that hot nacho cheese you can find at various quick-service spots throughout Disney World.
Hopping on over to the Plaza Restaurant, this is one iconic food you'll need to snag a reservation to get — but trust us, it'll be worth it.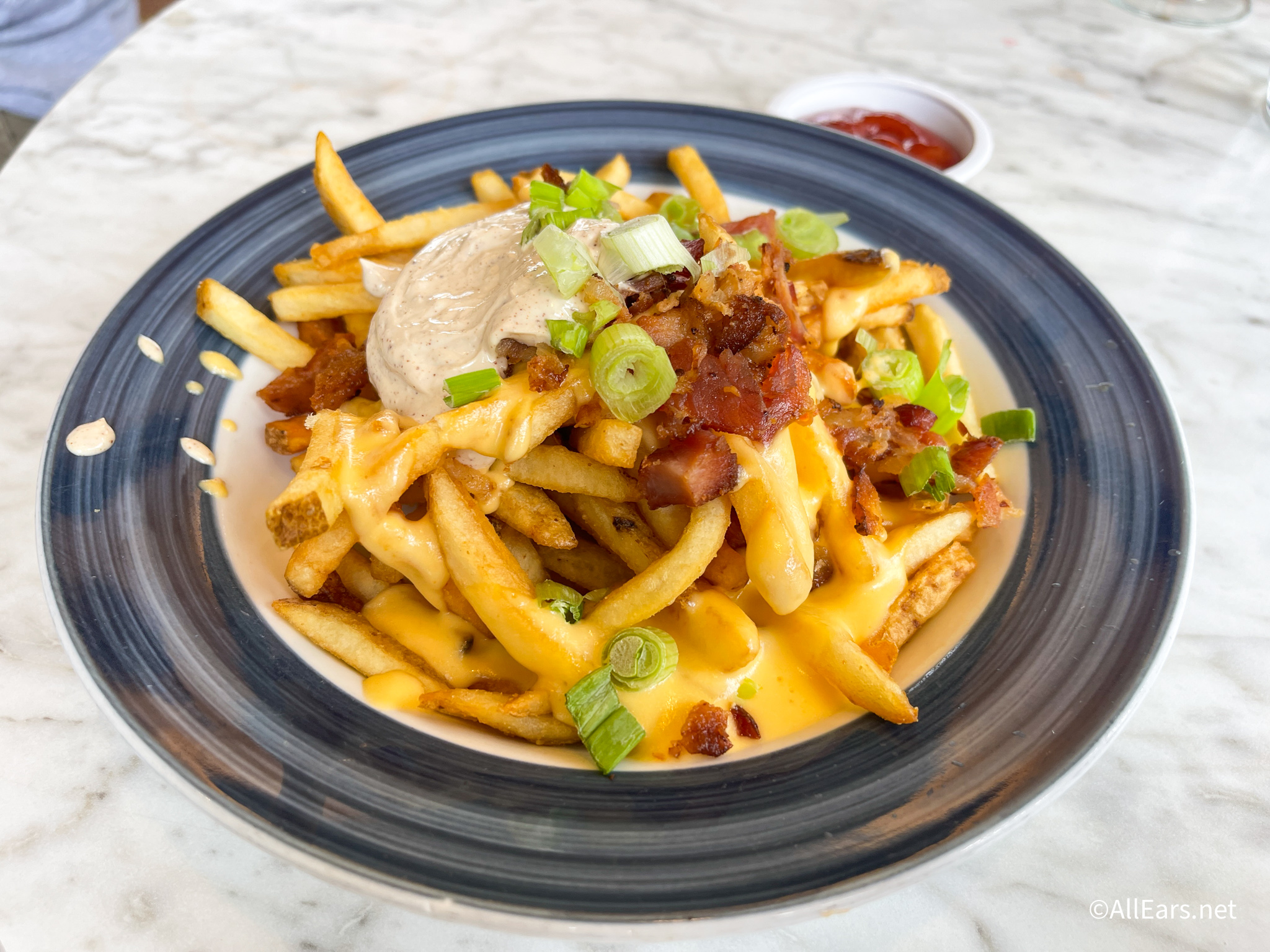 The Plaza Loaded Fries technically serves two, but we won't judge if you inhale this dish before anyone has the chance to grab a fry. They're made with Crispy Fries, Melted Cheddar, Bacon, Green Onion, and Spicy Sour Cream. What more could you want?
You'll find this popular snack at the appropriately-named Adventureland Spring Roll Cart in Magic Kingdom. Situated near the entrance to Adventureland, you can't miss the red and green wagon, especially when a line of guests leads you there.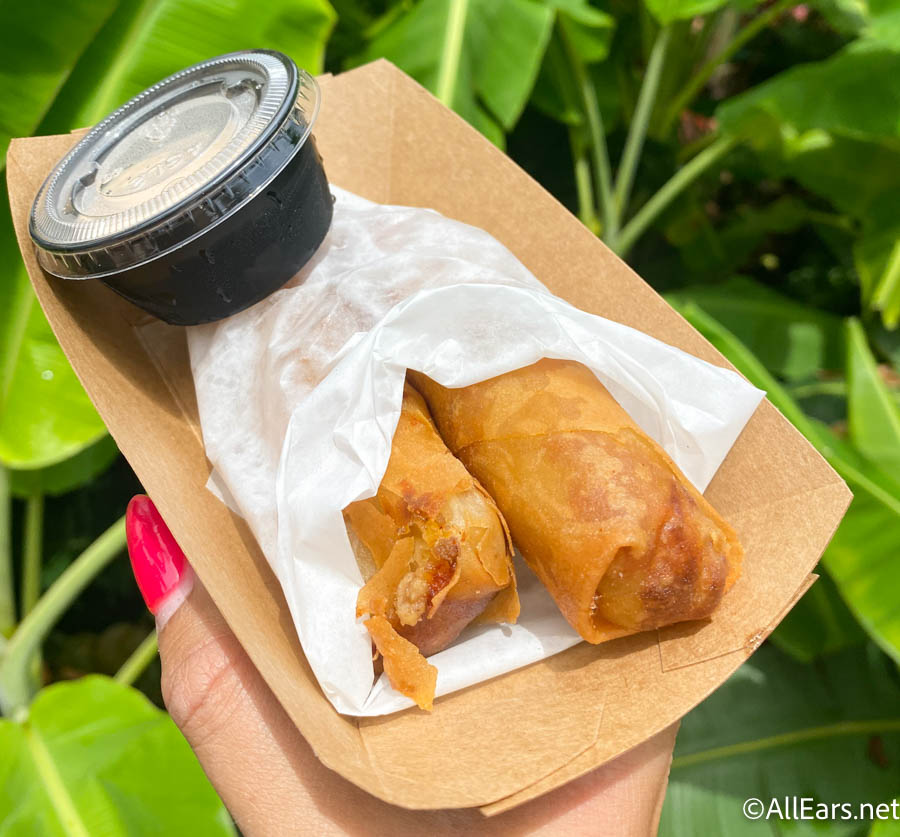 Inside the flaky fried spring roll wrapper is a mixture of savory ground beef and melted American cheese. The spring rolls also come with different dipping sauces that upgrade this from a regular snack to a can't-miss stop.
Stop on by Jungle Navigation Co. LTD Skipper Canteen in Adventureland to get your hands on this meal. "Tastes Like Chicken" Because It Is! takes classic fried chicken and puts a fun twist on it.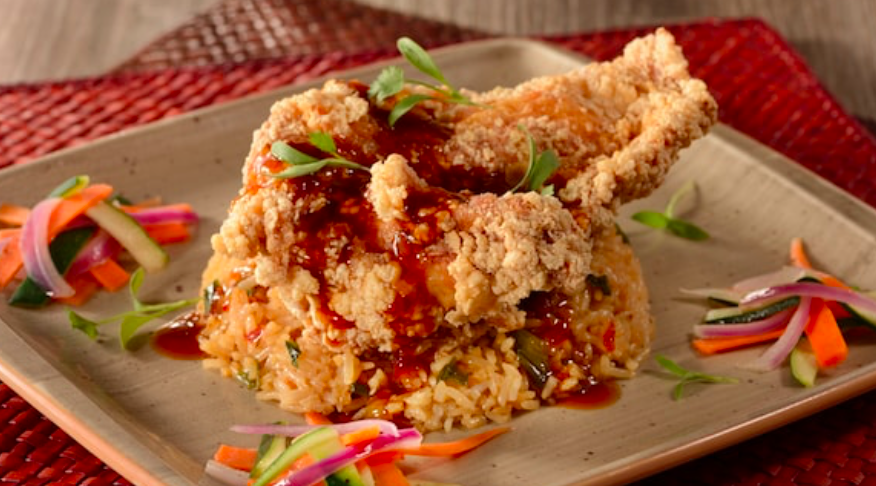 It's a bit of an upgrade from your run-of-the-mill theme park food, made with Crispy-fried Chicken with Sweet Chili Glaze, Stir-fried Vegetables, and Jasmine Rice. We promise it really is chicken!
There's nothing like a classic, refreshing Pineapple DOLE Whip on a hot summer day in Magic Kingdom. Or, live on the edge a little and get a limited-time DOLE Whip Float instead.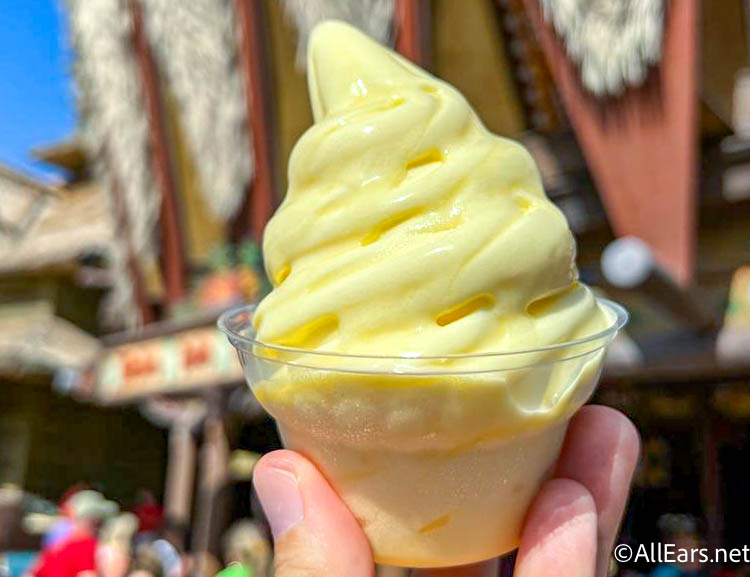 Luckily, there are enough different flavors that you can try a new one each time you're in the park. But if you ask us, the classic pineapple just can't be beaten.
Tucked away in Frontierland, you'll find a little log cabin that serves up classic Disney refreshments — but our top reason for stopping here is a particular pastry.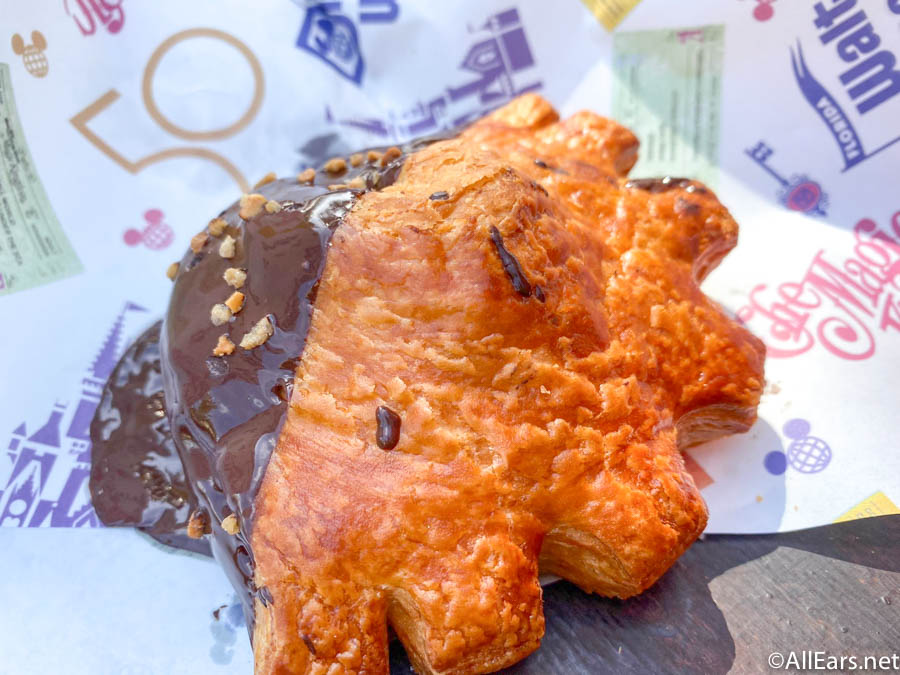 Wendell's Bear Claw is a traditional bear claw dipped in chocolate and rolled in crushed hazelnuts. It sounds simple, but it is oh-so-good. Not to mention the chocolate filling on the inside is just *chef's kiss!*
Liberty Tree Tavern is a table-service spot in Magic Kingdom that serves all-you-care-to-enjoy meals. It's a LOT of food, but it all comes to an end with the delicious Ooey Gooey Toffee Cake.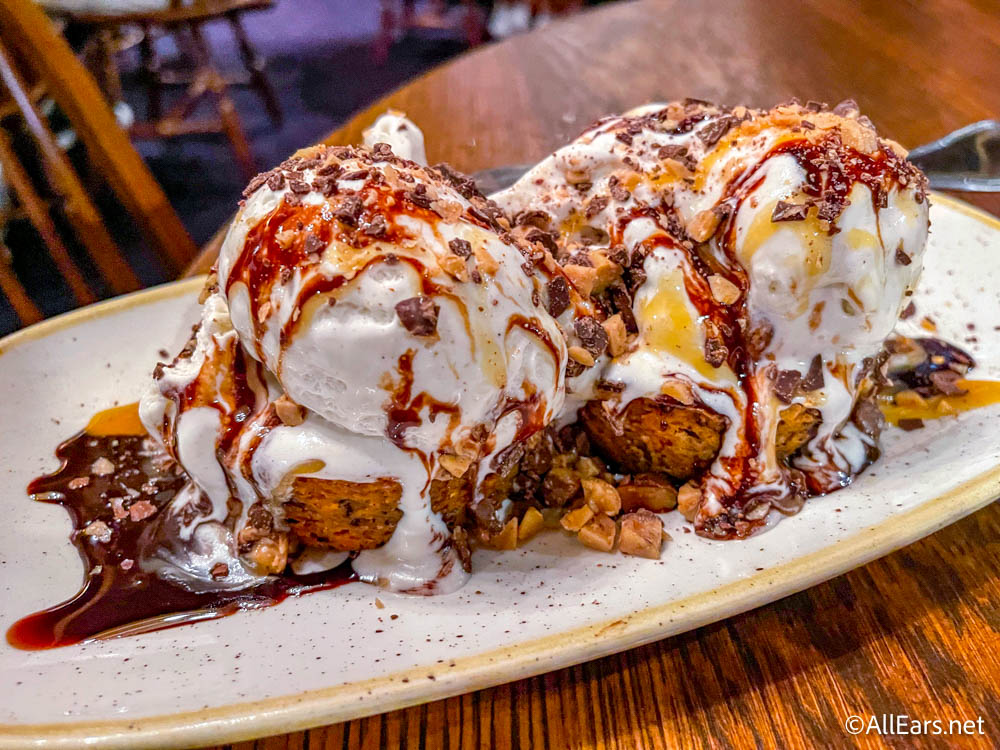 It's a vanilla toffee cake served with chocolate sauce and vanilla ice cream. The combination of the warm toffee cake and chocolate syrup with the cold vanilla ice cream is what dreams are made of (and we think Lizzie McGuire would agree)!
Who says you can't have chocolate for breakfast? The Fresh Fruit Waffle Sandwich from Sleepy Hollow Refreshments is a great grab-and-go option for breakfast or any other time of day you can get it.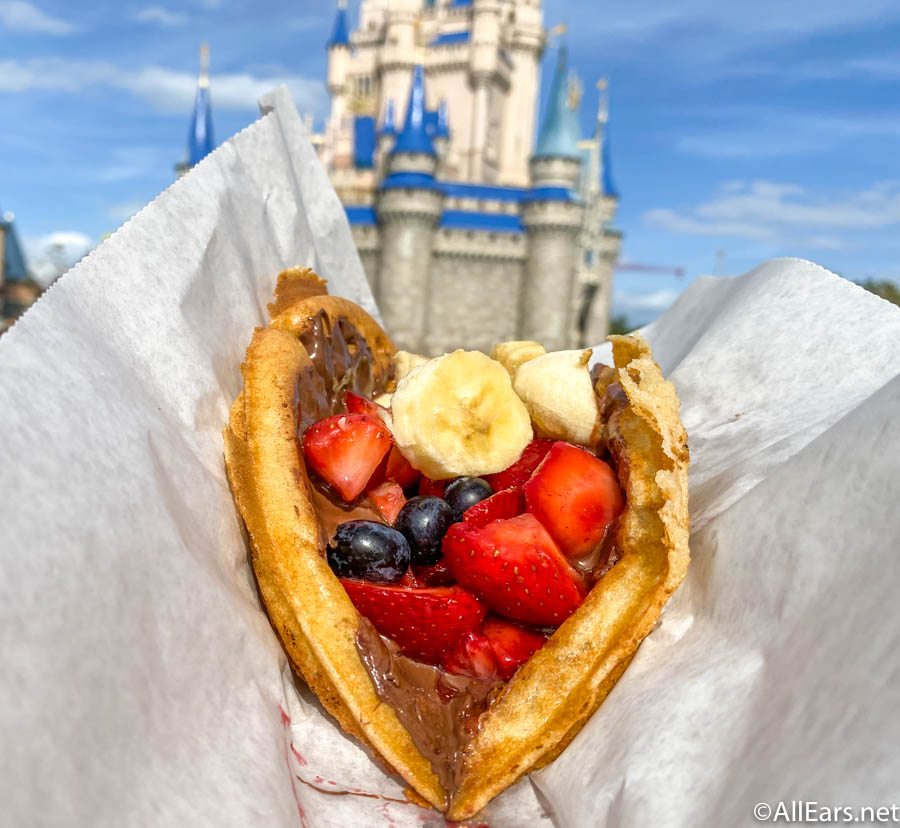 It's a fresh, warm waffle with chocolate hazelnut spread and fresh bananas and berries. We've seen it served with strawberries and raspberries in the past, so make sure you ask what might be on it when you visit. If sweets aren't your thing, Sleepy Hollow also has a pretty stellar Spicy Chicken Waffle Sandwich too!
Our next food is quite possibly the fanciest dish on this list, but it's here for a reason. If you can snag a coveted reservation for Be Our Guest Restaurant, you'll be paying a fixed price — so why not go for the steak, right?!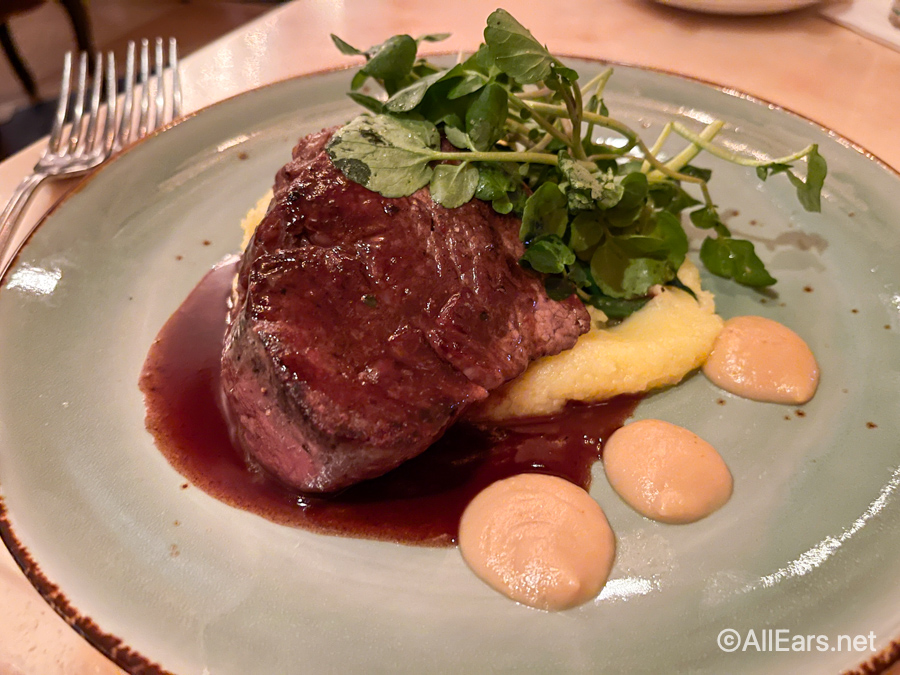 The Center-Cut Filet Mignon is served with Yukon Gold Potato Puree and Smoked Tomato Bernaise Sauce. It's a pretty heavy dish for the middle of a park day, so keep that in mind if you go to order it! Consider sharing it with someone else in your party.
Another option that's great for breakfast (or when you're just craving something sweet) can be found over at Gaston's Tavern in Fantasyland.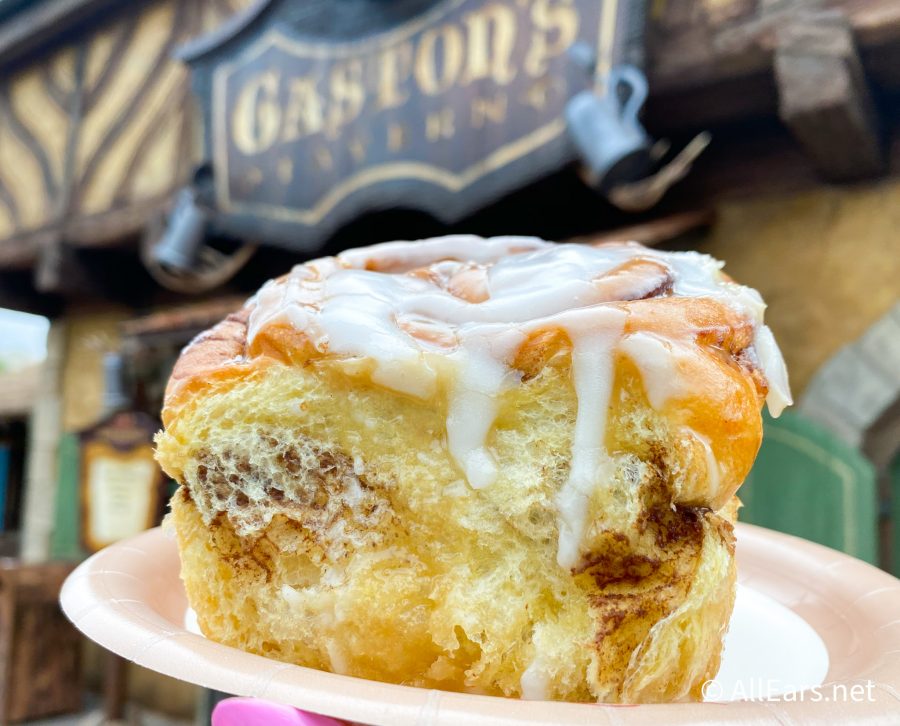 The Warm Cinnamon Roll may seem like nothing special, but this thing is HUGE. It's warm and has perfect little pockets of cinnamon-y goodness throughout. Protip: Ask for an extra side of icing to pour on top!
Carbs. Cheese. Bacon. Need we say more? The Creamy Bacon Macaroni & Cheese Tots from The Friar's Nook are the perfect greasy, cheesy, crispy snack of our dreams.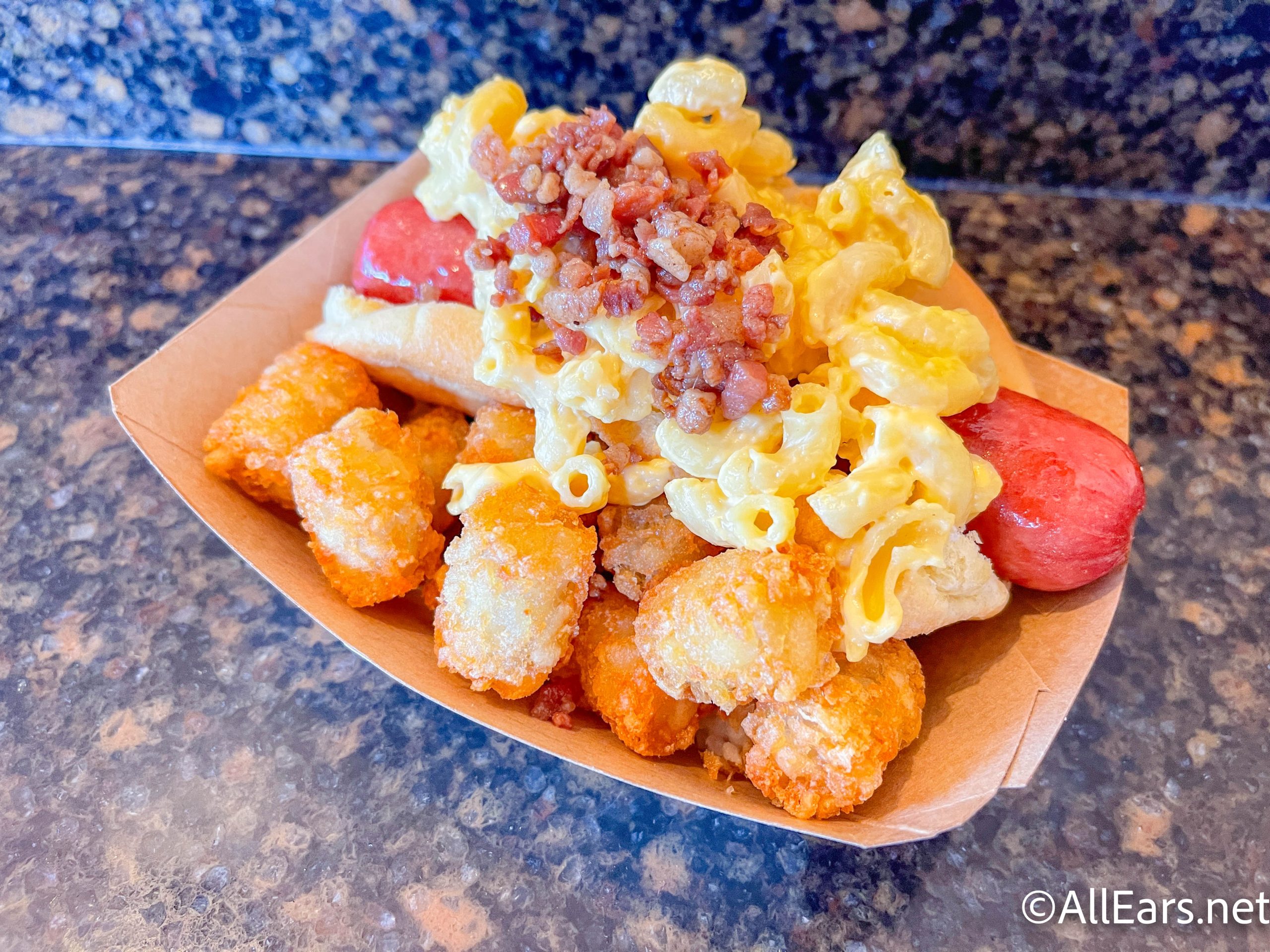 The mac and cheese is creamy, the bacon bits are plentiful, and more often than not the tots retain their structural integrity — perfectly crispy on the outside, nice and fluffy on the inside. Can you tell we're passionate about our tots?!
Wrapping it all up with a twist is the Cream Cheese Warm Stuffed Pretzel from The Lunching Pad in Tomorrowland. As the name suggests, it's a soft pretzel stuffed with cream cheese — but it's more of a sweet cream cheese making this a must-get food in Magic Kingdom for 2023.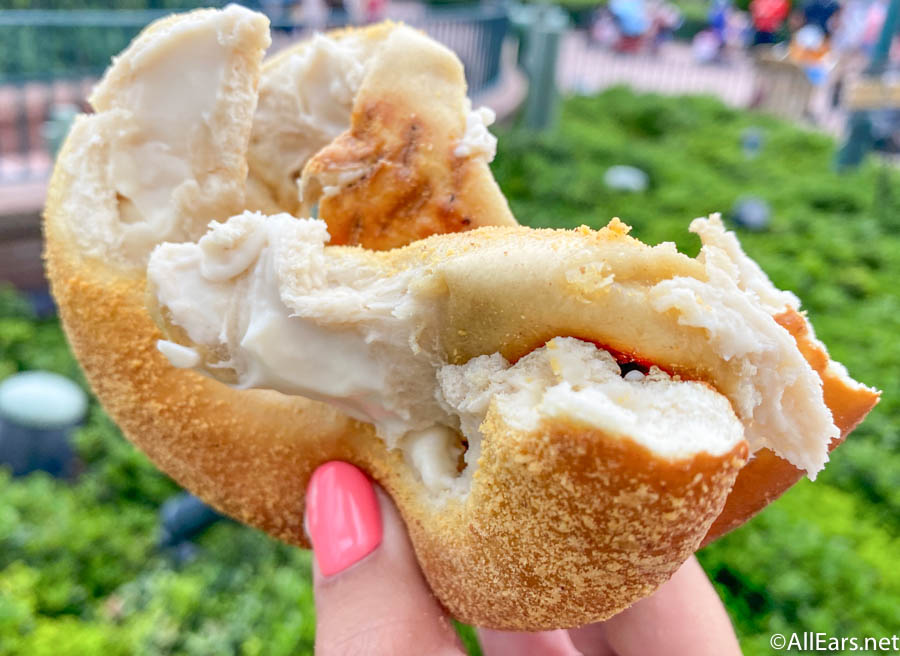 When it comes to your next Magic Kingdom trip, make sure you bring your appetite! No matter whether you're looking for something sweet or savory, a small snack or a bigger meal, there are plenty of options in Magic Kingdom if you know where to look.
We're always on the hunt for the latest planning tips and news, so stay tuned to AllEars for more!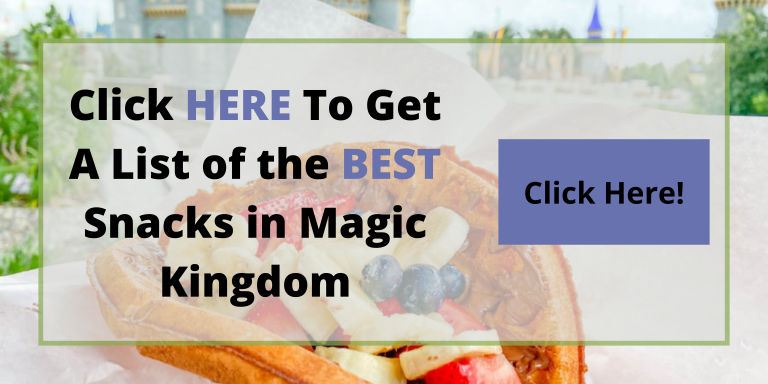 What's your favorite Magic Kingdom snack? Let us know in the comments!