One of our favorite things about visiting Disney World is the delicious food you can find inside the Parks and Resorts.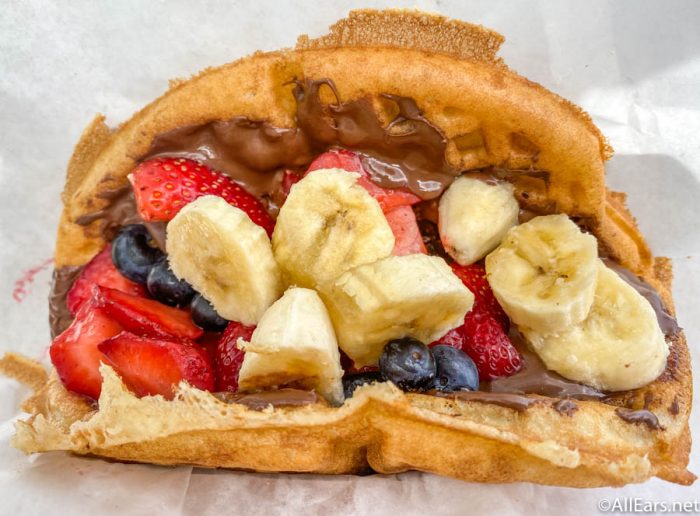 There are some classic favorites, like corn dog nuggets from Casey's Corner, pizza from Via Napoli, and the noodles at 'Ohana.
But if you're in the mood to venture off the beaten path and try something new, we found 20 of the best meals that you've probably never tried in Disney World!
Some of these restaurants are a little bit hidden away, and others are in plain sight but have been underrated, so most people skip them. But now you've got a great reason to go inside!

Underrated Meals in the Magic Kingdom
We're heading to the Jungle Navigation Co. Ltd. Skipper Canteen to find our first dish. This restaurant is themed after the Jungle Cruise, so it has some super fun decorations inside. The servers are all skippers, like the ones who lead the Jungle Cruise expeditions on the attraction (and they have the bad jokes to prove it!).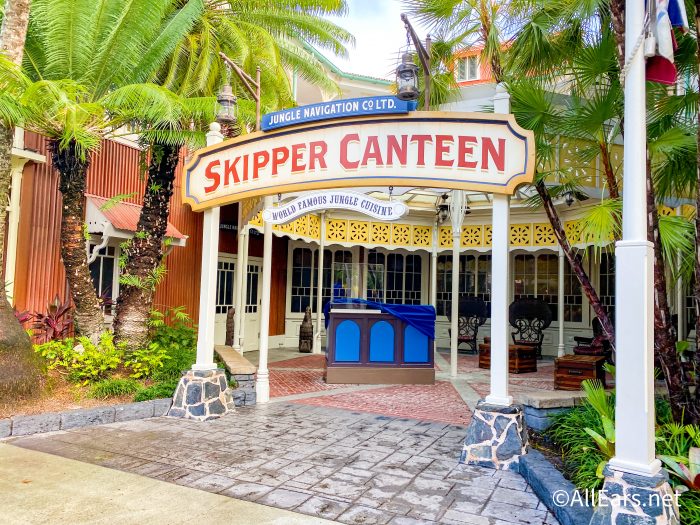 Besides the fun atmosphere, there are a couple of delicious reasons to stop by this underrated restaurant. We've loved the Curried Vegetable Crew Stew and Perkins Thai Noodles here! You can get some unusual theme park food here as well (including a whole fish, head and all), but these options are much more appealing to most people:
Curried Vegetable Crew Stew ($19) — seasonal vegetables and pineapple tofu in a house-made curry sauce served with coconut rice (plant-based)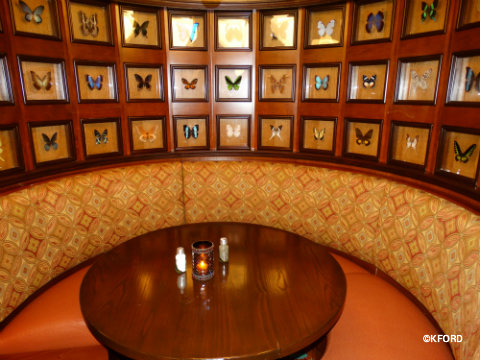 Perkins Thai Noodles ($26) — tofu, seasonal vegetables, rice noodles tossed in a spicy soy-chili-garlic sauce. (plant based, but available with chicken upon request)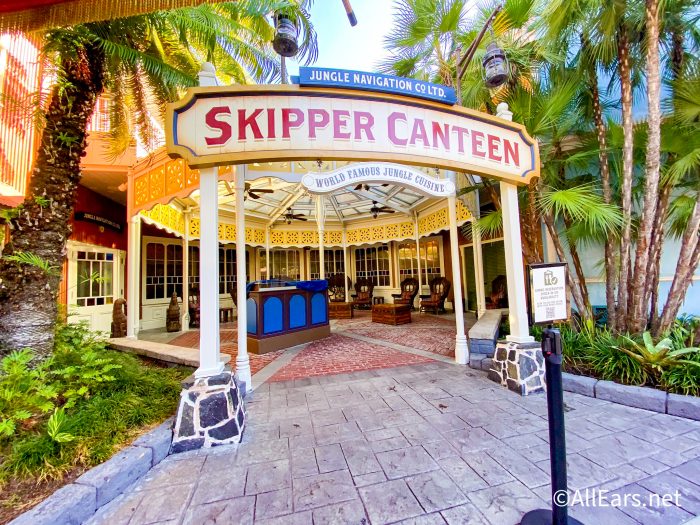 Will those noodles beat the ones you can find at 'Ohana? Probably not. But if you're looking for a good meal in the Magic Kingdom, we don't think you'll be disappointed by them.
If you're looking for a breakfast or brunch option in Magic Kingdom, one of our favorite stops of all time is Sleepy Hollow.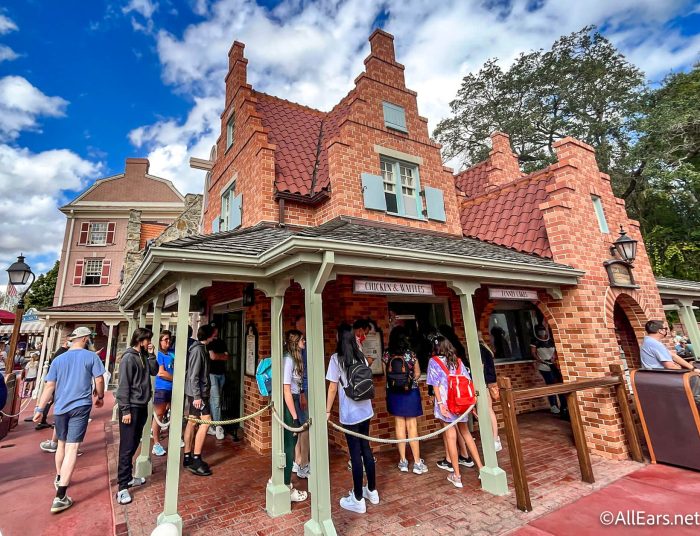 And our favorite thing to get there is the Fresh Fruit Waffle Sandwich!
Fresh Fruit Waffle Sandwich ($8.49) — waffle topped with chocolate-hazelnut spread and strawberries, bananas, and blueberries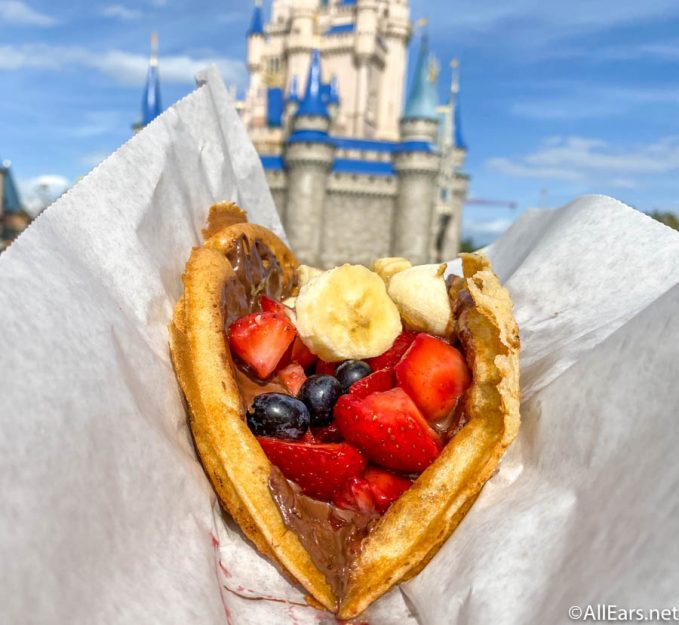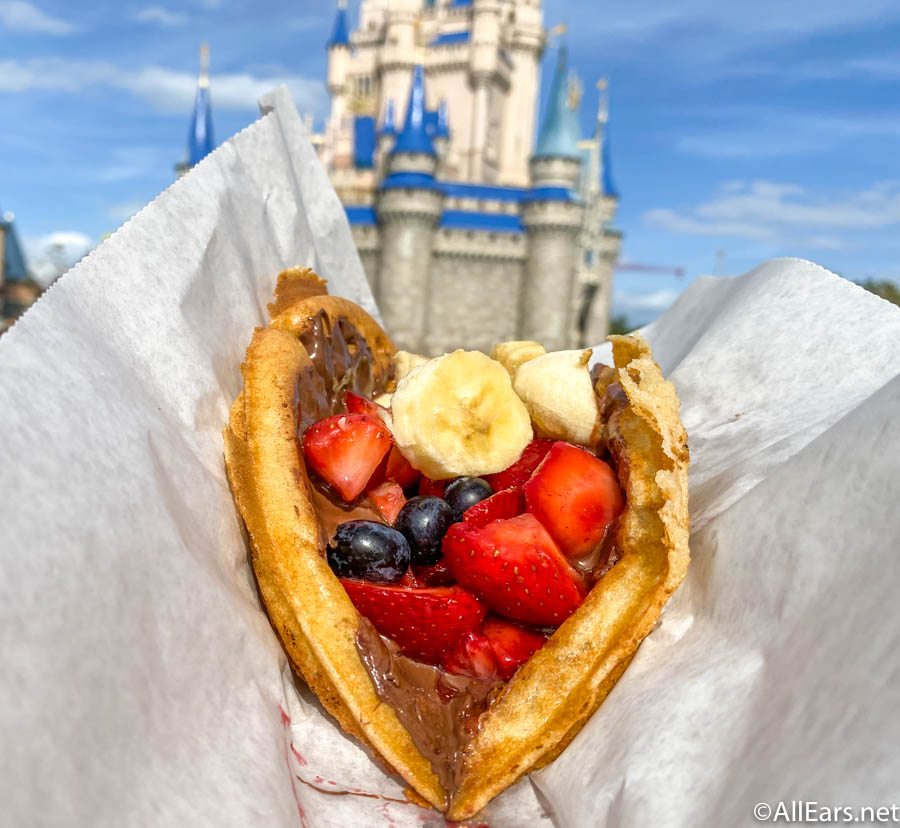 The golden waffle and sweet toppings make it a great option for brunch or dessert!
Underrated Meals in Disney's Animal Kingdom
We're actually BIG fans of the food in Animal Kingdom. We love some of the dishes at Yak & Yeti and a good ol' cheeseburger pod at Satu'li Canteen. But if you want to try some of our favorites that aren't quite as popular, check out these dishes.
The Nomad Lounge is a TREASURE. You can't make reservations here, but you can reserve your spot on the walk-up list on the day of your visit via the My Disney Experience app or head to the restaurant and join the list in person. The online walk-up list usually fills up pretty quickly, but we've had good luck with getting into the lounge by visiting in person.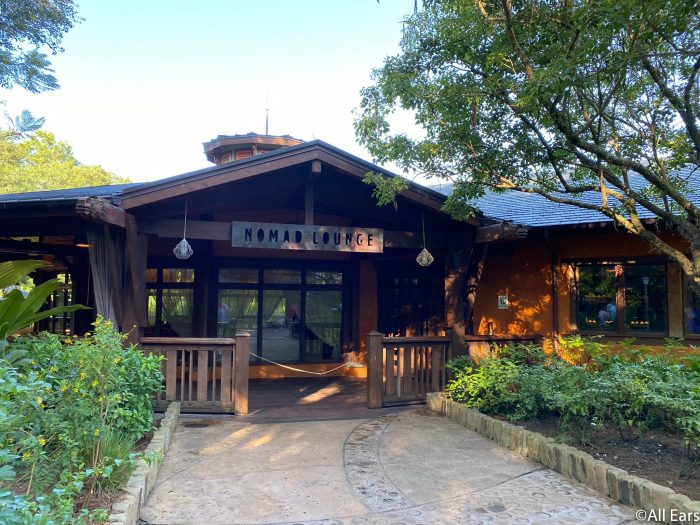 You can get some tasty savory dishes here, but there's really only one dish that you should never miss: the CHURROS. These are (in our humble opinion) the best churros at Disney World.
Churros ($9) — amazing churros with vanilla crema and chili-strawberry sauces (pro tip: dip the churros in BOTH sauces for an elevated experience)
If you wanted something savory, though, we recommend the Tiffin's Bread Service, which is the same as the one they serve over at the Signature restaurant attached to this lounge.
Tiffin's Bread Service ($12) — red pepper hummus, spicy coriander yogurt, ginger-pear chutney
We're heading to a popular spot next, but you might not have considered this dish on their menu.
Satu'li Canteen is a Quick Service restaurant in the Pandora section of Animal Kingdom. You'll need to use Mobile Order at this spot, and it has plenty of air-conditioned seating inside.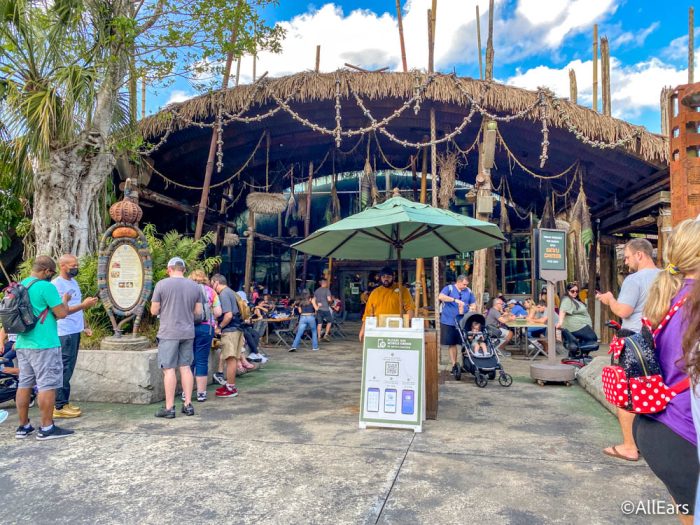 We're big fans of the cheeseburger pods here, but we also love their plant-based chili-spiced crispy fried tofu!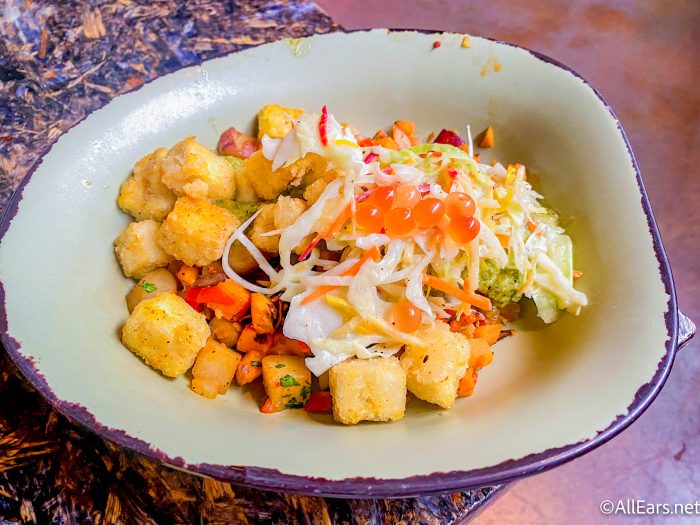 Chili-spiced crispy fried tofu bowls ($12.99) — (choose base/sauce — we love sweet potato hash and vinaigrette) 
You can choose your own base (noodles, sweet potato hash, rice & beans, and hearty salad) and sauce (charred green onion vinaigrette, black bean vinaigrette, or creamy herb sauce). Note that the sweet potato hash, rice & beans, and green onion vinaigrette are the plant-based options, but you can order any of the combinations.
We're leaving the parks now, because there are a LOT of good options over at Disney Springs, the shopping and dining center for Disney World.
Underrated Meals in Disney Springs
Disney Springs has some fan-favorite options, like the half-pound cookies at Gideon's Bakehouse (that counts as a meal, right?) and fried chicken at Chef Art Smith's Homecomin'. But let's venture into the unknown to find some of the best underrated meals at this center.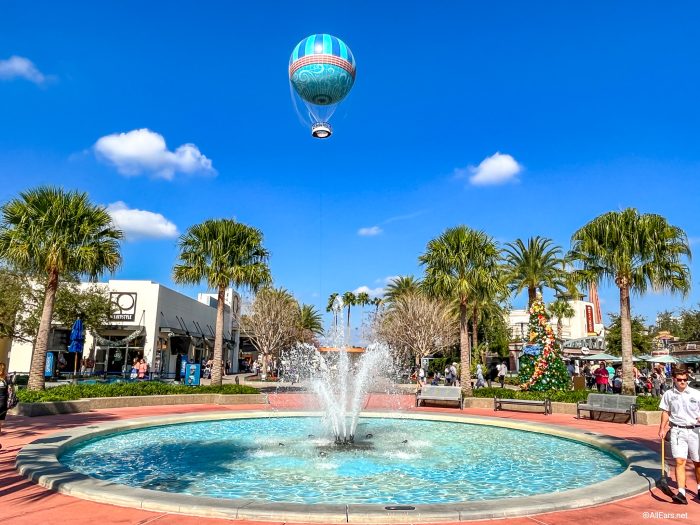 Our first stop is Jaleo by José Andres. Jaleo has dishes inspired by Spanish cuisine, and their featured menu item is various flavors of paella.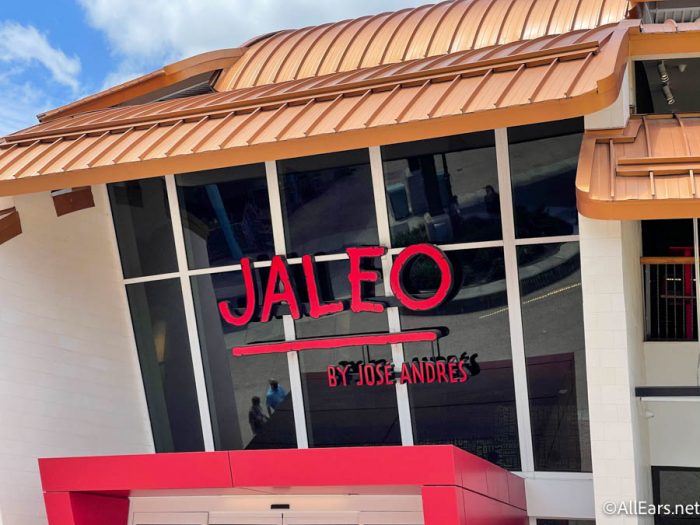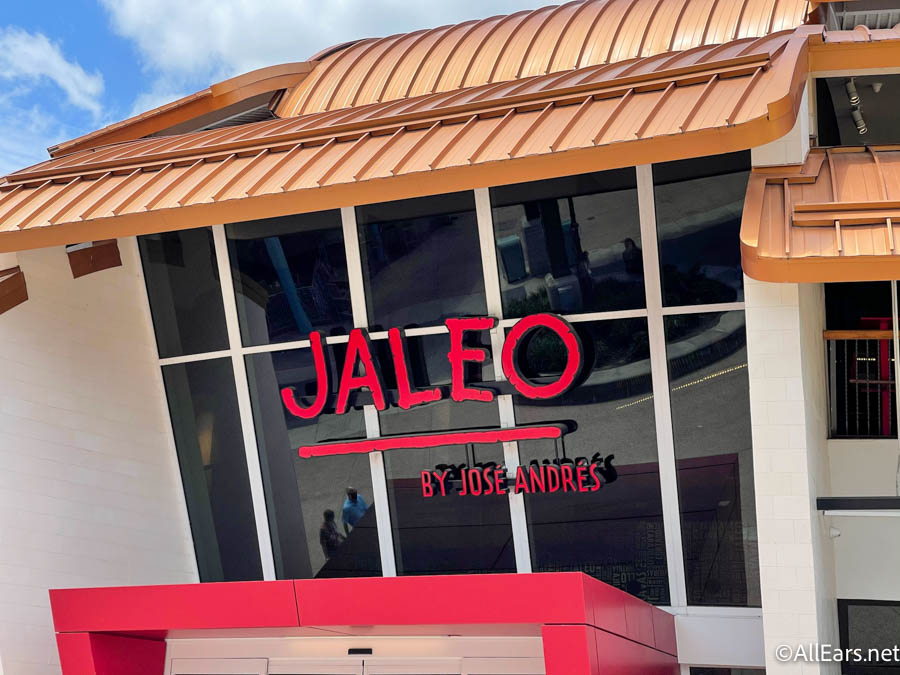 The type of paella being served changes day by day, and it's prepared in huge pans (called paella or paellera) over a fire pit. You'll have to wait for the batch to be ready, so it can take up to 45 minutes to get your paella. The good news is that there are a lot of other great dishes on this menu to try out while you wait for the paella to be served.
Paella — made of rice, saffron, chicken, seafood, and other ingredients. It's in the family of risotto and jambalaya. (Prices vary depending on what kind of paella is being served.)
Another of Jaleo's signature dishes is the Paletilla Ibérica de bellota, which is cured meat from the legendary Ibérico pigs from Spain. It might not look like much (especially since the price is fairly high), but the high-quality meat and unique flavor make this a must-try if you're looking for a special dish. 
Paletilla Ibérica de bellota ($30) — 36-month cured ham shoulder from the legendary free range, acorn-fed, black-footed Ibérico pigs of spain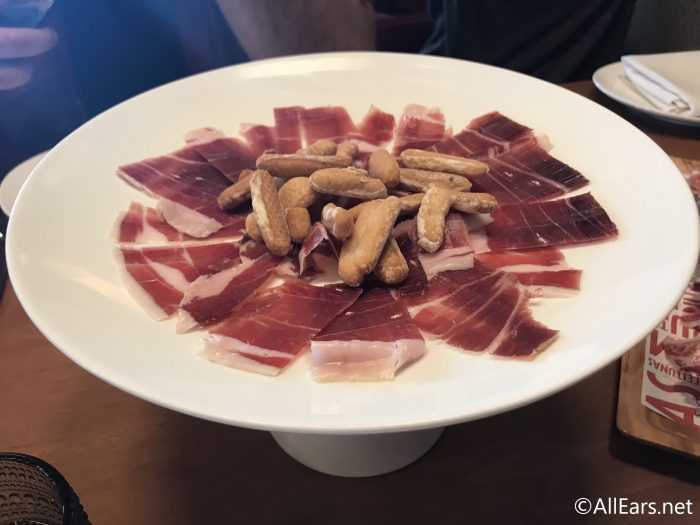 We're leaving the high-end world of Jaleo to visit a Quick Service spot in Disney Springs that you might accidentally walk right past!
Earl of Sandwich is a sandwich shop (shocker!) in the Marketplace section of Disney Springs. This restaurant was founded by descendants of John Montagu, who was the 4th Earl of Sandwich in 1762. Montagu was credited with inventing the sandwich when he was playing cards and didn't want to leave the game for dinner. He requested for a piece of meat to be placed between two slices of bread so that he could eat and play at the same time — thus, the sandwich was born.
So if you want to try a sandwich from the people who actually invented one of the most famous food categories ever, this is the place to go!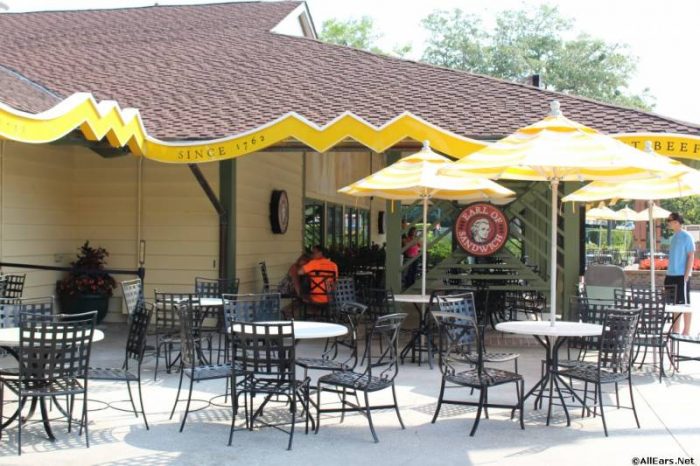 We have a couple of favorites on the menu, including the Montagu and the Holiday Sandwich.
The Full Montagu ($8.99) — roasted beef, turkey, swiss, cheddar, lettuce, Roma tomato, and mustard sauce
The Holiday Turkey is basically Thanksgiving in a sandwich. This sandwich used to be seasonal, but now it's available year-round because it got so popular!
Holiday Turkey ($8.99) — turkey, cornbread stuffing, turkey gravy, cranberry sauce, mayonnaise 
The sandwiches are definitely the best part of this menu, but Earl of Sandwich also has wraps, salads, and soups available, too.
All the way on the other side of Disney Springs, you can find Wolfgang Puck Bar & Grill. Celebrity Chef Wolfgang Puck created a menu that has diverse options from California cooking to Mediterranean dishes to comfort food.
A couple of our favorites include a pasta dish and a simply perfect appetizer.
Rigatoni Pasta ($29) — pasta topped with Bolognese meat sauce and pecorino cheese
Grilled Bruschetta ($15) — marinated tomatoes, mozzarella, pesto, ciabatta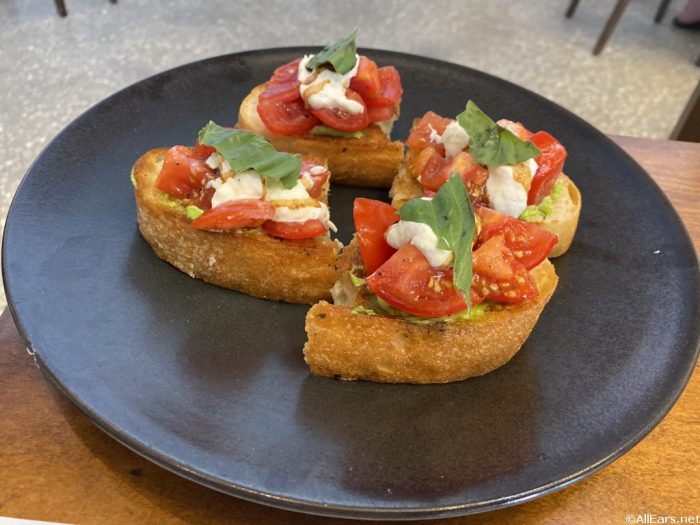 You will likely need dining reservations for this restaurant, so make sure to plan ahead if you're hoping to visit.
Underrated Meals at Disney World Resorts
Several Disney World hotels have excellent food options, both for Quick Service and Table Service dining. We're going off the beaten path to find the best hidden dishes at some underrated restaurants.
Il Mulino is an Italian restaurant with rustic charm that serves "authentic cuisine from the Abruzzi region" of Italy. Since it's located at the Swan hotel (which isn't owned by Disney but is still on property of Disney World), some guests may not think to come here for dinner.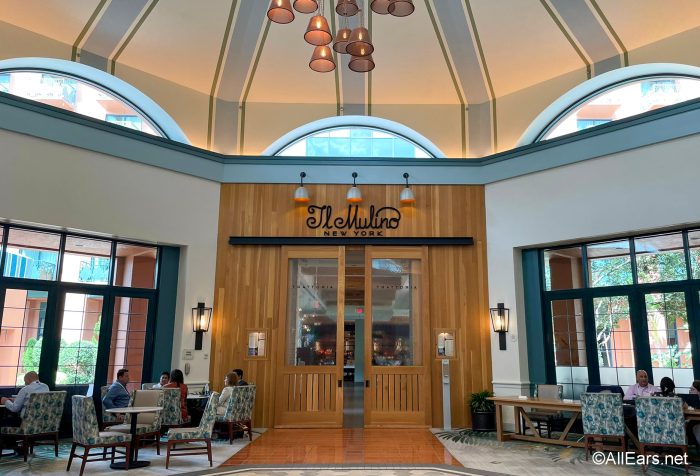 But you don't want to miss out on a couple of the best Italian dishes in Disney World. Two of our favorites are the meatball antipasti and a classic pasta dish.
Polpette al Forno ($14) — Italian meatballs with tomato basil sauce and parmesan cheese
Spaghetti Carbonara ($24) — spaghetti with pancetta, cheese, and egg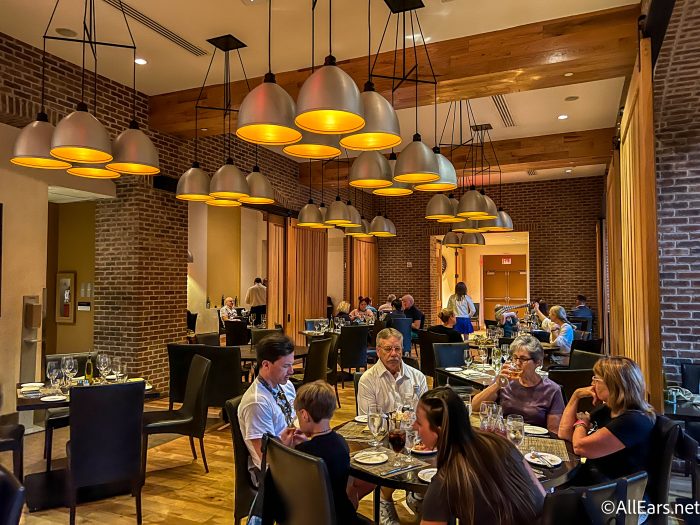 Besides having great food, the Swan and Dolphin Hotels also have fairly low prices compared to other Disney World Deluxe Resorts. These hotels get the same perks as the Deluxe Resorts, including Extended Evening Hours, and they're also super close to EPCOT.
Disney's Animal Kingdom Lodge is one of the most difficult hotels to get to if you're not already staying there. It's pretty far away from most of the parks (except for Disney's Animal Kingdom, of course!), so the Disney buses can take a long time to get to and from the hotel. Your best bet if you need to get to this hotel quickly (such as if you have a dining reservation) might be to reserve a rideshare.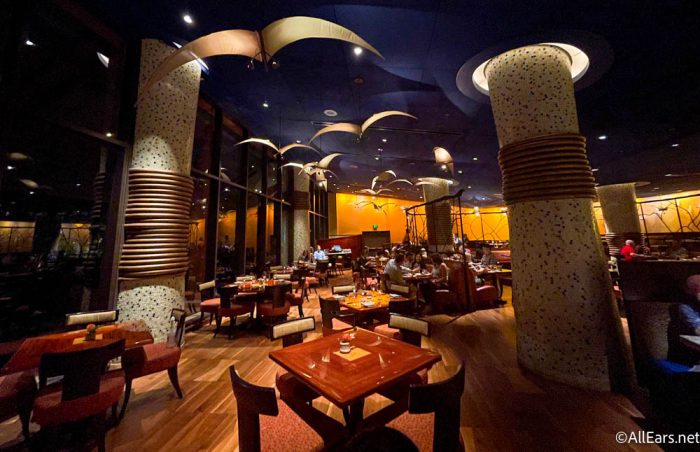 Sanaa is a popular restaurant at Animal Kingdom Lodge, but Jiko is another restaurant that we like just as much (and — for some food — even better) than Sanaa. If you can get reservations for Jiko, you can't miss out on their delicious steak. Oh, and make sure to get the four-cheese macaroni and cheese on the side.
Oak-grilled Filet Mignon ($54) — with four-cheese macaroni and cheese, marinated tomatoes, mushrooms, and a South African wine glace
Disney's Riviera Resort is actually not super difficult to get to, since it's on the Skyliner now. If you're at EPCOT or Disney's Hollywood Studios, you can get to this hotel pretty easily by following the Skyliner routes to it.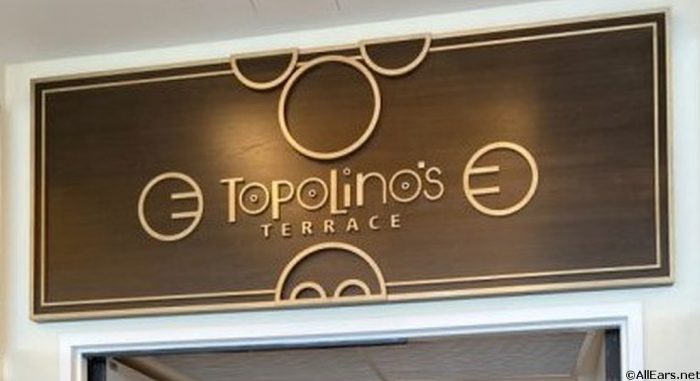 Once you're there, head to Topolino's Terrace for French- and Italian-inspired dishes in a dining room that has a great view. We couldn't choose just one or even two dishes at this restaurant — there are too many good options!
Ricotta ($14) — tomato, aged balsamic, cracked pepper, basil, epi
Escargot en Gougéres ($17) — savory pâte á choux, butter, garlic, lemon, parsley
Rigatoni ($32) — braised chicken sugo, rapini, wild mushrooms, parmigiano-reggiano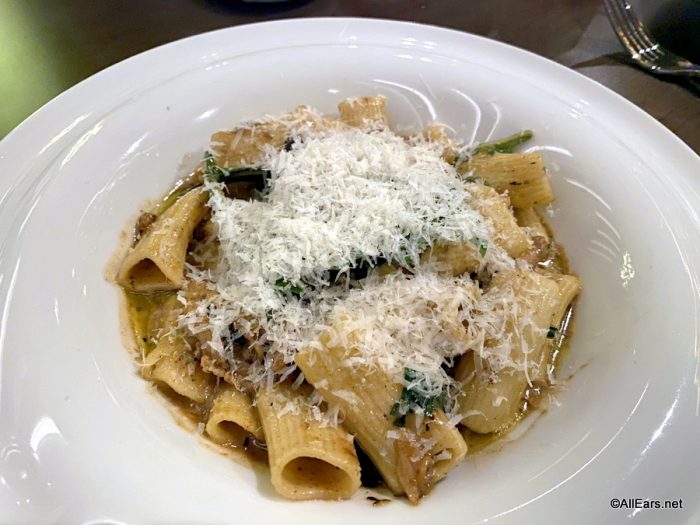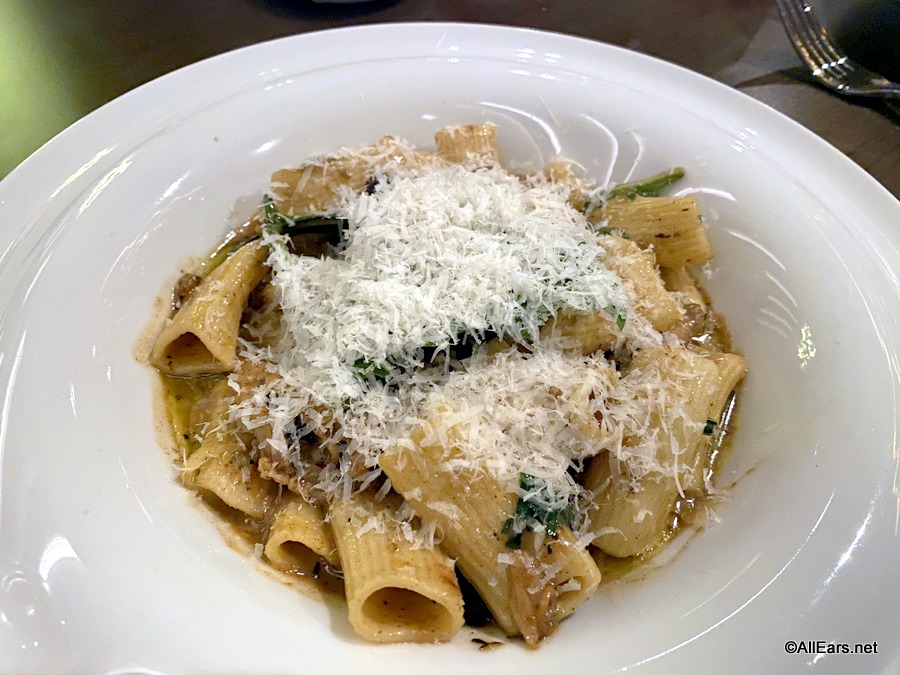 Breakfast at Topolino's Terrace is a character dining experience, so you can visit with Mickey and the gang if you decide to go for an earlier meal.
For a fancier dinner option, you can visit Ale & Compass at Disney's Yacht Club Restaurant. Although they serve upscale dishes like steak, pasta, and seafood for dinner, our favorite thing to eat here is actually breakfast food.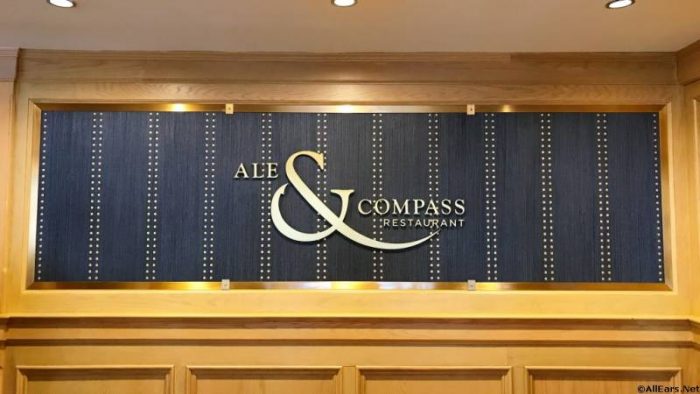 Head in for breakfast to try the Dark Chocolate Waffle.
Dark Chocolate Waffles ($15) — dark chocolate waffle topped with dried cherry compote, espresso-mascarpone cream, and chocolate shavings, with a choice of sausage or bacon
There you have it! Those are 20 of the most underrated meals in Disney World. Now you're ready to mix up the menu a bit for your next Disney vacation. Keep following AllEars for more advice as you plan your upcoming trip.
Have you tried any of these underrated meals? Let us know what you think of them in the comments.