One of our favorite hobbies when visiting the Disney Parks is seeing how many pieces of Disney's past we can spot! Disney's been recycling elements from its old attractions WAAAY before repurposing stuff was cool!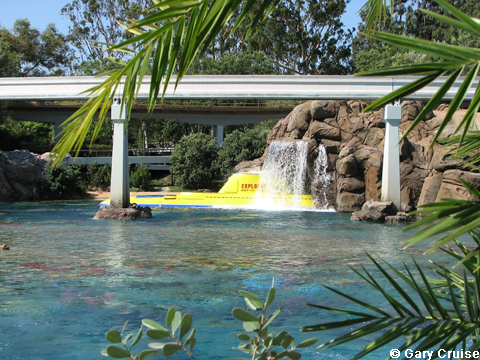 Here's a list of some pieces from Walt Disney World and Disneyland that were once something completely different!
Pizza Planet Rocket
You know that humongous rocket above Alien Pizza Planet in Disneyland? It was actually known as the TWA Moonliner in its day and was originally part of a classic attraction called Flight to the Moon. Before it was placed on the rooftop of the restaurant (which used to house the former attraction), it stood proudly on the ground in the courtyard of Tomorrowland. It's gotten a new paint job since the old days when it said TWA on its side instead of Pizza Planet, but it's just as beautiful as ever and a reminder of Disneyland's early days.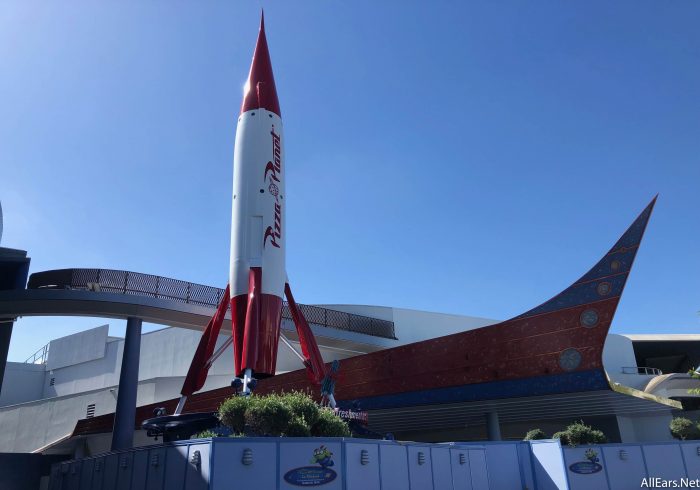 Disneyland Ticket Booth
Back when Disneyland used paper tickets for its attractions (where the expression E-ticket comes from when talking about major headliners!) there were actual ticket booths throughout the park — some of which you can still find at Disneyland today! Perhaps our favorite repurposed ticket booth is the giant mushroom outside of the Alice in Wonderland dark ride. But we're also big fans of the old lighthouse ticket booth that you can still see in Fantasyland over by the Storybook Land Canal Boats!
A Bug's Land might be gone, but its popsicle benches live on! We've seen them at Toy Story Land in Hollywood Studios and even as far away as Hong Kong Disneyland! While they probably aren't the exact ones that were in Disney California Adventure (it closed in 2018 to make way for the new Marvel Land coming in 2020), it was a clever reuse of the design! Now if only they'd repurpose the Heimlich Chew Chew Train somehow!
If you're a big Splash Mountain fan, you probably can't wait for the grand finale when Br'er Rabbit escapes the clutches of Br'er Fox and Br'er Bear and everyone is celebrating! But did you know that several of the animals in this scene are from a former Disneyland attraction? It was called America Sings, and it ran from 1974 to 1988!
Droid Parts
Splash Mountain wasn't the only Disneyland attraction that repurposed some of the animatronics from America Sings! Next time you're waiting in the queue for Star Tours, check out some of the droids that are making repairs. There's actually two former America Sings geese that have been stripped down to just their apparatus!
Sometimes Disney repurposes some really big stuff! For instance, the Mickey's PhilharMagic in Disney World was once the Mickey Mouse Revue! That's right — Disney recycled an entire theater!
Parade Floats
And you know that giant parade float towards the end of Festival of Fantasy parade that is carrying a bunch of Disney's cutest power couples? The castle with its many reflective mirrors has been featured in several parades over the last three decades, including many daytime and holiday ones!
Speaking of parades, do you know the spitting camels outside of The Magic Carpets of Aladdin in Disney World's Adventureland? Those guys are actually repurposed to from an old parade float that was used at Hollywood Studios (which was called MGM Studios back then!) when the movie was first released!
Disney has a long history of refurbing its aging attractions. The Living Seas was transformed with a Finding Nemo theme into The Seas with Nemo and Friends back in 2007.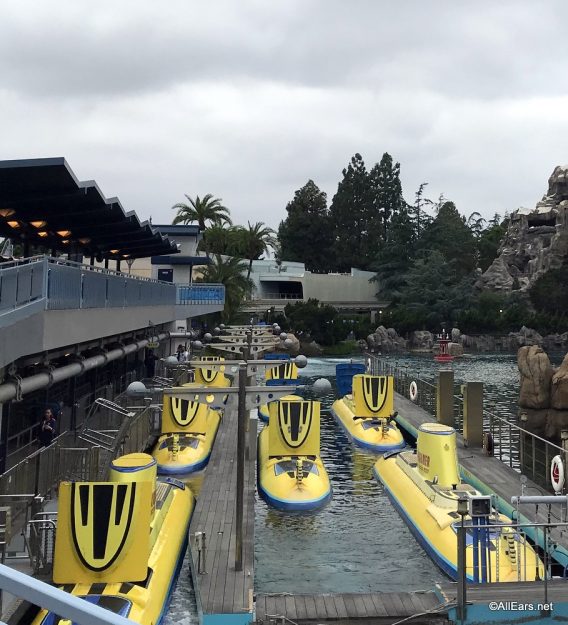 And who can forget ExtraTERRORestrial Alien, the former inhabitant of Stitch's Great Escape in Disney World's Tomorrowland! Turns out this sci-fi thriller was a bit too intense for the average park guest, and the humor was a little dark for Disney.
And in one of the most shocking refurbs of all time, Disney California Adventure's Twilight Zone Tower of Terror was transformed into Guardians of the Galaxy: Mission Breakout! Luckily fans of the original Tower of Terror can still get their fix at Hollywood Studios in Disney World!
Repurposed Resorts
Okay, so maybe you already knew that Disney re-themes its rides often. But did you know they even repurpose their hotels? Disney's Art of Animation Resort was originally intended to be Disney's Pop Century: The Legendary Years. But Disney unexpectedly halted its construction, and when it resumed, the plans had changed! It makes sense why these two properties are so close to one another — they were supposed to be ONE resort!
So what's our favorite relic of Disney's past still in the parks this very day? Next time you're on The Many Adventures of Winnie the Pooh, pay close attention at the beginning of the ride — the attraction sits right where Disney World's version of Mr. Toad's Wild Ride used to be, and as you pass through Owls house, there's actually a picture of Mr. Toad handing over the deed to Toad Hall!
So next time you're in the Disney parks, try finding these pieces of Disney history — or try spotting some new ones yourself! We think you'll be amazed by how much of Disney's past is still very much in the present!
What's your favorite piece of Disney history in the Parks? Let us know in the comments!
Join the AllEars.net Newsletter to stay on top of ALL the breaking Disney News! You'll also get access to AllEars tips, reviews, trivia, and MORE! Click here to Subscribe!