You've made the decision to use a scooter on your next trip to Disney World. This can be a great choice for many; days in the parks can be long, and you can expect to do a lot of walking if you don't use a mobility aid.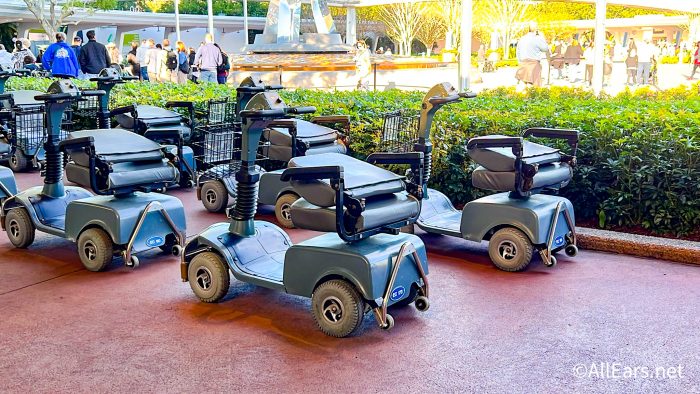 Unfortunately, making the choice is probably the easiest part! There are many different options when it comes to renting a scooter in Orlando. On the plus side, that means you have more chances to find deals or a vehicle that fits your specific needs. We're comparing different rental companies in Orlando so you can pick the one that's best for you.
Disney World Rental (provided by ScooterBug)
Obviously, renting from Disney is a popular choice. They have rental spots available at each park, so it's easy to head over and have the vehicle ready where you need it. However, the in-park scooters you will find at these locations cannot be taken outside of the parks or to your Disney resort. If you need a scooter at your resort, Disney's featured provider is ScooterBug. The rental fee is $50 per day for the parks, Disney Springs, and the waterparks. You'll also need to pay a $20 deposit if you're only bringing your scooter to the parks; if you're planning on taking it to Disney Springs and/or the waterparks you'll need to pay a $100 deposit.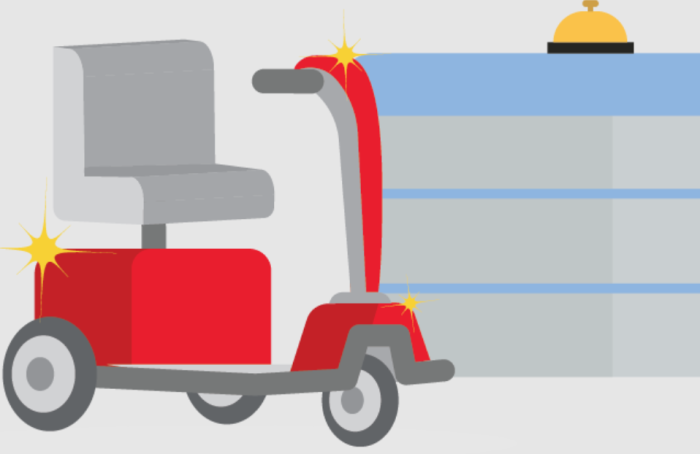 ScooterBug is the only renter that is permitted to drop off at Disney resorts. They have a 4.3 rating out of 5 on Google Reviews, with reviewers saying their scooters are comfortable and have a tight turning radius (perfect for navigating busy Disney parks!). Because of their relationship with Disney, drop-off and pick-up was easy for many guests, whereas with an outside company you would be responsible for all transportation of the scooter to and from the parks and your resort. If that's something you really don't want to deal with, you may want to go with ScooterBug! You can book them through their website here or by calling (800)-726-8284.
Scooter King Orlando
Scooter King Orlando is a lesser-known company compared to ScooterBug, but that doesn't mean you should overlook them. With 4.9 out of 5 stars on Google, reviewers love this option when it comes to renting a mobility aid. On their site they have a variety of scooter options, from travel scooters that fold easily to king-size scooters with a 400-pound capacity. They also have add-ons so you can customize your experience, like oxygen-tank holders and baskets!
The type of scooter you choose will determine the price, with the cheapest scooters renting out at $33 per day and the most expensive ones at $90. They offer free pick up and delivery, but because they aren't authorized at Disney resorts you will have to find a different location to receive your scooter if you are staying on-property. But if you're staying at an outside hotel, resort, or rental, this could be a good choice! You can book online here, but if you have any questions you can call them at 407-504-7769.
Buena Vista Scooters
Buena Vista Scooters is another company that offers a variety of scooter options. If you want a scooter with a bit of personality, this is the place to find them. They have themed designs for Breast Cancer Awareness, Autism Awareness, and even fun styles inspired by Star Wars! Their largest scooters have wide seats and a weight limit that goes up to 500 pounds.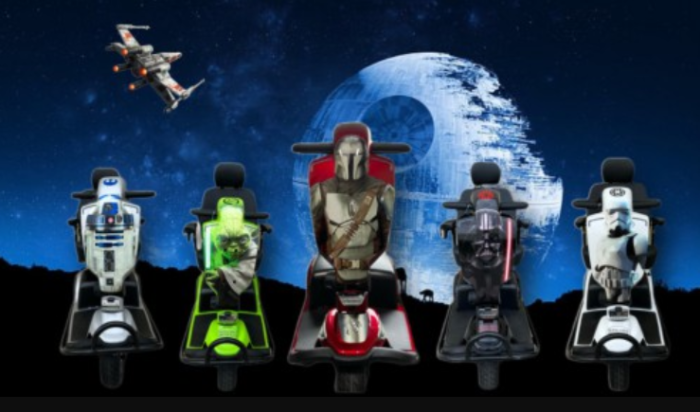 All scooters are rented with a 3-day minimum. The Deluxe Standard scooters are probably their most popular and start at $52 per day. They have a lot of useful amenities, like two cup holders, a removable overhead canopy, and a built-in USB port. The cheapest scooter they have goes for $34 per day, while their most expensive scooter, the Deluxe Maxima, goes for $59 per day. On Google they have a rating of4.6 out of 5 stars, and many have said they were able to use Buena Vista for a last-minute rental. This can be extremely useful when Disney runs out of scooters (which can happen!) or if someone has an unexpected injury right before the trip and needs a little extra help getting around. To check out their array of scooters, click here.
Florida Mobility Rental
This company has a rating of 4.6 out of 5 stars on Google Reviews. They have a smaller selection of scooters, with only 4 options. However, they are the least expensive company on this list thanks to their discounts. Their cheapest option is their Go Go Sport 3 Wheel Scooter. For their scooters, there's a minimum charge of $94.95 for 1-3 days, but if you rent for a longer stay you'll be able to save money. Their prices can go as low as $17 per day!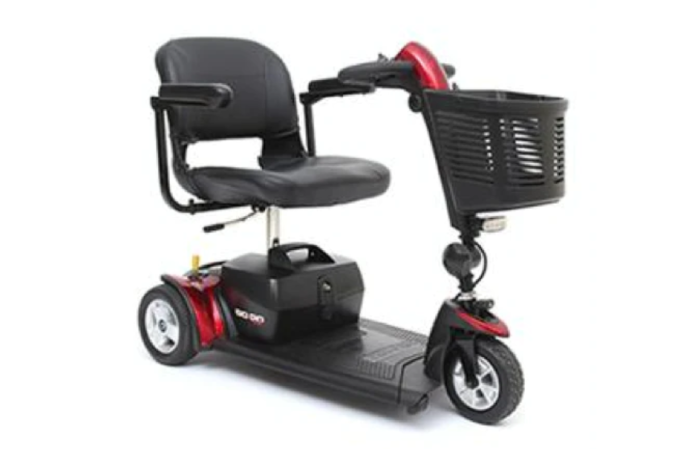 They offer both 3- and 4-wheel scooters, and even have a compact electric chair option. Florida Mobility Rental also has the option to purchase scooters, so if you fall in love with a chair or happen to be in the market for one that's another option for you. If you have questions about their scooters you can call them at (321)-558-7039, and visit their site here for booking.
You have many different options when it comes to renting a scooter for your Disney World vacation. Check out each of these companies to see which one works best for you, and stay tuned to our site for more posts like this to help you with planning your next Disney vacation!
Join the AllEars.net Newsletter to stay on top of ALL the breaking Disney News! You'll also get access to AllEars tips, reviews, trivia, and MORE! Click here to Subscribe!

What's your favorite way to take a break in the Disney World parks? Comment your strategies below!