DISCLOSURE: This post may contain affiliate links, which means when you click a link and make a purchase, we receive a commission.
The All Ears Team goes to Disney World every day, and one thing we see every day is people lugging around heavy totes and back packs!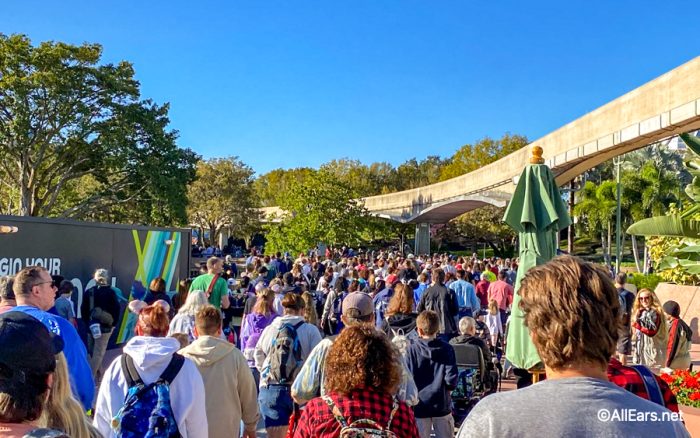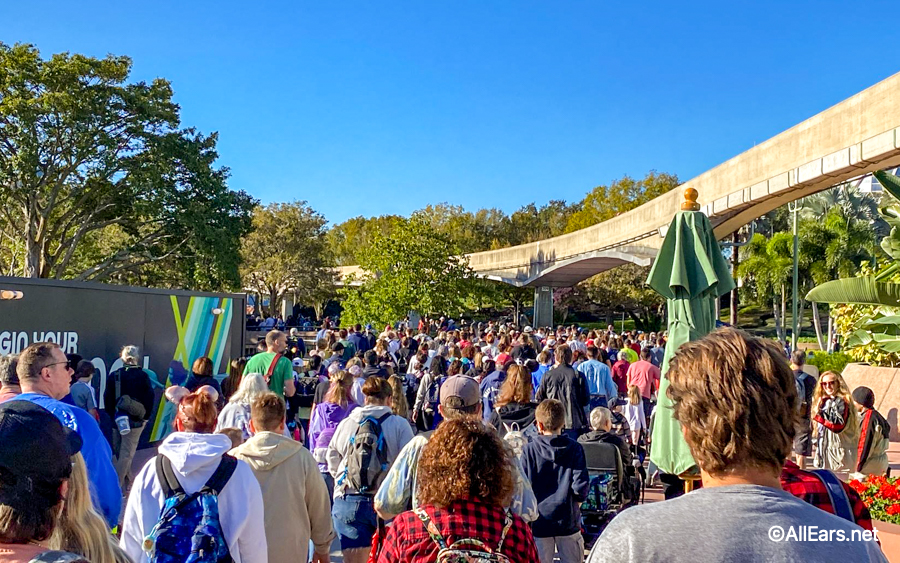 While we offer lots of Disney World packing tips, we're here to tell you it can be done: You can pack light for a park day and not regret it.
Let's get this out of the way first: There are some people this won't work for, and probably some situations where anyone would NOT want to strip down to carrying the bare essentials at Disney World. If someone in your party is on a special diet and you need to carry food, if you have young children who need bottles, diapers, and the like, or if you are someone who ALWAYS carries the kitchen sink with you, packing light may not be an option.
Likewise, if it is a rainy or cold day, you will want to pack extra items for the weather. (Yes, there are days in Disney World that might warrant hats, gloves, and winter gear — they're rare, but they DO happen.)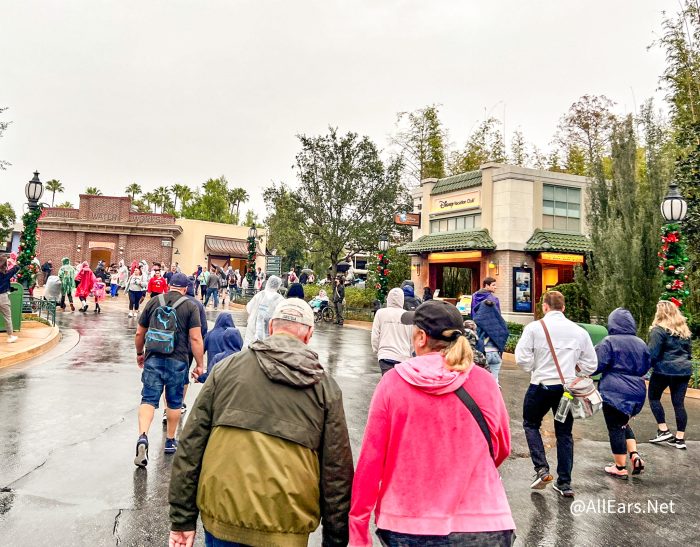 But if you do need to bring extra items with you and don't want to lug them around, also know that you can rent a locker at the parks! Lockers are typically found near the park's entrance, and come in a variety of sizes. So, if you need to start out your day with some heavy layers on that you plan to shed when it warms up in the afternoon, you might want to think about stashing those items after you're done with them to lighten the load. If you think you may get soaked and want to take an extra change of clothes, you could stash that until you need it.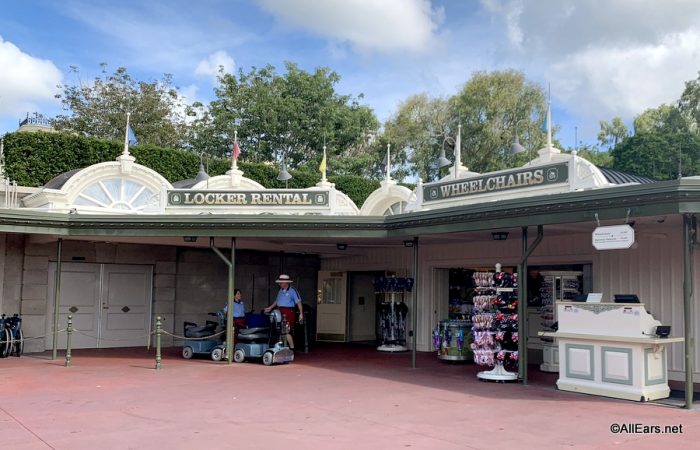 We'll also note here that when we're packing light, we're NOT prepared for every situation, and we may have to buy something in the parks — and it's going to be more expensive there. So if you are on a tight budget, think about whether you'll be able to afford to spring for some new socks if your feet get wet, or whether you need to bring extras in with you.
Here are our tips for packing light for a day at Disney World!
Bring It
Portable Charger
Just a couple of years ago, we might have told you to skip this, but with Disney Genie, Genie+, and Mobile Ordering, we are all using our phones SO much more at Disney World these days. (Not to mention all the fun photos and videos you'll be taking!)
LOTS of portable chargers are bulky and heavy, though, so you may want to invest in a lighter weight one for your trip. One good option is to pick up some Fuel Rods on Amazon before you come.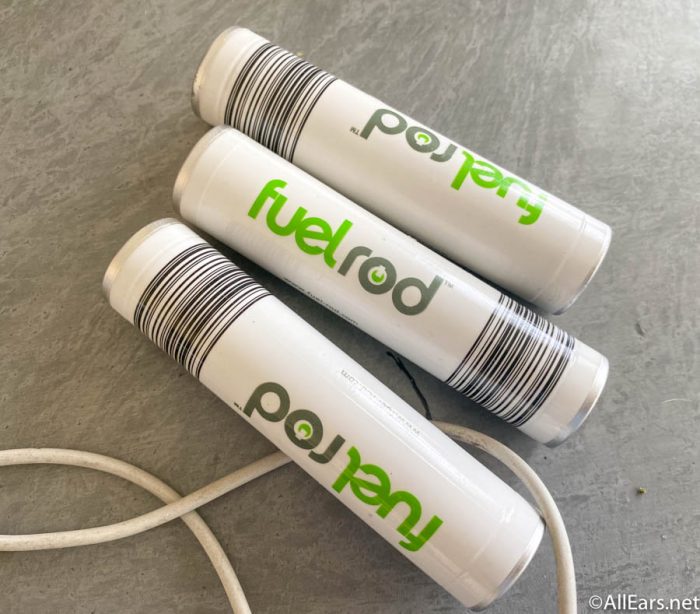 Why Fuel Rods? There are dispensers at the Disney World Parks where you can exchange a spent Fuel Rod for a freshly charged one, so you will never run out of juice. You will also find these Fuel Rod exchange spots in airports, hotels and other places around the U.S.
Another lightweight option we recommend is the INIU portable charger. It charges quickly, and allows you to charge more than one device at the same time. Plus, it's only a half-inch thick, and can slide into your pocket, purse or fanny pack easily.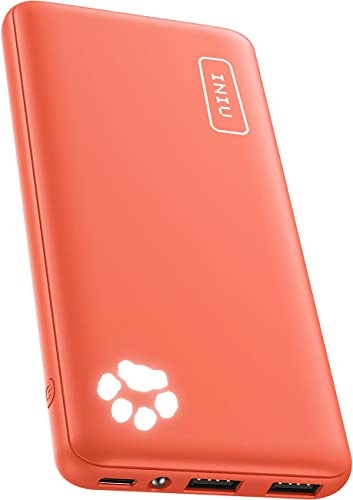 When planning for your mobile charging needs, remember that you will need a cord to connect your phone — you may want to order a shorter one than you usually use to avoid a tangle of wires. You can find 12-inch cables on Amazon.
Blister Protection
Blisters are a very common problem at Disney World. Even if you are wearing tried-and-true shoes, walking the parks for 5 to 10 miles per day, getting splashed on water rides or in children's play areas, and just good old sweating in the Florida heat could cause your shoes to rub in ways they haven't before. We recommend moleskin.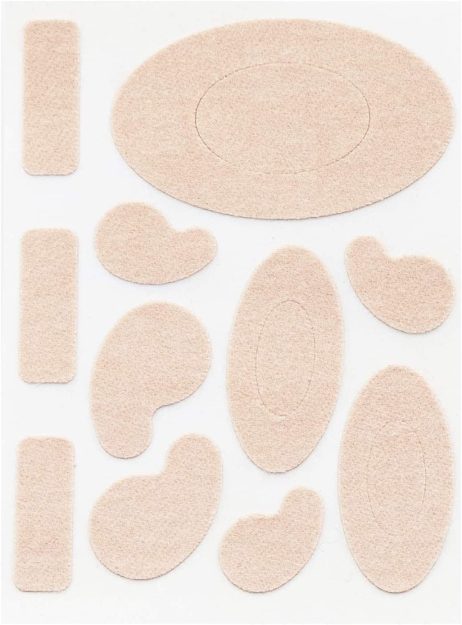 You can buy rolls of moleskin padding that can be cut to the size you need, but if you're packing light for the parks, pick up a pack of these sheets instead. You can slip one in your bag, and have a variety of choices for the size and shape of padding you need.
Sunscreen
You need to reapply sunscreen throughout a day in the Disney Parks. Even if you are lucky enough to travel on a day that's not super hot, keep in mind that doesn't dim the sun in Florida. But you don't need to pack the giant bottle of sunscreen you keep under the bathroom sink and lug it around all day. You can get a 4-pack of travel size tubes of sunscreen for a very reasonable price on Amazon.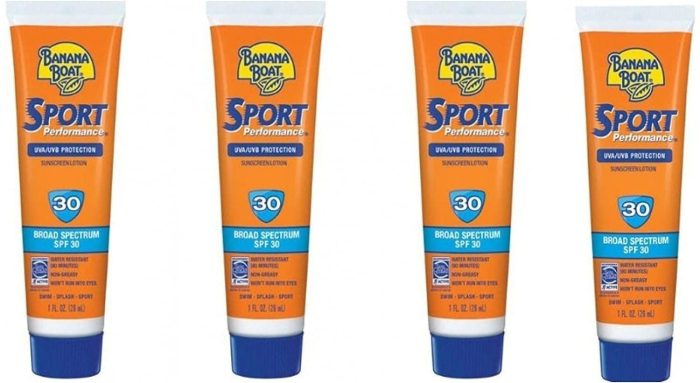 Then you've got what you need for the day without lugging around extra. Another option is to transfer sunscreen from your big container to a smaller, travel-size bottle for your bag.
Foldable Water Bottle
While you're re-applying that sunscreen, go ahead and take a hydration break. It is sooooo easy to get busy and hot at Disney World, and get dehydrated. Then you'll be even more hot and tired — and grumpy. We recommend carrying a collapsible water bottle that you can fill, drink from, and then fold back up and stash easily.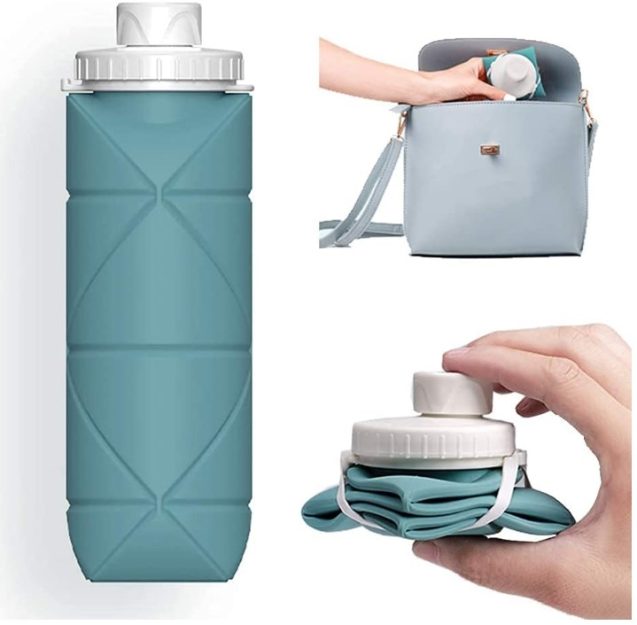 You can get this water bottle on Amazon, and don't forget that you can get free water around the parks to put in it!
Magic Band
You do not NEED a MagicBand or MagicBand+ when you go to Disney World. But if you're trying to lighten your load, it is a great tool to use. You can use a Magic Band as your tickets, and as a payment method during your park day.
You can order a MagicBand before your trip at shopDisney.
Rain Poncho
As we mentioned above, if you know ahead of time that it's going to be a rainy day at Disney World, you'll want to bring extra gear with you. We've got a list right here. But pop-up thunderstorms and rain showers are part of life in Central Florida, so while we don't recommend carrying umbrellas and heavier gear unless you know you're going to need them, it's easy to slide a disposable poncho into your fanny pack just in case.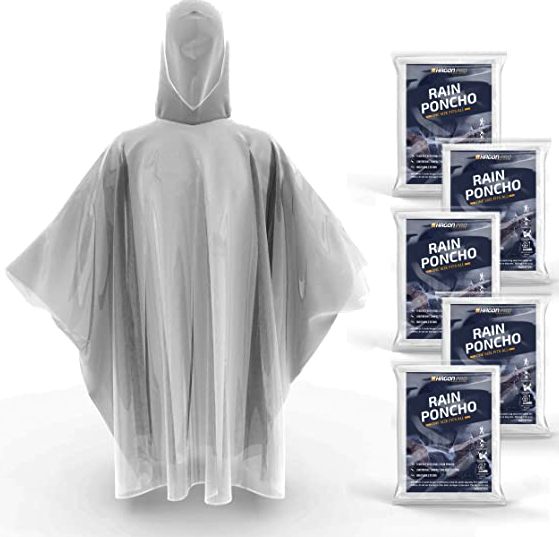 You can grab this 5-pack on Amazon for about $2.50 each, and save yourself at least $10 over having to buy one in the parks.
Leave It
Your Wallet
Let's streamline here. There's no need to bring your entire wallet, all your store loyalty cards, and the $6.72 of loose change in it to Disney World. All of that adds up to way more weight than you want to carry all day. Slide your ID and a bit of cash (even if you're using your MagicBand or a digital wallet to pay — systems do go down!) in a pocket on your bag, and you're good to go. Leave the rest in the room!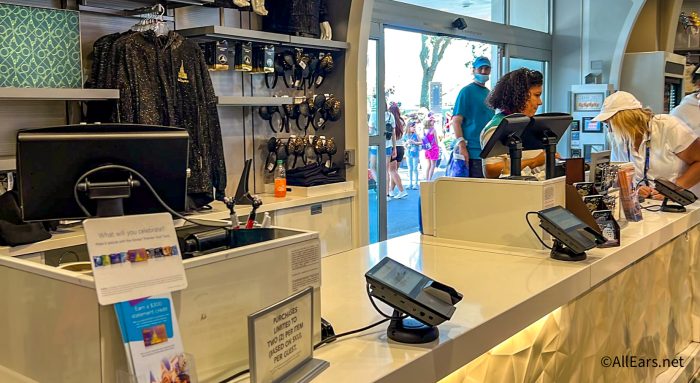 All Your Medications
Now we're NOT saying to not take your medicine during your park day. What we are saying, though, is that you don't need to bring all your full bottles and blister packs of pills to carry around the parks. Carry just what you'll need to take for the day with you in a small container. Leave the rest of it in your room.
And remember that there are First Aid Centers at every Disney World Park that can help you with a variety of minor medical needs — if an issue that can be treated with over-the-counter medication arises while you are in the park, you can get help at the First Aid Center — for free. So you don't have to plan for every eventuality.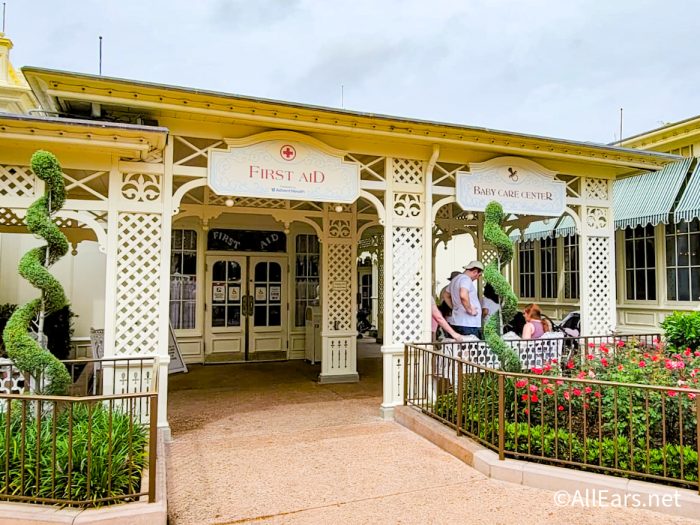 Your First Aid Kit
Just like in the case of medicines, if someone skins a knee or needs other First Aid attention, you can get bandages and other items at the First Aid Center in the park.
One note here: If you have an accident prone toddler, we would still recommend slipping a Band-Aid or two into your bag to save you some steps. And by all means, if someone in your party needs life-saving medication like an Epi-Pen, you will need to carry it with you.
Your Makeup Bag
Are you really going to be touching up your makeup throughout the day at Disney World? Even if you usually carry your entire kit with you, we highly recommend lightening your load for your park day — lip balm, some powder if you must, but you're probably not going to find yourself whipping out that eyelash curler, so why carry the extra weight?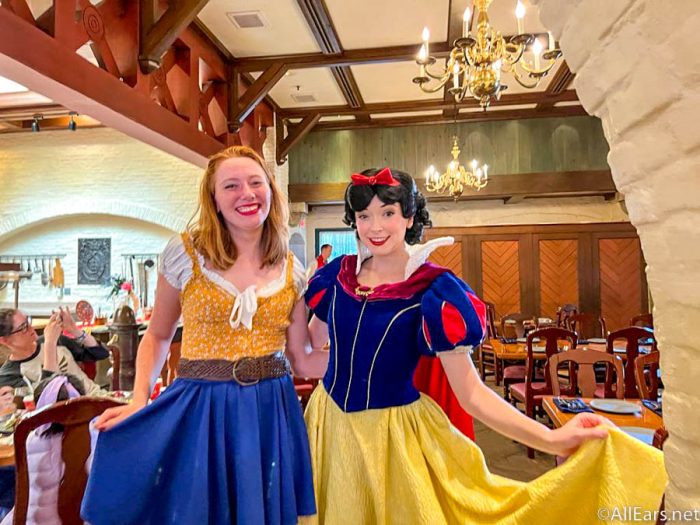 Change of Clothes
Now, again, we know this is not one-size-fits-all advice. If you have a potty-training toddler, or some other situation that requires frequent changes, bring some lightweight clothing with you (and remember you could store it in a park locker). But otherwise, maybe just take the risk. The worst that can happen is that you have to shop for a new Disney t-shirt or something, and, um, we're always looking for excuses to do that.
That's a look at what you should pack — and what you can leave behind — during a day at Disney World! We've got much more packing advice for you here:
Keep following AllEars for the latest Disney news!
How do you pack light for your Disney World Park days? Tell us in the comments!