So you're a young Jedi looking to begin your training. The first step is to craft your own lightsaber, and we know just the place!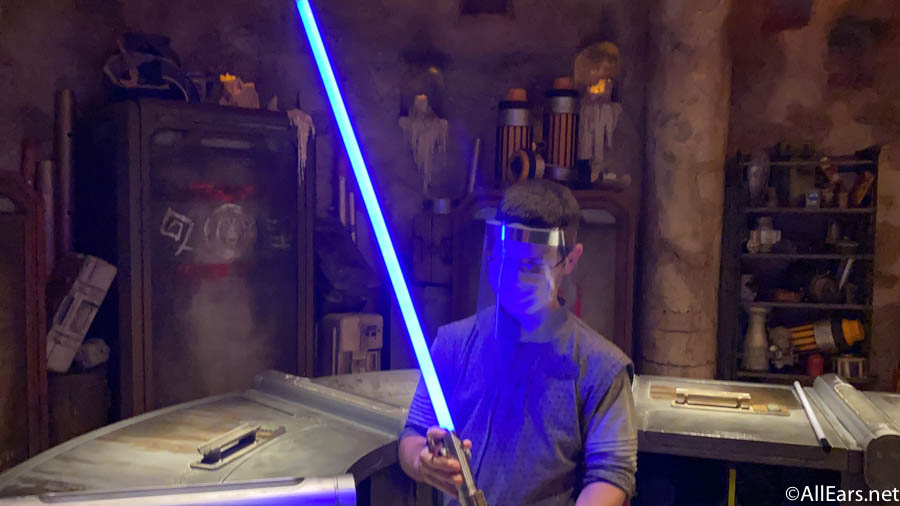 Step into Savi's Workshop in Star Wars: Galaxy's Edge and you'll be able to design the perfect Jedi weapon.
The Complete Guide to Building a Lightsaber at Savi's Workshop
Making a Reservation
The first step to building a lightsaber at Savi's Workshop actually begins before you arrive. You can book a reservation for Savi's Workshop up to 60 days in advance, and we recommend making sure that you do! This is a popular experience, and while walk-ins can be accommodated on occasion, space is very limited.
You can make a reservation on the Disney World website, or through the My Disney Experience App (or the Disneyland App for Disneyland). One big thing to note is that you will need a Park Pass reservation and valid ticket. Your reservation for Savi's will not be enough to grant you entry into the park.
Also of note is a builder can bring in a guest, but only the builder will be able to build their saber. Either the builder or the guest must also be at least 14 years old.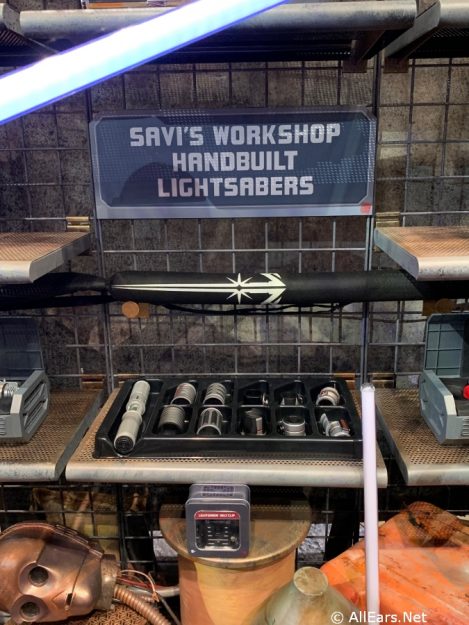 Pricing (and What You Get)
The cost for the building experience and lightsaber is $249.99 plus tax (a recent price increase) and there is no Passholder discount available. The price includes one lightsaber, a carrying case, and the building experience for one builder.
The Process
Spoiler warning! This section will include details about the building experience, so if you want it to remain a surprise don't read ahead.
Check-in begins 15 minutes before your reservation, and if you are bringing a guest they need to be present for check-in. When you first arrive at the workshop, check in with the gatherer at the counter outside. If you have a reservation they will confirm that and then collect the $249.99 fee. They will also need to see a photo ID and the credit card you used to reserve your spot.
You will then review the "scrap metal" collections available and pick the one that appeals to you most. The choices are as follows:
Peace and Justice:

These scraps come from fallen Jedi temples and crashed starships. The Republic-era designs honor the galaxy's former guardians.

Power and Control:

These remnants, rumored to be from the Sith homeworld and their abandoned temples, were forged by dark side warriors.

Elemental Nature:

This style embodies the Force, which is an energy created by all living things, such as Rancor teeth, Cartusion whale bones, and Brylark trees.

Protection and Defense:

These materials are covered in mysterious motifs and inscriptions. It reconnects users with the ancient wellspring of the Force.
You'll receive a pin and credential that will serve as your group number. When it's time to head inside, your pin will be the key to entering the secret workshop, plus it includes information on which lightsaber design you will be using!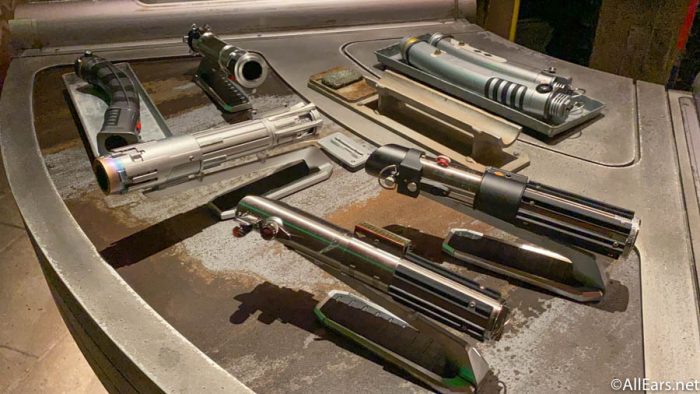 After you have decided, you will wait your turn to enter the workshop. Builders will be welcomed in groups of around 10, not counting their guests. Once inside, each builder will take their place at a build station. In the center of the workshop, a master-gatherer will introduce themselves as well as their assistants around the room.
During this time a solemn tone is established for the ceremony of crafting a lightsaber. The gatherers go over Jedi history, lightsaber lore, and the power of the Force. It's a good introduction (for those unfamiliar with Star Wars canon and legend), and effectively sets the mood.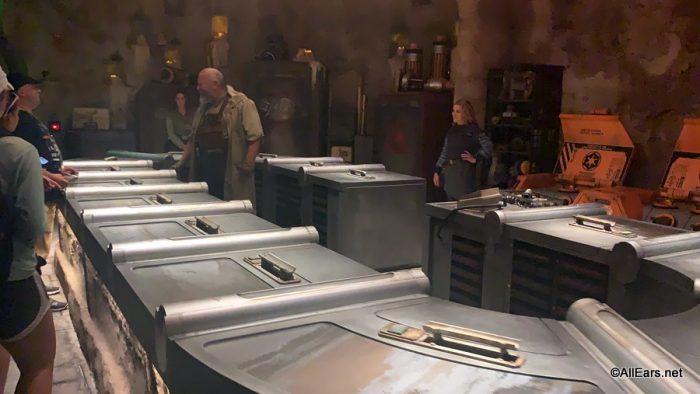 Next, you will learn about the different colors of the kyber crystals, which are the Force-attuned crystals that are at the heart of every lightsaber. The master-gatherer will ask everyone to close their eyes and envision which color crystal they want, and their assistants will go around the workshop letting each builder select one.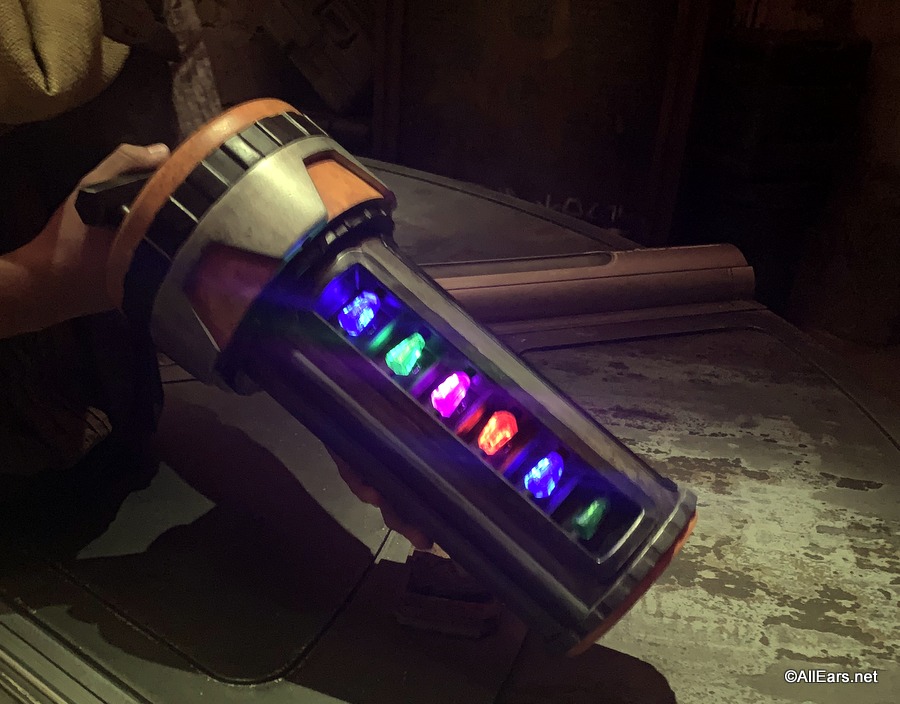 The master-gatherer will provide some instructions on how to put the lightsaber together, and then you will begin to build! The hilt pieces you selected earlier will be delivered to your build station by the assistants and they will help everyone build their lightsabers correctly. Your hilt kit will contain:
1 hilt
4 sleeves (you will pick 2)
2 emitters (you will pick 1)
2 pommel caps (you will pick 1)
2 sets of activation plates and switches (you will pick 1 set)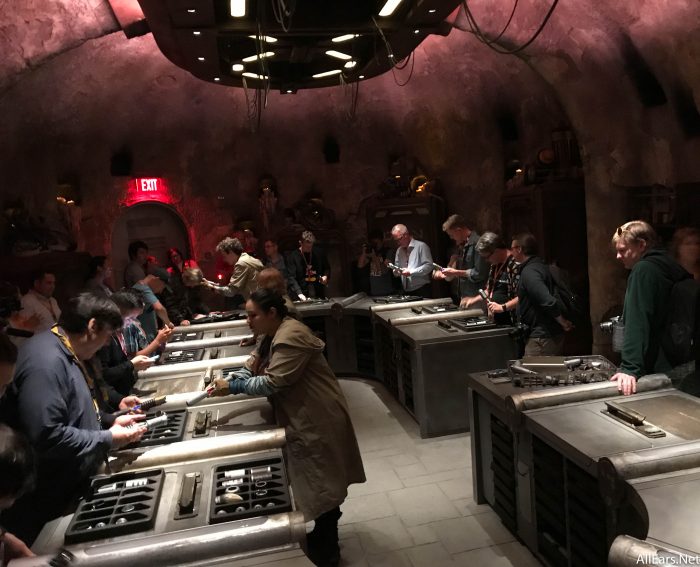 First, you will insert the crystal, then build the hilt around it. Once you are finished the assistants will take your completed hilt and attach it to the blade. Upon hilt completion, the unused parts will be collected by the assistants and returned to Savi's inventory (these are not included in your lightsaber package).
Once everyone is finished assembling their hilts, this is when the bonding ceremony begins, which is wow moment of the whole lightsaber building experience. At the conclusion of this, the blade of the lightsaber is 'magically' attached and everyone raises and activates their lightsabers in unison as the voice of Yoda enters the chamber.
At the end, you will receive a carrying case for your lightsaber. If you wish to further customize your lightsaber, you can find additional pieces for sale at Dok Ondar's Den of Antiquities.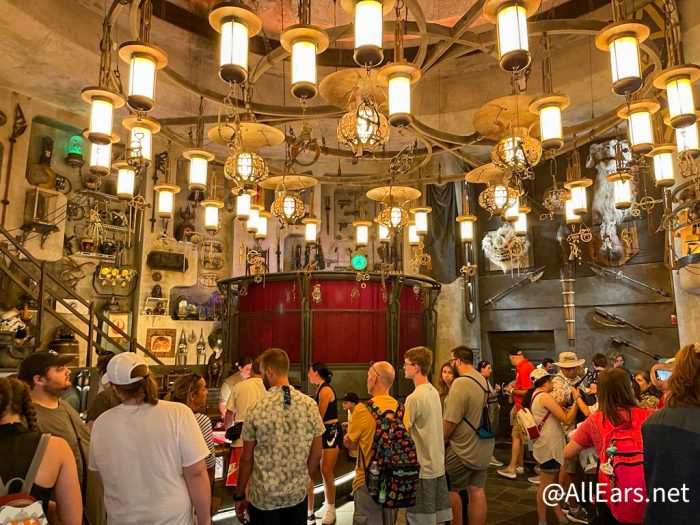 Other Things to Know:
The experience area is limited to the builder and one guest—at least one person in the party must be age 14 or older.
The experience takes place indoors. The workshop is an enclosed space with low lighting levels.
To avoid being charged a cancellation fee, make sure to cancel at least one day before your reservation.
At $250 for the experience, Savi's Workshop is truly memorable. You're paying not just for the souvenir, but the experience. However, this is not something we'd consider a "toy," but more of a collectors item. So if you're thinking of doing this with your three year old (or even your seven year old), they might enjoy building their own saber in Tatooine Traders or in Disney Springs for a fraction of the price.
Watch the video below to discover more Disney secrets!
If you could have another interactive experience like this at Disney, what would it be? Let us know your ideas in the comment section below!