We're in EPCOT for a very special reason today!
That's right, it's the park's 40th Anniversary! EPCOT opened on October 1st, 1982, and we're here to check out all the celebrations in honor of the occasion. But we didn't want to visit without bringing you as well, so follow along as we celebrate together!
Map
When we arrived at EPCOT, we got a commemorative guide map.
Commemorative guidemap is in hand and we're ready for an amazing day! ✨ pic.twitter.com/PthuqeVmQ3

— AllEars.Net (@AllEarsNet) October 1, 2022
You can see the rainbow shine on the cover!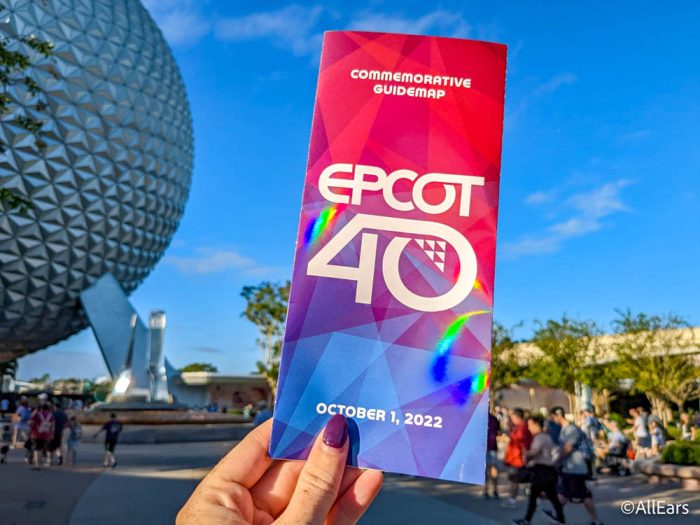 Despite COVID-19 warnings being removed from the Disney websites, there is still a warning on the back of the map.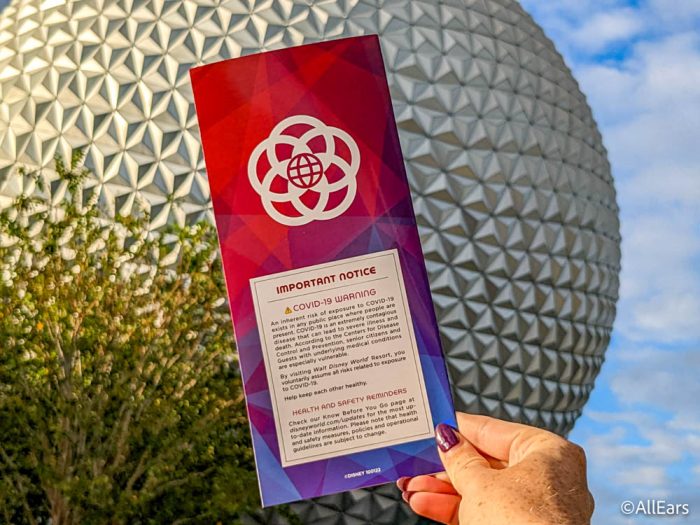 The map confirmed that there will be a special beacon of magic show at night on Spaceship Earth, there's a special 40th anniversary ceremony, and guests will get a commemorative poster as they exit the park.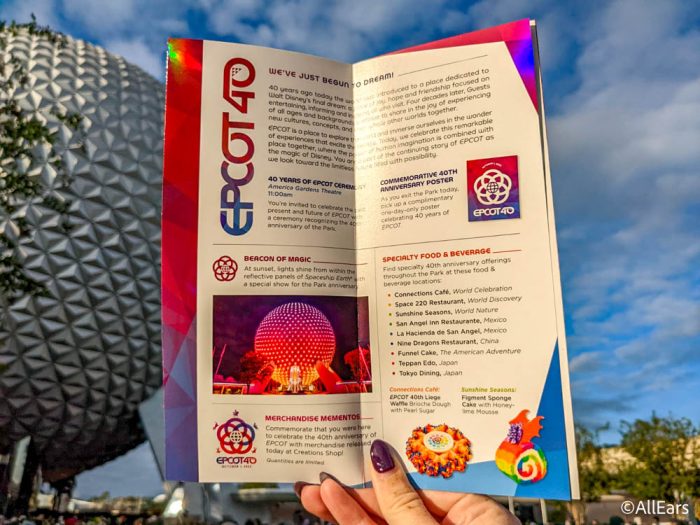 Take a look inside the map.
Let's take a peak INSIDE the commemorative guidemap for #WaltDisneyWorld's EPCOT 40 celebration 🌈 pic.twitter.com/82tYuZOPpj

— AllEars.Net (@AllEarsNet) October 1, 2022
How cool! We'll be bringing you updates on all of these events so stay tuned!
Crowds
If you're visiting today, expect some crowds! Many fans have turned out to celebrate the big day, and when we arrived at the park it was busy this morning.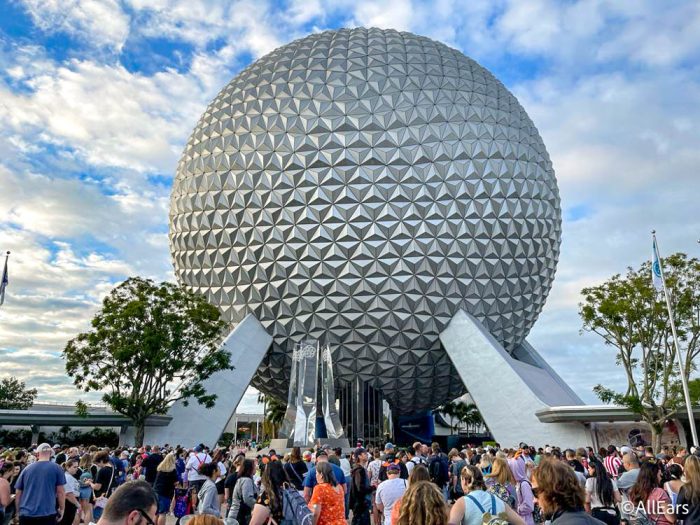 Here's another look at the crowds.
The crowds are ready for EPCOT's 40th Anniversary! #WaltDisneyWorld pic.twitter.com/zrm0XwAYyT

— AllEars.Net (@AllEarsNet) October 1, 2022
While the crowds were pretty packed towards the entrance, a ton of people were already in line for the Creations Shop.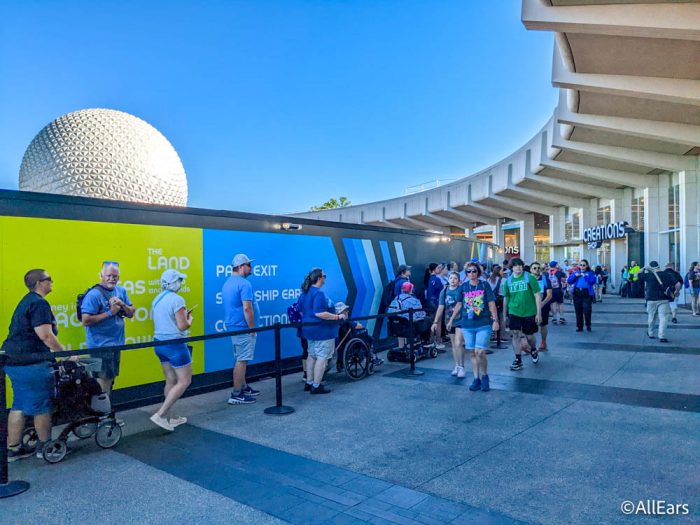 Look at that line!
Current end-of-line location to get into the Creations Shop for EPCOT 40th merch… cast members estimate at 2 hours 😅 pic.twitter.com/JmtN8LB5UF

— AllEars.Net (@AllEarsNet) October 1, 2022
This is where you can snag the 40th anniversary merchandise.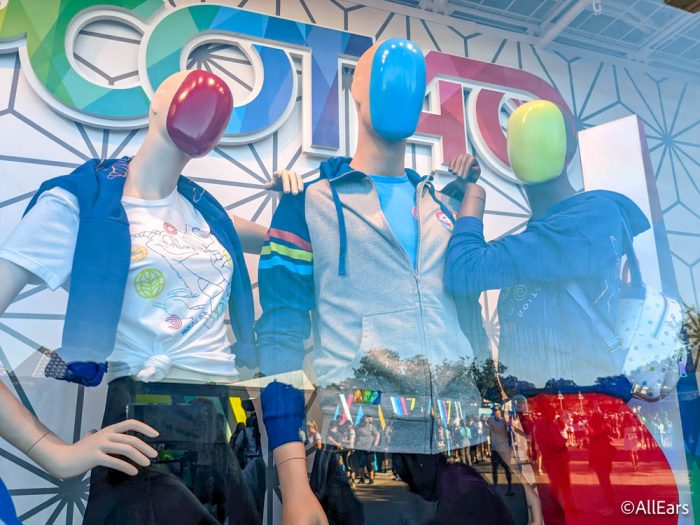 According to a Cast Member, the wait from when we got in line was 2 hours. It took us about 1 hour and 5 minutes to get through the line!
Merchandise
One of the things that guests are most excited about is the new merchandise that has arrived! We found the collection in Creations Shop and there are several new items to choose from. First up is the EPCOT 40th Anniversary MagicBand+.
Celebrate 40 years of imagination with this awesome limited edition EPCOT 40 MagicBand+ 😍 pic.twitter.com/6DWbxECSfW

— AllEars.Net (@AllEarsNet) October 1, 2022
You'll also find a Mystery Pin Set!
#EPCOT40 exclusive mystery pin set, featuring your pal and ours, FIGMENT! 🎉 pic.twitter.com/BHcoN5vN18

— AllEars.Net (@AllEarsNet) October 1, 2022
And of course, it wouldn't be a party without a new pair of ears! These EPCOT 40th Anniversary Minnie Ears are absolutely stunning…but they are not available in Disney World yet. A Cast Member said they hope to have them soon, but you can still grab these online!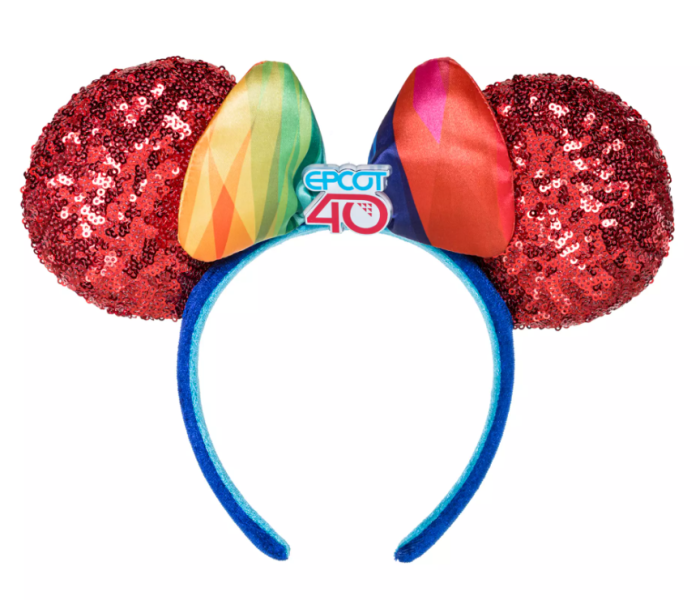 Pick up a pair for $29.99.
There is SO much more merchandise to see!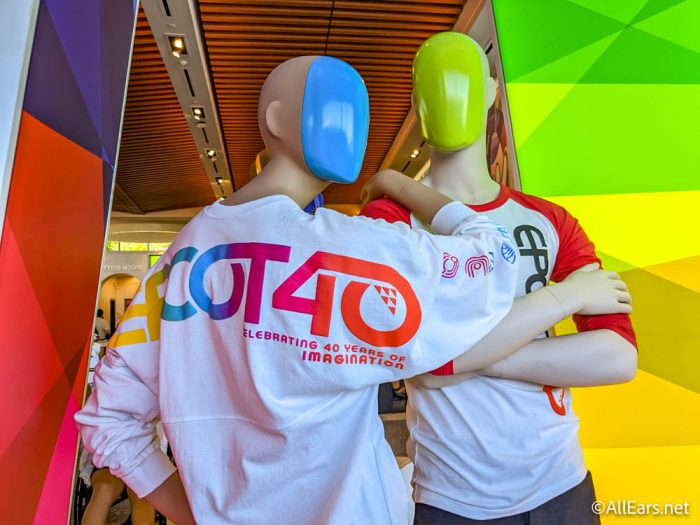 See ALL of the 40th anniversary merchandise we found in EPCOT.
Entertainment
Most of the same EPCOT entertainment was available, but there was also a special ceremony at 11AM to honor EPCOT! People starting lining up pretty early for the event and there were lots of folks ready to see what Disney had in store.
The crowd is HERE for the special ceremony celebrating EPCOT's 40th ❤️🌈🎉 pic.twitter.com/Ik6KvkZc61

— AllEars.Net (@AllEarsNet) October 1, 2022
Fry Bucket and Breedlove weighed in on what they thought could happen at the ceremony.
What does #DisneyWorld have in store for us today at EPCOT's 40th anniversary? Breedlove and Fry Bucket weigh in! ✨ pic.twitter.com/qzpghPfPjv

— AllEars.Net (@AllEarsNet) October 1, 2022
There was also a moment to honor the man responsible for EPCOT — Walt Disney.
A moment to honor Walt Disney today at EPCOT's 40th anniversary 🌟 pic.twitter.com/m3BnEHSJw3

— AllEars.Net (@AllEarsNet) October 1, 2022
We also got a performance from the Voices of Liberty…
…and Mariachi Cobre!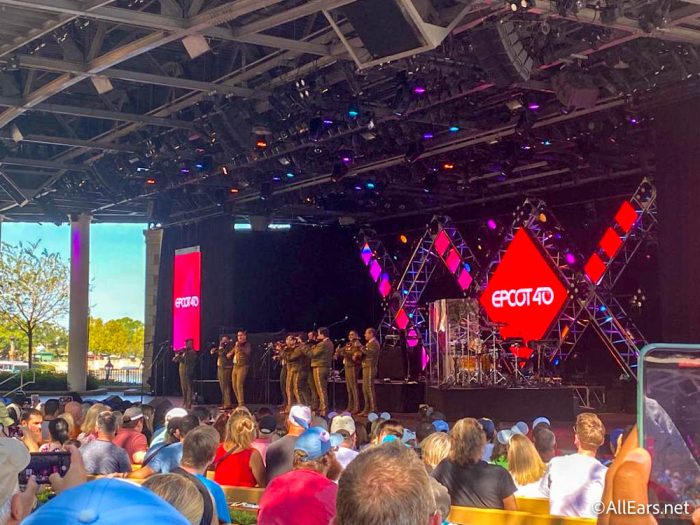 Near the entrance of the park, check out the newest Magic Shot for the 40th anniversary!
#EPCOT is turning ✨40✨! Beginning today, our #DisneyPhotoPass photographers are excited to help you celebrate by capturing this new Magic Shot available at the main entrance of the park. 📸 pic.twitter.com/xH3B0Y4XlV

— DisneyPhotoPass (@DisneyPhotoPass) October 1, 2022
Spaceship Earth also got a new look at night — the new show features Figment, Walt Disney, Horizons, Illuminations, and more!
Cheers to 40 more years, EPCOT! #EPCOT40 pic.twitter.com/5m9nyB8EUl

— AllEars.Net (@AllEarsNet) October 2, 2022
It's such a fun nod to the 40th anniversary.
Special Foods & Beverages
Looking for something special to eat? We found multiple new snacks around the park to celebrate the 40th, including the Figment Cake at Sunshine Seasons.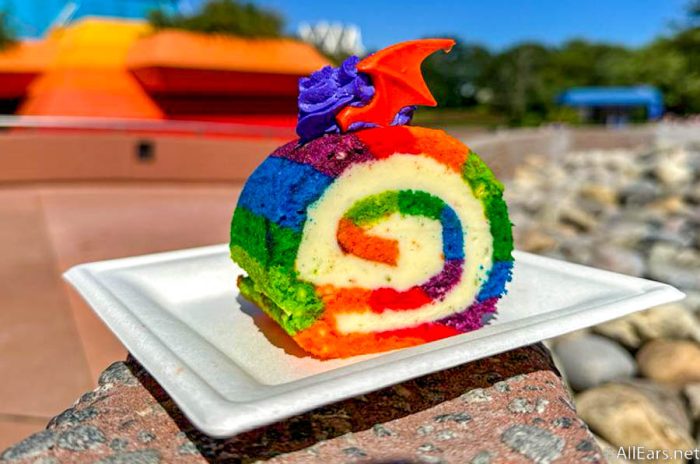 At Choza de Margarita, you'll find the 40th Fiesta. This is the location's usual fiesta margarita but with the addition of blue agave syrup.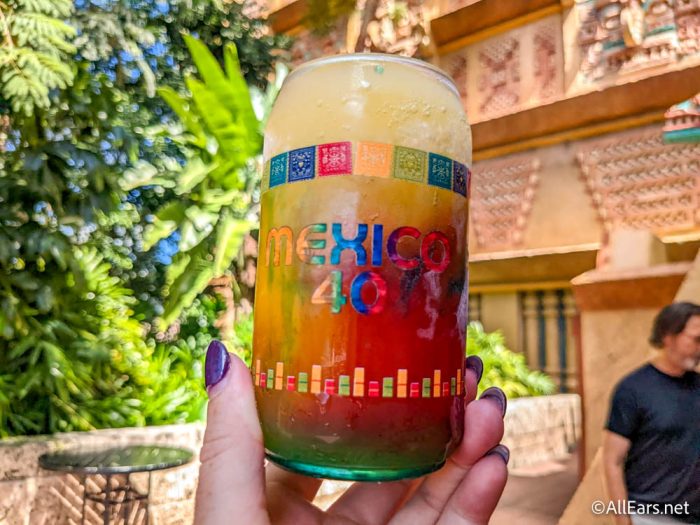 In the Japan pavilion, the colorful Sake Cocktail Flight is at the Garden House!
The Sake Flight is super colorful and fun today for #EPCOT40 🌈 pic.twitter.com/hR4MQZXsJj

— AllEars.Net (@AllEarsNet) October 1, 2022
There's a 40th Anniversary Celebration Funnel Cake at the Funnel Cake Stand in America!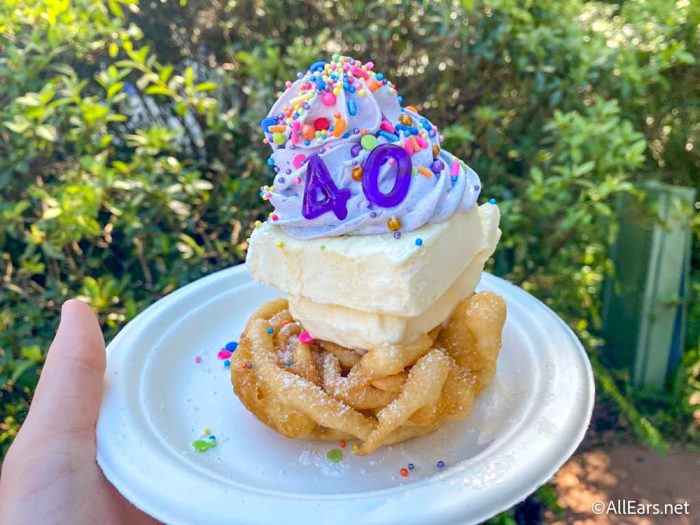 We also tried the 40th Anniversary Liege Waffle at Connections Cafe.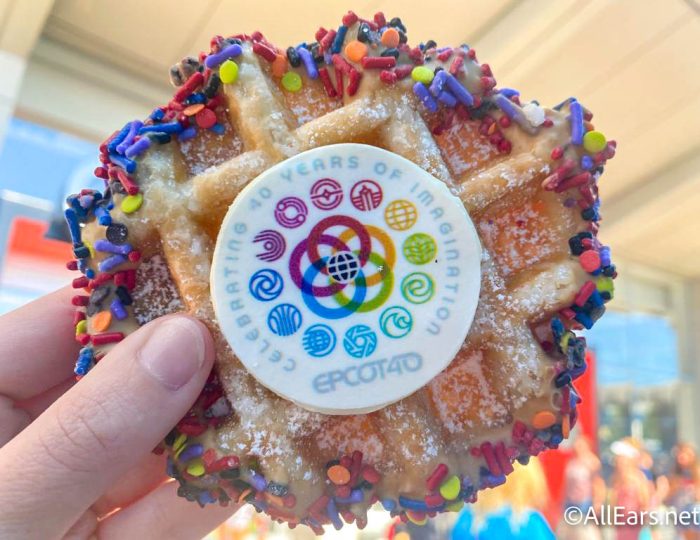 It is basically the same as the regular waffle here, but with fun 40th anniversary decorations!
That's everything from the 40th Anniversary celebrations in EPCOT! Stay tuned to AllEars for any more news and updates from this historic day.
We'll continue to update this post throughout the day so you don't miss out on anything that's going on. Check back for new updates!
And if you're an EPCOT fan, keep following along for all of the news on EPCOT's transformation, including the addition of a new attraction and all the construction updates from World Celebration.
When is your next visit to EPCOT? Tell us in the comments!