The Magic Kingdom fireworks have undergone a number of changes over the years, and now they've changed AGAIN!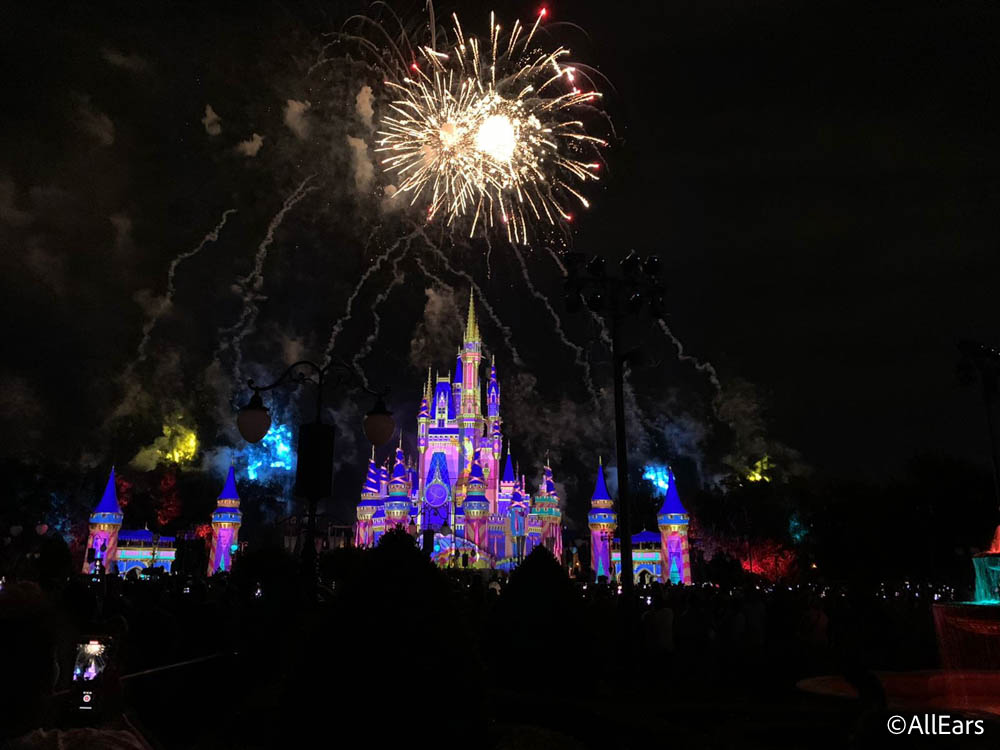 Disney Enchantment is still the fireworks show being offered at Magic Kingdom (so no, this isn't an announcement post for the return of Happily Ever After). We've already shared how fireworks times are changing in Magic Kingdom, but now we've got news about something NEW that has been added to the show.
After the show was delayed for a few minutes…
Another delay for Enchantment tonight in Magic Kingdom ⛈ pic.twitter.com/qEGcKVl1CZ

— AllEars.Net (@AllEarsNet) August 23, 2022
…we got to see the NEW intro segment has been added to the Disney Enchantment fireworks. Much like how little ending "tags" can be added to fireworks shows sometimes to celebrate special holidays, this intro "tag" (of sorts) has been added to the show and appears to be aimed at really focusing on Walt Disney World's 50th Anniversary.
The intro features clips, essentially all old, archival footage, of Walt Disney followed by his brother Roy Disney, two individuals without which the Most Magical Place on Earth would never have been created.
‼️ CHANGES ‼️ to the beginning of Disney Enchantment! (And yes, we're emotional 🥹) pic.twitter.com/16VKDpYkhP

— AllEars.Net (@AllEarsNet) August 23, 2022
In the new segment, you'll get to see clips of Walt and Roy projected onto select portions of the Castle. These projections were mainly located on the 50th Anniversary crest/medallion at the front/center of the Castle.
The clips we saw included some clips about the "Florida Project,"  videos from when they were surveying the natural Florida landscape for the areas that would eventually turn into Disney World, and some other early Disney World clips.
More changes to Enchantment honoring Walt and Roy ✨ pic.twitter.com/hVSuBNxqt7

— AllEars.Net (@AllEarsNet) August 23, 2022
For many, that connection to Walt and Roy and the dreams and work of these individuals is what connects them in a big way to the parks. If you're a huge fan of Walt and Roy and/or early Disney World footage, this is a segment you'll probably really enjoy.
You are the magic 🎆 pic.twitter.com/zRGbEyyQSD

— AllEars.Net (@AllEarsNet) August 23, 2022
Remember that the projections on the Castle are best seen from areas in front of it (i.e. don't go sit in the back of the Castle if you want to see these). The area right in front of the Castle can get really busy, so make sure you grab a spot early if these new additions are important to you.
Full tears. No shame. pic.twitter.com/klNjpb8m6M

— AllEars.Net (@AllEarsNet) August 23, 2022
Want more tips, tricks, and info about Disney World's fireworks? Click here to see our guide to the BEST spots to watch the Magic Kingdom fireworks, or you can click here to see our guide to the BEST spots for watching the EPCOT fireworks.
You can also click here to see our review of EXPENSIVE way to watch fireworks in Disney World, or look at our list of the hotels with the BEST fireworks views.
Stay tuned for more news!
What do you think of the Walt and Roy additions to Enchantment? Tell us in the comments!