There are lots of new things happening in EPCOT!
The park is currently undergoing construction to introduce new features like a festival center a new Moana attraction, and more. One of the newest additions is Guardians of the Galaxy: Cosmic Rewind (which opened in May), but guests at the park recently might have noticed something amiss with this ride.
During a recent visit to EPCOT, we noticed that there were people standing around outside of the entrance to Guardians of the Galaxy: Cosmic Rewind. We later found out that the ride was closed, which can get complicated for both people in the virtual queue and those who had purchased the Individual Lightning Lane.
Cast Members initially let individuals with Lightning Lane selections into the queue but later closed the queue entirely. We spoke to a Cast Member who told us that individuals in the virtual queue or with an Individual Lightning Lane for the ride could return anytime once the ride reopened.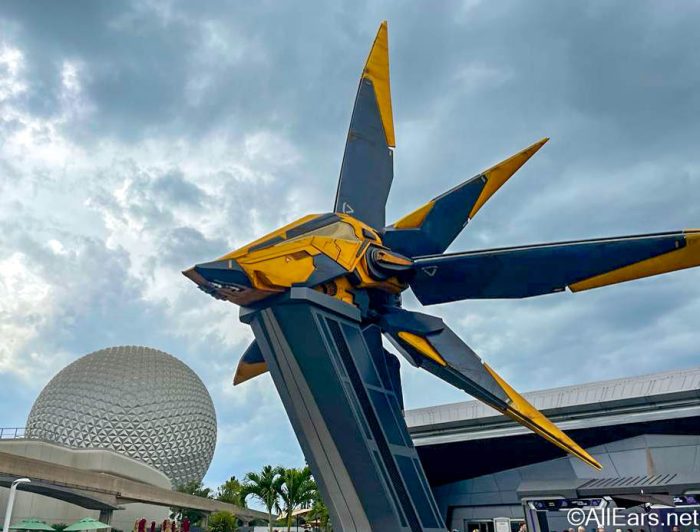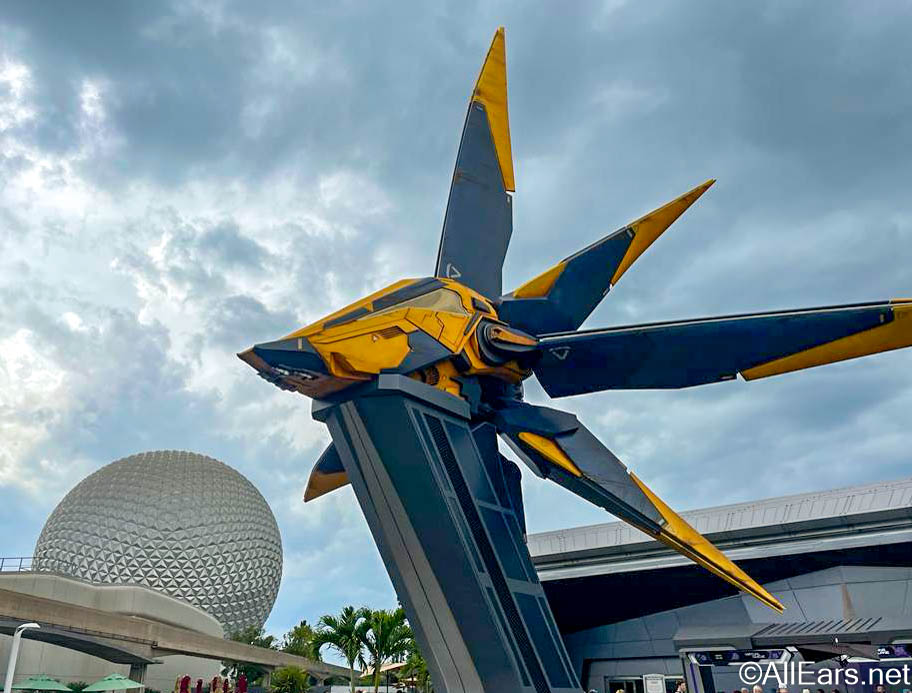 Let's go over the two ways to ride Cosmic Rewind — and what might happen if the ride goes down.
Virtual Queue
One way to ride Guardians of the Galaxy: Cosmic Rewind is known as the virtual queue, and guests must secure a boarding group in the virtual queue at 7AM. If you miss out on the 7AM queue, there is a second opportunity to try again at 1PM from inside EPCOT, which means you can't rely on Park Hopping to secure it.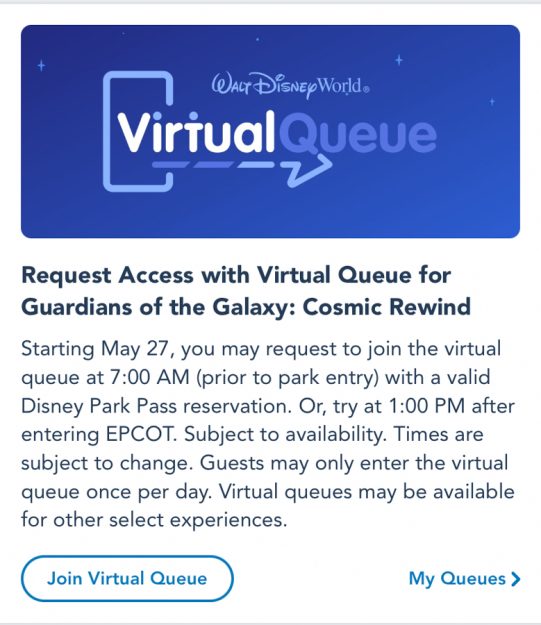 On Extended Evening Hours evenings, deluxe Disney World hotel guests can also enter a virtual queue at 6PM. The Extended Evening Hours schedule must also coincide with EPCOT.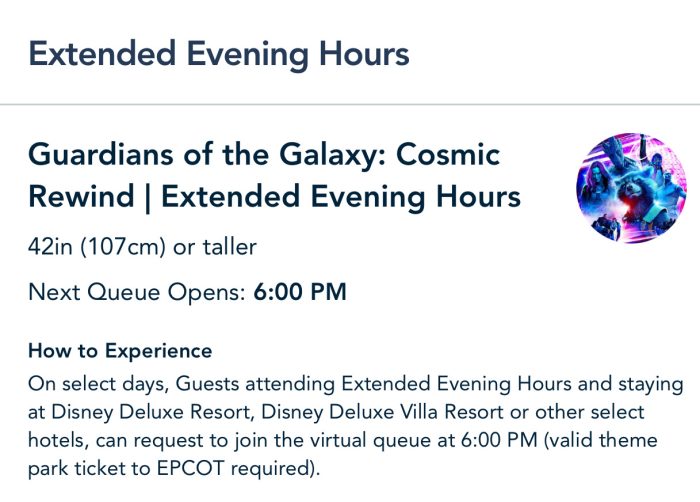 Note that entering the virtual queue is free, but it isn't always easy. You have to be FAST to get in, and if you forget to set your alarm you might miss out on your entry. Also, the virtual queue wait time typically takes around 30 minutes, but it can take longer.
Disney will call your boarding group when it's time for you to board, and you're given a time to return by. The time you're called depends on where you end up in the virtual queue, so you could end up waiting anywhere from an hour to three or four hours.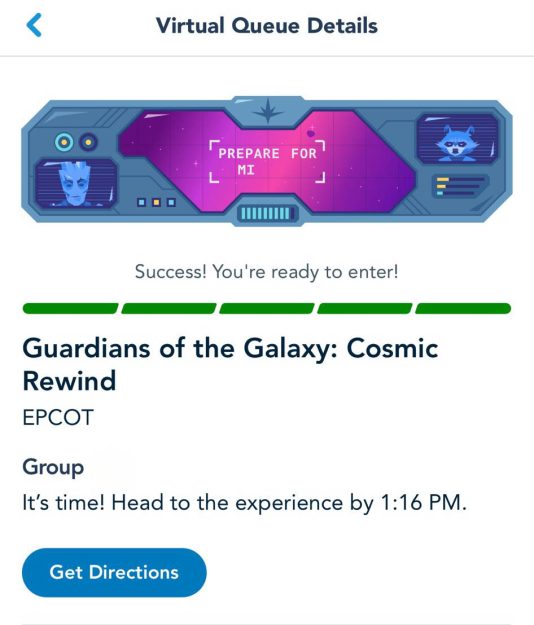 If you'd rather select a time that works with your EPCOT plans, you have another option — but it'll cost you.
Individual Lightning Lane
The other way to ride Cosmic Rewind is to purchase an Individual Lightning Lane for $17, with availability opening at 7AM for Disney World hotel guests. Everyone else can purchase beginning at park opening time. You can generally select a block of time to enter the Lightning Lane, which makes it easier to customize your day with other reservations you may have.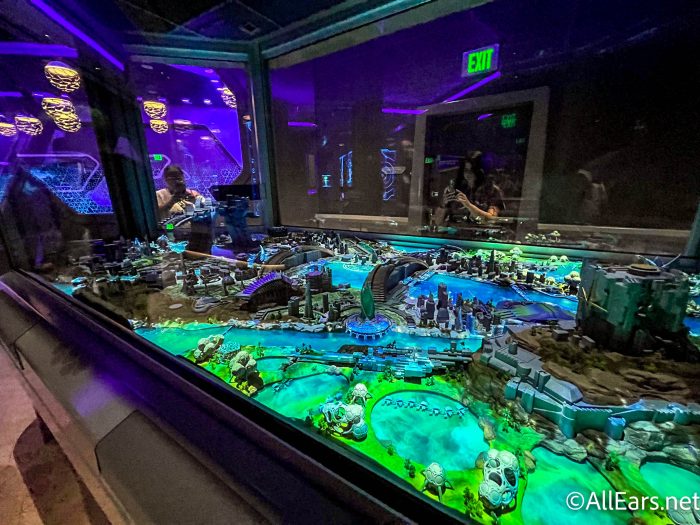 While people in the virtual queue essentially enter a standby line, choosing to purchase the pay-per-ride option lets you enter through the Lightning Lane, and you typically experience a shorter wait time than in the virtual queue.
If the boarding process still confuses you, don't worry — we've got guides that break down the boarding group process. You can also weigh the pros and cons of grabbing a boarding group or purchasing an Individual Lightning Lane.
What happens if Cosmic Rewind goes down?
When Cosmic Rewind went down, Cast Members weren't able to share a reason for the ride's closure or how long until it would be back up and running, but they did say that anyone with a virtual queue or an Individual Lightning Lane could enter the Cosmic Rewind queue once the ride was back up and running.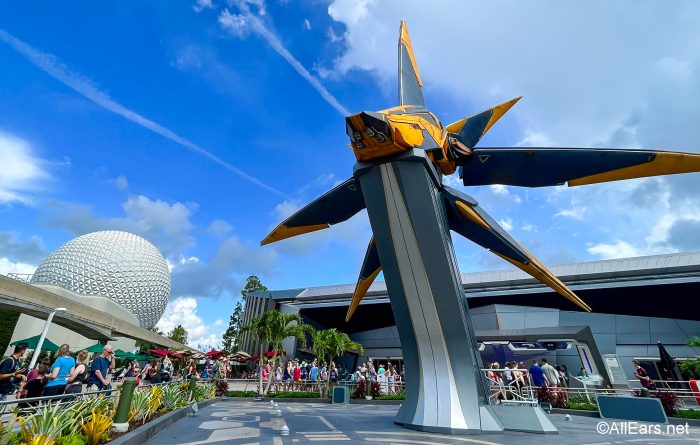 But what if the ride doesn't open for the rest of the day? When you sign up for the virtual queue, Disney states that this is not a guarantee that you'll be able to ride Cosmic Rewind. Sometimes your boarding group isn't able to be called and/or the ride goes down, which means, unfortunately, you could end up unable to ride.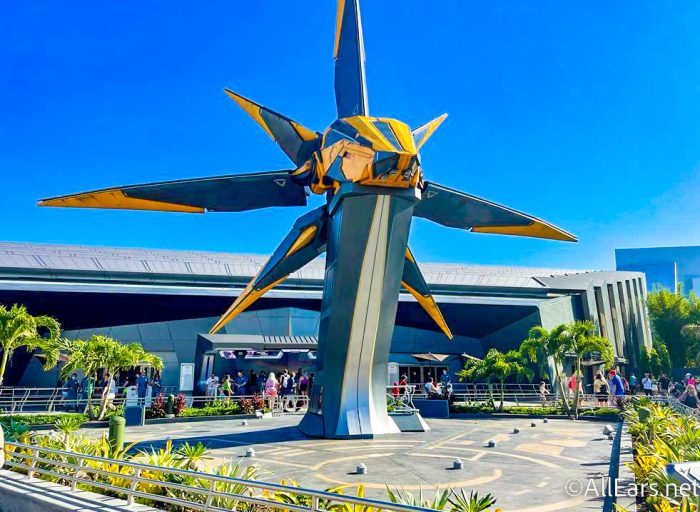 If you purchase an Individual Lightning Lane and the ride closes down before/during your time slot and for the rest of the day, guests generally receive a refund. But if the ride reopens at some point, you do not receive a refund, so it might be a good idea to stay close to EPCOT in case you aren't sure when or if the ride could reopen.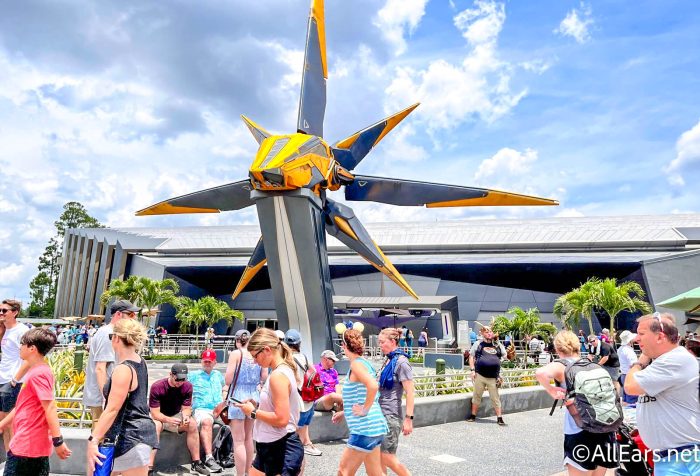 If you're in the area looking for other rides to experience in EPCOT, you can still catch a ride on Mission: SPACE or head to the other side of the park for a flight on Soarin' if you're looking for other rides in the area. As always, make sure to stay tuned to AllEars for the latest Disney news!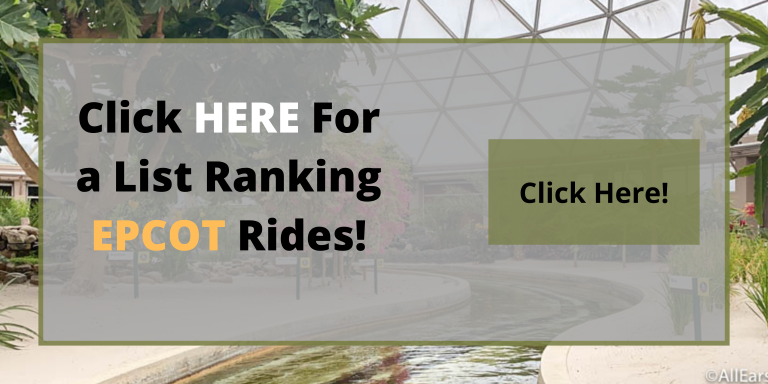 Have you ridden Guardians of the Galaxy: Cosmic Rewind in EPCOT? Let us know in the comments!