In just a few short months, Star Wars fans of all ages will be able to step inside the Star Wars: Galactic Starcruiser (a.k.a. the Star Wars hotel).
We've shared all kinds of information about this experience — from a look at the welcome message sent to upcoming guests to sweepstakes that could get you a FREE stay. But some recent developments have us wondering if the Star Wars hotel is in trouble. This unique Star Wars adventure has been heralded and advertised as an experience the likes of which fans have never experienced before. But is it in danger of being a total flop? Here's what we're seeing.
What is the Star Wars Hotel?
Before we jump in to talking about some of the signs that might spell trouble for the Star Wars Hotel, we should probably do a quick summary about what the Star Wars Hotel really is. We refer to it as the Star Wars Hotel, but really Star Wars: Galactic Starcruiser is NOT a traditional hotel experience.
Instead, Starcruiser is a 2-night long, immersive, cruise-type experience that guests are meant to enjoy and not really depart from. When you step aboard the Starcruiser, you'll be "transported" into space where you'll spend the remainder of your journey (except for one excursion to Star Wars: Galaxy's Edge).
While on the ship, guests will get to do all kinds of things and "live out" their Star Wars story. Guests will get to train with lightsabers, learn how to man some of the ship's systems, meet Star Wars characters, and make choices that will impact their voyage. Want to side with the Dark Side? You can do that. Want to work for the "good guys"? You'll have the ability to do that too. It'll be like a giant roleplaying game that'll put YOU at the center of the story.
If you're a Star Wars fan, this experience might sound like a dream come true. So why might it be in trouble? Here's what we're seeing.
Reservation Availability
Over the past several months, essentially since reservations for the Star Wars Hotel opened up, we've been looking at reservation availability to see just how quickly things are (or are not) filling up. With only about 100 cabins available for each "departure" some might have expected this experience to fill up quickly. And it did…at first.

Back in November of 2021, essentially all of March had already sold out and so had several days in May and all of April.
Later in November, some dates in March started to pop up, but dates for other months remained sold out, and many dates in June had started to fill up as well.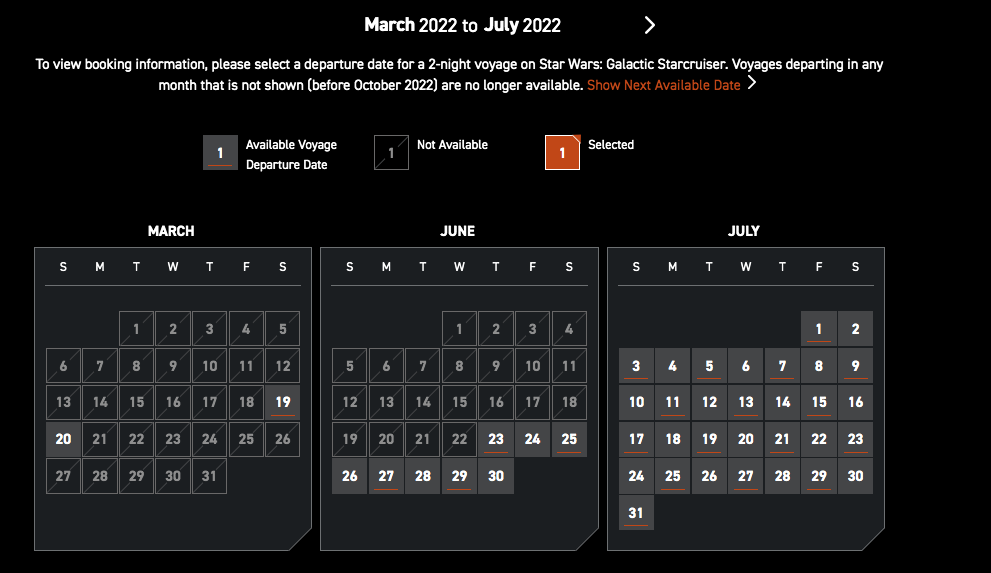 But then, things started to change. We started noticing that many dates in March were becoming available again.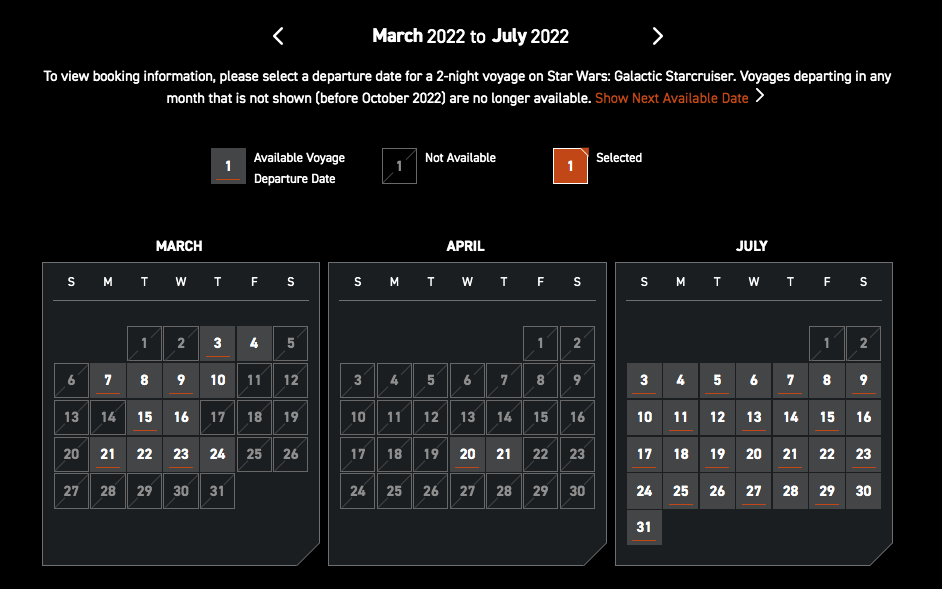 Dates in other months that had also previously sold out once again became available to book.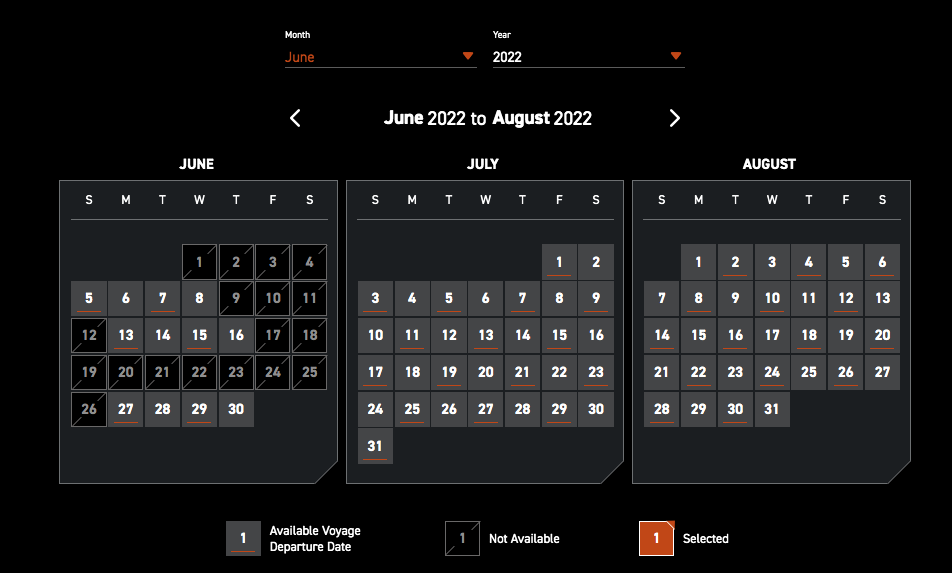 March then sold out again. Then, some dates in the month became available. As of the last time we checked, March was sold out again. That's all subject to change. From what we're seeing at the time of this writing, March is sold out, and April and May are mostly available.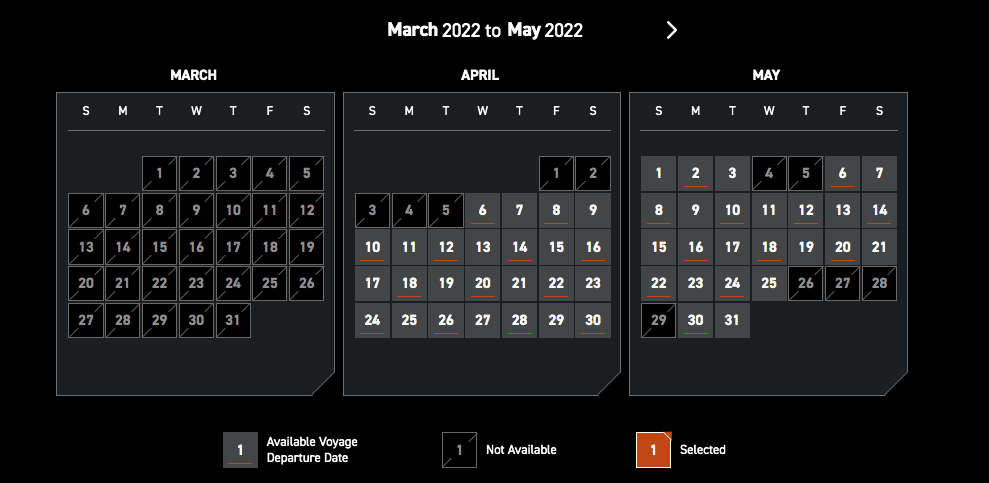 June is filling up quite a bit, but most days in July and all in August are available.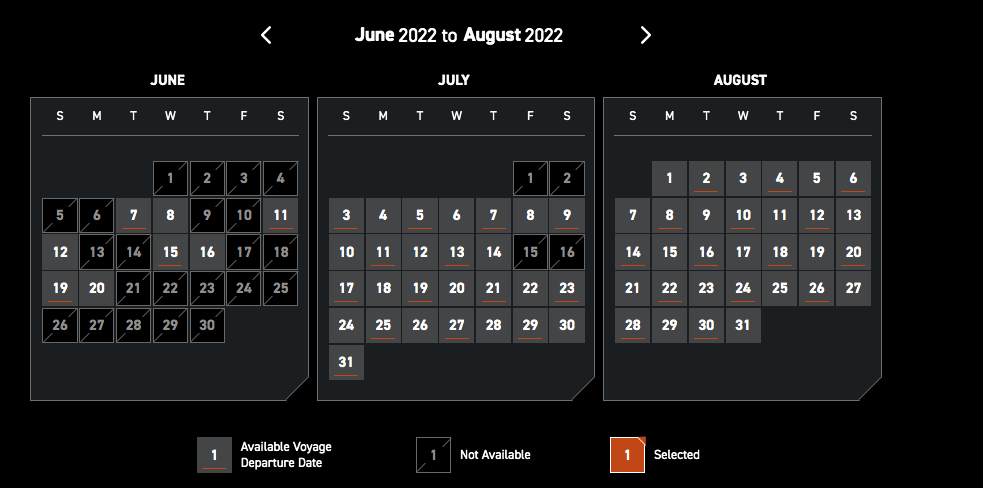 Finally, September is also mostly available.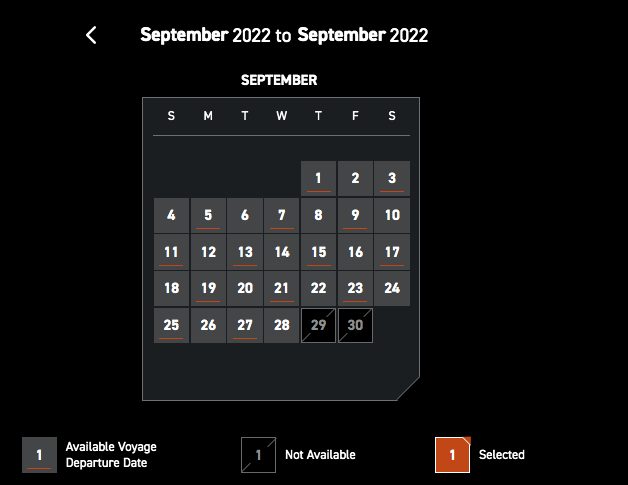 So what happened here? Did guests cancel their reservations as the date for their final payments approached? Are guests continuing to cancel their reservations? It's not entirely clear but it's probably not a great sign that most days in the upcoming months are still available for this experience that is supposed to be a one-of-a-kind, super unique thing Star Wars fans have "got" to see. Especially when you consider that there is only a limited number of rooms, seeing lots of availability might indicate a disturbance in the Force when it comes to this project's popularity with fans and pricing.
Missing Details
Another thing that could spell trouble for the Star Wars hotel is the lack of details that have been shared about the experience. Voyages aboard the Halcyon begin on March 1st, 2022 — that's LESS than 2 months away. Really, it's just a matter of weeks before fans get to experience this offering. And yet, we still don't have full menus for any of the restaurants that will be available as part of the Star Wars Hotel.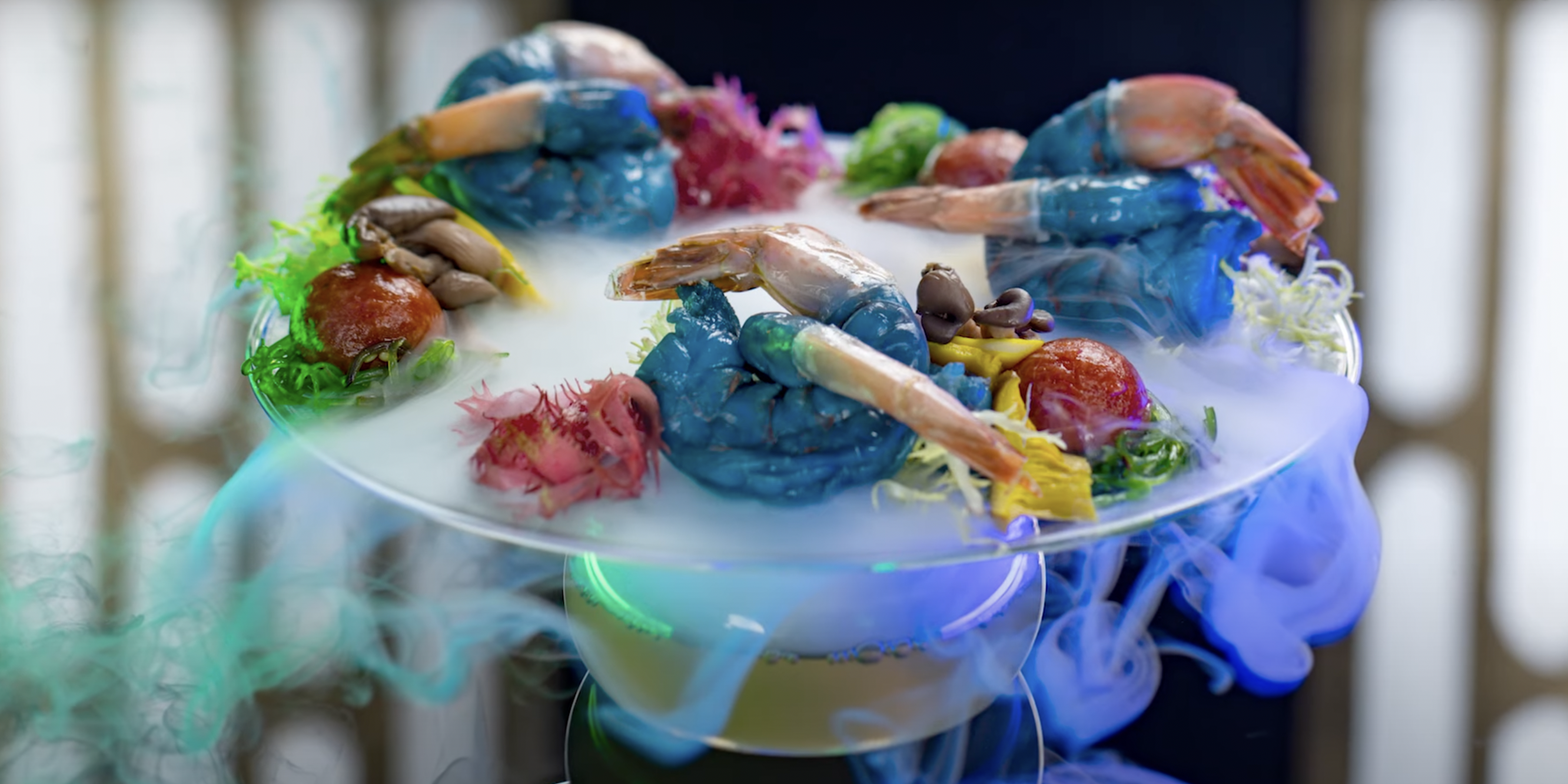 Sure, we've gotten a look at the blue shrimp and other select items that will be on board. And we've gotten to hear a bit about the food and what some of it tastes like, or what the actual dining experiences will be like (cafeteria buffet style, table service, etc.) from those who attended a special media preview. But other than that, we've got ZILCH. NADA. NOTHING. And frankly, that can be concerning.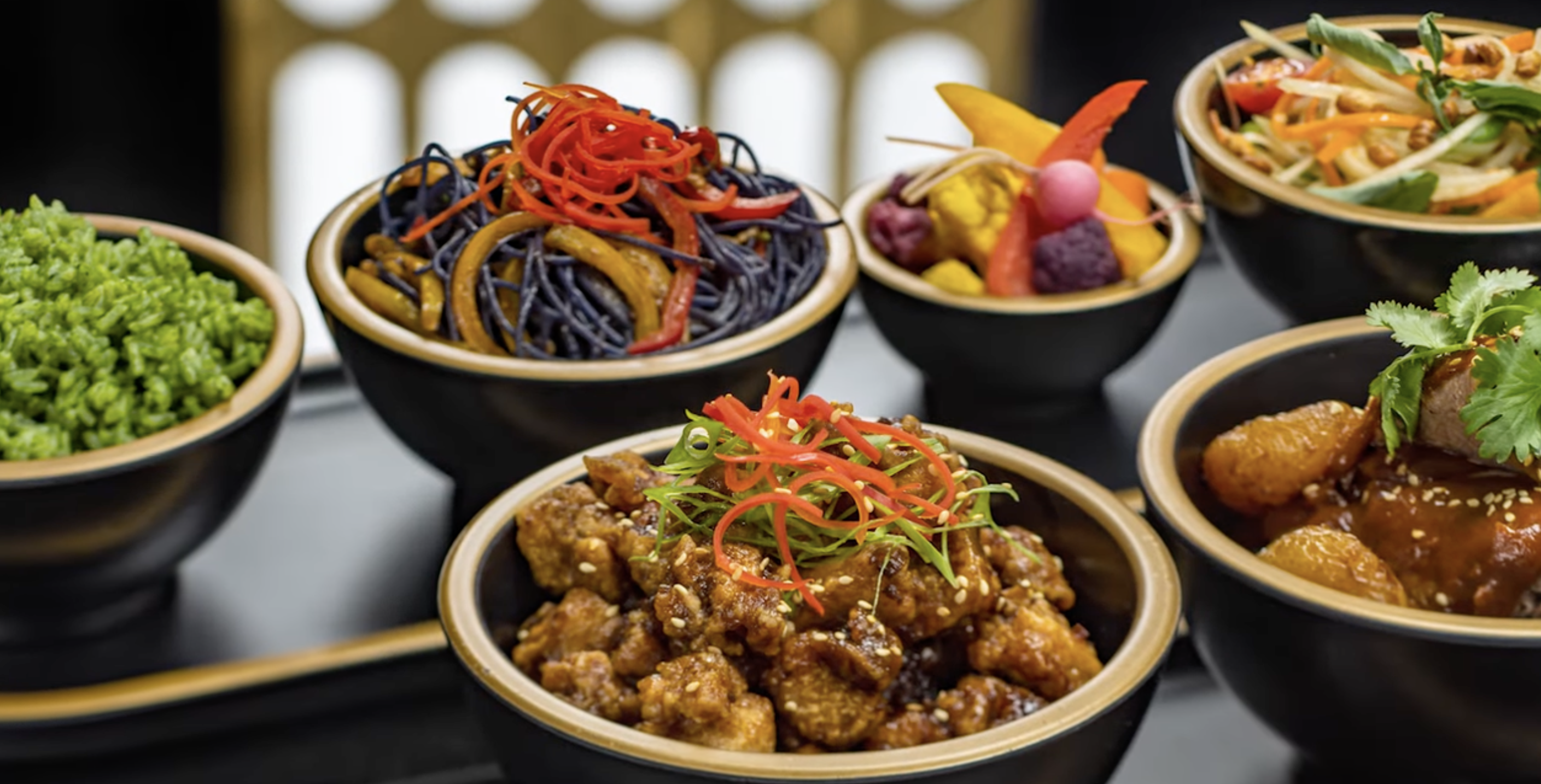 We get the desire to keep things secretive, but is there more behind the lack of detail here? Are things still being finalized? Why do we still not know exactly what we'll be able to grab for breakfast, lunch, and dinner here?
We also haven't gotten a full look at the rooms (or "cabins") aboard the Starcruiser. We've seen concept art of them, and photos of them in progress as shared by Imagineers and other Disney staff. We've also seen a glimpse of them in some promotional materials and heard details from those who previewed the space, but other than that we've got nothing.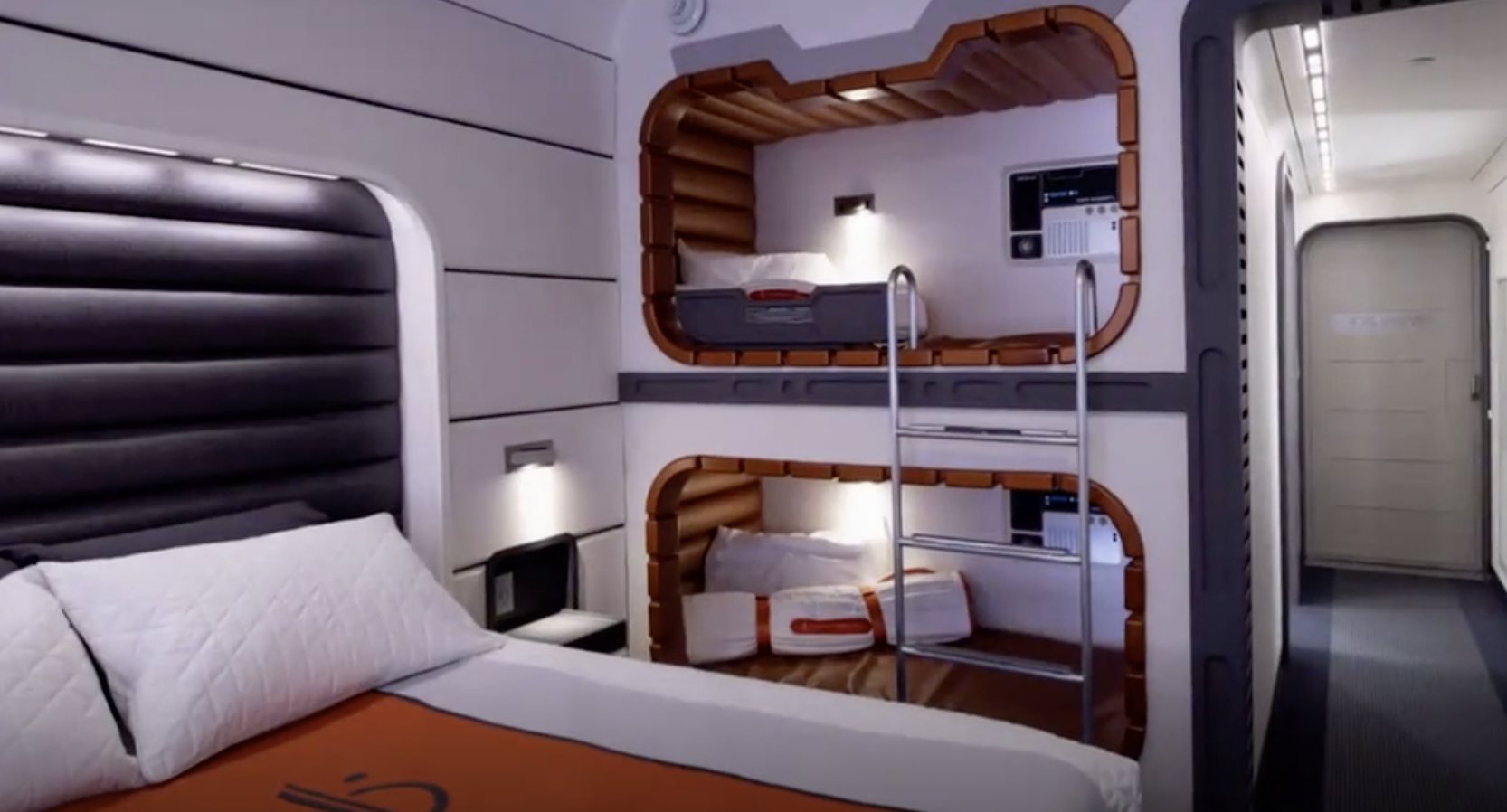 Also, the photos we have seen have focused on the main spaces in the rooms (the beds and the "window" to space). But what about the closets? The bathrooms? 
Even the Galactic Starcruiser website doesn't have finalized REAL-LIFE photos of what these rooms look like. It's all just concept art.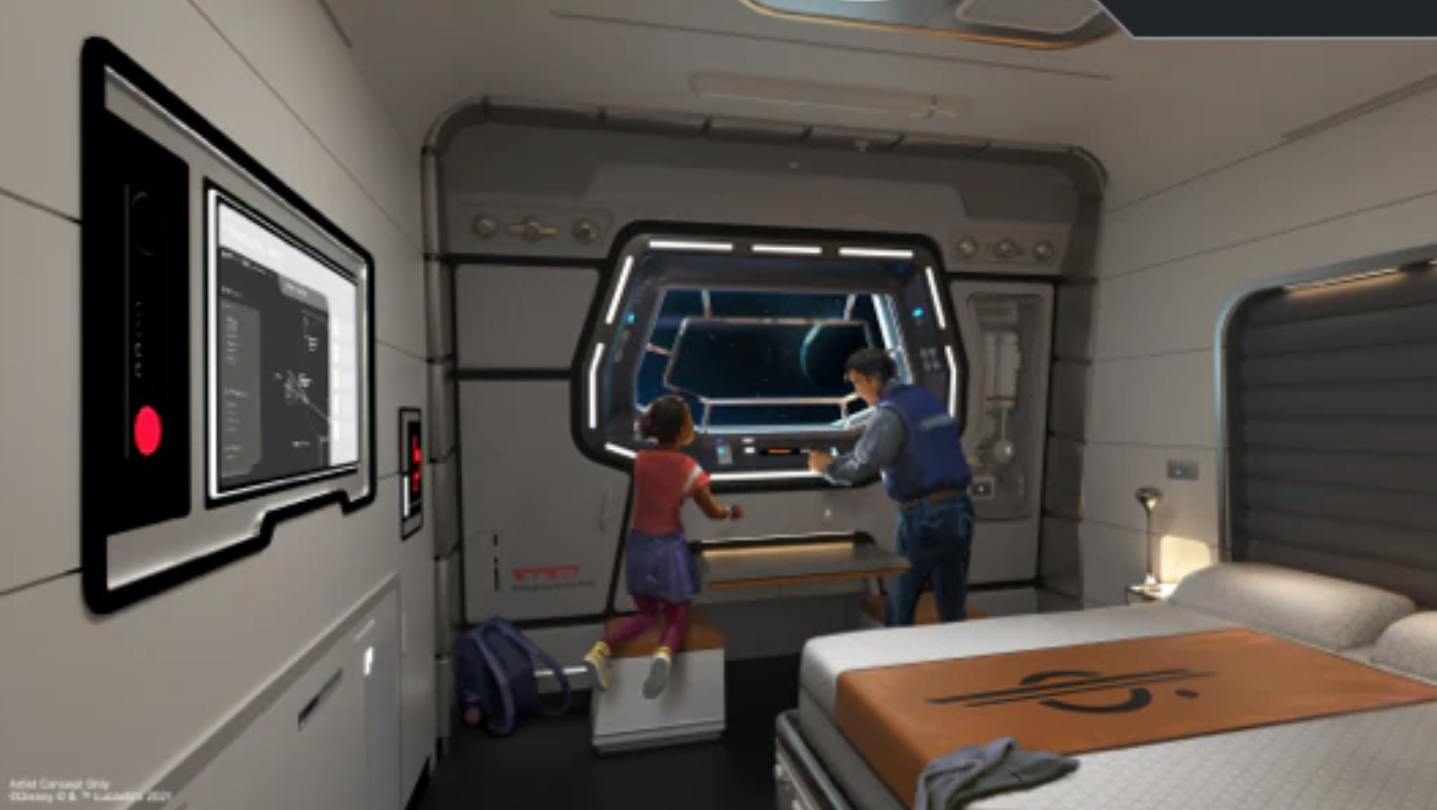 This leaves us with more questions. Why all the mystery? Are the rooms not finalized? We're just a few months out from the opening so if the rooms are very much not yet done, that could be a concern. The Starcruiser was also set to run test voyages prior to the official launch of the experience, so shouldn't the rooms be finalized by now? Are they still tweaking the rooms? Why can't guests see REAL photos of what they'll be paying literally THOUSANDS of dollars for (more on those thousands of dollars in a second)?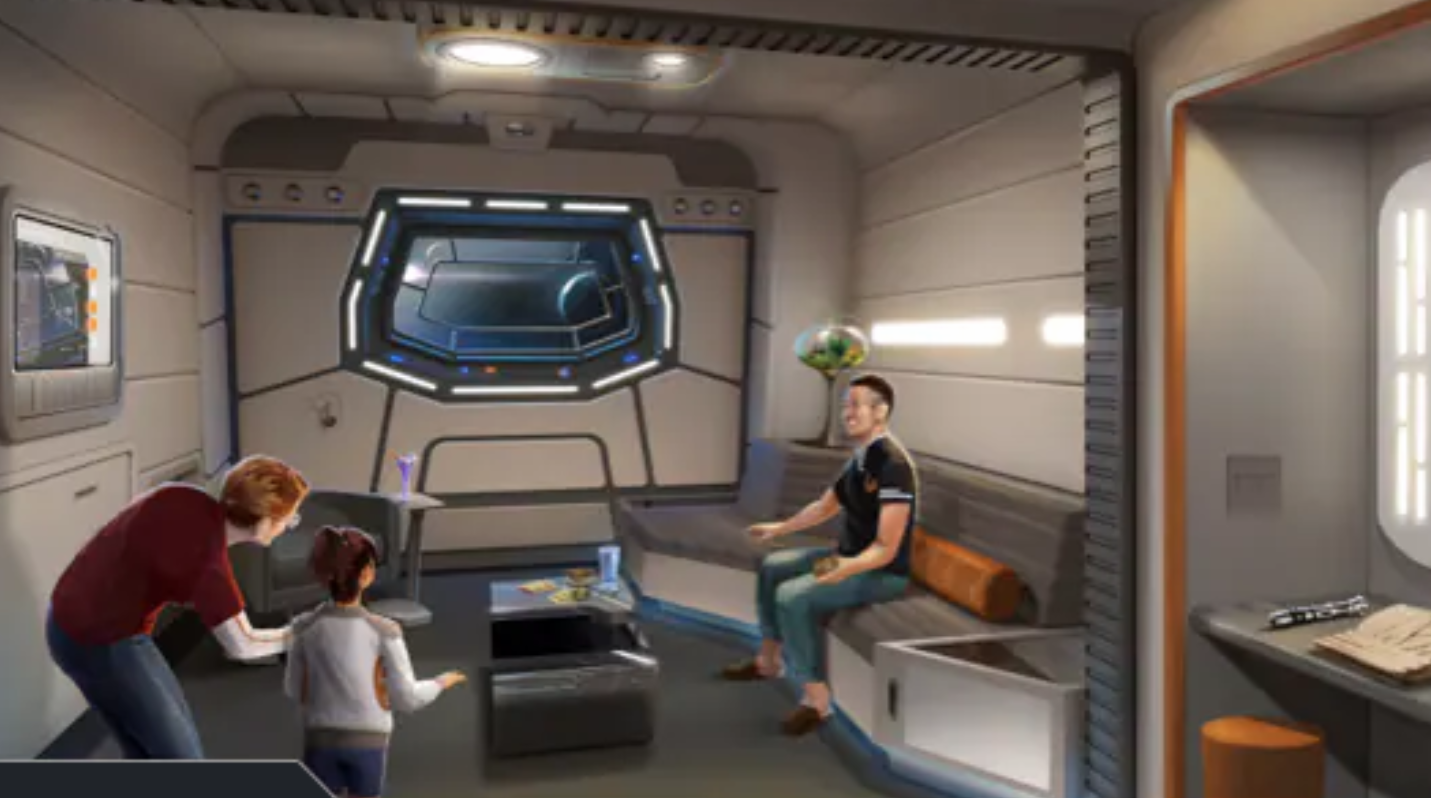 We also haven't gotten photos of what most areas in the ship actually look like. It's all just concept art (for the most part), except for some glimpses we've seen in promotional videos. Where are the photos and videos of the actual dining spaces, the hallways, the lightsaber room, the other meeting rooms, etc.?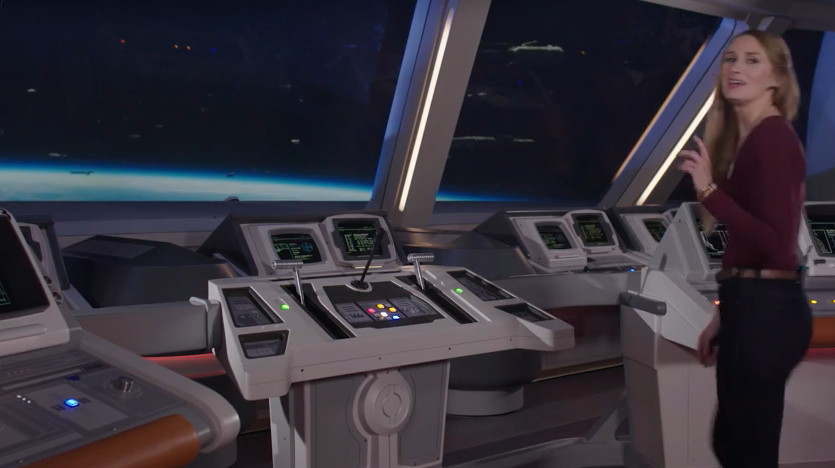 We have the sample itineraries but even those are sort-of fuzzy on the details. It feels like we've got a lot of fuzzy, general details and then some more specific experience-based details and reactions from those who got to preview the Hotel.
Other than that, there's not a lot of concrete things guests can see on the site or otherwise.
This could be factoring in to a lot of guests' decisions to potentially wait to visit the Starcruiser until later. Most people want to SEE what they're getting before they go to a place. It's why we look up photos of hotel rooms before booking the room; or look up photos of a product online before just ordering it without knowing what it looks like.
The concept art is beautiful (of course), but concept art doesn't always match up with reality. Some people might want to see the REAL thing. They don't want to pay a hefty price only to find out that things don't look like they were supposed to.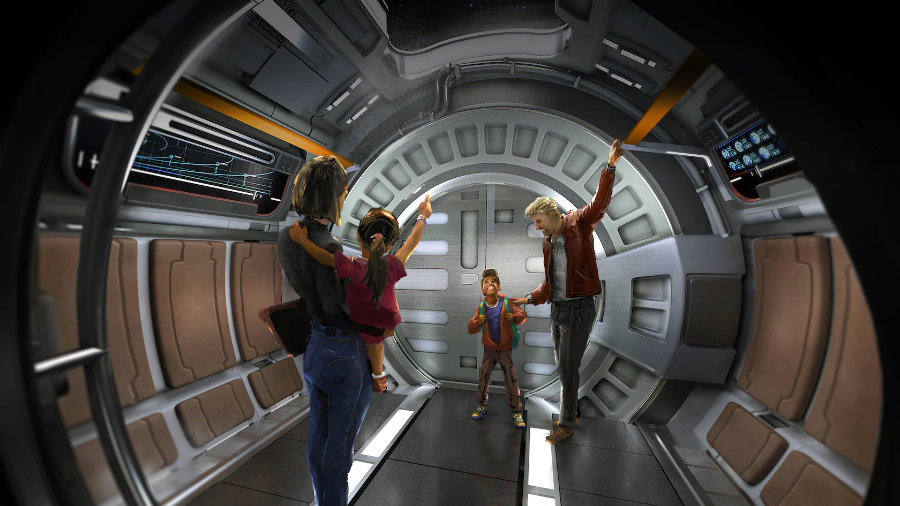 When this much money is on the line (we're talking THOUSANDS for a 2-night trip just for 2 people), some people might want to be able to see, concretely, what it is they're getting and whether it's worth it.
It's possible that when more concrete videos, photos, and details are released, guests will feel more comfortable paying the big costs to stay here and reservations will fill up.
The Missing Video
Another thing that could be impacting the situation is some of the "bad press" Disney has received in light of a promotional video they released about the Star Wars hotel. Back in late November, Disney shared a sneak peek of the Star Wars hotel and released a video showing Gaia (an entertainer from another planet that will be on the ship), and certain areas of the ship like the bridge, a lounge, and some hallways.
But the video has since been removed. We've got screenshots of it, but if you visit our original post that had the video embedded, you can see that it indicates that the video is "unavailable." According to reports online, the video received quite a bit of backlash. CNET shares that some fans expressed the video was "cheap and tacky" and likely made the experience look like it was the same.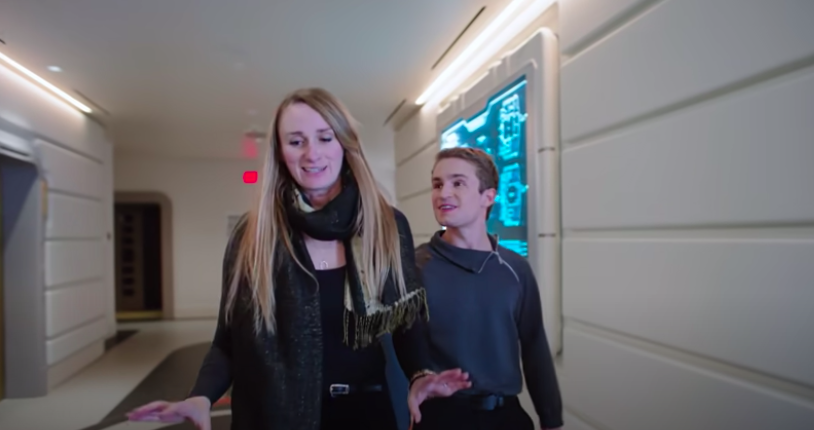 SFGate also notes "glimpses of the finished product have been underwhelming. The look and feel of the hotel has been criticized as looking plastic and cheap, and reception to one sneak peek video was so bad, it has since disappeared from Disney's YouTube channel." Of course, the cause of the video's removal is just speculated to be related to the backlash — that's not confirmed. But still, the fact that Disney put up this video and later removed it following the backlash, doesn't exactly seem to be a good thing, right?
The Welcome Message
Things didn't get too much better when Disney released its welcome message to upcoming guests. This video featured Endario Zinn, a Chandrila Star Line Representative, who discussed some of the activities and things guests could do aboard the Halcyon. Check it out below.
A welcome message from Endario Zinn (a Chandrila Star Line Representative!) has been sent out to guests with upcoming stays at the Star Wars Hotel! 💫🚀🤩 pic.twitter.com/5tClhI74cE

— AllEars.Net (@AllEarsNet) December 9, 2021
Responses to this video also weren't the best
.
SFGate
notes that some noted that it felt "low-budget". In reviewing responses to our posting of the video, we saw fans indicating that it didn't "feel like Star Wars," or that it looked like a video you'd see for a "free" ride — not something made in preparation for an experience worth thousands. Again, this might not be reflective of all fans, but the negative comments do seem to be quite evident online.
Price
Perhaps the biggest qualm fans have had with the entire Star Wars Hotel experience is the PRICE. Truly, the pricing has been a big point of contention. Put simply, a stay at the Star Wars hotel ain't cheap.
Sample standard cabin rates start at $1,209 per guest per night for a cabin with 2 guests (that's about $4,809 as a starting price). For a standard cabin with 3 guests (2 adults, 1 child) you're looking at a starting total of $5,299. And for 4 guests (3 adults, 1 child) the starting total price is $5,999. That's…a lot. Like, a lot. Like really, a whole lot. Like potentially multiple-months-of-rent a lot. Okay, you get the point.
We've taken a look at what this price breaks down to by the hour, and we've shared our thoughts on whether the hotel is worth the price tag.
You have to keep in mind that the price of the hotel does include many meals, the room itself (of course), a ticket to Disney's Hollywood Studios for the "excursion" part of the experience, and some other things. But will you really want to LEAVE this spot and go to a park you can go to at any time when you've spent thousands to get in the Hotel? And still, does all of that make it worth the cost to you?
A few other key things here: the numbers above are just SAMPLE pricing, it's all for a standard cabin, and it's a "starting" price. Disney notes that actual pricing will vary depending on departure date, number of guests, and cabin type. In other words, your experience could be WAY more than that.
This is another instance where the lack of detail might be frustrating to some. Why can't guests see exactly what their room will cost for all room types on all dates like they would for a normal hotel? Why can't you see all of that information online? For whatever reason, Disney has kept this pricing mysterious too. Right now, all you can do is look at this sample pricing, look at the available dates, and then you have to CALL to book and get more information.
No matter how you slice it or dice it, it's expensive. For some, that cost might be 100% worth it — it's unique, it's new, it's immersive, it's essentially a cruise-type experience, and that's enough to justify the cost. For others, the cost might not be worth it or it might be entirely prohibitive.
Other Concerns
From a general standpoint, the hotel has gotten some backlash from certain fans. And some fans might be concerned. Is it worth the price? Will the experience feel cheap?
Disney also didn't really address the Star Wars hotel during the Christmas Day Parade this past year, which is typically their chance to really sell big, new projects to fans.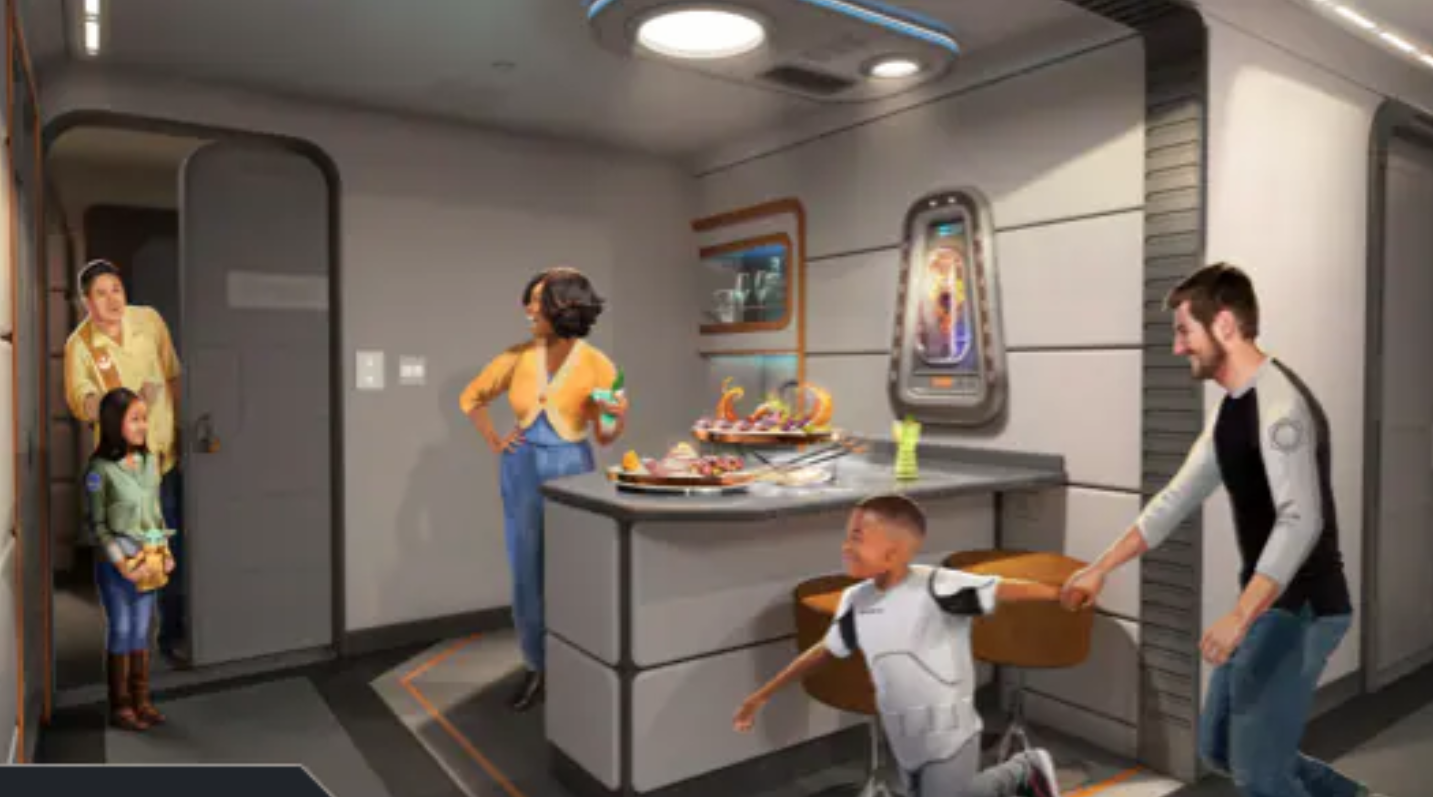 There are a lot of unknowns and that might be causing the hotel to be in a lot of trouble right now. Many people want to buy a product with 1,000 5-star reviews, not one that isn't tried and tested yet and is also 4x as much in terms of cost when compared to the standard product they're used to.
But It Might NOT Be in Trouble
Alright, so we've gone over all of the reasons why this experience might be in trouble, but sometimes (especially when it comes to the internet) all of those negative comments can drown out the good ones. Not all hope is lost when it comes to the Star Wars hotel.
Some fans appear to be excited about the experience. Though there is still quite a bit of availability for most months, March has already sold out. The fans that have paid for those dates that have already sold out may be very excited and committed to the experience. And more dates may begin to sell out as we get closer to the experience's launch.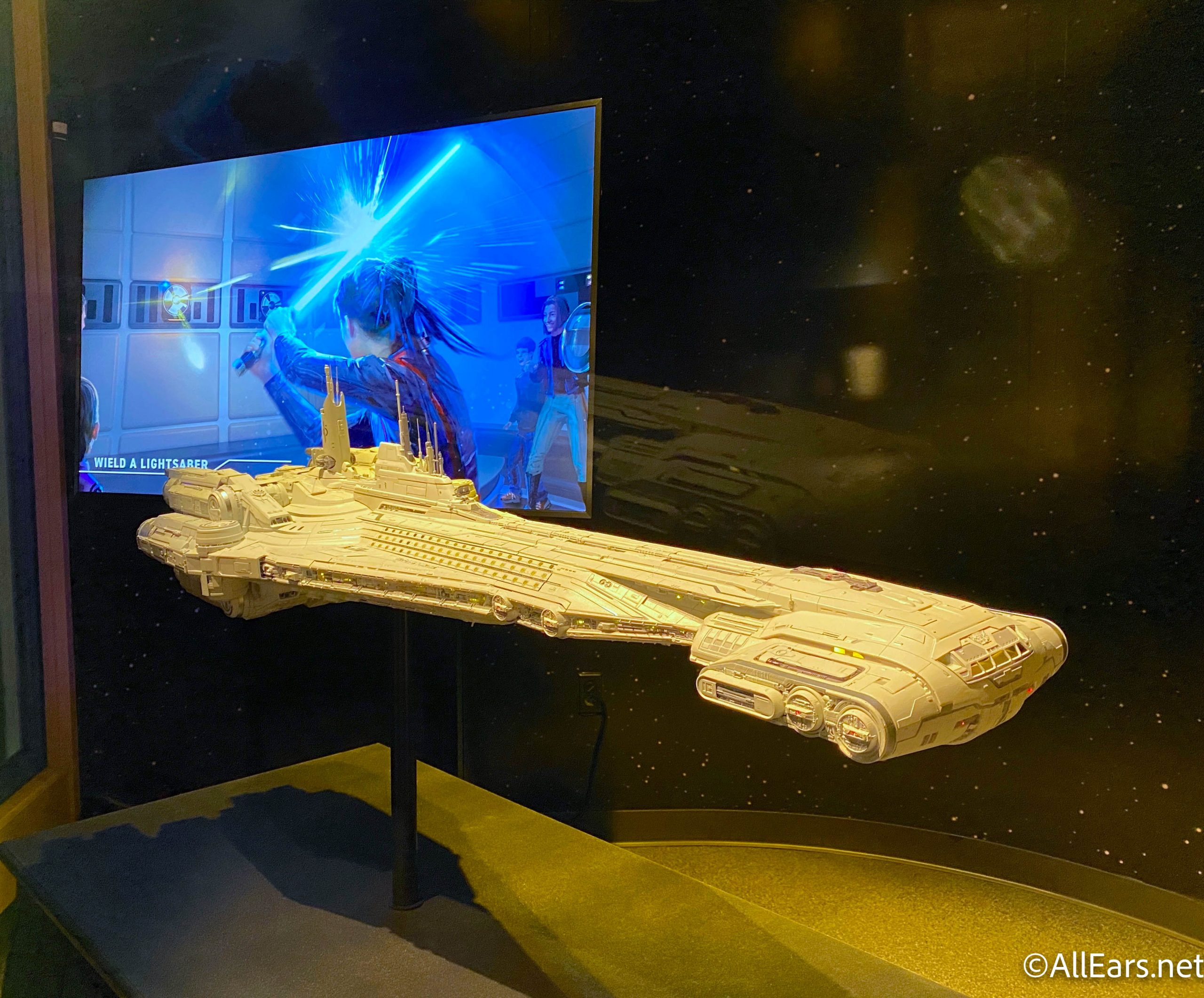 There's a "real" lightsaber that will ONLY be available for guests of the Starcruiser to see, and that has some guests intrigued. We've seen photos and videos of this lightsaber and it does look pretty impressive! What will it look like in person? Well only time will tell on that one, but if you're curious, that might get you to book a stay.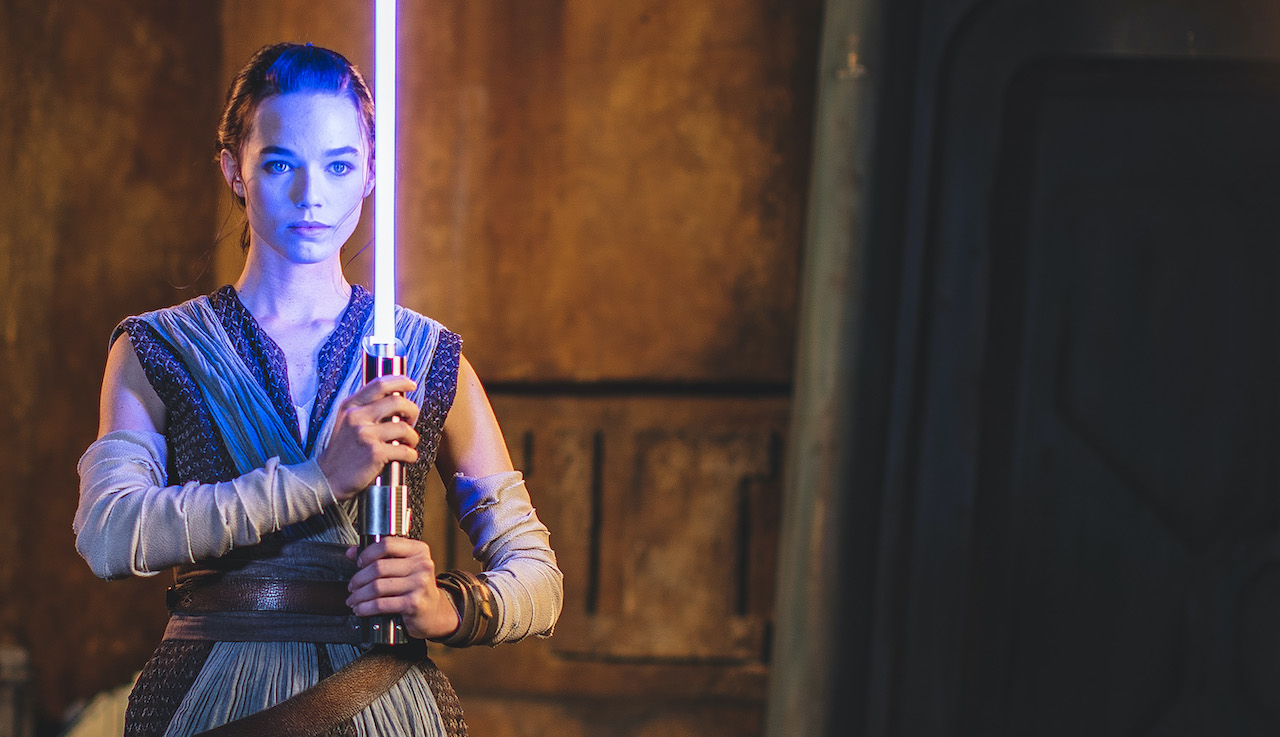 And while we still have fuzzy details on some things, there are some individuals who got to preview the experience and many had VERY good things to say. Some expressed a lot of excitement about the immersive-ness of it — how every sound and feature really put you "IN" the story.
Others raved about how it felt to really make decisions that mattered and impacted future parts of the stay. Both IGN and StarWars.com described a situation involving a certain famous character — Chewbacca! During the encounter, guests needed to work together to distract the First Order to get Chewbacca safely out of the space and it sounded like quite the experience to be involved in — one where it feels like you're really making decisions that count.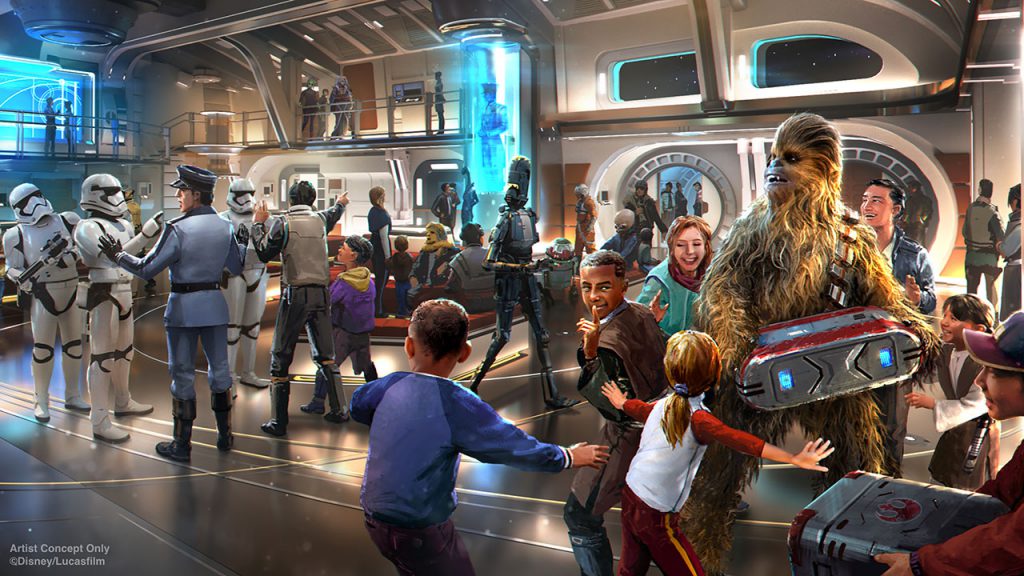 Some shared that the bunk beds aren't as tiny as they appear (great news really) and some talked about how tasty the food was.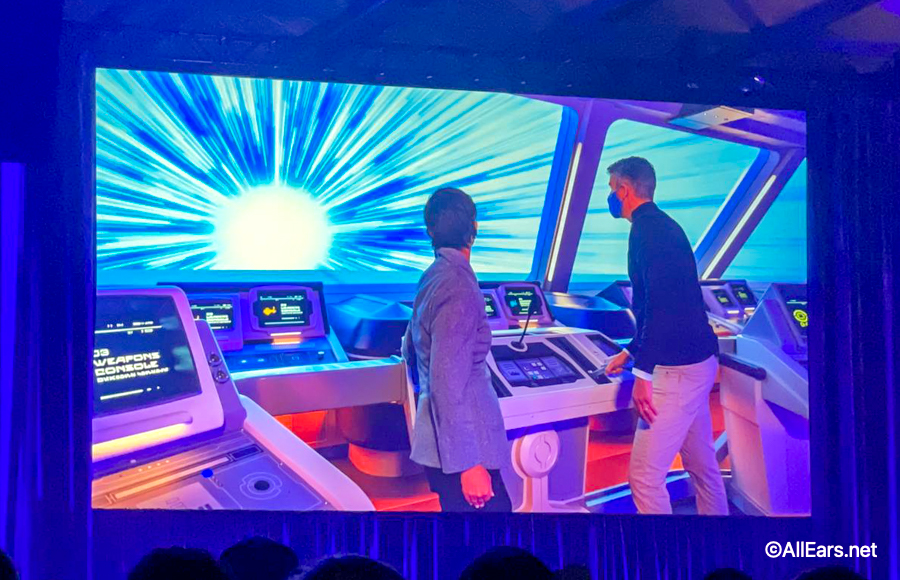 We've gotten a look at the merchandise, heard about a secret spot where you can go outside, and more.
Truthfully, when those first reviews from the previews came out it likely reinvigorated people's hope for this project. Hearing real people talk about real experiences there that were positive is so critical. Perhaps the hotel needs more of that to really showcase why fans should take the leap, spend the money, and give this experience a try. Perhaps when guests start to share photos or stories from their stays, then guests will get excited.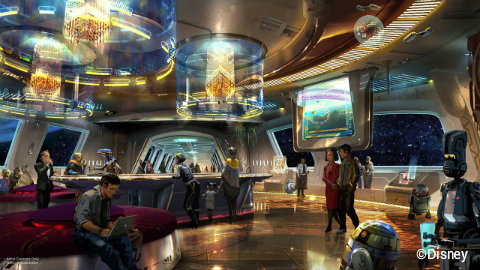 But, the Star Wars hotel will have a number of hurdles to overcome until then. We're keeping an eye out for Star Wars Hotel news and we'll be sure to let you know what we find.
What do you think? Do you feel the Star Wars Hotel is in trouble? Tell us in the comments.