From Walt Disney World to Universal Studios, Orlando, Florida, certainly has much to offer — if you can get around to it all. Cars remain an overall quick and easy way to travel in and around Orlando, but what if you don't want to go through the trouble of renting and driving one yourself?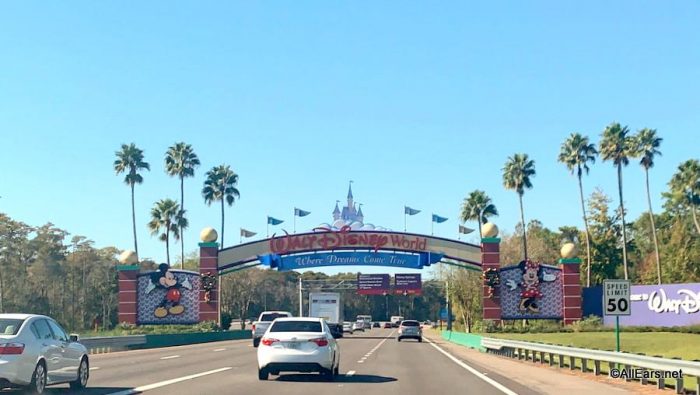 In that case, the best way to get to all the fun places in Orlando is with ride share programs. If you haven't used ride share options much before, don't worry; using ride share transportation is typically easy and convenient, with advantages you won't find in just renting a car.
What is a Rideshare Service?
When you order a rideshare service — the most-well-known being Uber and Lyft — through a smartphone app, a professional driver will pick you up at a specific point of your choice and then take you by car to your destination. Compared to a taxi, ride shares are generally cheaper, can let you choose to share with other passengers (therefore lowering your price further), and let you handle all the details ahead of time, from choosing your destination(s) to paying.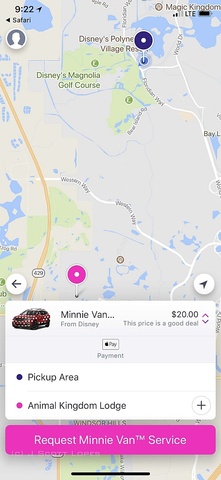 To use a rideshare service, you will need to download and access an app for the specific rideshare company, such as Uber, Lyft, or the Minnie Van (operated through Lyft). Once the app is open, request a ride. The app will let you know when the closest driver accepts the request and will provide their GPS location as they travel to you, along with their estimated arrival time. Once the driver arrives, you can board and give your desired destination, but you can also preload your destination before the ride shows up using the app. Don't forget to rate your driver when you're done; your rider can also rate you.
Uber
There are three main ride share options in Orlando: Uber, Lyft, and the Minnie Vans (Disney's Lyft-enabled ride share). While the services share many similar features with each other – sometimes Lyft and Uber drivers will work for multiple rideshares – the companies also have some key differences.
Uber has a number of extra amenities to make the ride more convenient for everyone. For instance, you can choose to split your bill with another rider on the app. With the Express Pool option, you can, in exchange for walking from your current location to a more convenient pick-up point, be dropped off closer to your destination that you normally would be. Also, if you select the conversations section of the app, you can adjust your preferences, such as requesting no talking or engaging in energetic banter with your driver.
In addition, Uber generally has a wider range of different service options than other providers. For example, UberBlack SUV lets you ride in a premium SUV capable of carrying up to six passengers. Likewise, Uber Lux offers the finest in luxury travel with Rolls Royce models and other high-class vehicles. Plus, while things will vary depending on your specific driver, Uber strives for a more professional image, so you can expect high-quality service from your rides. Plus, Uber offers a comprehensive rewards program with Uber Cash, which lets you apply discounts when you purchase credits.
Lyft
While Lyft lacks some of the special service options that Uber offers, it is still a reliable and professional ride share company in itself, and it has its own advantages. Lyft is a little cheaper than Uber overall, and Lyft also lacks extra fees for especially long drives. Its app also has some special features. For instance, it can help you find more convenient pickup areas (avoiding problems like construction zones) and let you know how much time you'll save at the new pickup point.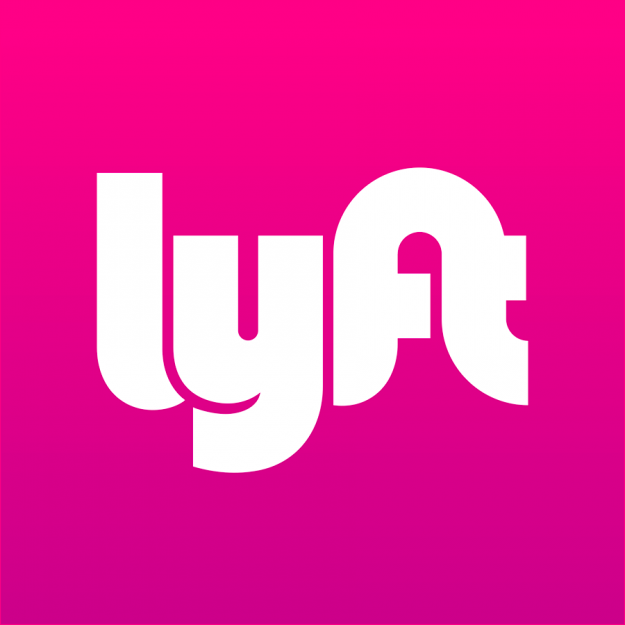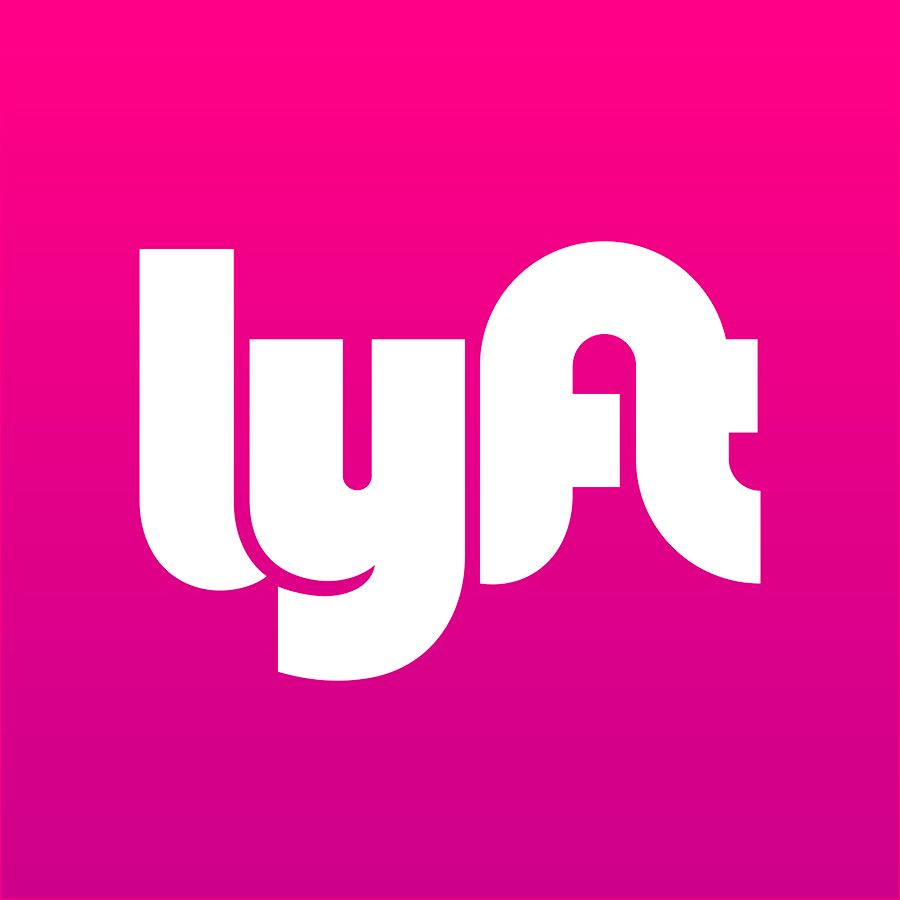 But perhaps Lyft's most appealing attribute is how the service is more transparent about pricing with riders. When you get a receipt for your ride, it will provide specific information about the trip's length in both time and distance. This helps you better understand how you are being charged rather than just being given the final fee. So if you want to know exactly what you're paying for, Lyft might be the best option for you.
Minnie Van
Technically an offshoot of Lyft, Disney's Minnie Van service provides rideshare travel throughout the Walt Disney World Resort area, as well as service between Disney World and Orlando International Airport (MCO). But unlike standard Lyft and Uber services, a six-person Minnie Van takes you much closer to the different destinations at the park. If you go to the Magic Kingdom, for example, you'll exit at the bus stop right by the main gate rather than at the Transportation & Ticket Center like with Uber and Lyft. Even for guests staying at the parks, the Minnie Van can sometimes be more convenient than a bus, as you won't need to transfer between buses and such.
Plus, the Minnie Vans are driven by Disney employees, letting you feel more connected to Disney rather than relying on a third party. As with its many other services, Disney World makes sure that you always receive high-quality service whenever you use a Minnie Van. This helps the Minnie Van stand out from other ride share options, even the normal version of Lyft. Also, you can request handicap-accessible Minnie Vans if needed, though this may increase the wait time for your ride.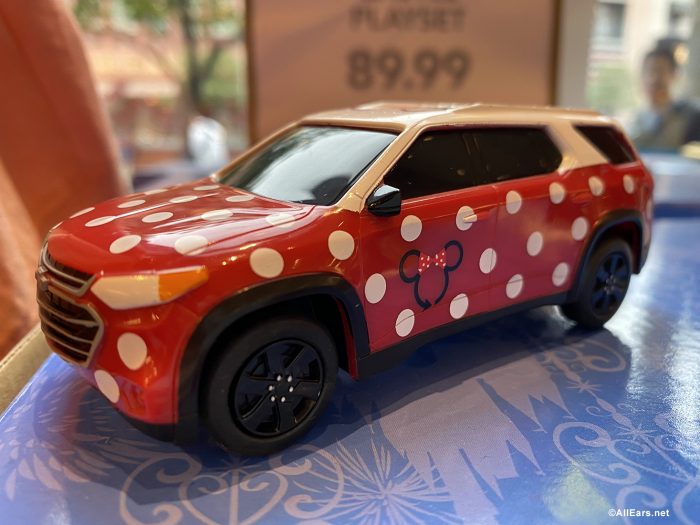 To use the Minnie Van service, you'll need to access the Lyft app, which should list the Minnie Van as an option when you're on property. You can also activate the service using the My Disney Experience app while on park property. Once you've selected the Minnie Van option, verify where you want to be picked up. Then you can watch a map showing the vehicle on its way to the pickup.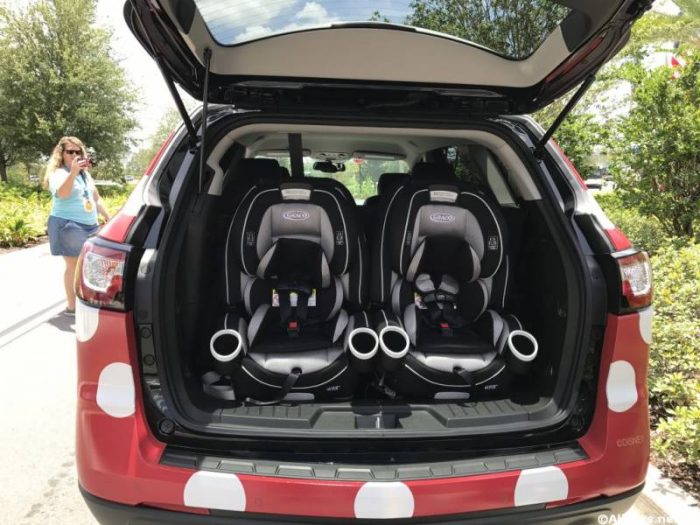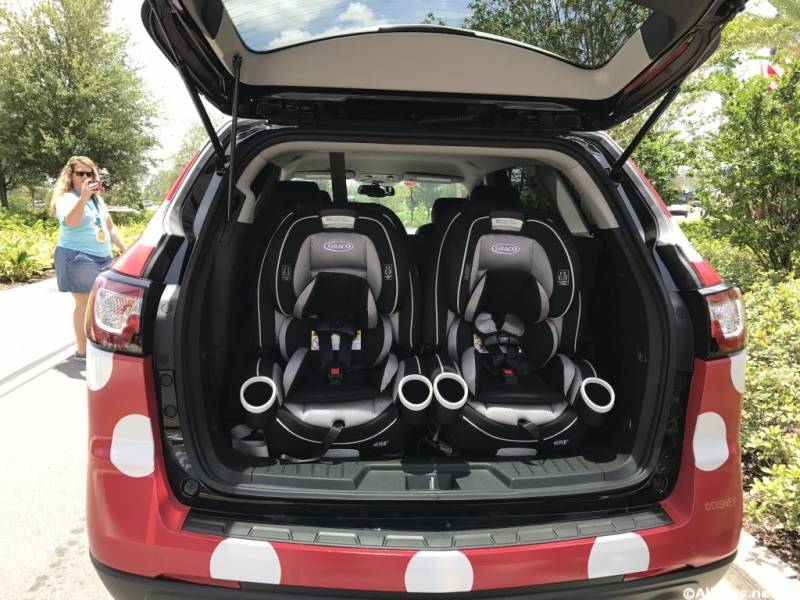 As for one-way and roundtrip service between the airport and Disney World, you currently cannot use the app. You'll need to instead call (407) WDW-PLAY or (407) 939-7529. In addition, you will need to provide your flight information to make the order. Airport shuttle rides can be booked up to six months ahead of time. You can also do advance check-in for your luggage before leaving your Disney World resort with Resort Airport Services/Check-In. However, you cannot have your suitcases sent separately on the Magical Express service, so if you use Minnie Vans to go to MCO, you'll need to bring your luggage with you and drop it off at the airline desk.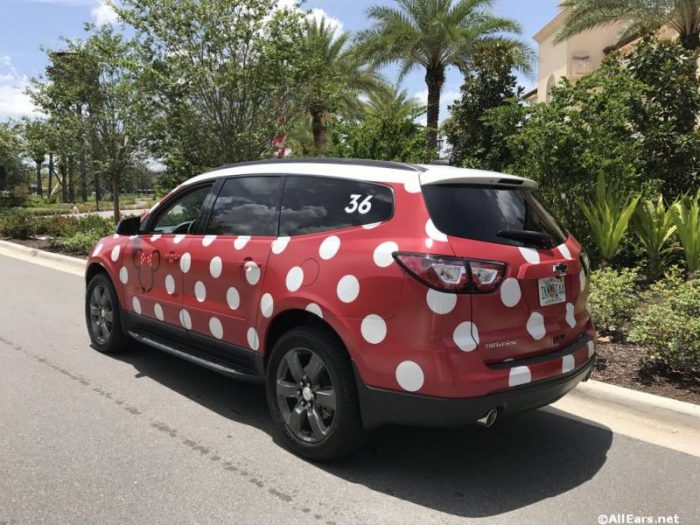 Also, for Disney cruises departing from Port Canaveral, Disney provides Minnie vans to and from there as well. Again, instead of using the app, you will need to call a special number at 1-800-395-9374 for Disney Cruise Line Embarkation Services.
Minnie Vans also provide some added bonuses, like access to up to two car seats (you'll typically pay extra for these with Uber and Lyft), several types of electronic charging cables to charge during the ride, and (in our experience) entertaining Disney stories and factoids shared by the cast member drivers.
Of course, one drawback of the Minnie Van is that it will only carry you from place to place on Disney property, so you won't be able to summon a Minnie Van for your trip to Universal or SeaWorld.
Prices
The average costs for ride share services can vary a lot depending on the time of year and other circumstances, but it's still possible to gauge the overall differences price-wise between competitors. In general, Uber and Lyft cost about the same, with a ride between Orlando International Airport and Disney World usually costing around $30 to $40. While the Minnie Van's prices vary, a one-way trip to or from the airport costs current $155, not including tips.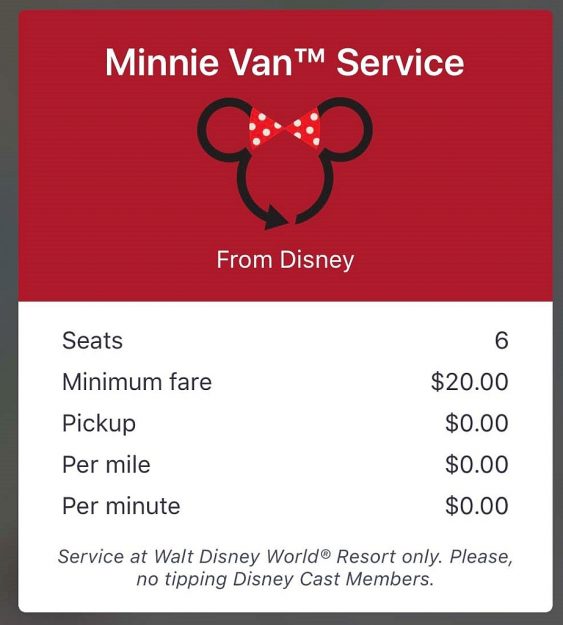 However, you should keep in mind that ride share prices change with the time of day and frequency of traffic. During busy parts of the day such as around lunch or dinner, when many people are on the move, you can expect ride share costs to go up. Similarly, during the summer and other times when many tourists are in Orlando, the prices could inflate. Also note that Disney used to operate using a flat-fee, but now costs vary depending on the distance of your trip.
Convenience vs. Cost
Deciding whether or not to use a ride share often comes down to how you wish to balance your budget with your desire for convenience. While ride shares can be expensive, especially if used frequently, they do offer some advantages you won't find if you drive yourself. If you drive yourself around, you'll have to handle all the hassles of both renting the car and driving it, navigating around a property with which you are unfamiliar. Also: driving and all that comes with it makes some guests feel a little too "real" — and a ride share might help preserve the Disney bubble for those guests. You'll also pay to park at Resorts and/or at the Parks if you drive yourself, putting even more strain on your budget.
Other Tips
If you take a ride share vehicle, see if you can start a conversation with the driver. Many of the drivers for various ride share programs are familiar with Orlando and its many attractions – some may have even worked at Disney World. In the case of Minnie Vans, your driver is a current Disney cast member! You might get some useful information about the parks, and at the very least it will make the ride more interesting and memorable.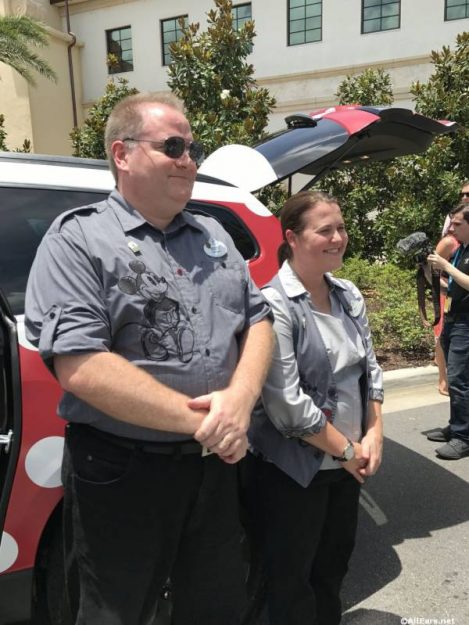 Also, you should stay alert for any updates or changes to ride share services in the Orlando area. For instance, in 2019, the City of Orlando launched a successful downtown program that created a dedicated pickup area for ride shares. While the ride share hub operations are suspended currently, it's certainly possible that something similar might happen in the future. And you never know if a ride share might add in new features or options. So staying informed on the ride share programs will help you make better decisions when choosing your service.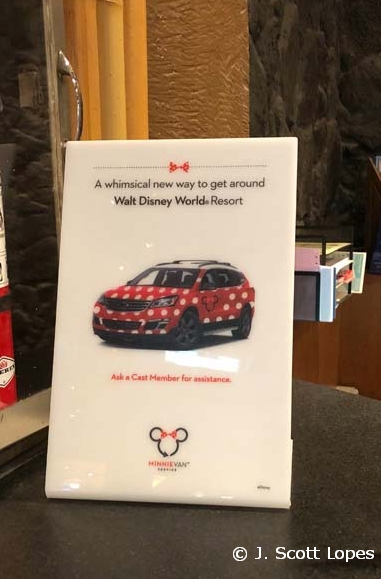 While car rentals remain a reliable and affordable option for travel in the Orlando area, ride share programs offer convenience and quality service for those using them. It's easy to get started with a ride share and start your Florida adventure.
Note: When Walt Disney World reopens in July, Minnie Van service will be temporarily suspended. Keep up to date with changes to the Minnie Van service by signing up for your newsletter below.
What's your favorite way to get around Orlando and the Disney World parks? We're curious to know, so please comment.
Join the AllEars.net Newsletter to stay on top of ALL the breaking Disney News! You'll also get access to AllEars tips, reviews, trivia, and MORE! Click here to Subscribe!