If you've ever enjoyed a day in Animal Kingdom, you might want to thank Joe Rohde.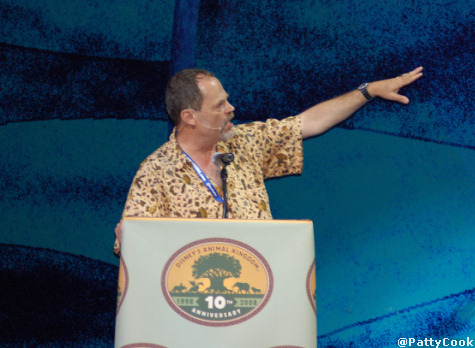 Joe Rohde is the Imagineer who served as the guiding force behind the theming and concept for Animal Kingdom. If you ask us, he created a work of art that draws from rich respect for culture. And now we're taking a tour of the park through Rohde's own pictures and stories!
Check out these
11 Animal Kingdom stories, straight from Joe Rohde

!
1. A Strange Tree
The Tree of Life is the symbol of Animal Kingdom — and that's with good reason. Imagineers wanted a symbol for the park that showed that nature in the park was exceptional or "in some way magical." So, they opted for a one-of-a-kind tree to signify this.
2. A Sense of Adventure
Rohde explains that the goal of Animal Kingdom was to show it was not like other parks. Note: show not tell. The Oasis is the epitome of this concept. It's mostly forest and features two paths, helping to create a sense of adventure (where's that other path go?) and to allow guests to become part of the park by truly entering it.
3. Nature as Supreme and Untradeable
Let's talk about the story behind Animal Kingdom's Africa. Animal Kingdom has a focus on nature and the ways we can protect it. Each land has a sub-focus under this umbrella. Africa's story is all geared toward presenting nature as supreme and untradeable — concentrated on the intrinsic value of nature rather than the value of nature commandeered by humans.
4. Honey Badgers
Speaking of Africa, did you know that Imagineers took multiple trips to Africa to help theme the park? On one trip to Southern Tanzania, they saw their first honey badger. So, yes, Imagineers were into honey badgers before they were a meme.
5. A Working Environment
One of Animal Kingdom's most popular attractions is Kilimanjaro Safaris — a 20-30 minute ride to see tons of different African animal species. Rohde talks about how this experience is much more active than most real African safaris and calls the animal habitats "a working environment."
6. Species Survival Programs
Did you know that Animal Kingdom participates in several international networks that are committed to maintaining healthy and viable populations? Asia's tigers, for instance, are part of one such Species Survival Program to help curb their decline in the wild.
7. Ducks are Dinosaurs
Let's move on to perhaps the most unique area of Animal Kingdom — Dinoland U.S.A.! This part of the park is supposed to be themed like a roadside Florida attraction, and it certainly has the feel. You might have noticed that Donald Duck hangs out with a few pals. Well, birds are dinosaurs, and ducks are birds; so, you do the math.
8. The Power of Art
The Dinosaur attraction is loved by many and feared by more, partially because of the horrifying Carnotaurus animatronic. Interestingly enough, this animatronic actually influenced the popular culture renderings of what a Carnotaurus looks like in toys and media. Crazy!
9. Moss and Mushroom Covered Machinery
Animal Kingdom's newest land is Pandora — The World of Avatar. Imagineers wanted to evoke that the war of the film had long passed. Rohde took inspiration from the overgrown WWII machinery that he saw growing up in Hawaii to create the passage of time.
10. Oddly Alive
Folks love the shaman animatronic on Na'vi River Journey for how shockingly lifelike she is, but did you know that she also thinks? Imagineers wrote a completely separate script for the animatronic's inner monologue to help make her facial expression more real!
11. We Do Not Live Apart from the World of Nature. We Live In It. 
To sum up our story tour of Animal Kingdom, we're talking about the message behind Rafiki's Planet Watch and by extension all of Animal Kingdom. We do not live apart from the world of nature. We live in it.
What is your favorite of Joe Rohde's stories? Tell us in the comments!
Join the AllEars.net Newsletter to stay on top of ALL the breaking Disney News! You'll also get access to AllEars tips, reviews, trivia, and MORE! Click here to Subscribe!