Walt Disney World has tons of fun adventures for everyone, from low-key boat rides like "it's a small world" to thrilling adventures like Expedition Everest. Even so, we know roller coasters aren't for everyone. So what do you do if you like the excitement of thrill rides but don't like roller coasters?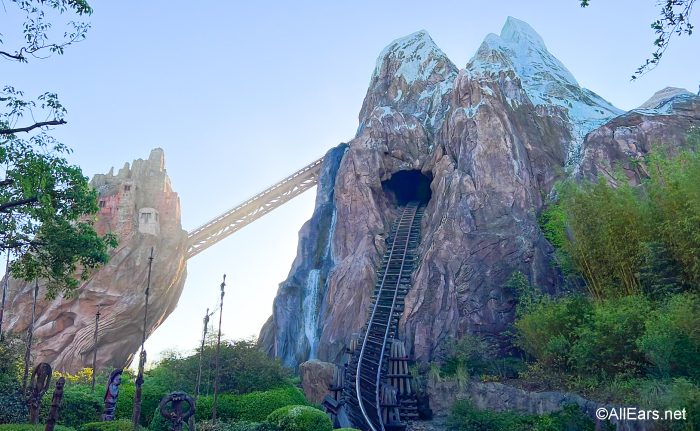 Walt Disney World has plenty of other attractions you'll enjoy — and here are
nine thrill rides to enjoy if you hate roller coasters

.
Avatar: Flight of Passage (Animal Kingdom)
Avatar: Flight of Passage takes the idea of a flight simulation to a whole new level with an immersive, surprising experience. When you're in the simulation chamber, there's nothing between you and the incredible world you're flying through. Part of Animal Kingdom's Pandora area based on the alien landscape from Avatar, Flight of Passage simulates riding on a "banshee" ikran as it flies over and through the lush forests, seas, and caves of Pandora.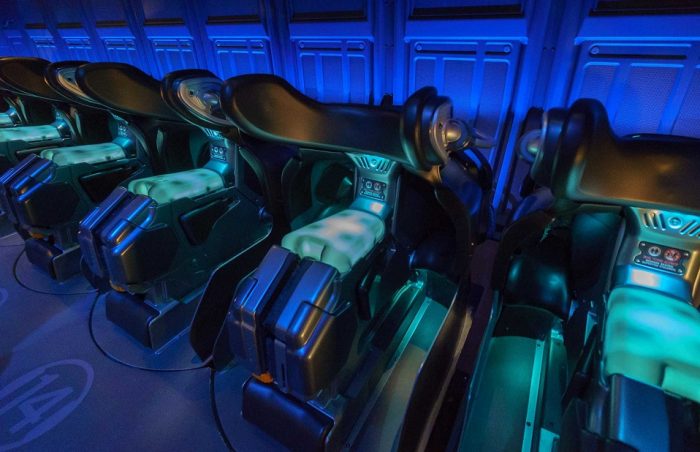 The flight simulator, which straps you to a special machine for the ride, does its best to make you feel as if you're soaring into the open wind on your banshee. For instance, you'll feel the wind rush against you during the flight, and you'll even get spray when you zoom around colossal tidal waves. Combine these realistic sensations with exciting adventures – including an intense chase scene – and you have the recipe for an awesome thrill ride.
Kali River Rapids (Animal Kingdom)
If you're willing to risk getting a little wet, you'll have a blast on the Kali River Rapids, located in the Asia section of Animal Kingdom. The ride lets you briefly experience the thrill of white river rafting down a turbulent river, and you never know where you might get an unexpected splash. There's even a bridge at the end where onlookers can shoot water at you.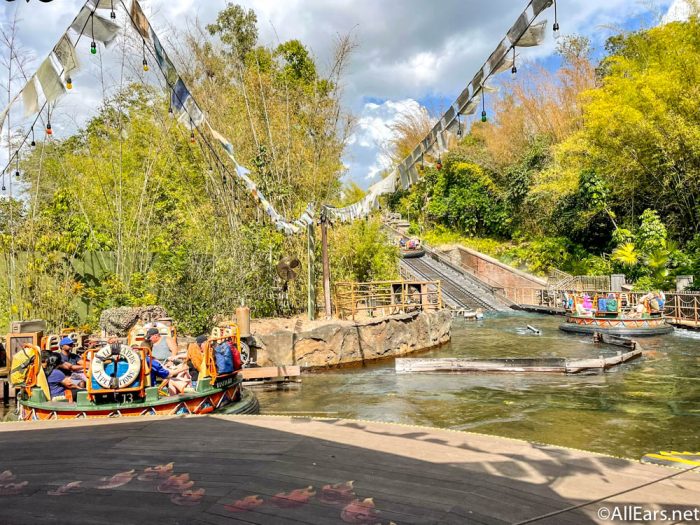 Kali River Rapids has one advantage compared to other rides involving water splashes like Pirates of the Caribbean: there is no sudden drop. If that sort of sudden rush is part of why you dislike roller coasters, you won't have to worry about that here. Plus, the ride is essentially "trackless", as you're basically riding in a giant inner tube that spins about randomly – this means that you'll have a sense of unpredictable excitement you won't get on a roller coaster.
Test Track (EPCOT)
If you ever wanted the excitement of going for a high-speeds spin with a car, you'll have a thrill at Test Track. As part of a "test" for a new model of car, you'll go through all sorts of jolting tests, from fast acceleration to sudden stops to speed bumps to screeching turns. It all culminates with a hair-raising ride on a track outside the building; the banked turns out there make you feel the thrill of a roller coaster without actually going on one.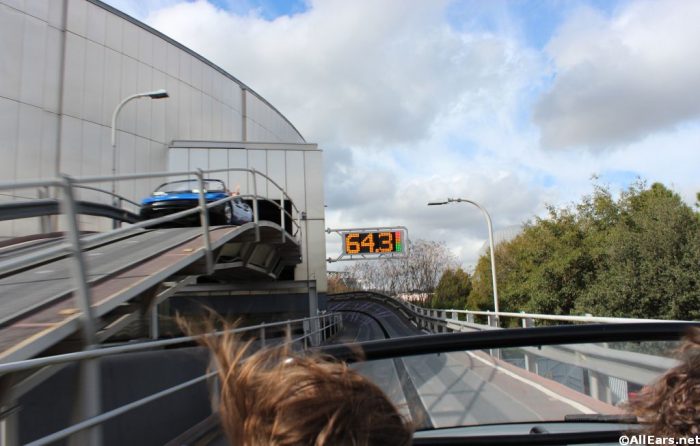 In addition, you can have fun virtually designing your car in a computer session before getting on the ride. Though your actual ride won't change, the specific parameters you give to your car will affect its results on a scoreboard you can view after the ride. It gives you an extra challenge to experiment with, and you'll see how design choices influence the types of cars that companies manufacture.
Mickey & Minnie's Runaway Railway (Hollywood Studios)
The Runaway Railway is a kooky celebration of various cartoons shorts featuring Mickey Mouse and his closest friends. The dark ride features a trackless experience that is sure to surprise you as you go through the various jolts and thrills of the adventure. With everything from being caught in a tornado to evading a volcano eruption to nearly getting smashed in a factory, you're in for a zany and exciting ride.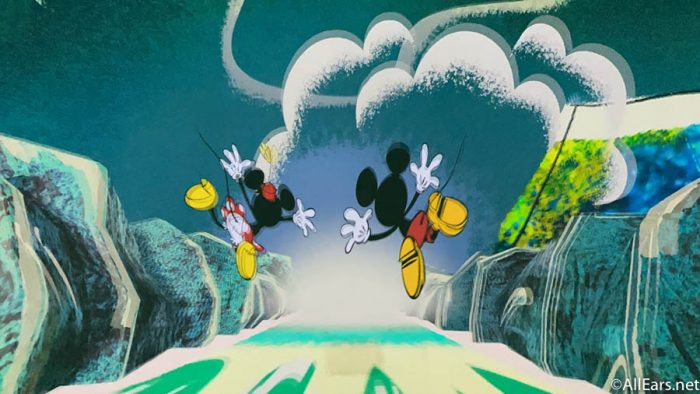 Not only is the ride full of sudden jolts and thrills, it has beautiful scenery, with stylized art that brings that animation feels of the different settings to life in a 2+-dimension experience. The special effects are also well-integrated and impactful. All-in-all, this ride is a wonderful highlight of Disney's gift at bringing magic and fun right to you.
Millennium Falcon: Smugglers Run (Hollywood Studios)
On Smugglers Run, you'll get an exciting, Star Wars-themed simulation flight that you'll not only experience but actively participate in. Your group has the important task of delivering cargo to the Resistance – and getting out alive. And depending on how you handle the challenges of the ride – like shooting down enemy fighters – you'll rack up points for a final score in the end. How high can you go?
The six people in each group are split between three different crew roles (two people per pilot, gunner, and engineer seats), each with its own responsibilities that affect the final score. Pilots steer the ship – either up and down for one pilot, or left and right for the other. The Gunners shoot TIE Fighters and other obstacles during the adventure. And Engineers make repairs to the ship by pressing appropriate buttons. Out of the three options, Pilot is tops, followed by Gunner, then Engineer.
Star Tours: The Adventure Continues (Hollywood Studios)
In Star Tours, you'll go on an exciting space adventure through the Star Wars universe, with danger around every turn, without ever leaving the stable simulation area. If you have your seatbelt fastened, the ride shouldn't be too shaky, yet you'll still experience thrills as the simulator jolts up, down, and straight through the many obstacles along the way. The experience is further heightened with the 3D video effects, making it seem as if dangers are coming right off the screen. Even the wait for the ride is fun, with lots of humorous animatronics in the queue.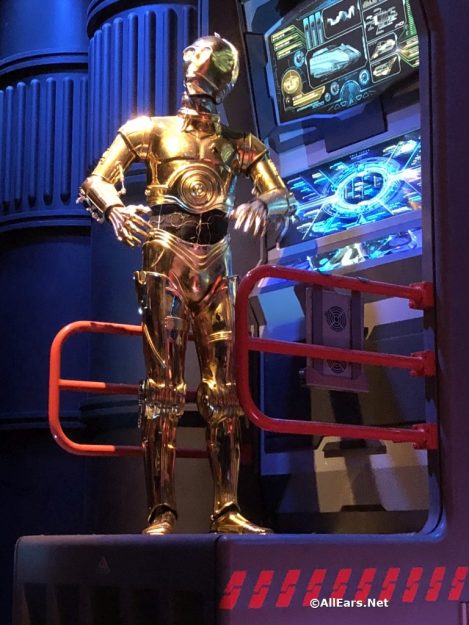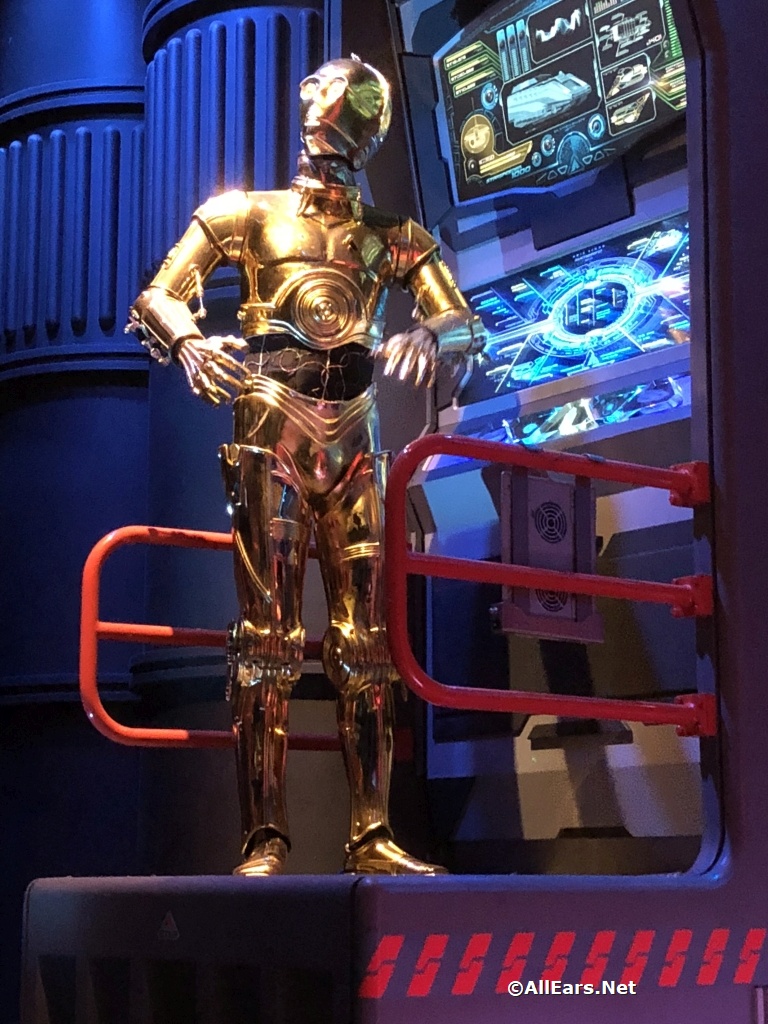 What makes Star Tours really interesting is that you'll rarely have the same adventure twice in a row. Each of the two main simulation sections of the ride changes between several different worlds from Star Wars. For instance, you could go under the sea in Naboo – and nearly get eaten by a giant fish – or fly down one of Tatooine's sandy canyons and get caught up in a pod race. Not only does this offer a real treat for Star Wars fans, but the random selection means you'll get lots of new, surprising thrills each time you ride.
Star Wars: Rise of the Resistance (Hollywood Studios)
Out of the many new attractions in Star Wars: Galaxy's Edge, Rise of the Resistance is especially spectacular. This attraction actually consists of multiple stages, from boarding a transport ship to being captured by the First Order to launching a daring escape. The final section, as your escape car zips around blaster fire, AT-ATs, and other dangers, is especially exciting.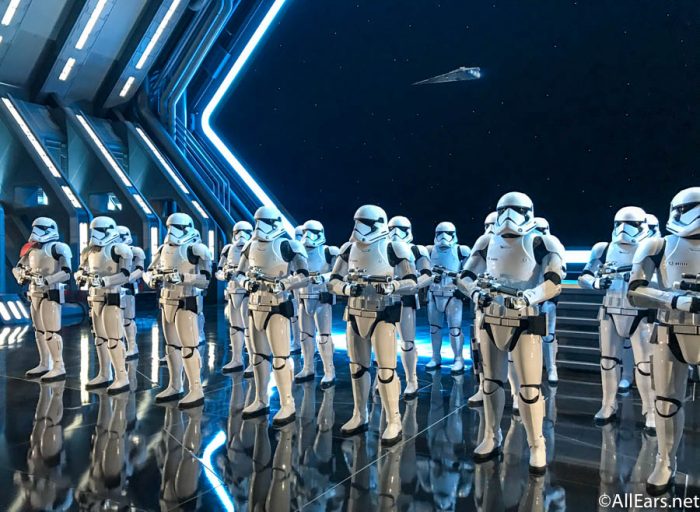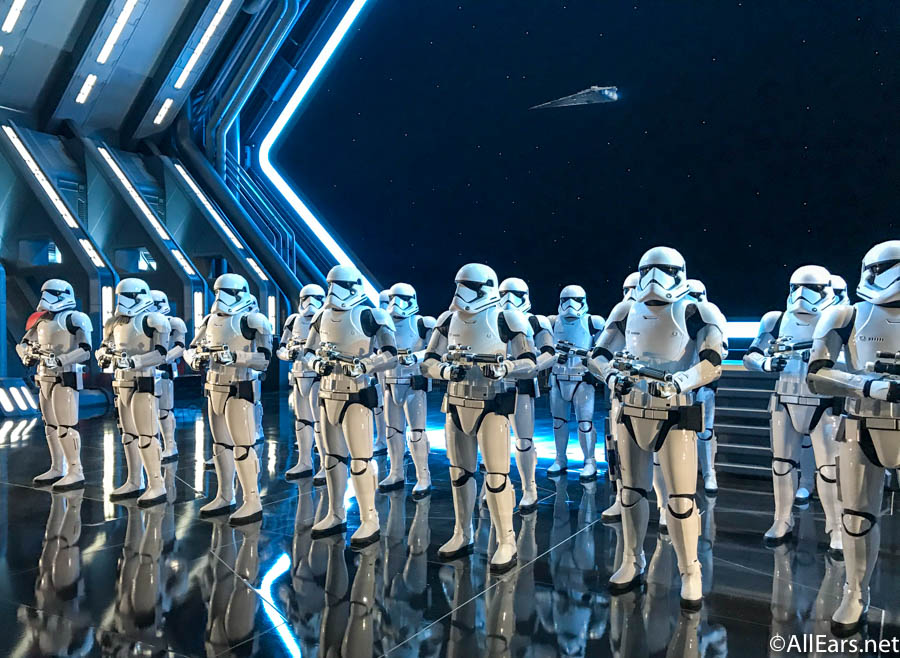 While Rise of the Resistance may not have as much speed or as many jolts as some other thrill rides, it more than makes up for it with an immersive atmosphere that makes you feel as if you are in a galaxy far, far away. You'll enjoy an action-packed thrill ride without the intensity of a roller coaster.
Twilight Zone Tower of Terror (Hollywood Studios)
The Twilight Zone Tower of Terror creates a spooky atmosphere from the moment you enter the eerie hotel. After a foreboding prelude, you'll enter an old elevator, which will then begin to rise, only to suddenly plummet without warning. There are even shorter, "false" drops to throw you off, making you jolt in fear at the elevator's every movement, wondering if you're going to fall. And when you do fall, you'll feel thrills and chills like you're taking a sharp drop on a roller coaster.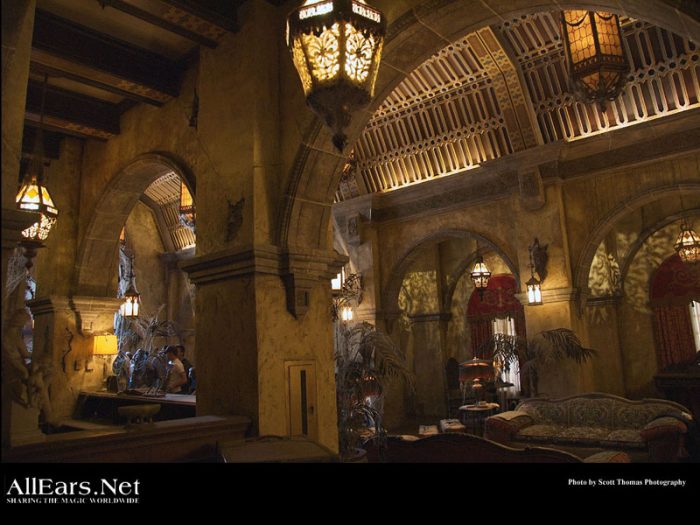 The beauty of the Tower of Terror's thrills is how it creates a sense of suspense and tension in the audience, not just with the ride portion but also in the introduction and general atmosphere of the creepy hotel. To further accentuate the uneasy feeling, the elevator will rise and fall randomly, so you'll never know what to expect when you step into the elevator. For fans of thrill rides, this is a great alternative to roller coasters.
Splash Mountain (Magic Kingdom)
Though Splash Mountain is a ride along a track, it's not the same as a rollercoaster. In fact, much of the boat ride is calm and smooth, like a number of other slow rides throughout Magic Kingdom. It's only at the climax that you begin the fateful climb, followed by a fall and splash down into the briar patch below. If you're looking for one quick thrill rather than a full-on roller coaster, Splash Mountain guarantees a single but awesome, hare-raising thrill by the end.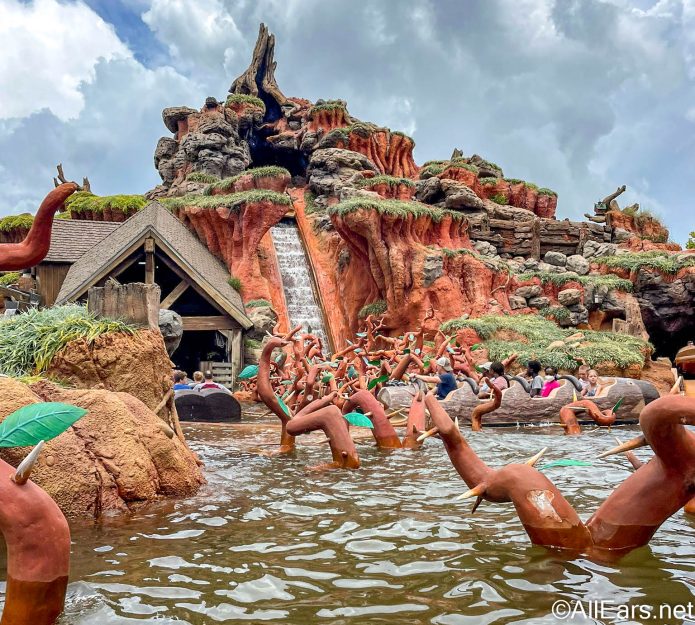 Plus, Splash Mountain is a genuinely fun and fanciful ride to go on. It's the only Disney World attraction based on the Song of the South movie, and while the original movie is certainly infamous for its racist elements, the animated portions with mischievous Br'er Rabbit are lots of fun and brought to life here with animatronics. The music in the ride is catchy, too, so feel free to sing "Zip-A-Dee-Doo-Dah" in the finale after your splash landing.
With all sorts of non-roller coaster thrill rides, you can still have a blast at Walt Disney World even if you can't stand coasters. After all, there's something for everyone at Disney World, and you're sure to have an exciting, wonderful time during your stay.
What thrill rides are your favorites? Feel free to leave a comment below.