When traveling with friends, family or just your significant other at Walt Disney World, we all like to take portraits. The first task is to find a good background for the portrait. Luckily, you can find the all over Walt Disney World.
For instance, in the Magic Kingdom, I found just outside the entrance to Adventureland this Tiki God. My model on this day was my daughter who has helped me in the past. However, I did make a mistake. Can you see it?
Another Tiki God was popping out of the back of her head. I did not see it as I was concentrating on my subject and forget to check around her before taking the photo. This is the reason I often check my camera's LCD to verify the photo. I saw the issue and adjusted her position and my camera position.
Ah, much better. In both cases I used Fill Flash to soften any hard shadows as the Sun was shining directly on her.
Later, my model posed for me in Tomorrowland inside the Metrophone booth. This time I took in more of her surroundings for a fun portrait.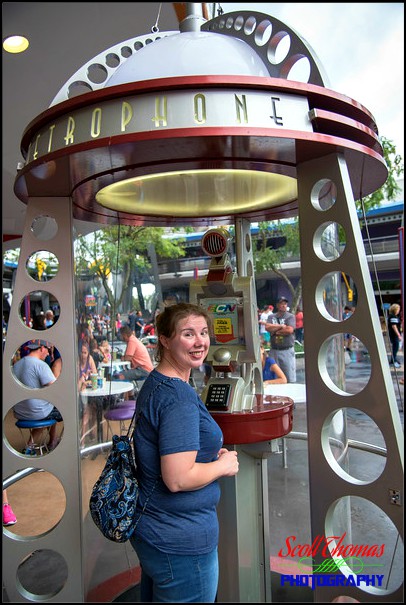 For more on taking portraits at Walt Disney World, visit these links:
More on Magic Kingdom Portraits (you'll recognize the model)
What locations at Walt Disney World do you like to take portraits?
Be sure to follow @allearsnet on Facebook, Instagram and Twitter!
Click below to subscribe to the AllEars® newsletter so you don't miss any of the latest Disney news!