To all who come to this photo trivia game, welcome! Along the way, the photos can make us relive memories and see details that Walt's Imagineers put into everything we love in Walt Disney World!
How about a little more Disney humor?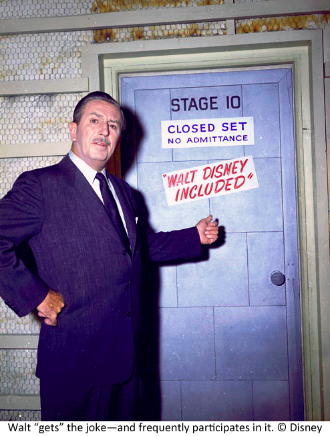 Challenge #632:
And here's the answer:
The "Sharing the Magic" statue in the Magic Kingdom. I saw another biography about Roy O. Disney and I really want to get it. So it brought this statue to mind. Thank you, Roy. for so many things.
Sherry Knoster was the first to send in the correct answer! Congratulations to Sherry  and to all our winners this week!  Adolph And Kimberly Timm, Debby Stailey, Penny B, Barbara Hicks, Andreas Beer, Axel Beer, Gloria Martin, Team Hill, Karen, Karen Fichter, The Gunnels Gang, Ronnie Alvarado, Joann Albrecht, Joseph M. Zafia, The Kuroly Family, David Brown, Paul And Kelli Grundman, Vicki L Walker, Timothy Snyder, Laura Sponaugle, Tim Burr, Barbara Diclementi, Glenn And Nancy Motson, Deb Ragno, Anabelle Mcginley, Martha And Justin Collins, Kris Nixon, Tom Patton, Sands Family, Vera And Izzy Williams, Tim Haggerty, Jim Finley, Betty Serviere, Belicia, Scott C., Deanna, Bob Mackay, Richard Long, Linda College, James Malue, Tony Bivens, Jim & Lorie Sonnen, Grumpys Groupies, Beau Harrison, Mike Berg, Mis Jamie Marie, Jim Wieczorek, David Crockett, Sue And Ed Adams, Linda Wilham, Maryann Eckenrode, Theresa Rucando, Linda Ranatza, Barry Gruber, Don Slowik, Aimee Tester, Dean Stockwell, Michael P. Weeman, Tony Jack, Kathryn, Michelle Fure, Mark Potosky, Maddie Inman, Carlos Medina, Amy Pultrone, Mark Hardy, Cheryl Costello, Matt Rubino, Lori Rienhardt, Michael, Kristi Jack, The Parker Family, Shelly Borella, Maureen And Warren Handy, Melody Odonnell, Theresa Maradei, Donald Purney, Colin Moore, and The Patterson Family!
______________________________________________________
Challenge #632 Where in the world is this?
Switching parks and the last Challenge for March 2020!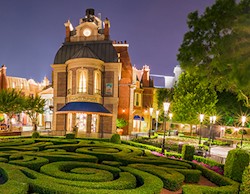 Do you know? Do you have a guess? Send in your answer before the end of the day on Thursday, April 2nd by clicking on the blue box below. Please do not post your answers on this blog post.
See you soon, Players!

_____________________________________________________________________
Everyone who sends in a correct answer to a Where in the World Challenge this month will be entered in a drawing at the end of the month for some special AllEars® goodies!
Be sure to follow @allearsnet on Instagram and Twitter!
Check out our YouTube Channel for reviews, news, information, and more!
Click below to subscribe to the AllEars® Newsletter so you don't miss any of the latest Disney news!