Sunday, March 29th, is International Mermaid Day, and we are absolutely going to celebrate at home in the most magical ways!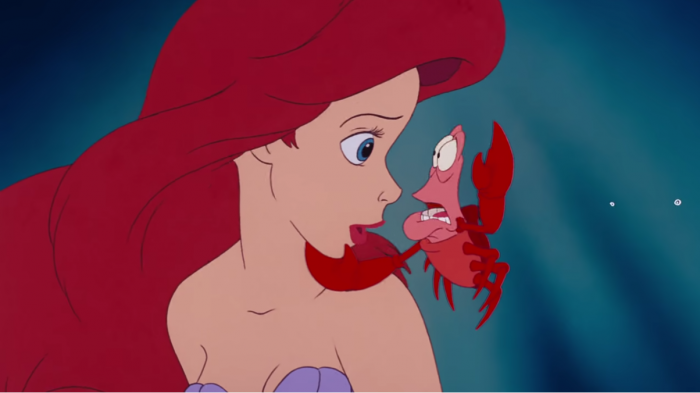 The History of Mermaids
Before we get into the Disney mermaids, let's take a look at where the mermaid myth came from. When looking back at the mythological background of mermaids, we have to start with Greek myths and Homer. Homer wrote the Greek classics the Iliad and the Odyssey, and is also responsible for the popularization of the theory of Atlantis.
In ancient Greek mythology, the earliest variation of mermaids were the Sirens. The Sirens were half bird half human creatures that lured sailors to their deaths with hypnotic songs. Sirens appeared in Homer's Odyssey and started to take on a more fish-like appearance.  Greek gods and demi-gods also started to take on mer appearances, like Poseidon and his son Triton.
Eventually, the fish-like Sirens turned into mermaids and were used in  classic European tales like Hans Christian Andersen's, "The Little Mermaid." Mermaid's also appeared in J.M. Barrie's Peter Pan! The myth of mermaids continued as sailors spread stories of seeing human-sized sea creatures. Now we know that the sailors were probably just seeing dugongs and manatees.
Now that we have the history and facts out of the way, we can talk about how Disney brought mermaid magic to life. When Disneyland first opened the Submarine Voyage attraction, they actually hired cast members to be mermaids lounging on the rocks in the attraction! But you don't have to be in the parks to celebrate! Here are some the ways you can celebrate Mermaid Day with Disney at home!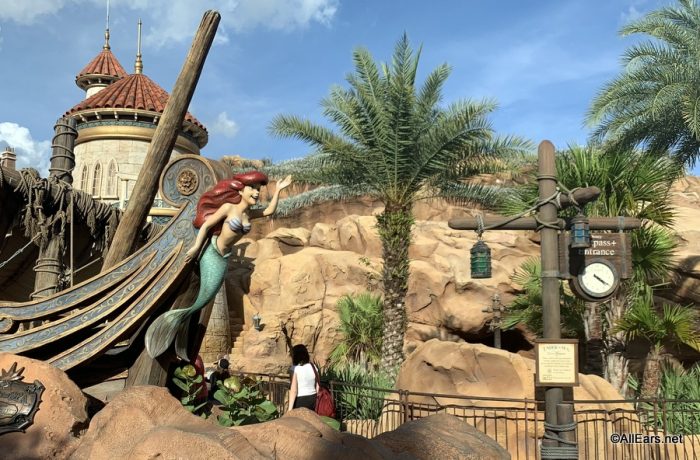 The Little Mermaid
The Little Mermaid is a cinematic classic and really ushered in the modern era of Disney animated films. To learn a little about the making of the Little Mermaid, check out the documentary Waking Sleeping Beauty on Disney+.  It shows the history of Disney animated films.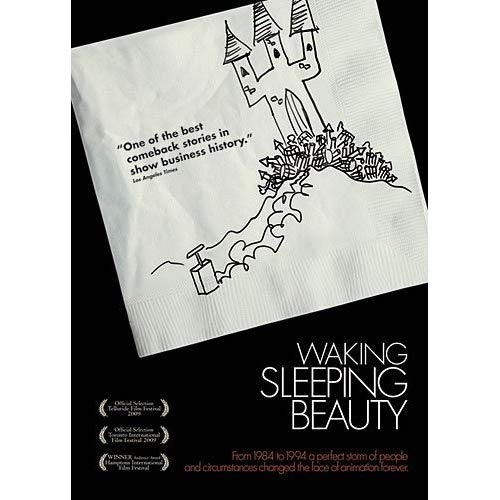 There are three different animated Little Mermaid movies on Disney+ that follow Ariel: The Little Mermaid, The Little Mermaid II: Return to The Sea, and The Little Mermaid Ariel's Beginning. If those three films don't give you enough of the Ariel's story, then you have to check out The Little Mermaid animated series by the same name, which is also on Disney+.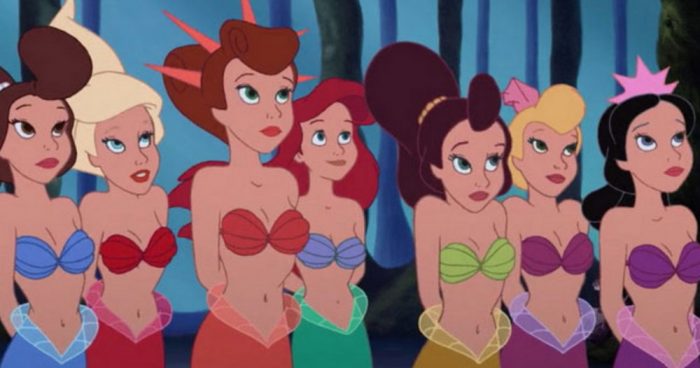 The animated series gave us some more info on Atlantica and the mer-people who live there, but even more importantly, it gave us another great Little Mermaid villain: the Evil Manta. The Evil Manta is exactly what he sounds like, a giant evil part-manta-ray-part-person voiced by Tim Curry.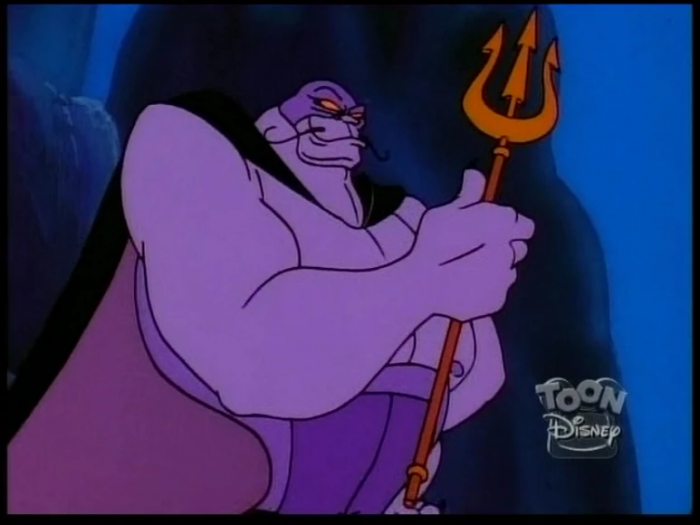 If the three films and three seasons of the animated series didn't give you enough Ariel, you can also watch the Little Mermaid Live on Disney+, which is a mix of live performances and scenes from the animated film. It even has John Stamos as Chef Louie in it!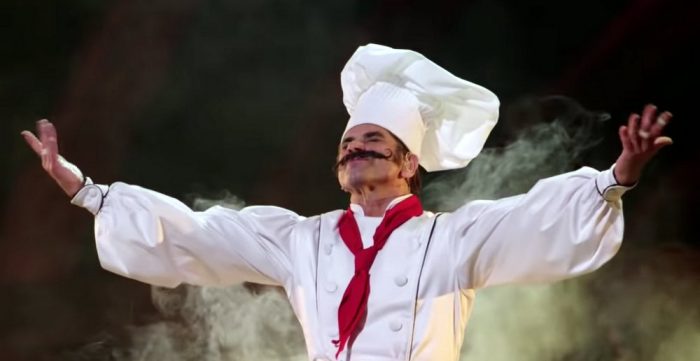 The Thirteenth Year
The Disney Channel Original Movie classic The Thirteenth Year is a fun movie that expands on the mer-myth. The plot is in a small fishing town a baby is found on a boat and is raised by the Griffins that found him. When that baby, Cody, grows up he becomes a star swimmer at his school, but after his thirteenth birthday strange things start to happen. We won't spoil it for you, but the movie poster may give you a hint…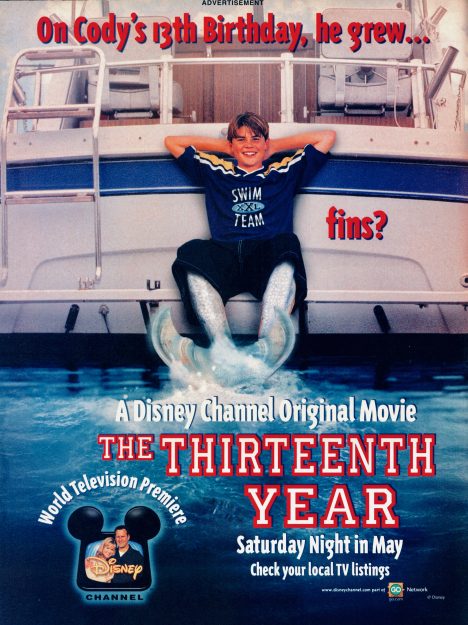 Pirates of the Caribbean: On Stranger Tides
Pirates of the Caribbean: On Stranger Tides may not be our favorite of the Pirates movies, but it does have a lot of mermaids in it! It's not available on Disney+ yet, but if you own or rent it, you can get your mermaid movie fix! These mermaids start off looking like the human looking ones, but then change into more monstrous ones closer to the Sirens of myth.
Splash
Splash is a mermaid movie with a star studded cast including Tom Hanks, John Candy, Daryl Hannah, and Eugene Levy. This 80's classic follows a mermaid, Daryl Hannah, who comes onto land in Manhattan and meets a young wholesale produce seller, Tom Hanks. It deals with the mermaid learning about the human world and modern life, and also a crazy doctor, Eugene Levy, trying to catch the mermaid and prove that they exist.  If you haven't caught this one, go on Disney+ and see for yourself!
Sofia the First
Sofia the First may not be an actual mermaid herself, but mermaids are featured in multiple episodes! There is even an episode in the Disney Junior cartoon where Sofia gets the ability to turn into a mermaid and visits an under water city and spends time with a mermaid named Oona. Ariel from the Littler Mermaid even shows up in this episode. The episode is titled "The Floating Palace" and is a great option to watch on Disney+ with little ones celebrating Mermaid Day.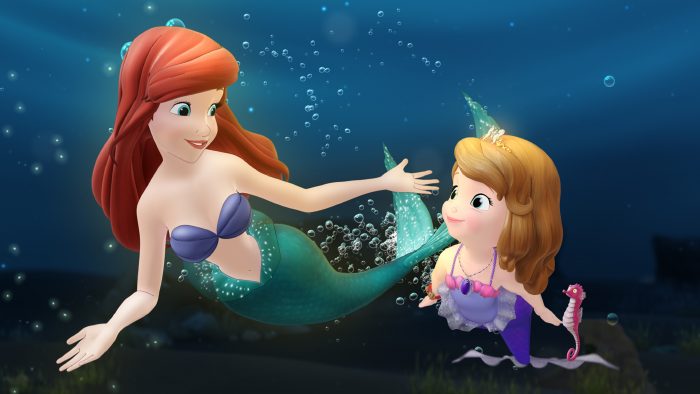 Siren
If you like teen dramas full of mermaid mythology, then you have to check out the Freeform series, Siren. Siren follows a mysterious woman named Ryn who comes to a small town looking for her sister who was abducted by the army. Ryn teams up with a local marine biologist to try to find her sister and get her back. Siren starts its third season on Freeform on April 2nd. What better day to catch up on the previous season than National Mermaid Day? You can find the first two seasons of Siren on Hulu.
While watching all of these we recommend something aquatic themed to snack on, like Swedish Fish, seafood, or whatever your heart desires! But all of this mermaid talk has us wondering: if Triton is Poseidon's son, does that mean Ariel and Hercules are related?
How will you be celebrating National Mermaid Day? Let us know in the comments!
Join the AllEars.net Newsletter to stay on top of ALL the breaking Disney News! You'll also get access to AllEars tips, reviews, trivia, and MORE! Click here to Subscribe!