Marty would be proud.
More than five years ago, Walt Disney Imagineering's creative director Kevin Rafferty made a promise to Marty Sklar, his former Imagineering boss, mentor and long-time friend.
"I promised Marty years ago that I was going to come up with an original attraction with an original song that was centered around Mickey Mouse," Rafferty said.
"And every time I saw Marty after that, he'd always ask me, 'How's that new attraction coming?'"
On March 4, 2020, Rafferty made good on his promise.
On that warm and sunny day, Mickey and Minnie's Runaway Railway debuted at Disney's Hollywood Studios with all the well-deserved glitz and glamour of a star-studded Tinseltown premiere.
The latest addition to the years-long re-imagination of the park was the culmination of nearly four years of tireless work by Rafferty and his talented and dedicated team of Imagineers.
I got my first inkling of the MMRR attraction when I interviewed Kevin during the spring of 2017 for my Animal Kingdom book. I asked him if he could divulge the attraction he was working on at the time.
"I wish I could," he said. "But I can't. But I will tell you this: It's going to be great!"
FIRST ANNOUNCED AT D23 EXPO IN 2017
In July of 2017, Kevin was finally able to let the world in on his latest creation during a presentation at the D23 Expo in Anaheim, Calif.
Seated in the audience for the big announcement was Marty Sklar, who passed away just a few weeks later.
Several weeks ago, I reminded Kevin of our pre-D23 conversation.
"I guess I can tell you now it was, indeed, Mickey and Minnie's Runaway Railway," he said with a laugh. "It has been – and still is – a long haul. Still working like mad getting it all done.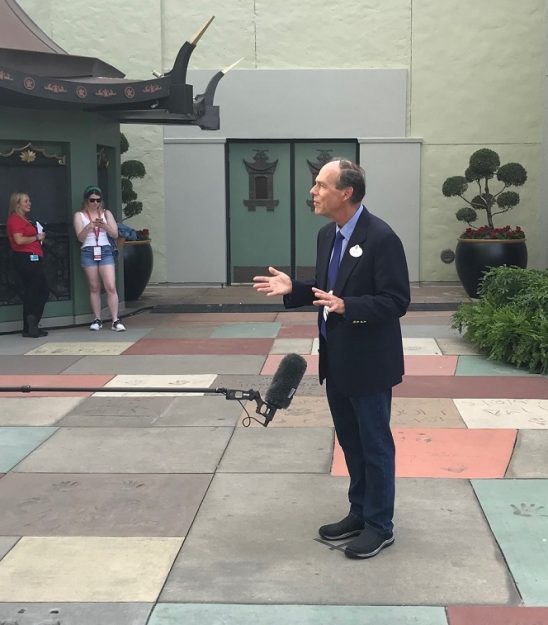 "My fumes are running on fumes, but I'm extremely happy with how it's all turning out. It's wonderful, musical and magical. Characters, colors, even the kitchen sink! No, really."
Mickey and Minnie's Runaway Railway is as much a blast from the past as it is a quantum leap into the future of theme park ride technology.
For starters, it employs the same trackless ride system used in the Star Wars: Rise of the Resistance attraction and which will be used in the new Ratatouille attraction in Epcot.
Mickey and Minnie's Runaway Railway – the first-ever theme park attraction starring Disney's beloved first couple – is housed in the Studios' Chinese Theatre, which is an appropriate venue, since we're on hand to see the debut of the newest Mickey Mouse cartoon short.
RIDE KICKS OFF WITH 'PERFECT PICNIC' CARTOON
Guests are escorted into a small room, where the cartoon short "Perfect Picnic," starring Mickey, Minnie and Goofy [with a cameo appearance by Pluto], plays on a large screen.
During the cartoon, Mickey and Minnie are on their way to Runnamuck Park for a picnic on a "peachy keen" day. Together, they sing the bouncy tune "Nothing Can Stop Us Now" as they motor along, bound for a nice, relaxing afternoon.
In short order, conductor Goofy pulls his steam train alongside Mickey and Minnie, and before you can say CATASTROPHE, things run amuck in Runnamuck Park.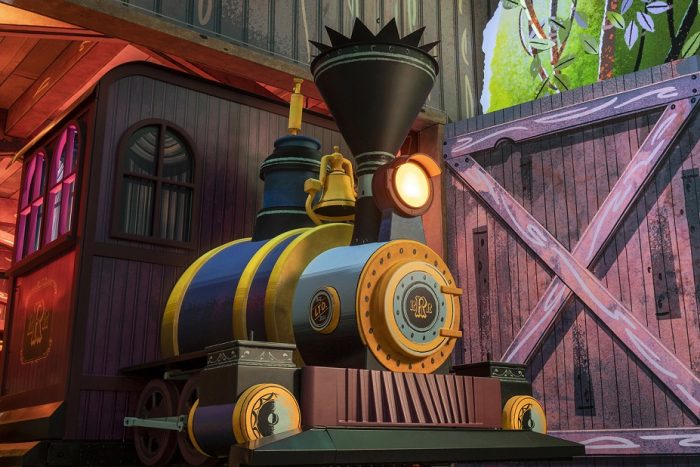 Goofy's train crashes into a wood building, the screen breaks apart and steam billows from an opening: We are now invited by a willing cast member to step into the cartoon world.
Guests make their way toward a train station, where they board a real-life version of Goofy's cartoon train, which pulls into the station to the sounds of clanging bells, screeching brakes and tooting whistles.
According to Rafferty, those sounds were created by using special effects devised by Disney Legend Jimmy Macdonald, including the actual steam whistle used during the filming of Steamboat Willie in 1928.
Guests board and the train chugs out of the station, bound for Runnamuck Park.
MICKEY SETS OFF SERIES OF MISHAPS
The train first enters a tunnel, where Mickey and Minnie's car pulls alongside. Mickey inadvertently hits the track switch, and our train comes apart, with Goofy and his engine barreling to the left, and the four now individual train cars careening to the right.
We now enter a series of elaborately designed scenes, where mayhem ensues at every turn. During each sequence, Mickey and Minnie follow along, often in seemingly great danger.
First, we're thrust into the wild West, then it's on to a raucous carnival setting before we're swooped into a swirling tornado, where our car shakes with every gust of wind.
Then it's on to the most perilous setting, where our train seemingly heads over a waterfall. The effect here is exceptional: You really do feel as if you're plunging downward.
We end up splashing under water before our train car is carried out with the tide into the next scene: A bustling cityscape featuring old friends Jackhammer Pete and Donald Duck.
Then it's on to a synchronized dance sequence conducted by Daisy Duck.
After the four cars dance in unison to a stately waltz, they each samba out to a bustling factory, where we're all headed for dangerous-looking grinding gears in a tableau reminiscent of Charlie Chaplin's Modern Times.
THE MAYHEM FINALLY COMES TO AN END
After escaping the factory's menacing Smasher, we're finally home free. We're reunited with conductor Goofy, the train cars line up again behind the locomotive and Mickey, Minnie and Pluto are seen in Runnamuck Park, enjoying their idyllic picnic.
But Goofy has one last surprise for us: As the train pulls into the station, he accidentally touches a switch in the locomotive which sends a gentle shock through our seats, reminding us that in the cartoon world, we're never truly out of harm's way, especially when Goofy's involved.
In addition to the use of cutting-edge technology, Mickey and Minnie Runaway Railway is jam-packed with detail, some obvious, some harder to find.
When the train first enters the tunnel, the numbers 1928 appear on the bricks above, an homage to the date of Mickey's screen debut.
And during the city scene, there's a flower shop with a 1401 address … that would be Walt Disney Imagineering's address on Flower Street in Glendale, Calif.
There's also a reference to legendary Disney animator Ub Iwerks thrown in for good measure.
"I like to say we've put 10 pounds of show into a five-pound bag," Rafferty said.
And to those with really sharp eyes, there's the storefront with a Carter's Cameras sign. That's a shout-out to Charita Carter, the attraction's creative producer.
During the press preview on March 3, I asked Charita what it was like working with Kevin Rafferty on the project.
"I always say that working with Kevin is like I'm taking a master class," she said. "We have really taught one another throughout the process and it's just been absolutely wonderful working with him. And we go way back. We've worked in the Blue Sky and Sky Studio together."
Charita, who has been with Disney for almost 23 years, added that "we knew the experience that we wanted to give our guests and so we established our true north and part of that was that we're putting our guests inside of the Mickey Mouse short, so everything about it had to really, really lend itself to that experience.
MOUSE RULES APPLY ON THIS ATTRACTION
"So the feel, the look, the music … all of that was very important. There's one surprise after another. Remember, on this attraction, mouse rules apply."
Added Christopher Willis, who composed the ride's marvelously catchy "Nothing Can Stop Us Now" theme song with his wife Elyse: "If Kevin has a super power, it's his capacity to present a very clear vision of exactly what we wanted to do."
"Nothing Can Stop Us Now" is perfectly themed to the cartoon world presented in the attraction.
Whether it was intentional or not, the song has a Busby Berkeley feel to it … and for those who remember, there was a Busby Berkeley-inspired scene in the Great Movie Ride attraction which MMRR supplanted.
"And here's a fun fact for you," Kevin said during the press preview. "Chris came up with the basic idea for the song while taking a shower!"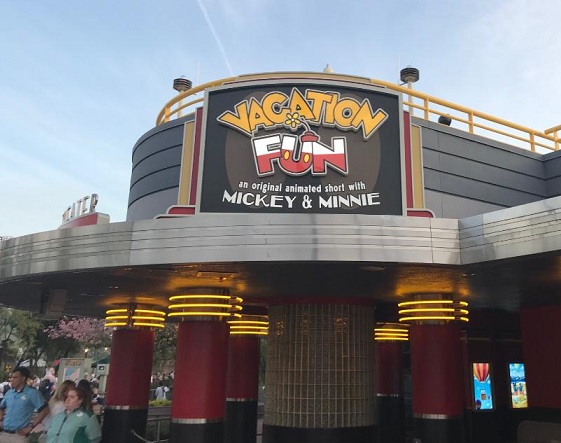 Willis, who has a background in classical music, also wrote the music to the "Vacation Fun" Mickey and Minnie cartoon currently playing in the old Monster Sound Show/Sounds Dangerous theater.
During the day of the press preview, Kevin spoke of how proud he was of the attraction "and my incredible team, who brought all this to life."
"This [the Studios] is the perfect setting for this attraction," he added. "And besides, it's completely appropriate that this attraction is train-based, since Mickey was born on a train."
He also talked about how much he missed having his friend on hand for the opening of the attraction.
"I really wish Marty was here to see this," he said with a touch of sadness in his voice..
That being said, I re-emphasized to Kevin after my fifth trip aboard MMRR, "I know Marty would be so proud of this … and of you."
Join the AllEars.net Newsletter to stay on top of ALL the breaking Disney News! You'll also get access to AllEars tips, reviews, trivia, and MORE! Click here to Subscribe!

Have you had a chance to experience Mickey and Minnie's Runaway Railway yet? What did you think?