Have you never visited Walt Disney World's Epcot before? Or have you been thousands of times and know the World Showcase pavilions like the back of your hand?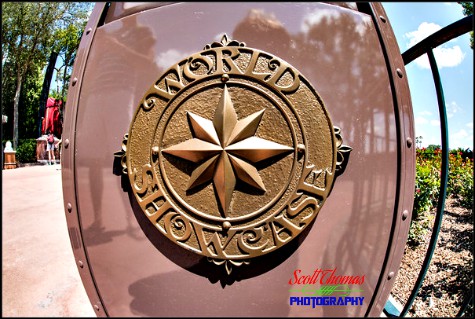 Well, whether you're a World Showcase novice or pro, we have ranked the World Showcase Pavilions to give you an idea of what we think about all there is to see, do, buy and eat there.
Food: B 
Dining locations include two table-service locations, La Hacienda de San Angel and San Angel Inn. There is also a quick-service location called La Cantina de San Angel. I personally really enjoy the quick service location and feel that San Angel Inn is subpar — but check out a few reviews here to see what others think!
When it comes to drinks, though, I might just have to give Mexico an A+. The Mexico pavilion has two stellar drink locations, Choza de Margarita and La Cava del Tequila. Choza is located outside and offers an array of delicious margaritas from Wild Strawberry to Mango Loco. If you love margs, you can't go wrong by stopping at this location. La Cava del Tequila is located inside the pyramid and has a great atmosphere. It is small and extremely popular so you might have to wait from time to time, but the drink selections make it worth it. You have to try the La Cava Avocado margarita!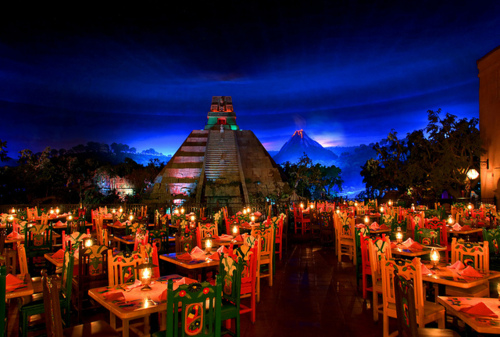 Merchandise: A
The Mexico pavilion offers unique handmade souvenirs as well as other Mexico-themed souvenirs, all presented in what's supposed to resemble an outdoor bazaar at night. A few merchandise locations are La Princesa de Cristal and La Tienda Encantada. We love shopping here because the options are so unique and colorful!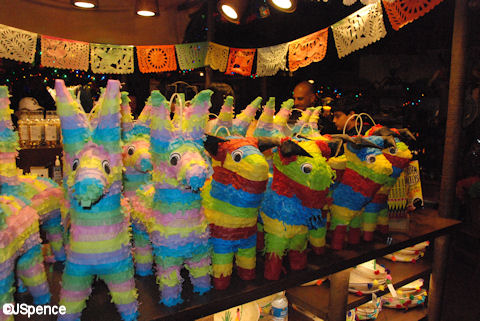 Theming: B
Overall, the pavilion's theming is simple but interesting. We really love how they transformed the classic El Castillo pyramid into the pyramid at Epcot. We feel like more could have been done with the space to give us even more of a glimpse into the history and culture of Mexico.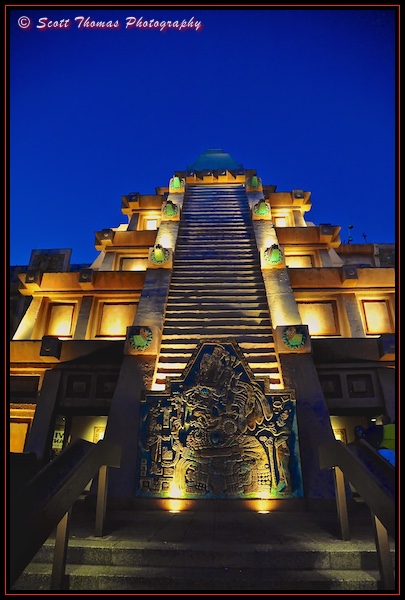 Attractions: C
There is one attraction inside the Mexico pavilion. The Gran Fiesta Tour Starring The Three Caballeros is a fun ride for the whole family. It is very lighthearted and cute. Another positive is that the line usually isn't very long, but if you don't know or care for the characters this attraction can be kind of a miss.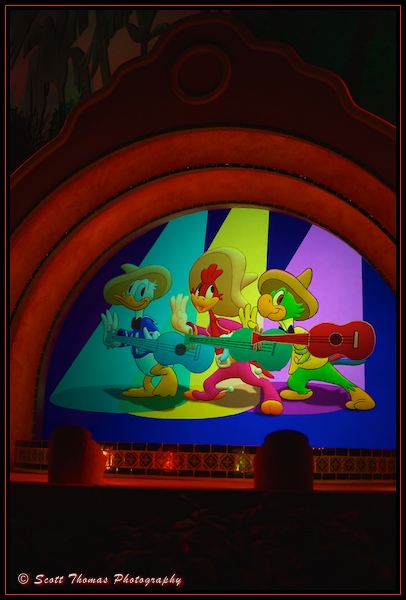 Entertainment: A

Currently in the Mexico pavilion, you will see a musical group that has been in Epcot since Day 1: Mariachi Cobre. In addition to presenting their traditional mariachi music, a few times a day they perform Mariachi Cobre presents the Story of Coco. The show is incredible, especially if you loved the movie "Coco." There's a Miguel puppet and Folklorico dancers and you'll hear some music from the film. This is a unique offering that really is awesome to experience!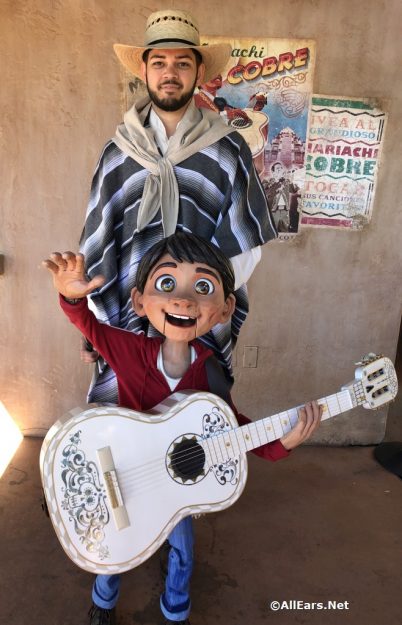 There's also a Donald Duck meet & greet here, and who can resist Donald in a serape and sombrero?
Food: B
The dining options in Norway include Akershus Royal Banquet Hall, which offers a buffet with a great character meal experience, and Kringla Bakeri Og Kafe, which serves sandwiches and classic Norweigian pastries.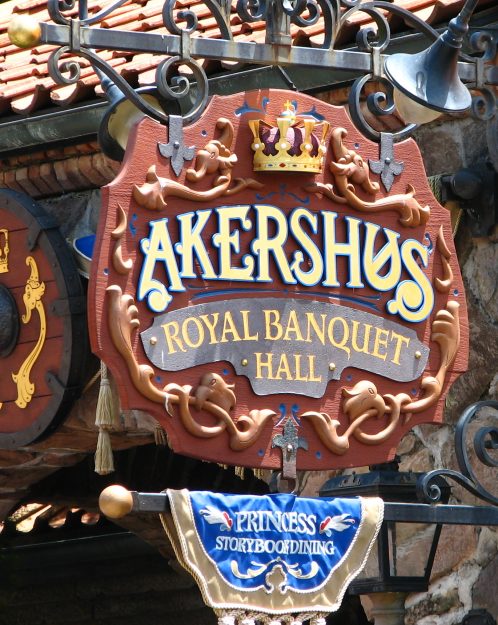 Merchandise: B-
Throughout the pavilion, as in the other World Showcase pavilions, you can purchase authentic merchandise. This shop has everything from BIG, cozy (and expensive) sweaters, troll merchandise, perfume, and delicious Norwegian candy! They also have an entire room filled with all sorts of Frozen merchandise. Though they have a lot, they just don't really have anything that I purchase often.
Theming: B
The theming here is nice, we just wish there was more! I don't feel like I really see what it looks like in Norway when visiting the pavilion. I do love that I am able to learn some history in the Stave Church Gallery, though! The current exhibit is called the 'Gods of the Vikings' and just as the name suggests,  it features really cool displays with information about Norse Gods, including a few you might have heard of elsewhere: Odin, Thor and Loki.
We also thought we'd mention that this location has outstanding bathrooms, making this is a great place to stop when you need to use the facilities.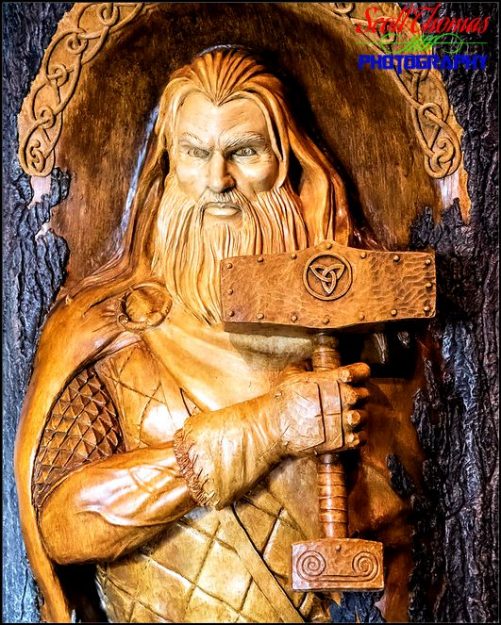 Attractions: A
Okay, I know a large number of people were upset when The Maelstrom closed. I was, too. But, I'm not going to lie — I thoroughly enjoy Frozen Ever After. I love the attraction it's fun and the theming is incredible, especially if you're a Frozen fan — and who isn't? The big downside of this attraction is that since it's newer and Frozen is so well-loved, there is always a LONG wait time. We definitely recommend trying your best to get a FastPass for this one.
Ride Frozen Ever After with AllEars TV here!
Entertainment: B+

There used to be a musical group  and roving Vikings performing in this pavilion, but currently the main entertainment here is a character Meet & Greet. You can meet Anna and Elsa in their Royal Sommerhus. They should be meeting constantly throughout the day during the World Showcase's hours, but check your My Disney Experience App for more information.
Food: B
The dining locations in China are the Nine Dragons Restaurant, Joy of Tea, and Lotus Blossom Cafe. And though the food is OK, many argue that it is nowhere near authentic. If you like American Chinese takeout, you'll probably enjoy it.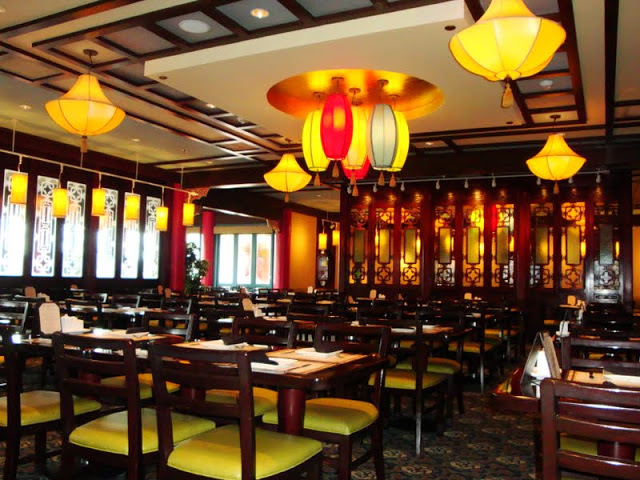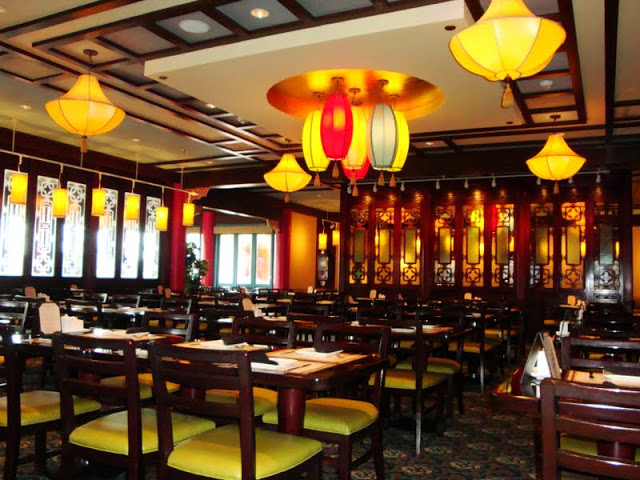 Merchandise: A
I really enjoy shopping at this location because I truly feel as though I have been transported somewhere else. Good Fortune Gifts is HUGE and has so many different types of souvenir options and prices!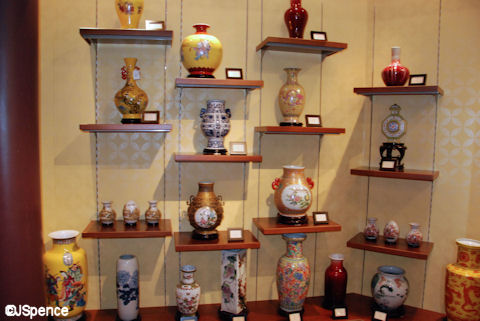 Theming: A
The China pavilion is STUNNING and it's crazy how similar the Temple of Heaven looks to the original. I really think Disney did a great job theming this pavilion, which is especially beautiful at night, all lit up.
Attractions: C-
We rated this so low because there is no ride within China. Of course, you can view the Reflections of China 360-degree movie, which is interesting, but in need of updating — plus, because it's Circle-Vision 360 that means you have to stand for the entire film. Ugh. There is also a gallery that features a rotating exhibit — currently you can see models from Shanghai Disneyland.
Entertainment: A
The Jeweled Dragon Acrobat show blows my mind. The performers are so talented and I love seeing the costumes and listening to the music. The show is performed multiple times during the day and we really recommend it! Mulan also meets guests here throughout the day. Find the times in the paper times guide or on your My Disney Experience App.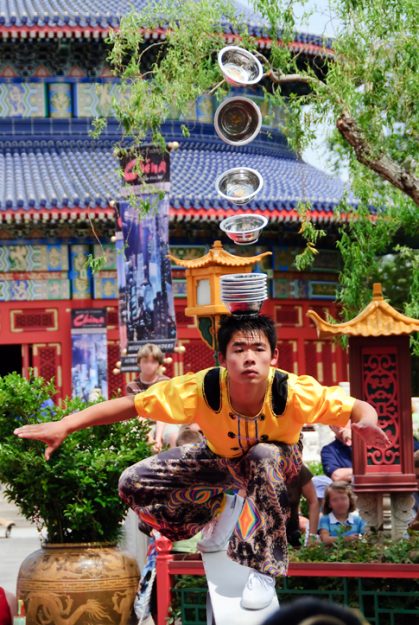 Food:  B
The dining locations in Germany are the Biergarten Restaurant and Sommerfest. Though I enjoy these locations, I think you really have to like German food to appreciate dining here. Another really great spot inside of the Germany pavilion is Karamell Küche. Sponsored by Werther, this spot features great caramel goodies like caramel-coated popcorn, candied apples, and other chocolate and caramel-covered treats. The aroma wafting out of the store alone is pure heaven!
When it comes to drinks, make sure you check out the Germany Bier Cart. This cart is uber popular and has really great options.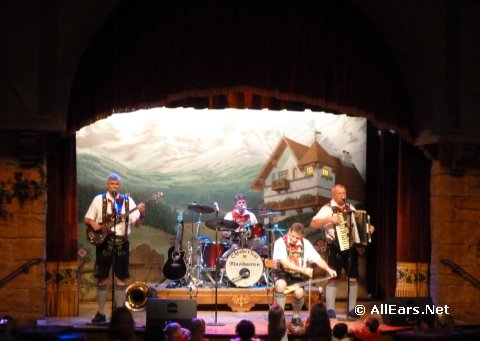 Merchandise: B
Though there are some cool merchandise offerings at Glaskunst and Der Teddybar, I think the shops are too small and the selections are limited. The glassblower on the promenade puts out some amazing stuff, definitely worth checking out.
Theming: B
I think the theming is great, and it seems to be pretty authentically German,  right down to the glockenspiel clock that performs on the hour. I just wish there were more places to see and explore. Don't miss the miniature railroad village, though! That's a very cool detail.
There isn't an attraction in Germany — no shows or rides.
Entertainment: B
A few live performers show off really unique and interesting German traditional offerings. Sometimes they sing, dance, or do other really cool things like drum on ladders! Live music — an oompah band! — is also performed inside the Biergarten Restaurant.
Also be on the lookout for Snow White while you're here, as she often meets near her well.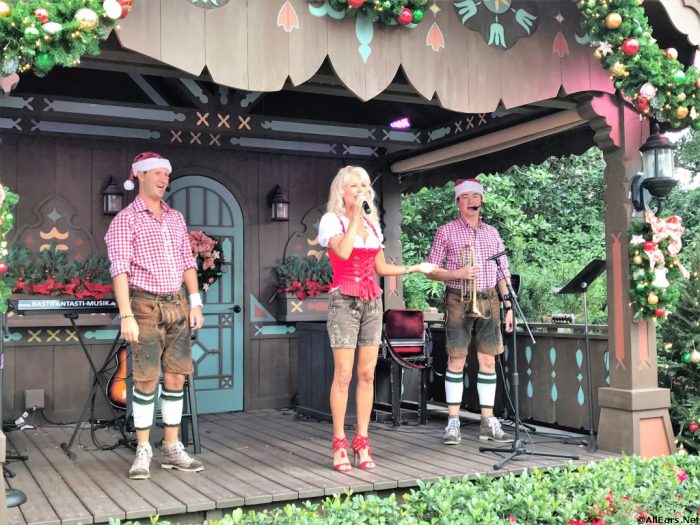 Food: A
A few of the dining locations in Italy are Tutto Italia Ristorante and Via Napoli Ristorante e Pizzeria. It might just be because I am a big fan of Italian food… but the food in this pavilion is YUMMY. I honestly don't think I've ever had a better slice of pizza than the one I ate at Via Napoli. But don't just take my word for it — check out our reader reviews as well! 
Here you will also find the Tutto Gusto Wine Cellar. This cozy bar is a fun place to stop by. The atmosphere is great and they have more than 200 different Italian wines to choose from, plus they share Tutto Italia's kitchen. Another great place is the Gelati, an Italian gelato stand. This little kiosk has great gelato and other dessert options!  With options like tiramisú and cookies and cream gelato, you really can't go wrong!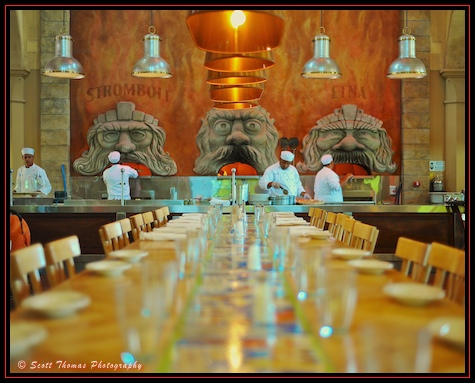 Merchandise: B+
I think that Italy has a lot of really cool accessories, they just aren't items that I'd personally buy. At La Bottega Italiana, you can buy lots of perfumes and Venetian masks.  And at II Bel Cristallo you can buy handbags, crystal, and porcelain. Also, be on the lookout for Italian chocolates and wine when hunting through the shops.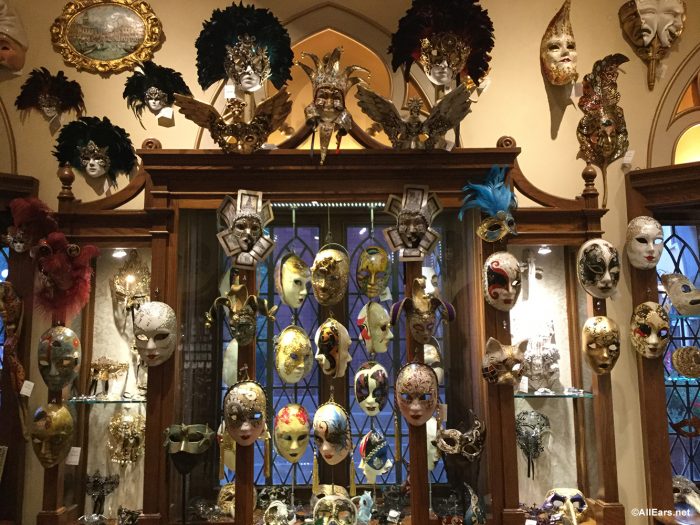 Theming: A
I really love the way Disney themed the Italy pavilion. The Neptune fountain in the Italy pavilion is beautiful and it's a great spot to take pictures with the family. I also really love the bridge, the Venetian gondolas and all the little nooks and crannies of the pavilion.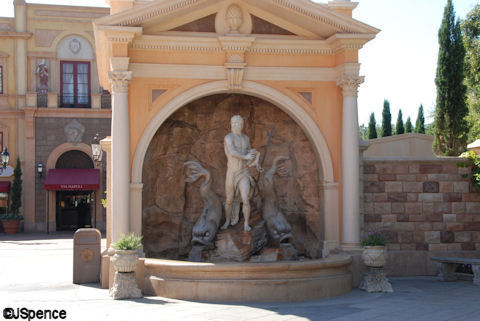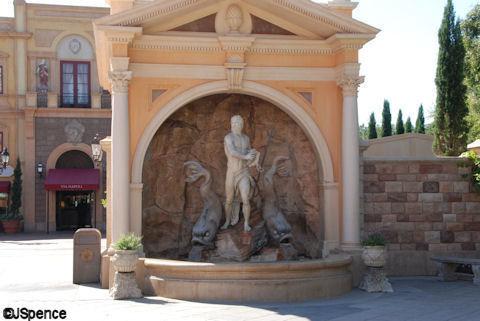 Attractions: N/A

There are no attractions in the Italy Pavilion.
Entertainment: B 
You may spot a few street performers while spending time in Italy… so be on the lookout! Currently there's a mime named Sergio performing. His whistle can be irritating, but he's been here for years, so people must enjoy him.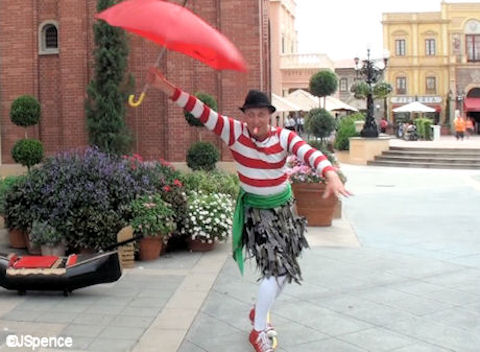 Food: B+
While in Japan, you can dine at Teppan Edo, Tokyo Dining, and Katsura Grill. Teppan Edo is a really great location because it offers both dinner and a show. It is like a Benihana-type of location where they cook in front of you while doing a few tricks with the food. There is also a great kiosk called Kabuki Cafe, where they serve the famous shaved ice Kakigori, as well as other sweet and savory treats!
I really enjoy dining in Japan because they offer a variety of options. And the list of dining options there is growing — Disney is building another table service restaurant in the pavilion to be named Takumi-Tei — read all about it here!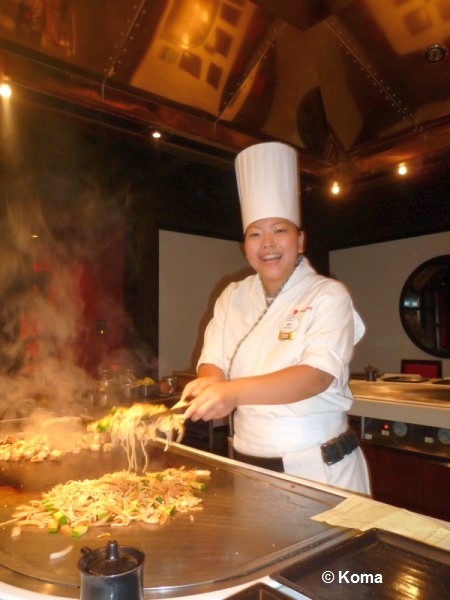 Merchandise: A
I LOVE shopping at the Japan pavilion. The Mitsukoshi shop is huge — you can buy everything from silk scarves to sake to Hello Kitty merchandise and bonsai trees. You can even pick your own pearl right out of an oyster here. My favorite thing to purchase is the Japanese candies. I also love buying the adorable little cups and bowls because they always have the cutest designs.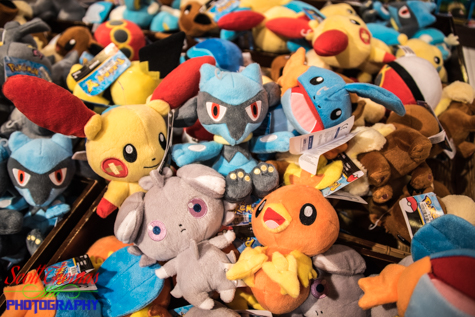 Theming: A-
Japan really is a beautifully themed pavilion, especially near the quick service location. Here you'll find a bridge with a lovely pond and lanterns.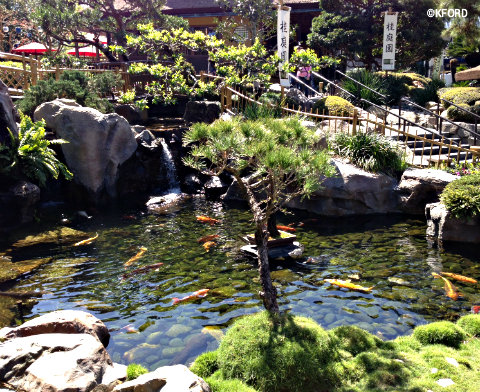 Attractions: N/A
There are no attractions in the Japan Pavilion.
Entertainment: B
The Matsuriza drum show really is cool to watch and listen! There are multiple shows throughout the day and we really suggest taking the time to stop for a listen. The show loses my interest after a few minutes, unfortunately.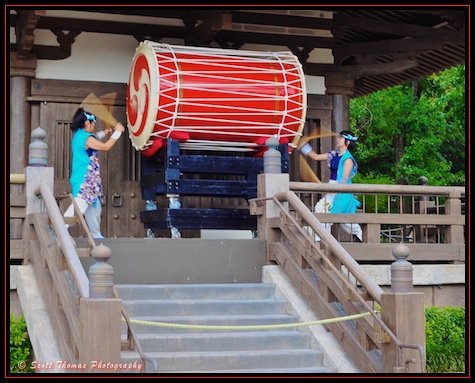 America
Food: C
There is no table service location in the America pavilion at Epcot. There are a few quick service locations, Liberty Inn, Fife and Drum Tavern, and Block and Hans.  They don't necessarily represent the best food and drink America has to offer, although Liberty Inn has been attempting to improve recently.
Merchandise: C
I also feel like Disney could step up their game when it comes to American merchandise. The shop is small and doesn't have very many options. The few options that are there mostly include copies of the Constitution, photos of the presidents,  flags, and stuff like that.
Theming: C
The theming is classic but boring. America has so many wonderful places that we could show off, so I feel like Disney is missing the mark here.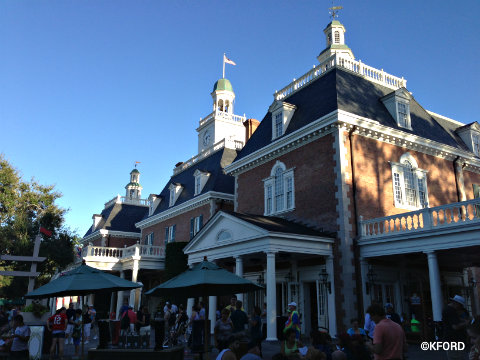 Attractions: C
There are no rides in the America pavilion, but there is the American Adventure, a 30-minute show that brings America's past to life. There are lots of showtimes throughout the day and I find the show very interesting, but it might be boring for those who aren't really interested in American history.
Entertainment: B
The Voices of Liberty show is in the America Pavilion is truly outstanding! The singers are amazing and I love listening to their renditions of classic songs. The America Gardens Theatre located at the America pavilion host a variety of special shows throughout the year — from the truly stellar Disney on Broadway Concert series early in the year to the Eat to the Beat concerts held during the Food and Wine Festival.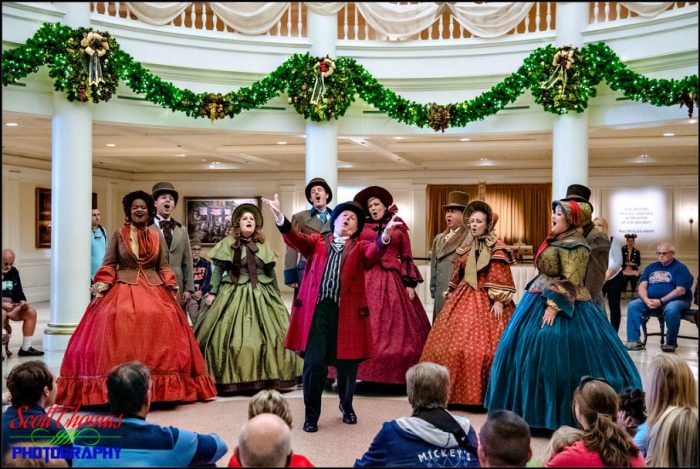 Morocco
Food: A
When traveling through the Morocco pavilion check out their dining locations. I feel like they are often overlooked, but they are actually rather delicious. Restaurant Marrakesh and Spice Road Table both offer slightly out-of-the-ordinary, Middle Eastern options, but the menus have enough to please less adventurous palates, too. Another great dining location in Morocco is Tangierine Cafe. This Quick Service location serves traditional Middle Eastern cuisine and is a great option for a quick meal on the go.
Check out a few guest reviews of the locations here!
Merchandise: B-
Though there are some interesting items within the Morocco pavilion, I don't often find myself stopping to look. The souvenirs are not really things I'd personally bring home, but there are some authentically Moroccan pieces that make a nice change from the usual t-shirts or collectible pins.
Theming: A
Theming-wise this is one of my favorites, especially when taking photos. The fountains and architecture are stunning!
Attractions: N/A
There is not a ride in Morocco but,  the Morocco gallery of Arts and History is really interesting to look through if you have the time!
Entertainment: B 
There is usually some sort of live music at the pavilion! And there is also a belly dancing show inside the Marrakesh restaurant, which is really fun to watch — and maybe even participate in! I love these offerings and find them really unique. Also, you can meet Jasmine on a daily basis in this pavilion. Check your My Disney Experience App for her meeting times!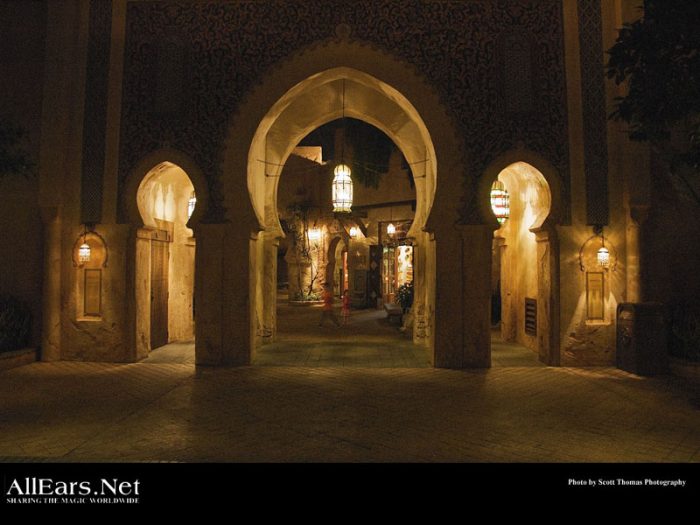 France
Food: A
When traveling through the France pavilion, make sure you check out their dining locations… because they have a lot and they're really good!! The spots include Les Vins de Chefs de France, Monsieur Paul, Boulangerie Patisserie Les Halles, and L'Artisan des Glaces. I really enjoy all of the options and feel like there is always something I've never tried, like the amazing macaron ice cream sandwiches! A new authentic French Crêperie will be added to the pavilion very soon — read all about it here!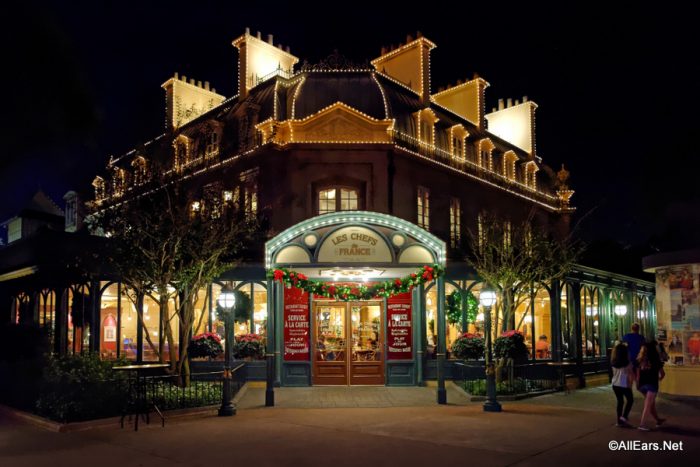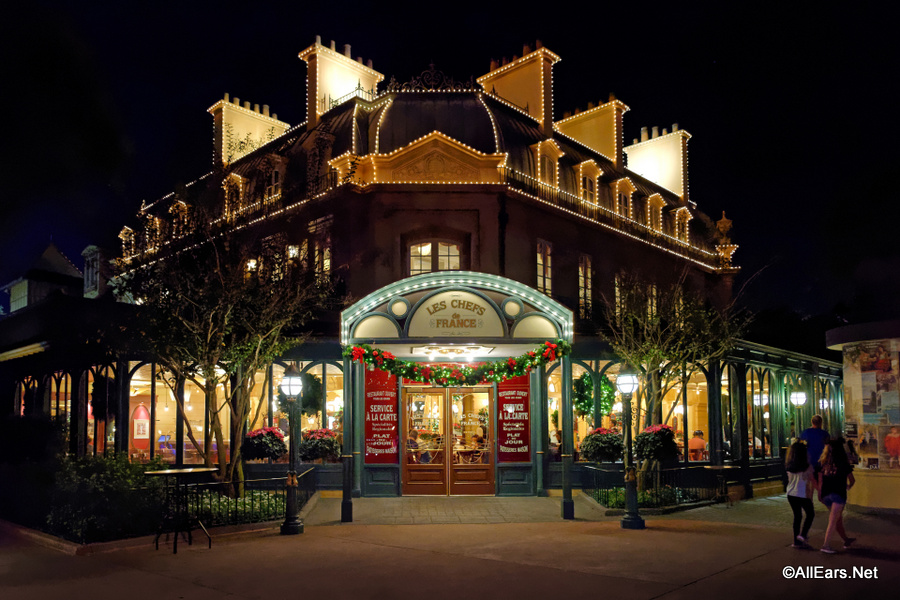 Merchandise: B
I love looking through the shops here, but they're pretty small. From perfume to French wines to apparel and jewelry, they do have plenty!
Theming: A
I just adore the theming of this pavilion… The plants and fountain are always so lovely and I love the little nods to art throughout. I also feel like the architecture, the arcade shops and the little streets and alleys are very authentic.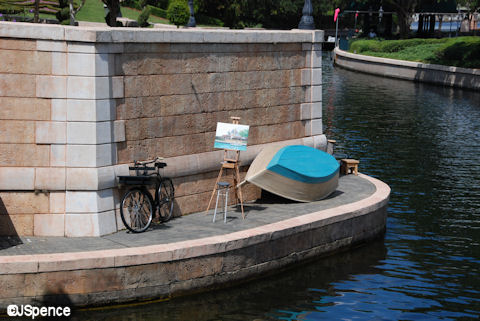 Attractions: B
There are not currently any rides in the France pavilion… but that will soon change with the opening of Remy's Ratatouille Adventure. Read all about the new attraction here! The one attraction in the pavilion is a film, Impressions de France.  The film gives a little insight into French culture and lifestyle, plus it's a true theater, where you can sit. Another show is slated for the pavilion soon — a Beauty and the Beast singalong!  Read all about it here.
Entertainment: C-

The current entertainment in this pavilion has been there for YEARS — it's a balancing act called Serveur Amusant. It's impressive to watch, but after seeing it for years, we really wish they'd add something new!
There's also a character meet & greet in this pavilion — sometimes it's Belle or Aurora, in the past it was Marie from the Aristocats. Check the times guide or My Disney Experience for the most recent details.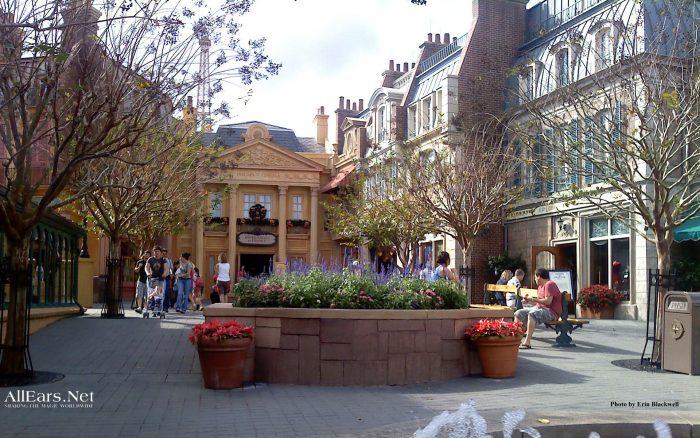 United Kingdom
Food: A
The dining locations in the UK pavilion are the Yorkshire County Fish Shop and the Rose and Crown Dining Room. I love the food and drink options at this pavilion and I think that the food is super delicious! The fish and chips are especially great. And I know beer drinkers enjoy the pub here, too! Check out a few other reviews for yourself in our Rate and Review section here!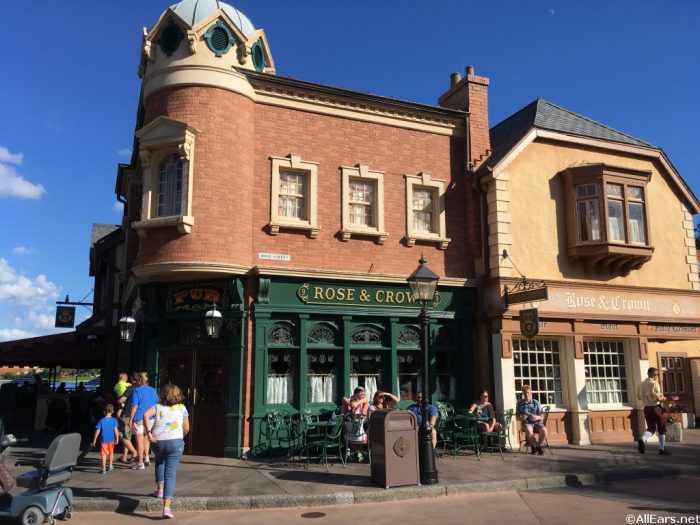 Merchandise: B+
There are some fun merchandise options in the UK Pavilion. Whether you're looking for English candy or tea at the Tea Caddy, or a Doctor Who t-shirt, or perhaps wanting to research your heritage, there's lots to look at in these shops.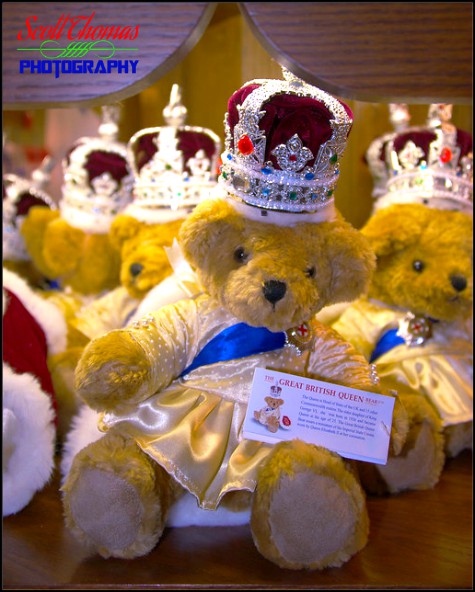 Theming: A
I really like the theming of the UK pavilion. It's simple, but it really shows off the timeless beauty of the United Kingdom with fun little nods the country's architecture and history throughout!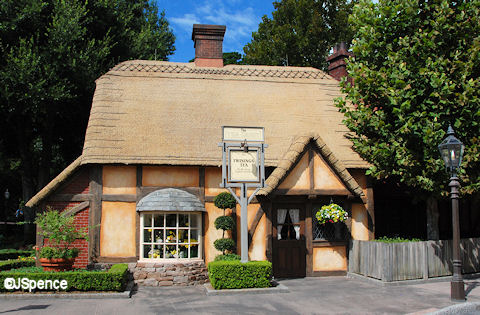 Attractions: N/A
There are no rides or shows in the UK Pavilion at Epcot!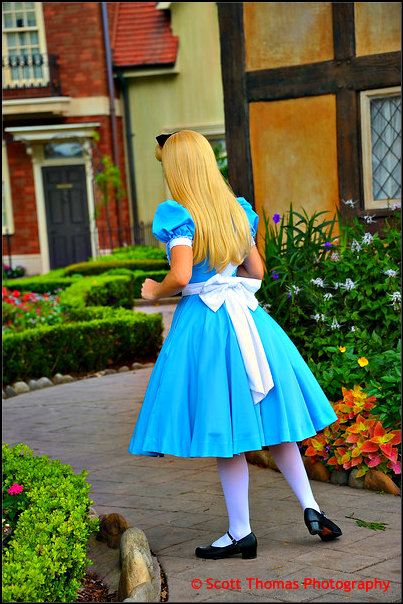 Entertainment: A
What the pavilion lacks in attractions, it makes up for entertainment.
Be on the lookout for both Mary Poppins and Alice throughout the day here. Also, near the back of the pavilion, you'll spot a live band! Currently, the band is the British Revolution, playing British rock-and-roll hits from the 1960s through the 1980s.  I really enjoy watching at night while sipping on a snake bite from Rose and Crown. You can also find fun entertainment in the pub!
Canada
Food: A+
People rave over the Table Service location, Le Cellier inside the Canada Pavilion. Since so many people love the location, it can be difficult to get a reservation. If you know you want to dine here make sure you try to get that reservation 180 days in advance! The location features steaks, prime rib, and more. There's no counter-service spot in Canada, surprisingly. We think a stand selling poutine would go over really well — at least, we'd buy it!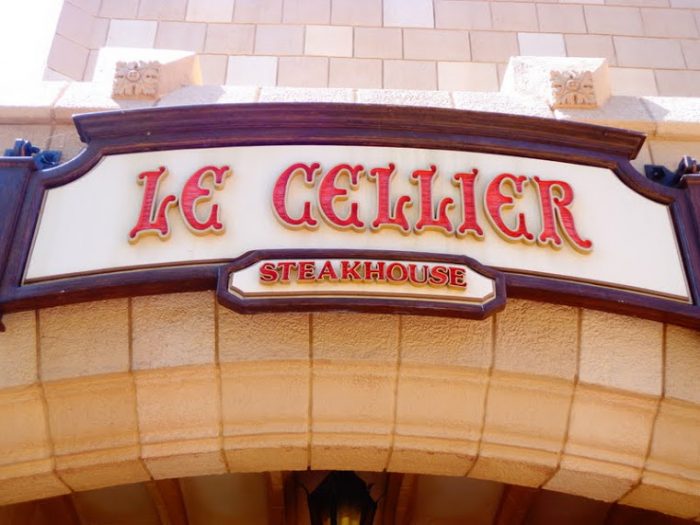 Merchandise: C
The merchandise in the Canada pavilion's shops doesn't really blow me away. I just want to see more unexpected things I guess. And I want more. There doesn't seem to be a wide selection.
Theming: B+
If you do go walk into the Canada pavilion you will see that there are some pretty cool theming features. The totems are very cool, and the waterfall at the back of the pavilion is impressive! The Victoria Gardens, on the walkway down to Le Cellier restaurant, are beautiful year-round, especially during the Flower and Garden Festival.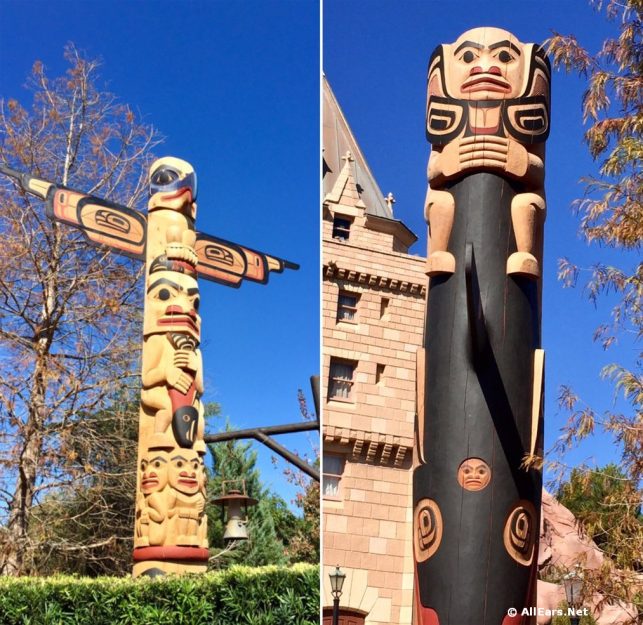 Attractions: C
There is not a ride in Canada, but there is a Circle-Vision 360 film called O Canada. It stars the very funny and famous Canadian Martin Short and is worth seeing at least once. But again, you have to stand for about 20 minutes to experience the all-surrounding film, which is good, but not THAT good, if your feet hurt!
Entertainment: B
This pavilion always has live performers, usually straight from Canada, on the Red Mill Stage. You can count on them giving a lively, highly entertaining performance.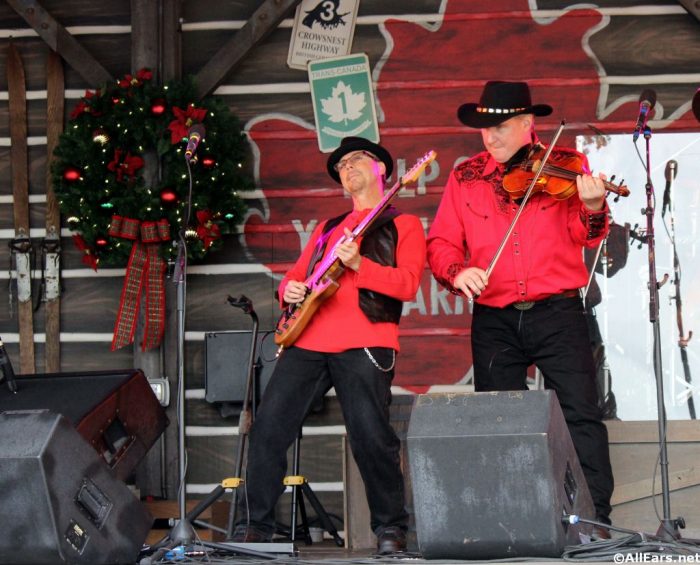 So based on our very unscientific ratings, and adding a heaping dose of personal opinion, we'd have to say we rank the top three World Showcase pavilions to be:
1. United Kingdom
2. China
3. Mexico
And at the bottom of our ranking would be our very own American Adventure pavilion!
What do you think about our rankings? What is your favorite pavilion in World Showcase? Your least favorite? Let us know in the comments below!

Don't forget to subscribe to our YouTube Channel for reviews, news, information and more!
Be sure to follow @allearsnet on Instagram and Twitter!
Click below to subscribe to the AllEars® newsletter so you don't miss any of the latest Disney news!