It's Remy Day here at AllEars!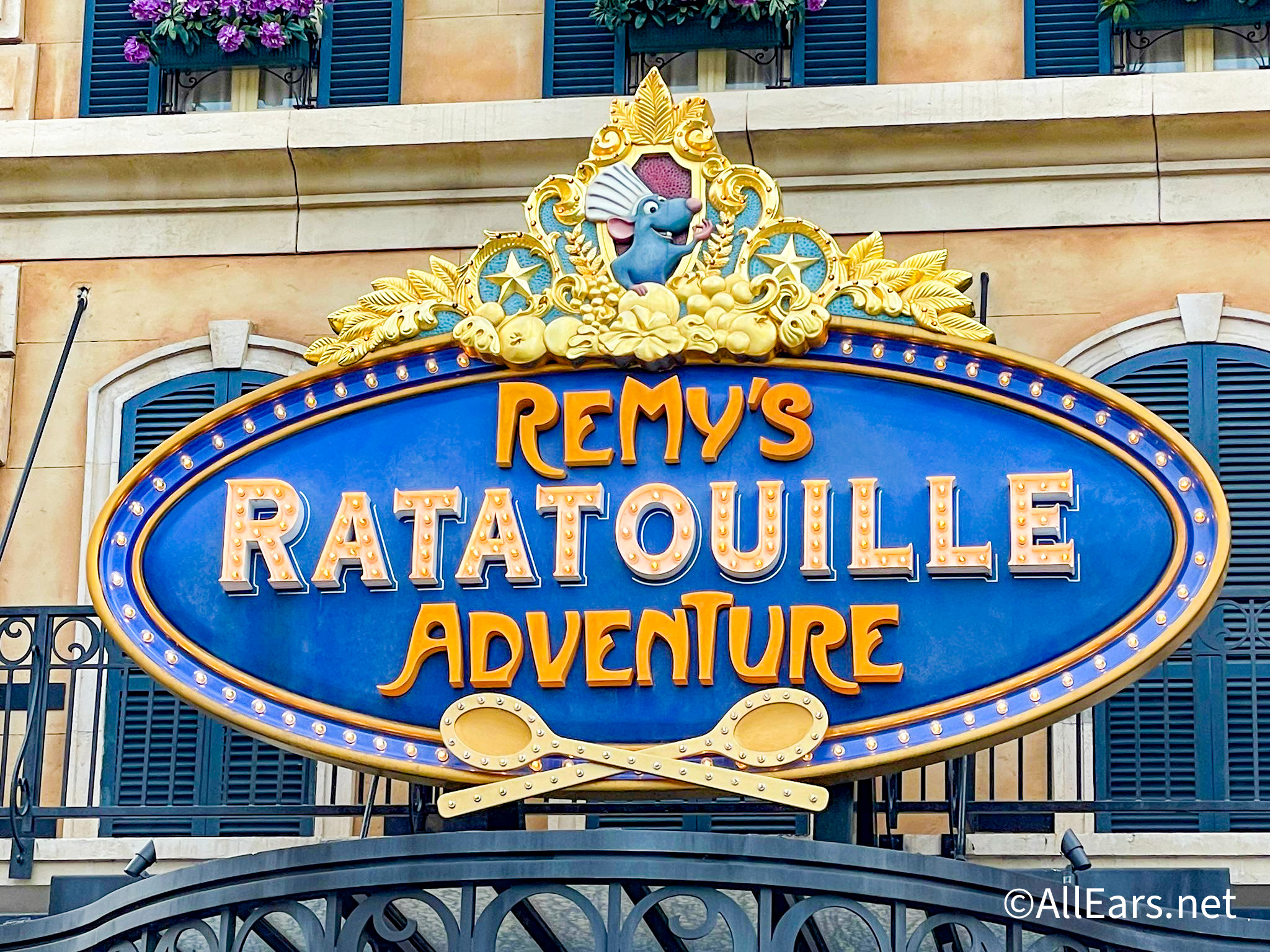 Today we got to ride Remy's Ratatouille Adventure and we can't wait to tell you all about it! We already shared with you our first look at the ride, but this time we bring photos AND videos to share from inside!
If you don't want any ride spoilers, you might want to skip to the end of the article!
We made our way over to the France Pavilion in EPCOT to enter the ride queue for Remy's Ratatouille Adventure.
Cast Members greeted us at the entrance. You'll notice there's still a FastPass sign out front — that has not changed over to the Lightning Lane signage we've seen on other rides yet!
And we're now in Paris, France! Gusteau is not just a sign in the ride queue.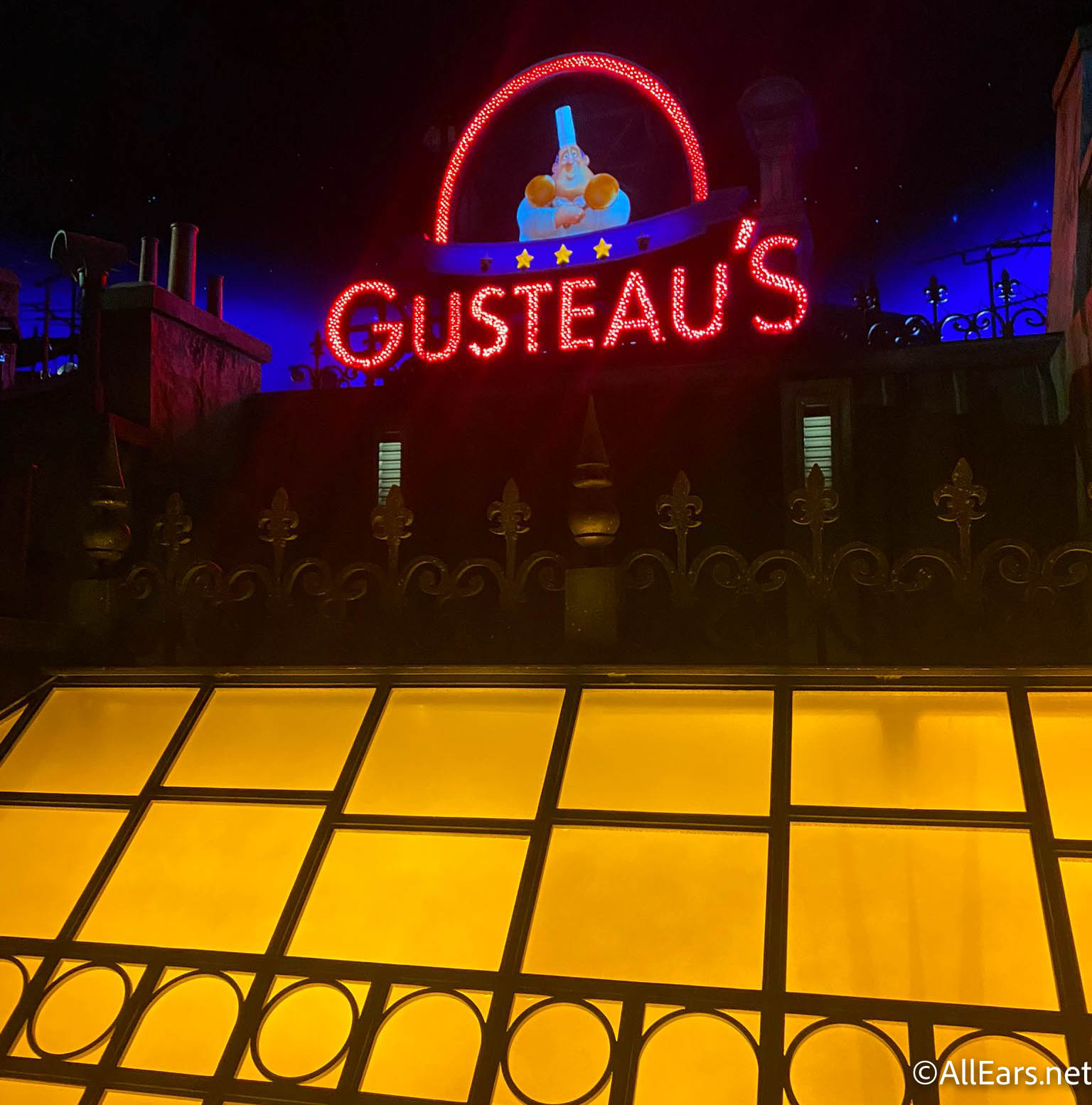 He talks! Gusteau welcomed us to Paris, and let us know that Chef Remy would be cooking up one of his specialty dishes. (Can you spot the Hidden Mickey?)
A look at Gusteau in the Remy queue #RemyatEpcot #DisneyWorld50 pic.twitter.com/KhXtrri6Se

— AllEars.Net (@AllEarsNet) September 3, 2021
The ride queue transports you to a beautiful evening in the city of Paris.
Another look inside the Remy queue #RemyatEPCOT #DisneyWorld50 pic.twitter.com/tIhwJcV0gk

— AllEars.Net (@AllEarsNet) September 3, 2021
Once you enter your ride vehicle, which uses a trackless ride system, we put on our 3D glasses and we were brought to Remy on the roof of Gusteau's, trying to decide what dish to cook for a food critic.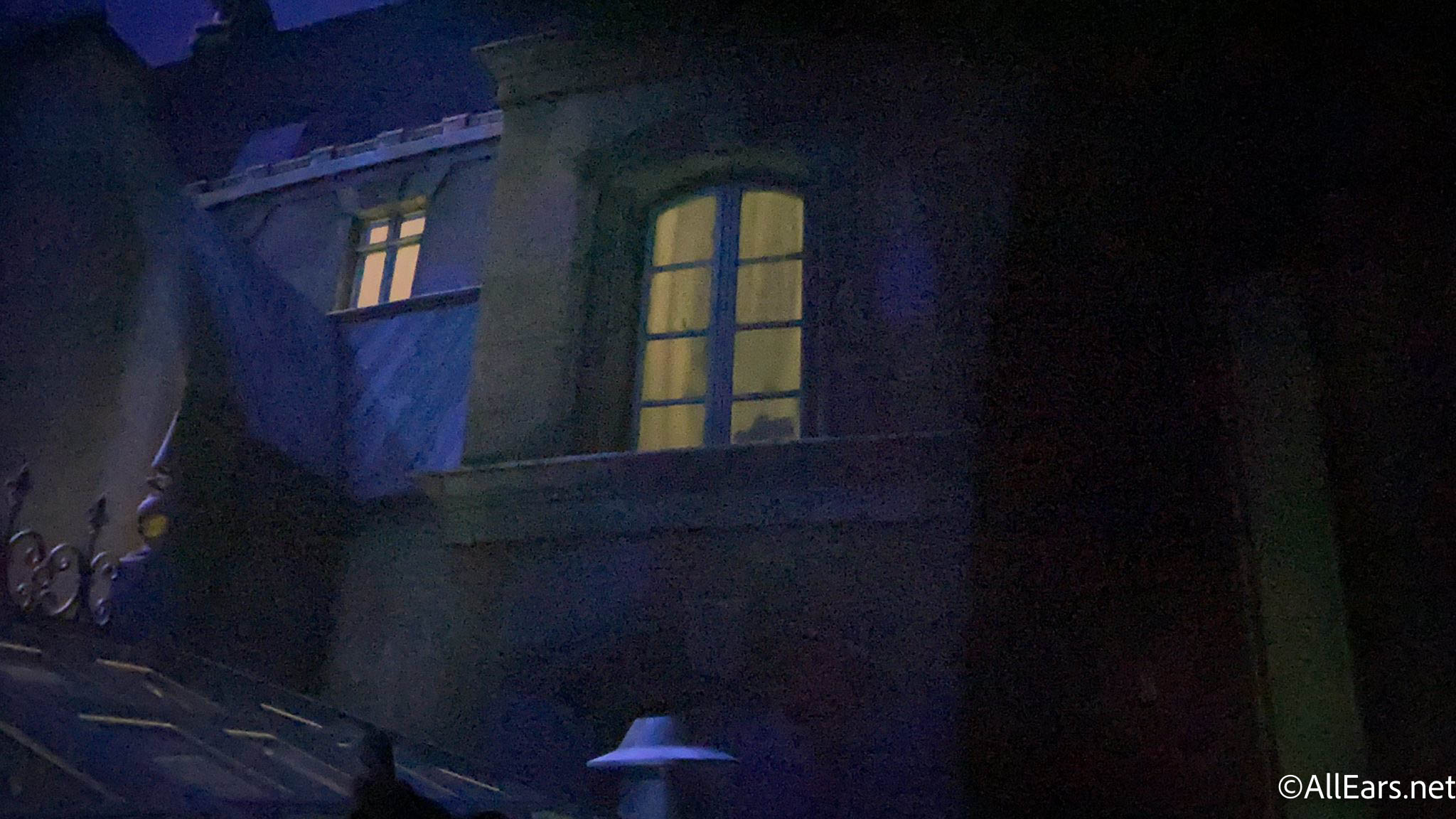 Remy talks to Gusteau's "ghost" for some guidance.
And they discuss ratatouille, of course, which Remy decides to make for the food critic.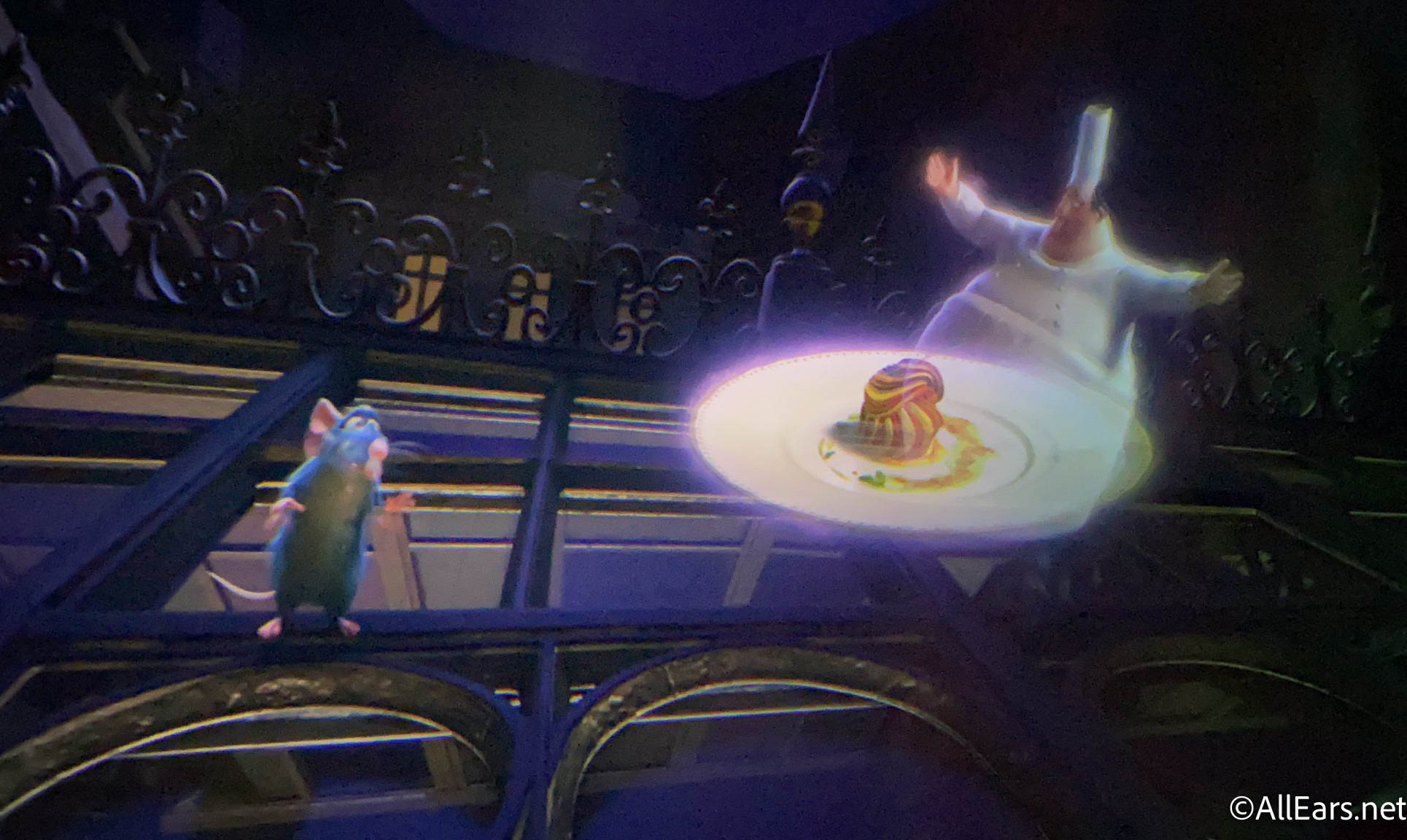 Suddenly the window on Gusteau's roof opens, and we all fall into the restaurant and shrink to the size of Remy!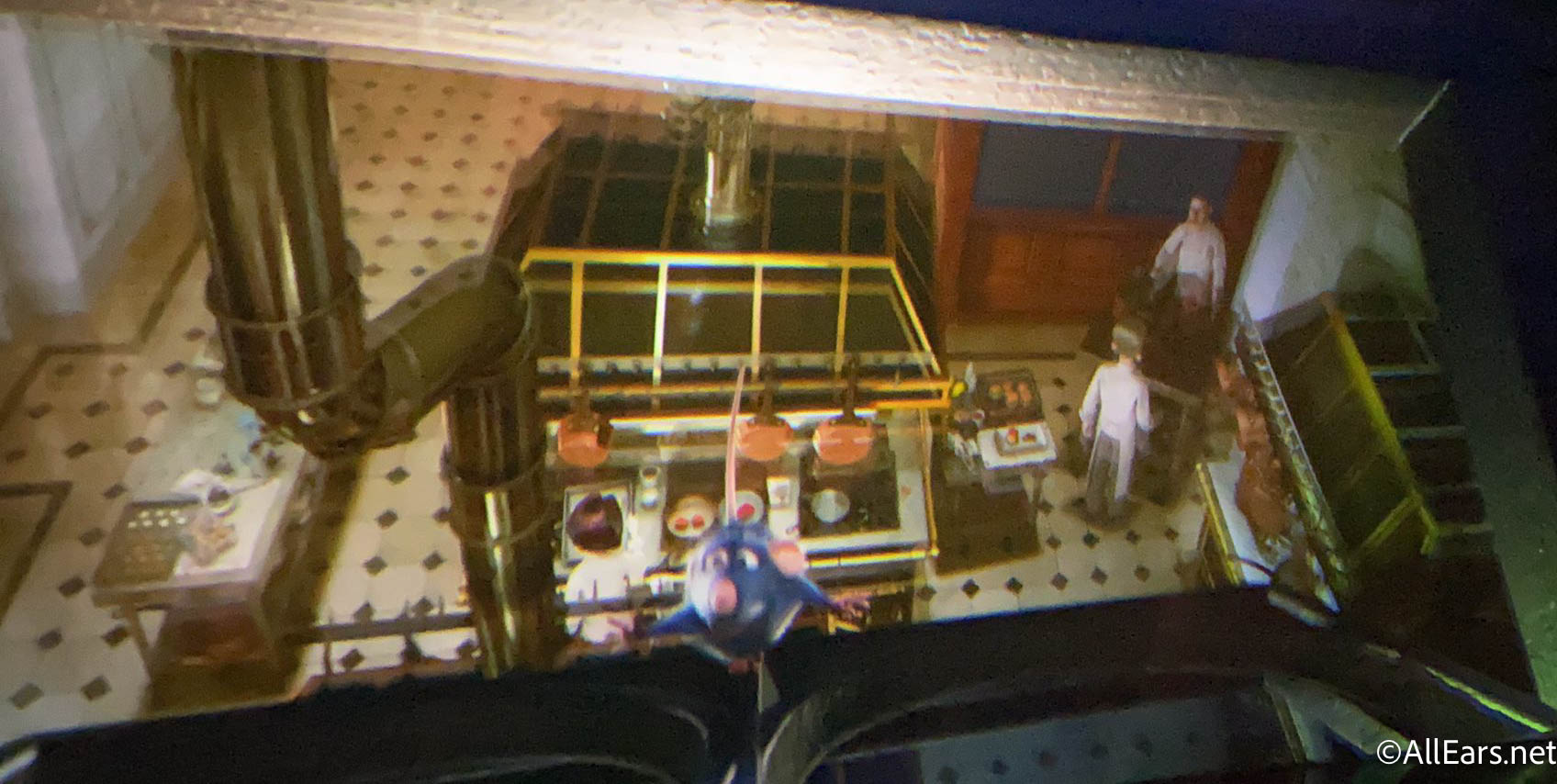 Now that we're rat-sized, we have to hide! Linguini doesn't want Skinner to find us.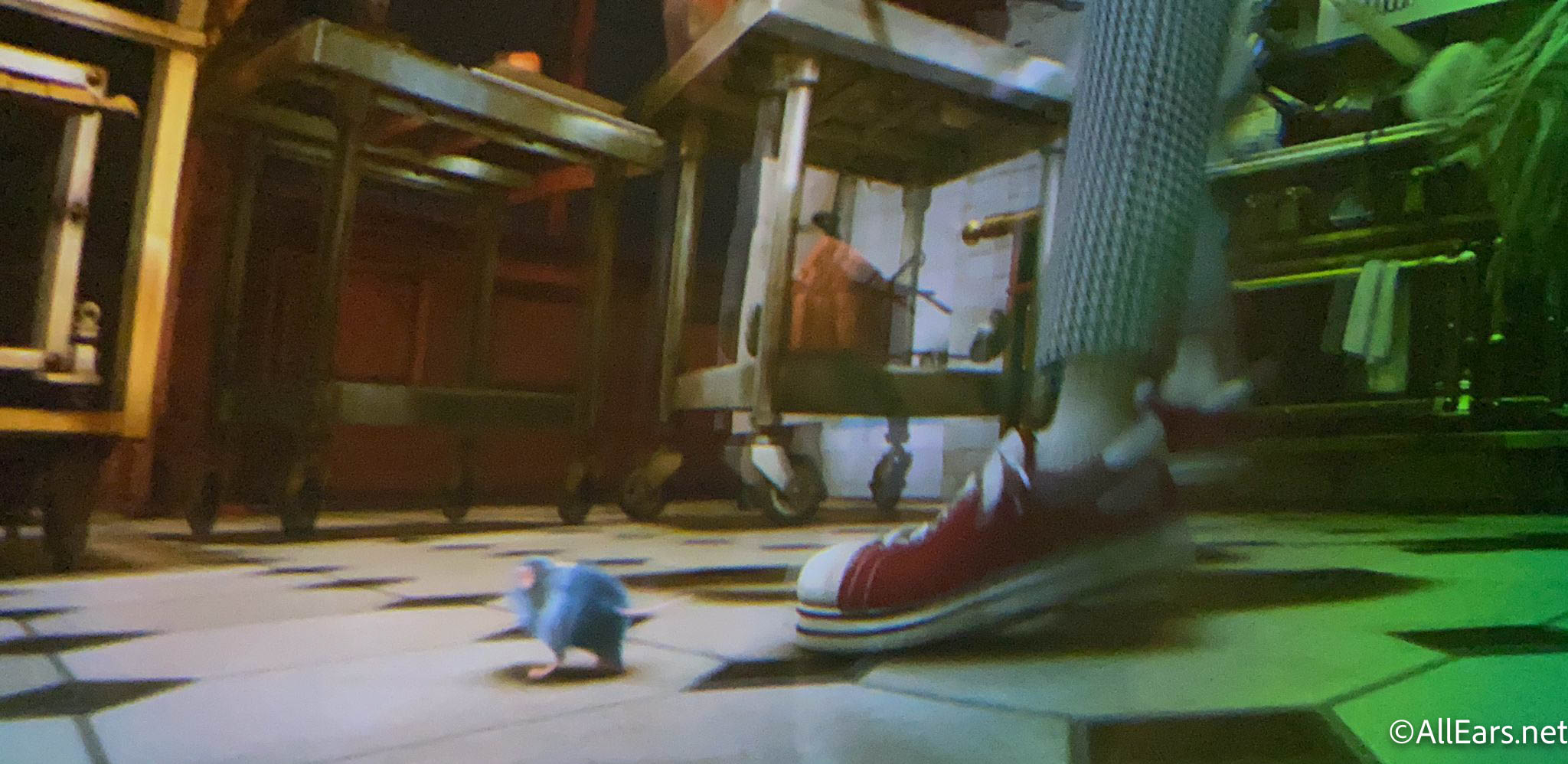 We run all over the kitchen trying to find the best spot to hide out, and we get splashed by a mop (the ride actually splashes you a little).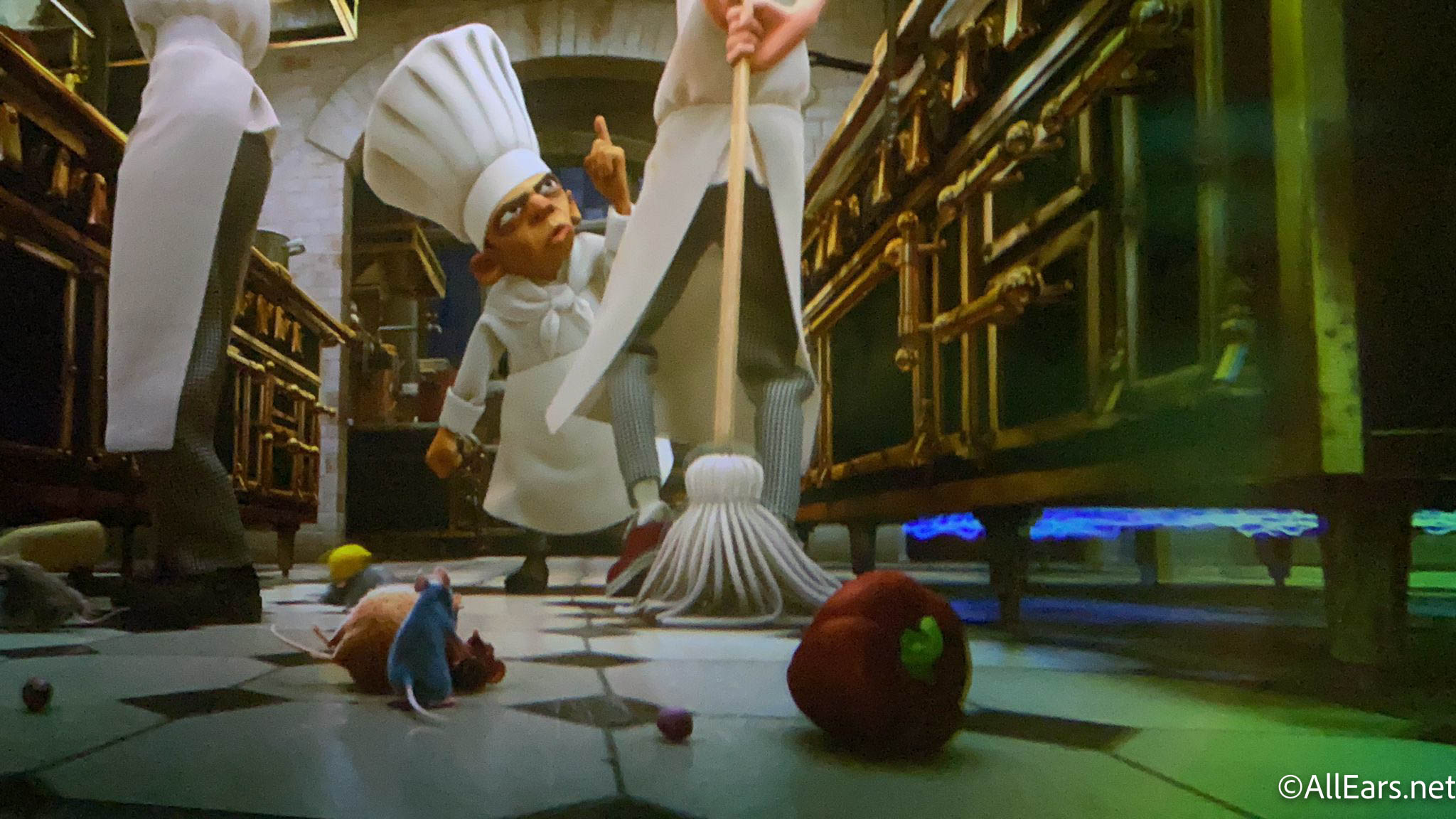 As we scamper past the furnace you can really feel the heat.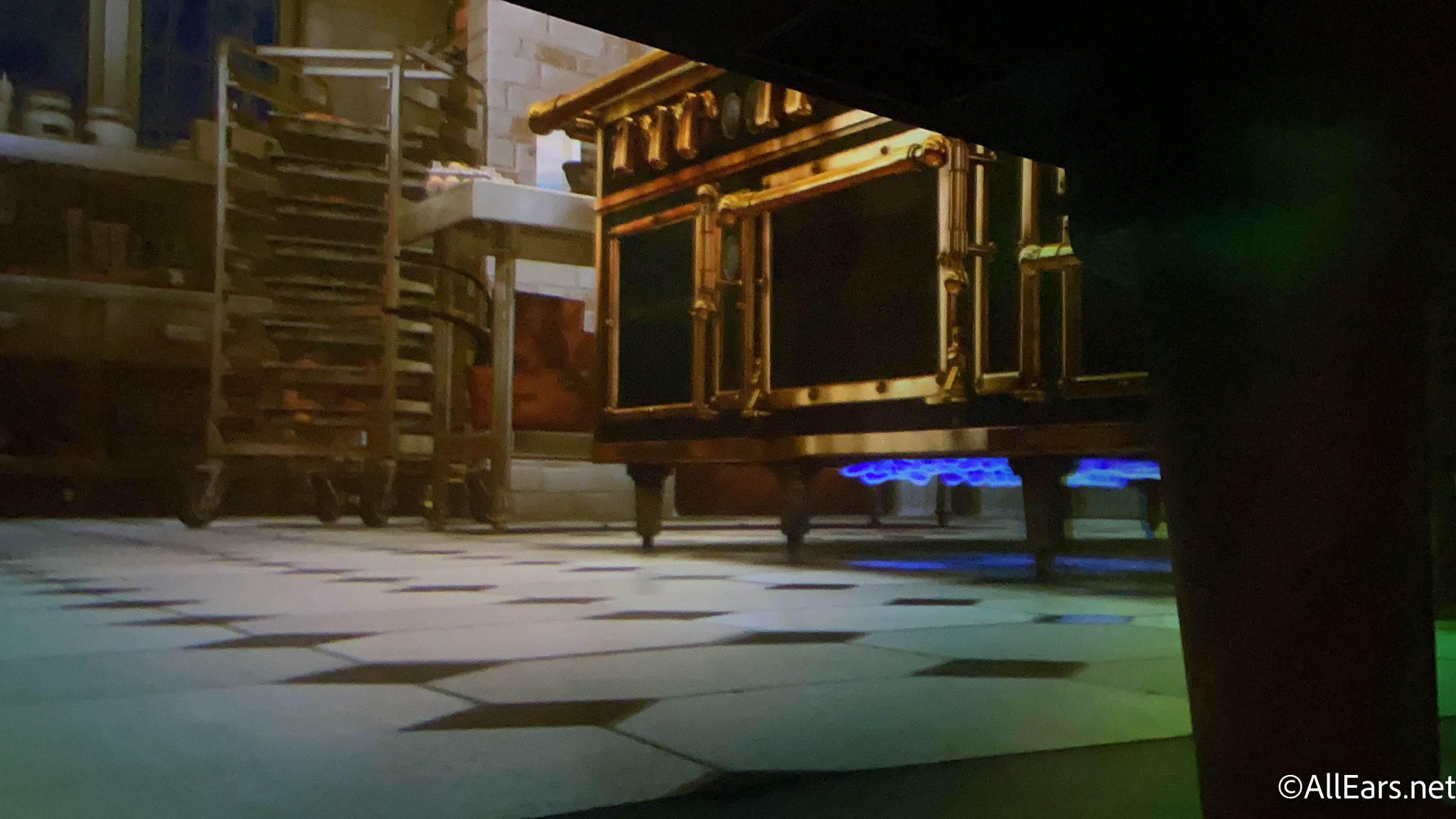 We make a stop to hide in the kitchen's cooler too.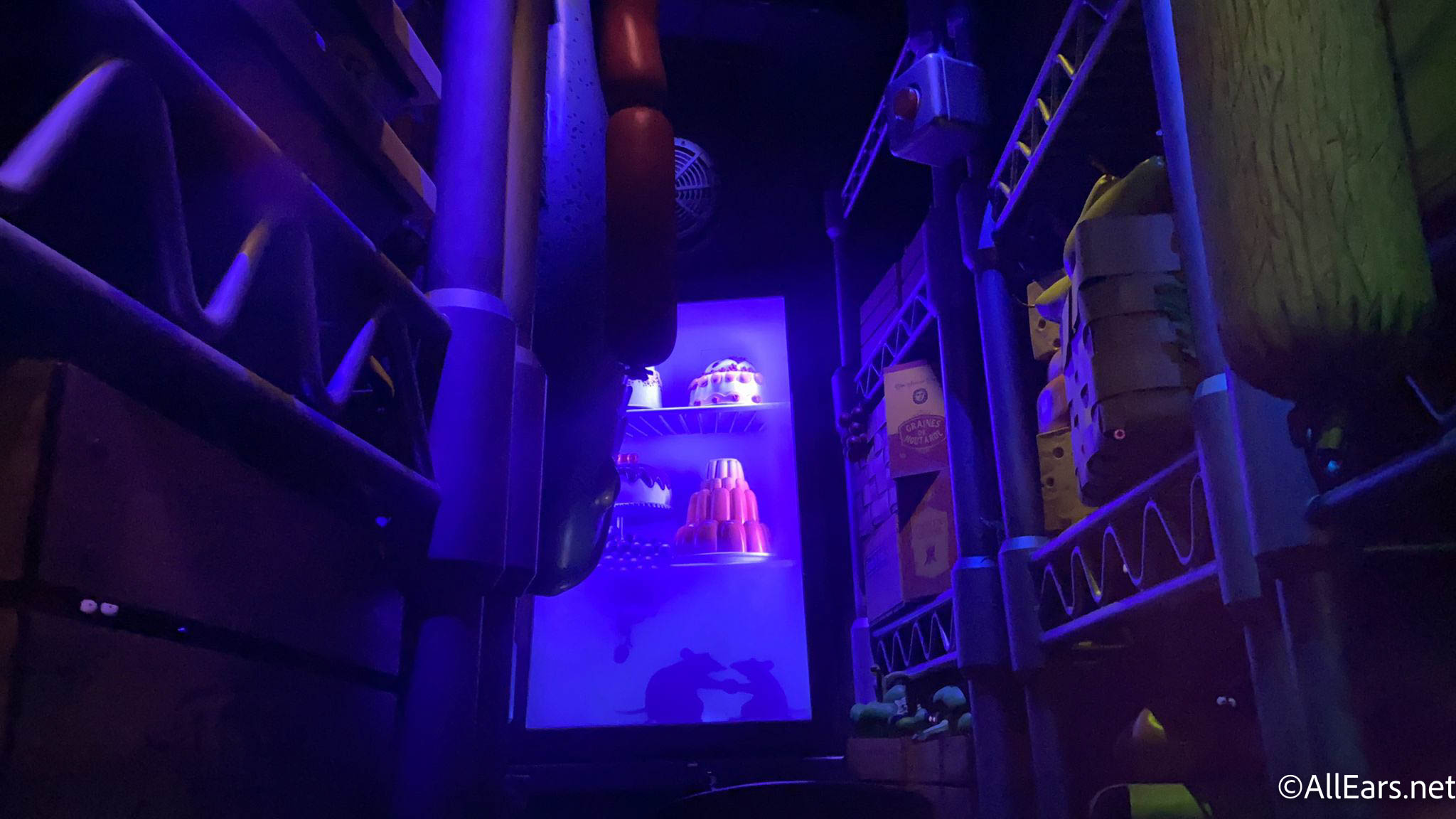 We end up in the dining room at one point, with a glimpse of the notorious food critic, Anton Ego.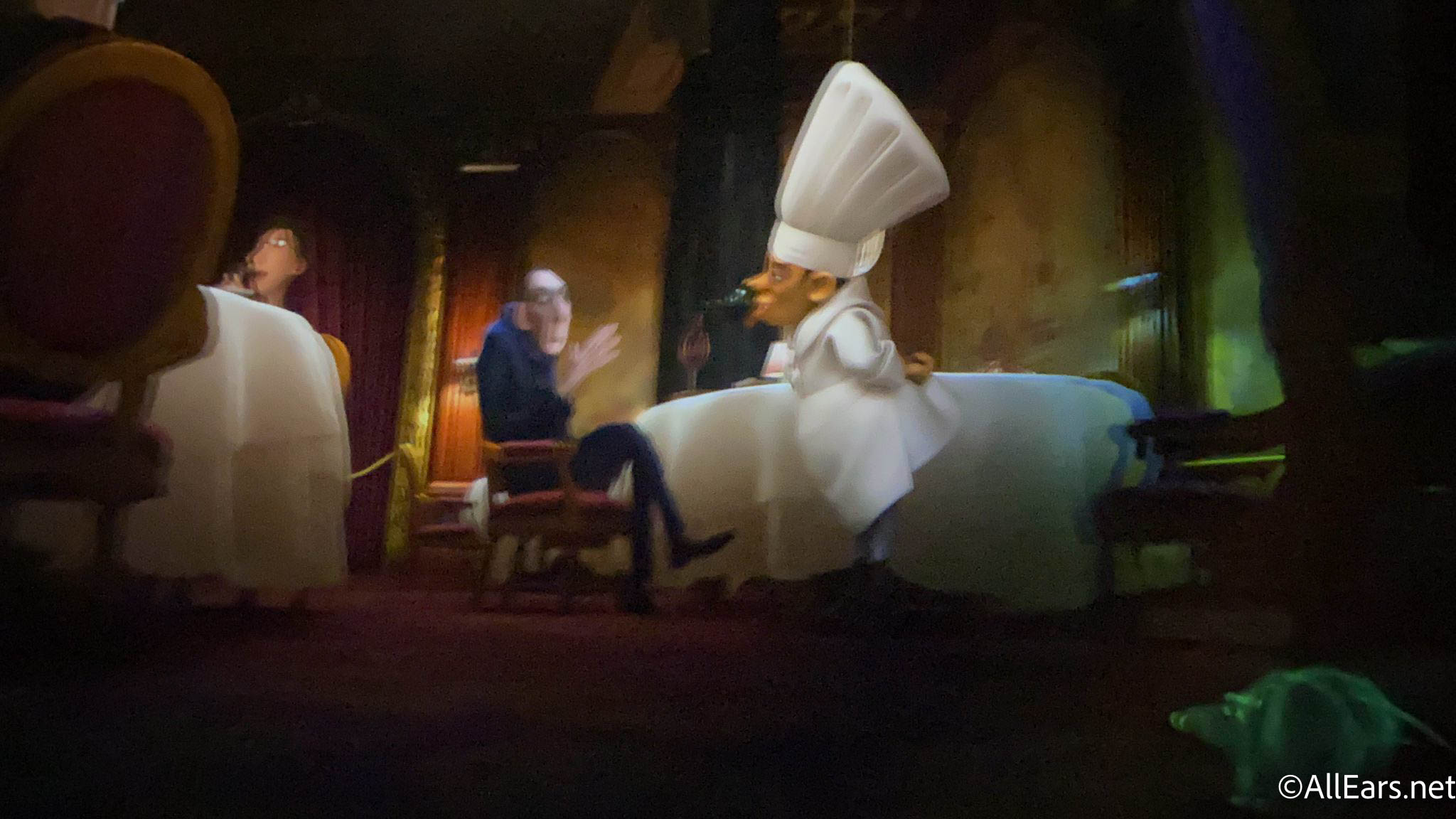 Then Skinner spots us!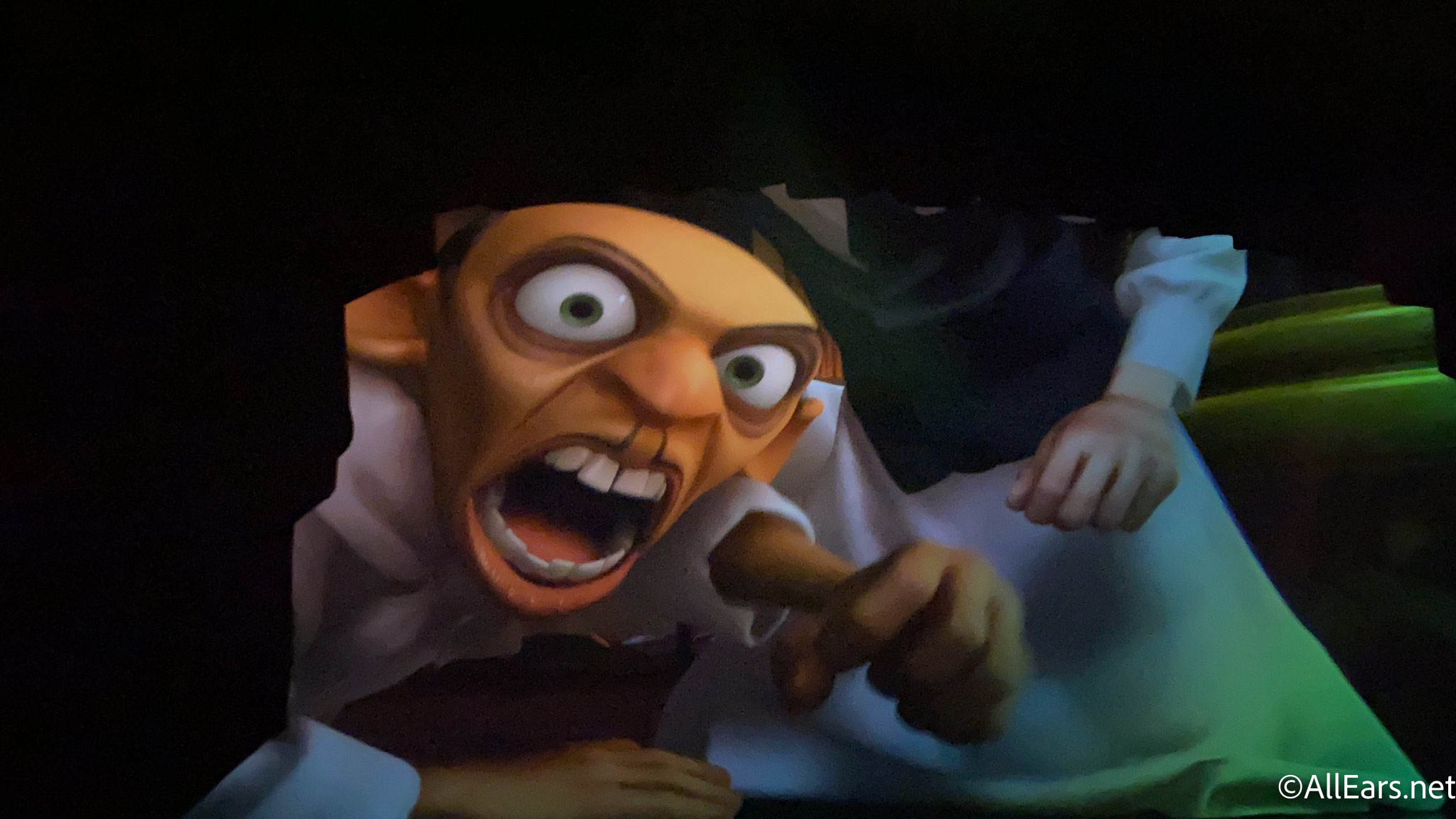 He tries to grab us…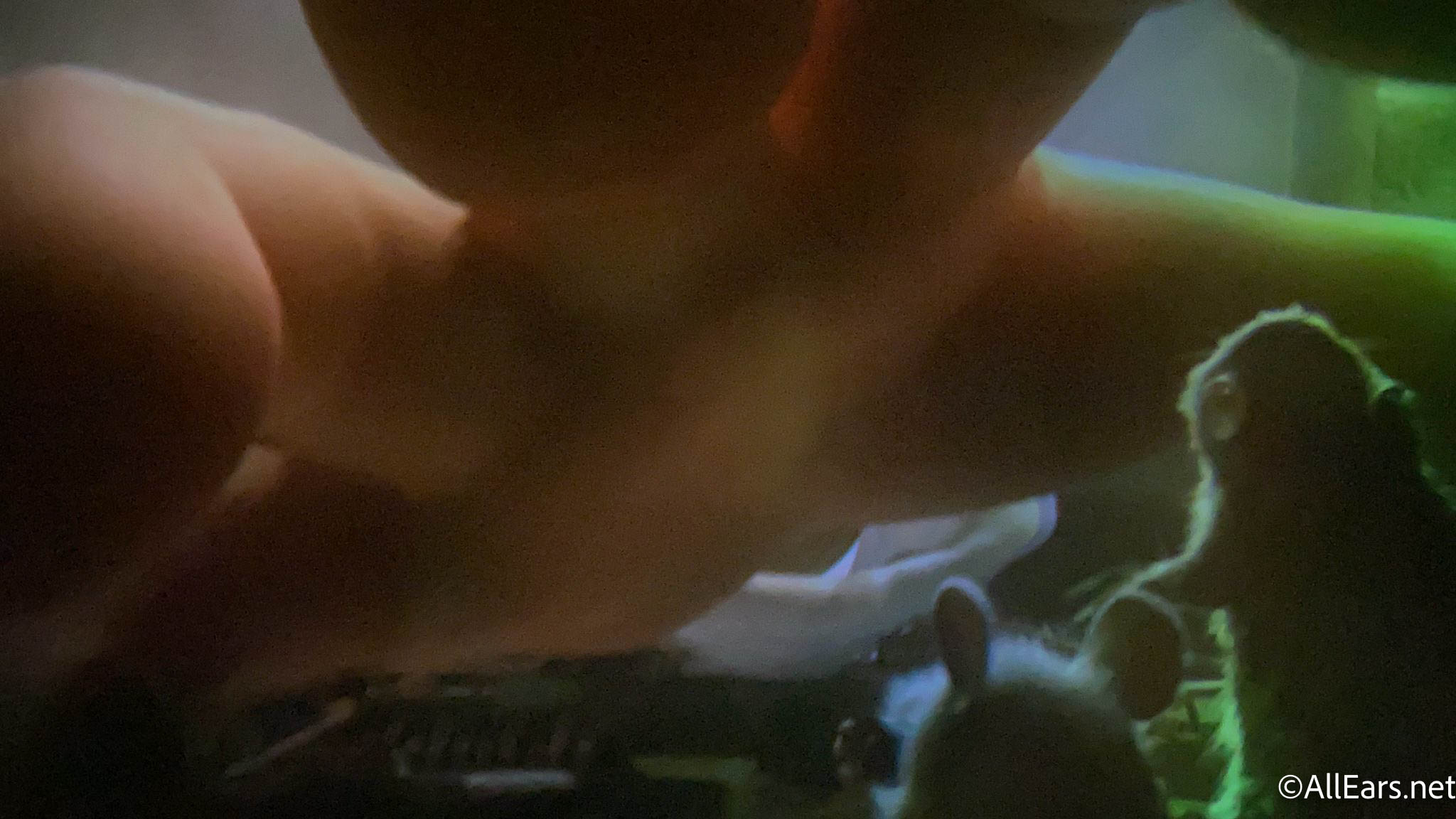 …and Linguini helps us escape into a vent.
Skinner does not give up on the chase, but thankfully all the rats join together to help in the kitchen.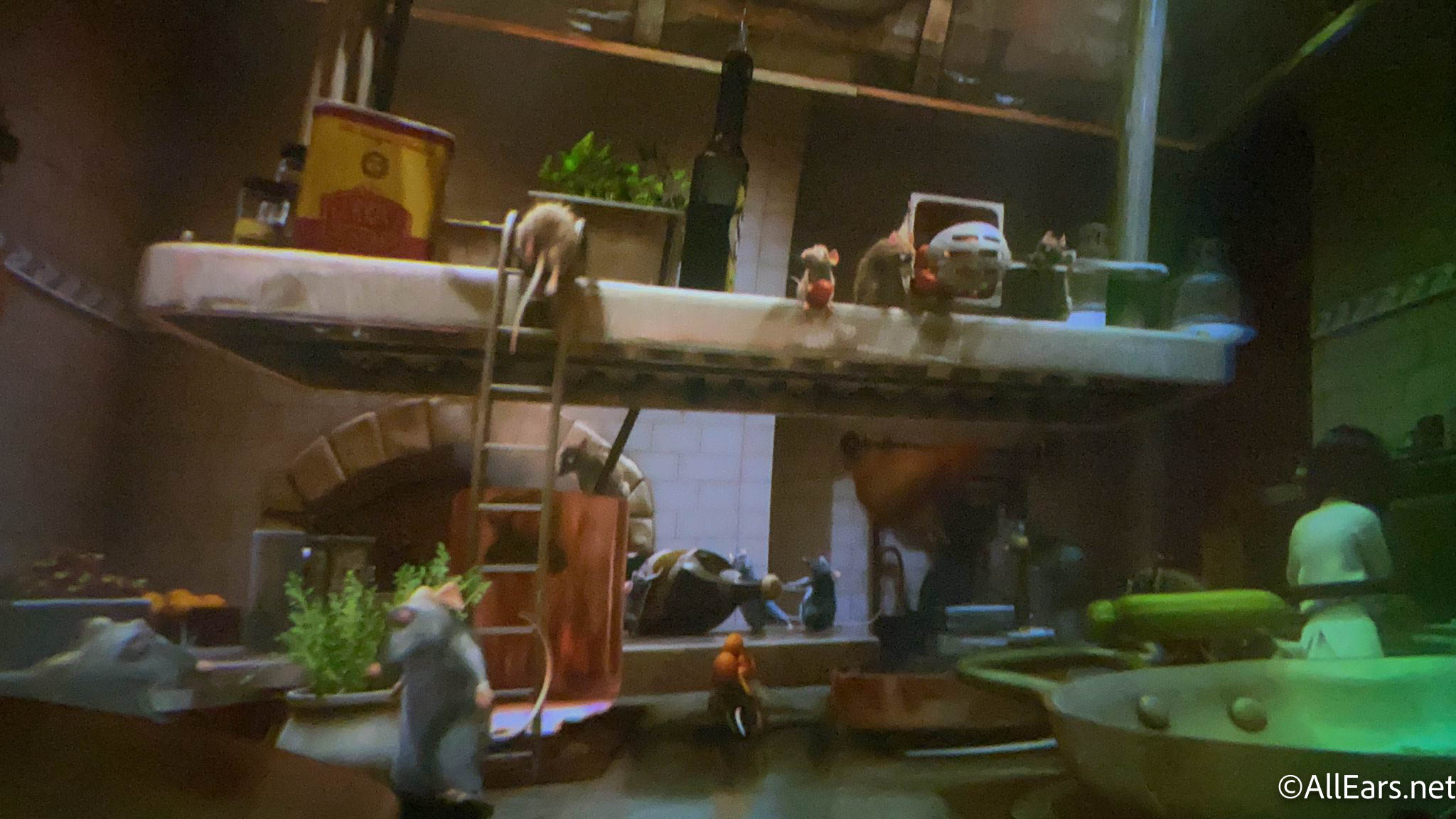 We escaped the wrath of Skinner, and now it's time to visit Remy's special rooftop dining space.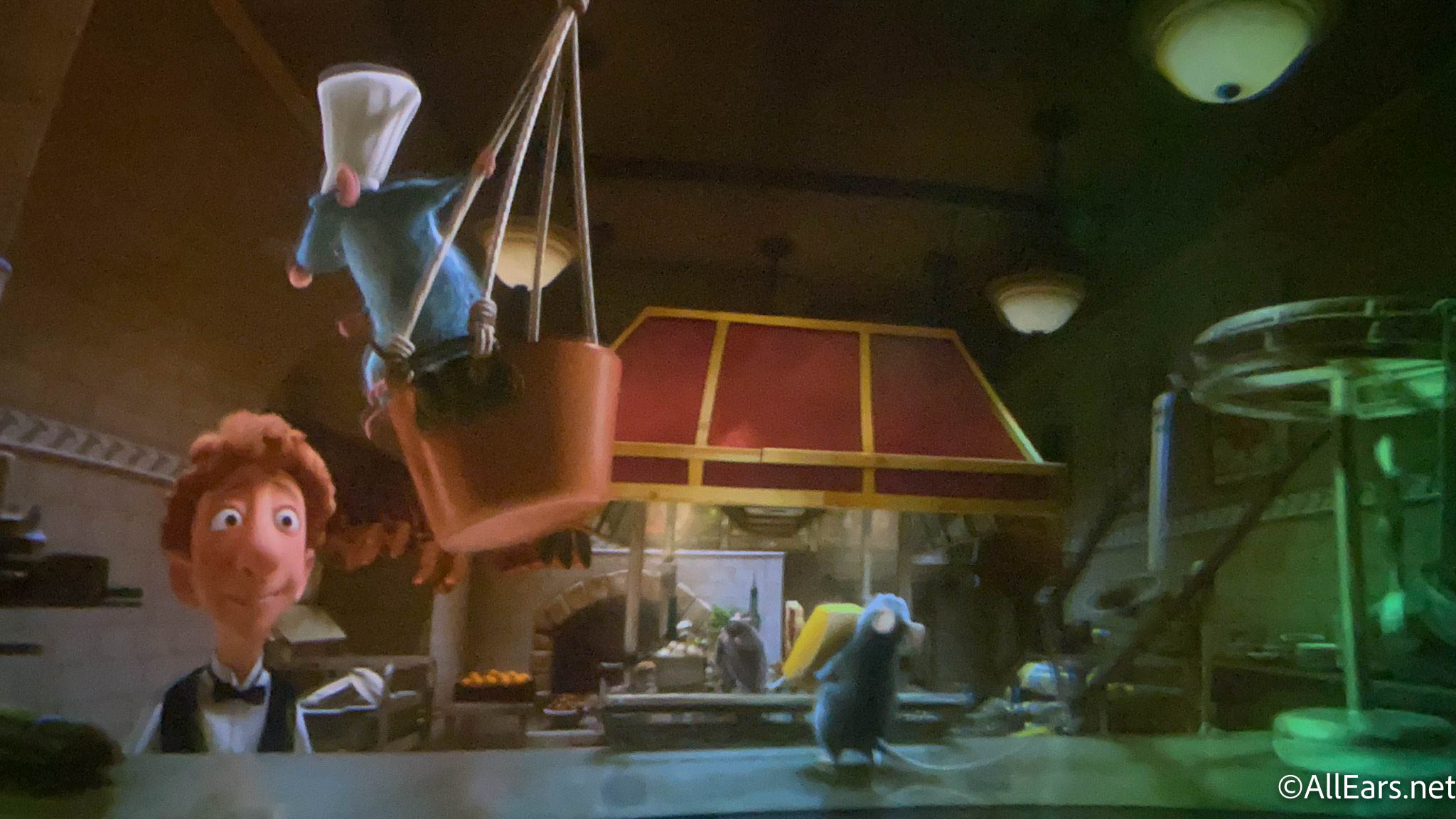 All of Remy's friends and family are waiting for us there! It's time to eat, and you can even smell the delicious food.
Gusteau's "ghost" stops by to greet everyone.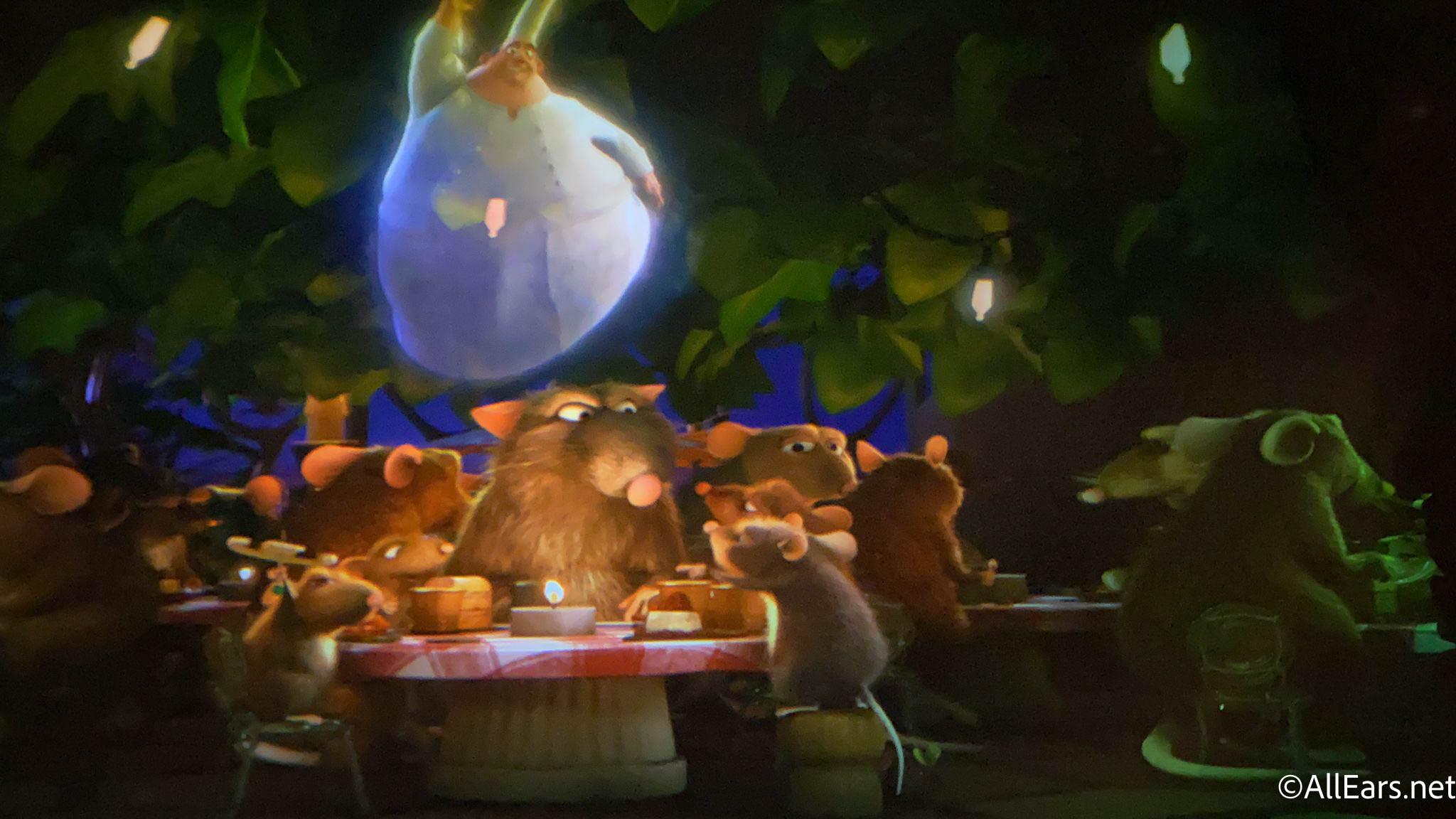 And Remy serves everyone his specialty dishes.
And that's Remy's Ratatouille Adventure! If you're looking to watch a ride through in its entirety, you can below!
Are you ready to ride Remy's Ratatouille Adventure 🐀🧀 with us? (SPOILER WARNING if you want to stay unspoiled on the ride!!) #RemyatEPCOT #DisneyWorld50

Posted by AllEars.Net on Friday, September 3, 2021
This ride will open to the public on October 1st and it will utilize a virtual queue system, much like Star Wars: Rise of the Resistance. There will be two times per day to get your spot in the virtual queue (7AM and 1PM) so keep that in mind for your visit.
Keep reading All Ears for all your Disney World news and updates!
Do you plan to ride Remy's Ratatouille Adventure on October 1st? Tell us in the comments!
Join the AllEars.net Newsletter to stay on top of ALL the breaking Disney News! You'll also get access to AllEars tips, reviews, trivia, and MORE! Click here to Subscribe!

Disclosure: We were invited by Disney World to attend a media preview. This did not affect our reporting of the event — our opinions are our own.