This week, the newest Walt Disney World signature restaurant opened in Epcot!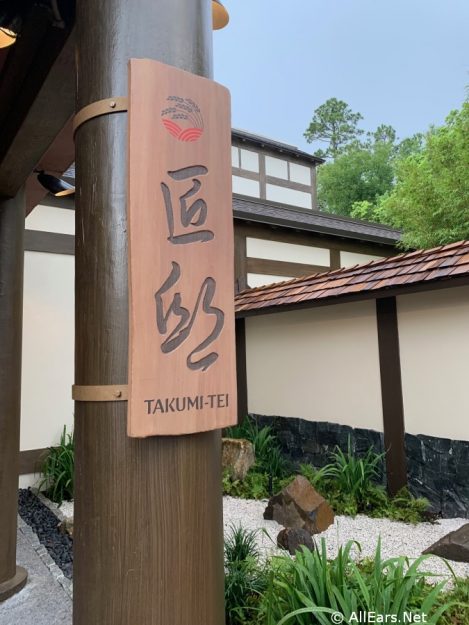 Takumi-Tei soft-opened just a few days ago in the Japan pavilion, and we were among the first to eat at this new gorgeous restaurant!
The five dining rooms are decorated to represent five elements that are rich in Japanese culture — Wood, Earth, Paper, Stone, and Water. We shared a full photo tour of Takumi-Tei that you can check out here!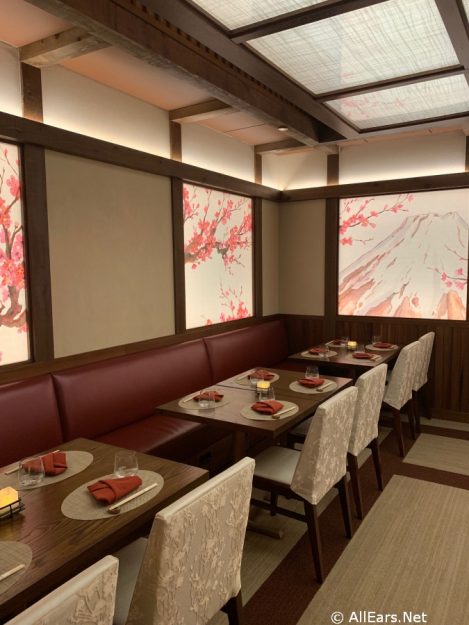 But now, we wanted to share photos and a review of what we ate!
To start, we tried a few of the signature cocktails.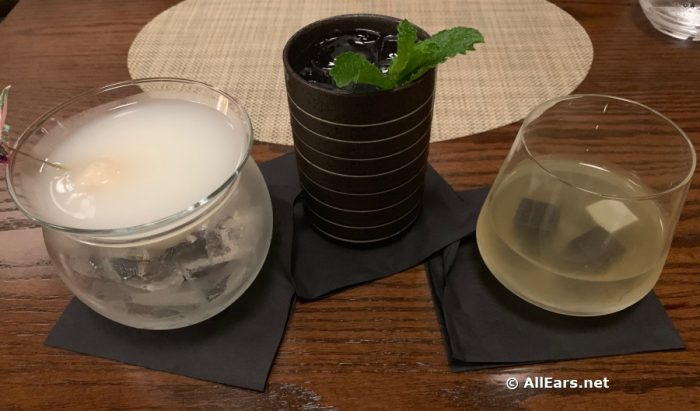 The Kami was the sweetest, and features "White Lilly" Nigori Sake. The Raiju is the Japanese take on a Moscow Mule with Haku Japanese vodka. And the Sakurajima is named after a volcano, and features smoked Cherrywood. It comes presented in this glass box and smells amazing.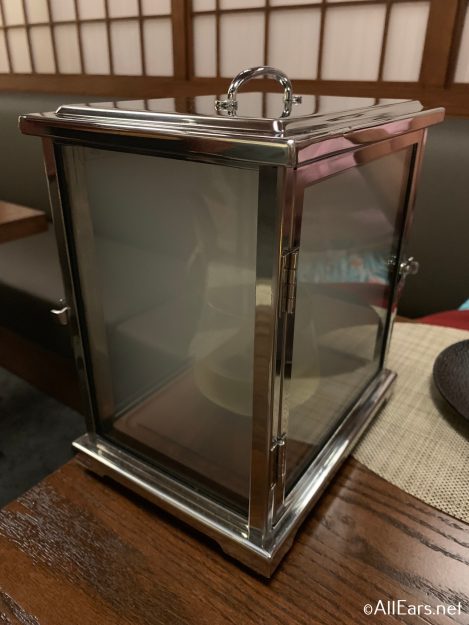 Takumi-Tei's menu has both a Chef Recommended 7-course Tasting Menu, as well as a la carte options. Our table opted to do the Tasting Menu, as well as a few additional items.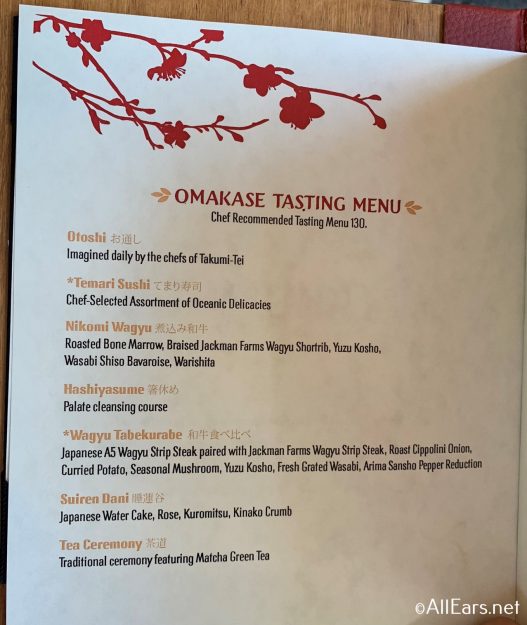 To start our meal, we received the Otoshi, which is the first course of the Tasting Menu. It's a chef-chosen small bite, to welcome you to Takumi-Tei. For us, it was a mushroom with leek jam and edible flower.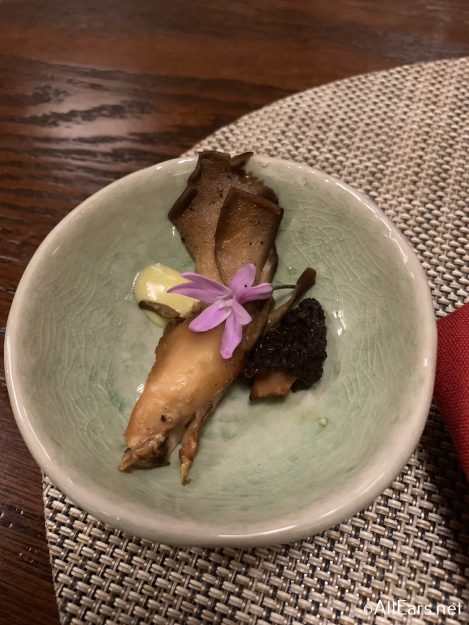 Next up, we received the Temari Sushi, which is the second course of the tasting menu.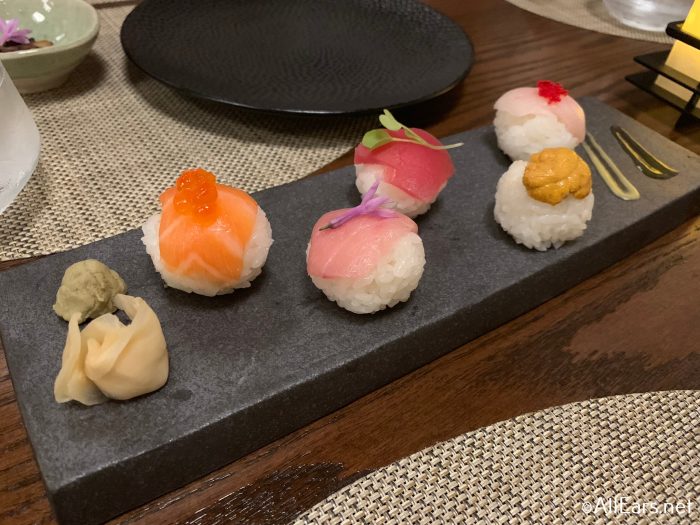 These small bites were perfectly round rice balls, and topped with fresh fish. From left to right, you can see the Salmon, Toro, Tuna, Umi (Sea Urchin), and Yellow Tail sushi.
Next, we got our appetizer and the next course of the Tasting Menu.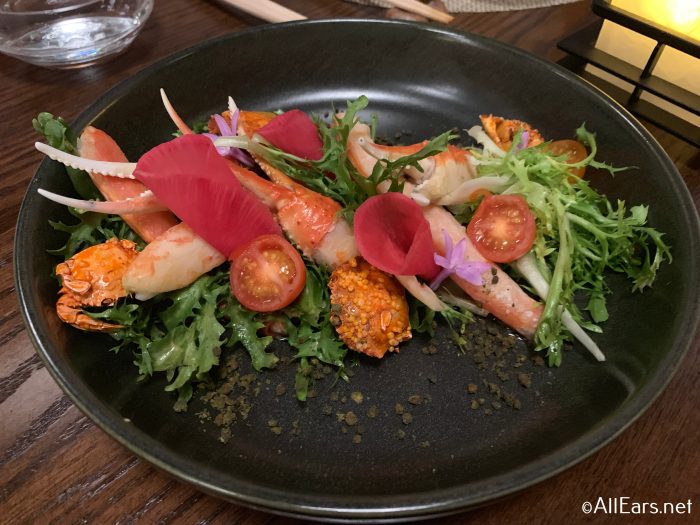 The Hama no Kani is an appetizer that features two kinds of crab — small toasted ones and ponzu crab.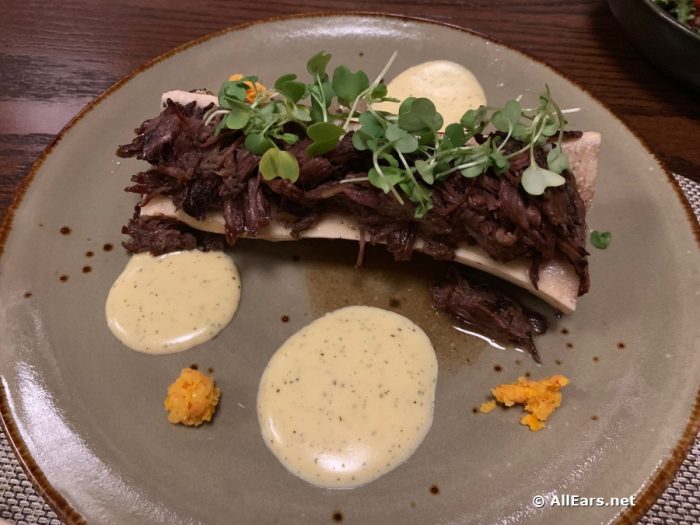 The Nikomi Wagyu includes roasted bone marrow and braised wagyu beef short rib. This can be ordered as an a la carte appetizer, and it was also the next course on our tasting menu.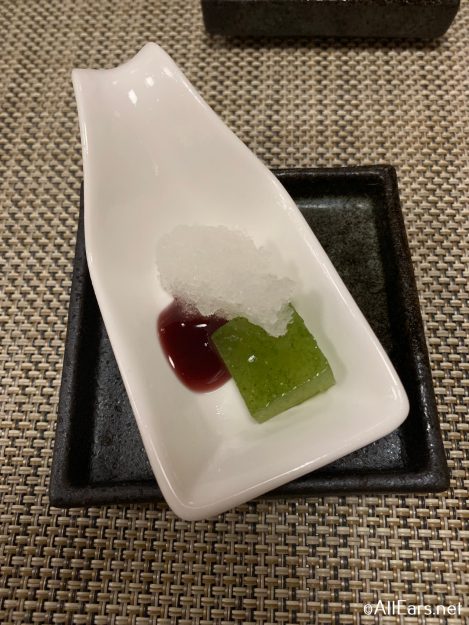 Following the appetizers, we were served the Hashiyasume which is the palette-cleansing course. It was a cucumber gel, grape puree, and ginger.
We also tried the Mozaiku Sushi which is yellow tail and tuna. It is designed to look like a mosaic — isn't it gorgeous?
Time for entrees!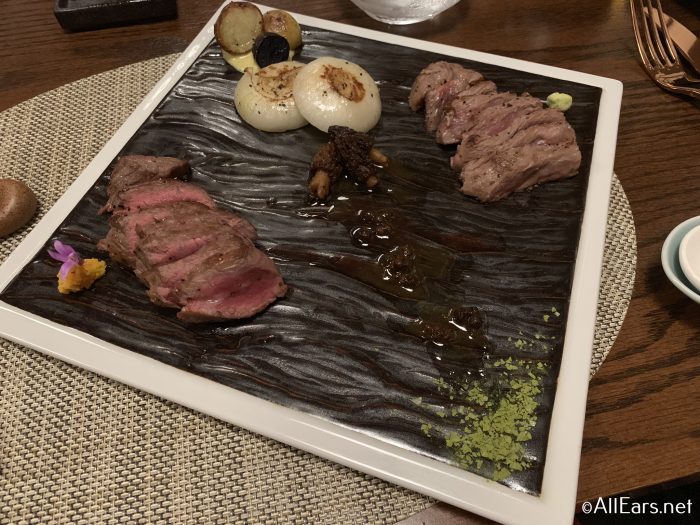 The main course with the tasting menu is the Wagyu Tabekurabe. This dish is served with TWO kinds of Wagyu Strip Steak– Japanese A5 Wagyu and Jackson Farms (American) Wagyu.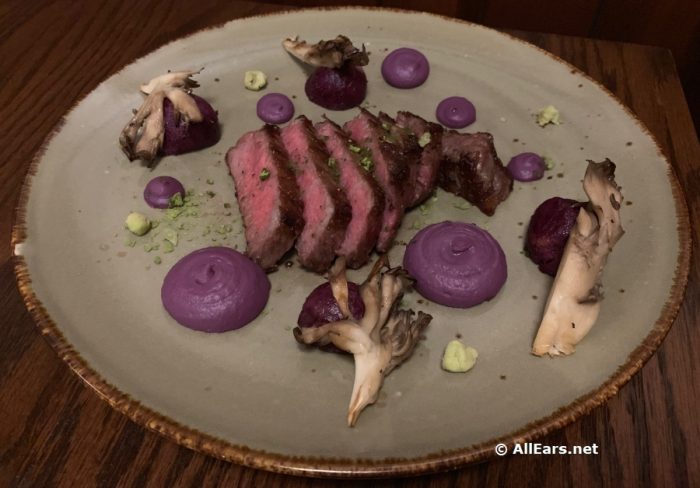 The Makiba no Megumi – Gift of Ranch entree is also Jackson Farms Wagyu, with purple roasted sweet potatoes and a purple sweet potato puree.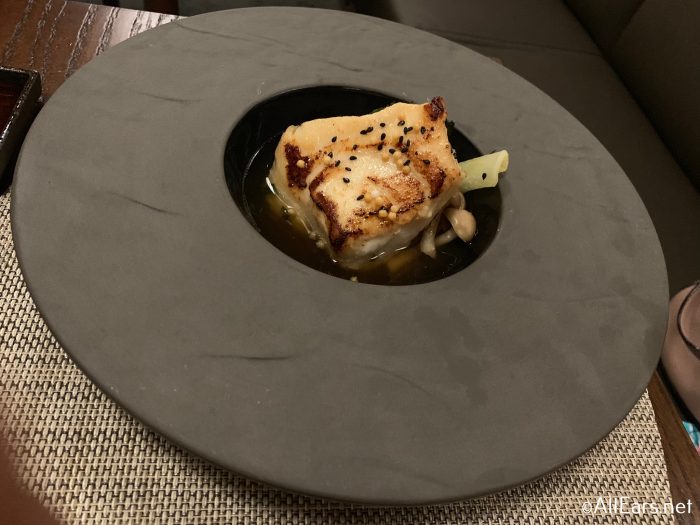 We also tried the Misoyaki Ochazuke, which is seared Sea Bass over crunchy rice in a traditional ocha dashi broth.
And of course, we had to get desserts!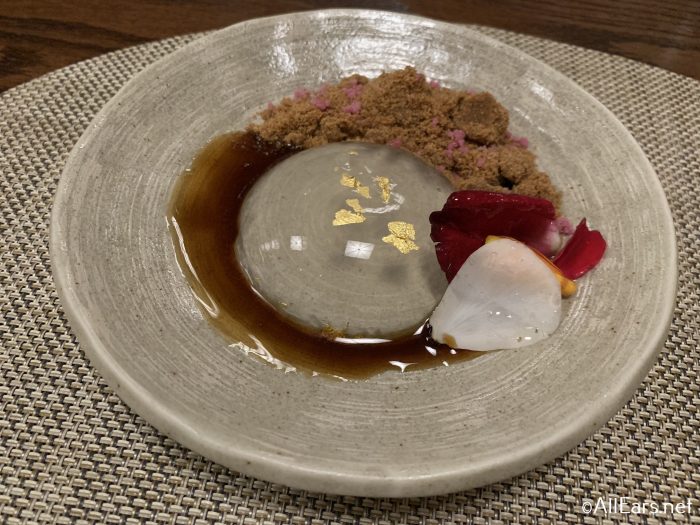 The Tasting Menu comes with the Surien Duri, which is traditional Japanese water cake, compete with soy bean crumbles, sake-soaked rose petals, and brown sugar syrup. This is also available a la carte.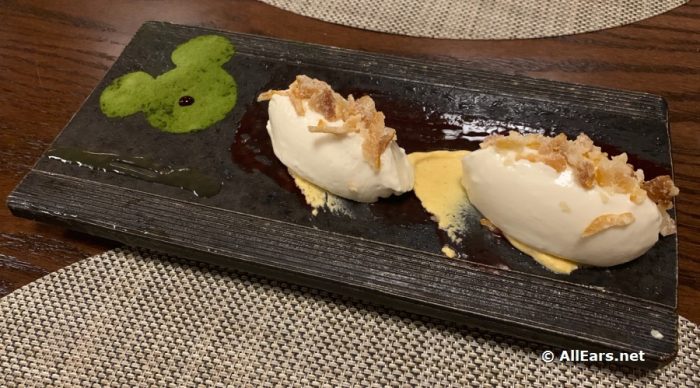 The Kumo is Yuzu Cheesecake. How cute is the matcha Mickey?!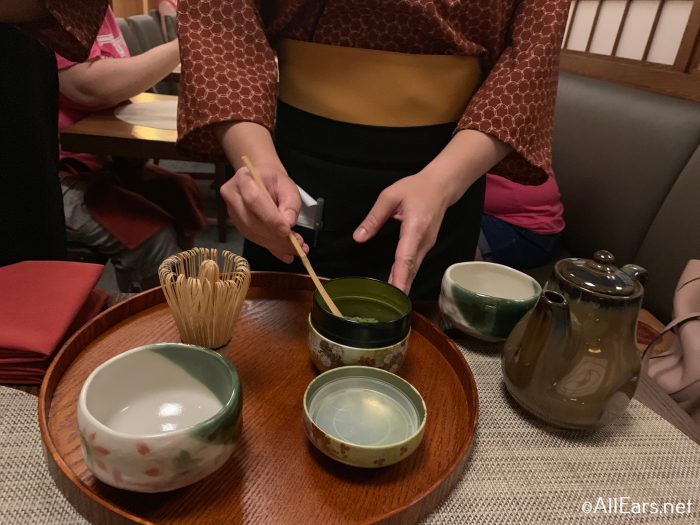 The Tasting Menu concludes with the traditional Tea Ceremony. Our server told us the full and complete ceremony is 1000 steps, but they would be taking a few shortcuts.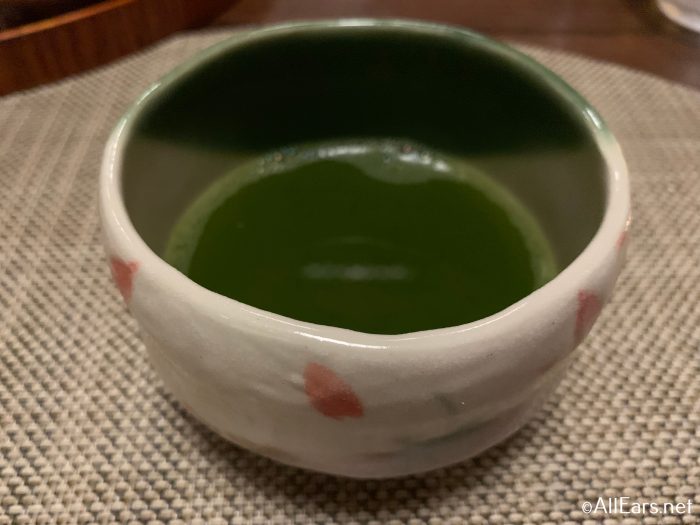 Lastly, we were given a gift of Japanese sugar candies to remember our time at Takumi-Tei.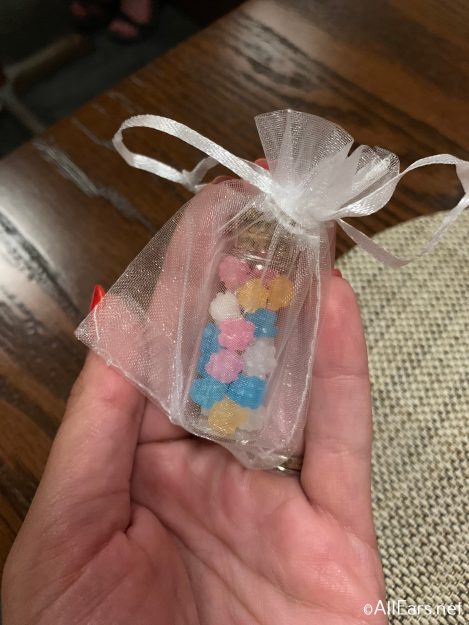 Overall, this is a beautiful restaurant with incredibly high-quality food. Everything was presented gorgeously, and there was a lot of story and symbolism behind each dish, which truly made it a Dining Experience. The service was also some of the best we've ever received in Walt Disney World.
It was a lengthy meal (several hours), so this is not one you'll likely do on a whim or one that (most) small children will appreciate. However, if you appreciate Japanese culture and flavors, and want a wonderful splurge or special occasion restaurant, Takumi-Tei is a fabulous experience.
Are you looking forward to dining at Takumi-Tei? Let us know in the comments!
Need more Disney World dining news? Check out these recent posts!
Be sure to follow @allearsnet on Instagram and Twitter!
Click below to subscribe to the AllEars® newsletter so you don't miss any of the latest Disney news!