The much-anticipated opening of Disney-Pixar's new animated movie, "Brave," is still more than a week away, but Walt Disney World has added another experience to get kids interested. Brave – The Highland Games Tournament can be found at Epcot through July 8.
Guests who stroll down Future World West walkway toward World Showcase will see a banner announcing the games and then will notice the PlayBooster play equipment from the Epcot International Flower & Garden Festival has not been taken down. Hooray! Each year I wonder why Disney doesn't keep the cool playground intact all year. In a park that has a lot of appeal for adults and older children, the play structures for ages 2 to 5 and 5 to 12 are a great place for younger kids to burn off some energy.
As part of Brave – The Highland Games Tournament, the play area has been labeled the Training Ground for the games. Tents designated for each Scottish family participating in the tournament have been erected along the perimeter, adding much-needed shade and seating for the adults in the summer.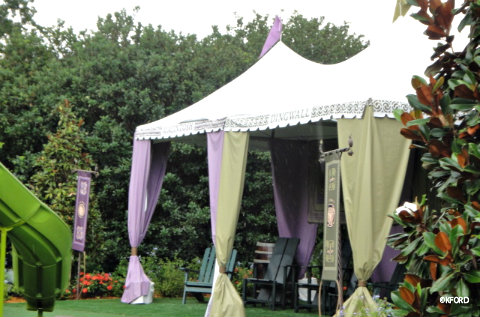 Disney has given parents another bonus as well — free enhanced wireless in the play area. Because it started raining when my children were testing their skills, I didn't get a chance to try the Wi-Fi. If you have, please tell us about it in the comments.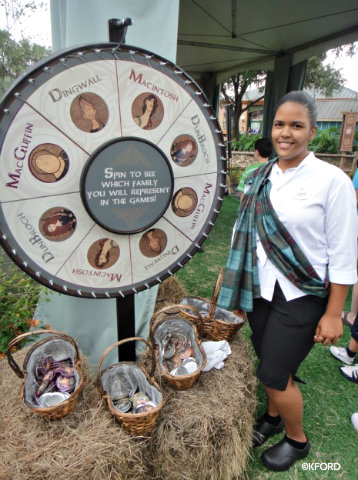 Across the walkway, kids can try their hand at several traditional Scottish games. First, they spin wheel to find out which of the four families from the movie "Brave" they will represent: MacGuffin, Dingwall, Macintosh or DunBroch. Upon learning their identities, children receive clan "crests" (buttons) to wear and take home.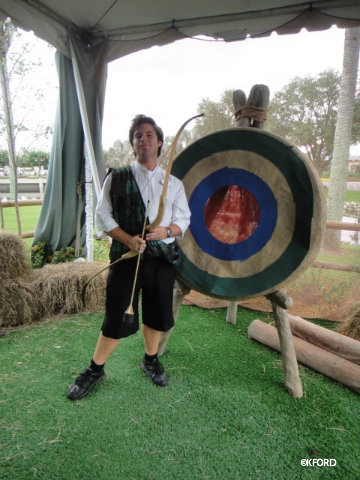 Then, they head into a tent for a quick archery lesson. A cast member dressed in plaid helps kids aim a rubber-tipped arrow at the target. This event is set up just like the Merida play-and-greet at Magic Kingdom, and kids seem to love it. Each child gets one shot before moving onto the Haggis Flip, a game in which they pound mallets onto devices that launch beanbags. The goal when playing Haggis Flip is to get the beanbags into stationary baskets. After that, it's on to the Cake (a.k.a. beanbag) Toss. Images of Merida's mischievous triplet brothers decorate these targets. Finally, kids will attempt the Mini Caber Toss, in which they throw logs. Don't worry: The logs are awkward to hold but not heavy and not real, so no one gets hurt!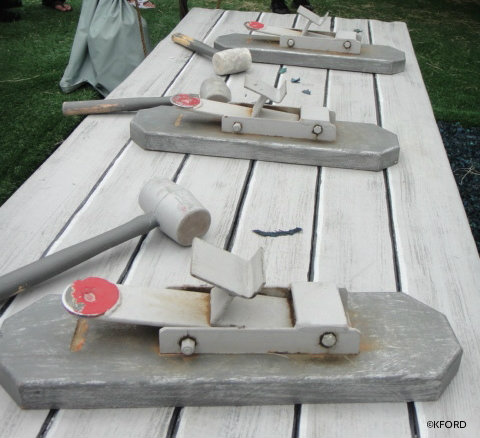 After the games, kids can make rubbings of their clans' Rune stones, and they each receive a set of six "Brave" postcards.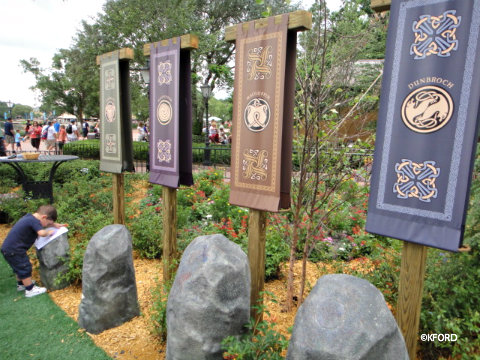 The giant sand sculpture in the area has been transformed from one advertising DisneyNature's "Chimpanzee" to one promoting "Brave." It's worth stopping for a look because the details are incredible. Another photo opportunity is available across from the sand sculpture, where several "Brave" posters are nestled in the flowers.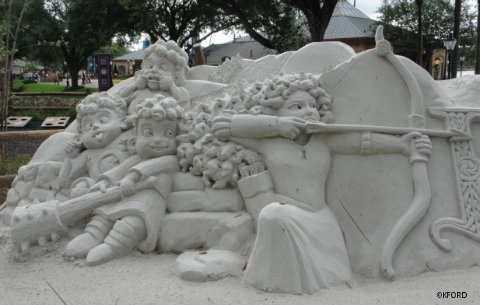 Brave – The Highland Games Tournament is open from 11 a.m. to 7 p.m. daily. Be aware that some parts of the attraction, such as the Training Ground, close during rain.