Guest Blogger Coleen Bolton, shares her South African Adventure by Disney. Coleen is a travel agent with MEI and Mouse Fan Travel. Coleen has been helping clients plan memorable vacations since 2001. This was her first Adventures by Disney vacation, but certainly won't be her last.
I would guess that everyone has a travel bucket list. That place or maybe places you just really want to be able to visit one day. It's most likely somewhere far away and might be a rather expensive trip. You might save and plan for it for many years.
When you are finally able to cross that place off your bucket list you want to be sure you do it right and don't miss anything while you are there. This can be a bit overwhelming but that's where a packaged tour comes in handy. If you ask me, no one makes travel dreams come true better than Disney, and that doesn't just apply to visiting a Disney Theme Park or sailing on one of their cruise ships anymore.
Disney has something called Adventures by Disney. If you haven't heard of this yet they are packaged land tours to different places all over the world. They include amazing accommodations, most of your meals, sightseeing, and the best part — your Adventure Guides.
The guides are knowledgeable about the area you are visiting and they take care of making your Adventure totally unforgettable. You won't have to worry about missing any "must see things" at your destination because your Adventure will surely include it and you also get some free time to be able to do even more. As you would expect Disney thinks of every detail to make your adventure as magical as possible. They even have some separate activities set up just for kids on the adventures.
I am so excited to say that I took an Adventure by Disney to South Africa! This was like a dream come true for me.The Lion King is one of my favorite movies and I can't imagine going on a real safari in Africa any other way than with Disney.
Day 1
Our Adventure beings with a 16-hour flight from New York to Johannesburg. When we arrive in Johannesburg we will change planes for a short flight over to Cape Town. It will be a lot of travel time plus South Africa is 7 hours ahead of New York so it will feel like more than 24 hours of travel time by the time we get to our first resort. A Disney rep will be waiting for us in Johannesburg to make sure we make it to the gate for our flight to Cape Town. I am thinking after 16 hours on a plane having someone make sure we make it to the gate will be much needed. When we arrive in Cape Town one of our Adventure guides will meet us and take us to the first resort. I am sure we will all need to catch up on some sleep before the fun begins the next morning.
Day 2
After a good night's sleep it was time for the real Adventure to begin. We started with a group breakfast where everyone introduced themselves.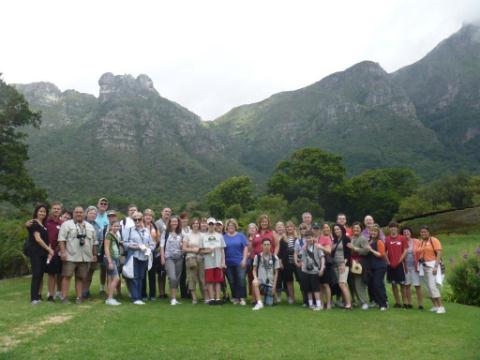 Then we were supposed to be heading up to the top of Table Mountain but due to fog we have to postpone that. I love that the guides have the flexibility to make changes and do their best to be sure we get to do everything possible.
We instead went to the Kirstenbosch National Botanical Garden. This fit very well with today's word of the day, Fynbos, which means type of botanical region or floral kingdom where the vegetation is distinct to the area. We had an amazing guide, Andrew, who was not only very knowledgeable but also very funny.
After the garden we went to the District 6 Museum. We had two wonderful speakers who told us about their personal experience with Apartheid. It was very sad to hear how the homes they had lived in all their lives we demolished and they were forced to move just because of the color of their skin.
We had a group lunch followed by some shopping in Greenmarket Square. Then we had some free time before meeting up again for an entertaining dinner at the Castle of Good Hope, which is the oldest building in South Africa. We are hoping to be able to squeeze in Table Mountain tomorrow if the weather cooperates.

Day 3
Today our guides tried to prepare us for what we would see by giving us a new meaning for OMG – "Oh My Guide!" They were right, we spent the day repeating that phrase over and over. First thing we noticed is the clouds were gone and we could see Table Mountain from the resort. That meant we were making a bee line right to the mountain to make up for missing it yesterday.

We rode an aerial cableway up to the top for some spectacular views of Cape Town's waterfront.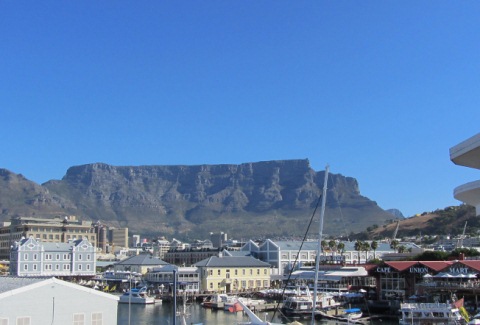 After that it was back to the bus to head to Boulders Beach in Simon's Town to see something that I didn't realize lived in Africa — penguins. The sand was so white it almost looked like snow and the penguins were enjoying soaking up the sun.

We had worked up an appetite just in time for a group lunch on the waterfront. Then it was off to the Cape of Good Hope. I thought this was where the Atlantic meets the Indian Ocean but that is not quite correct. The two currents meet here but the spot where the ocean meet is Cape Agulhas, which is about 90 miles south of the Cape of Good Hope.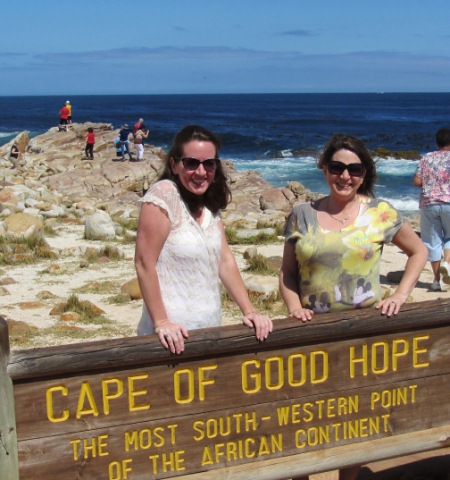 We also rode a funicular up to Cape Point for even more breathtaking views. Our day wasn't over yet, we still had a special dinner at the Gold of Africa Museum. This was a traditional African feast which also includes a drum lesson before dinner.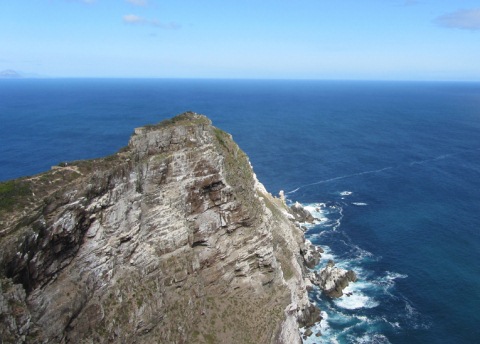 Stay tuned — there is more to come.