Just in case you've been living under a vow of hermitry, and recently finished, Disney California Adventure Park is re-opening this week, with a new direction, entryway, and showcase land, Cars Land. It's been in previews since this weekend, and already the internet is abuzz with photos and video from the spandy-new areas, with more to come as the media previews continue through this week, leading up to the grand unveiling on June 15th.
I had an opportunity to attend one of the AP previews this last weekend. For $75, we were allowed into Buena Vista Street (BVS) and Cars Land from 6pm-11pm. In a word, the new areas are spectacular.
Throughout BVS, there is an incredible attention to detail that really catapults you back to 1920's, when Walt Disney turned up in Los Angeles with little more than a suitcase of ambition.
As you walk further down the street, you seem to move a bit through time, until you get to the Carthay Circle where Snow White premiered in 1937.
Towards the end of the street, is the elegant Elias and Co. department store, which is not a little reminiscent of the departed Bullocks Wilshire.
Walking through some of these stores, it seems incredible that only a short while ago, their theming could best be described as "tacky," and now…
Across the way, there's a charming cafe where Bur-r-r Bank Ice Cream used to be.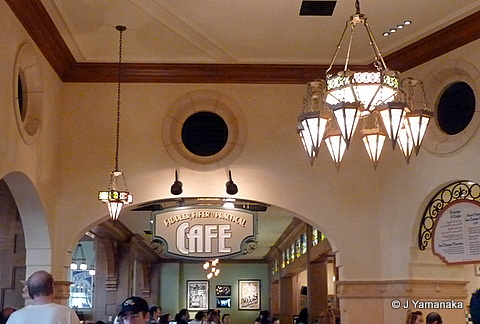 Inside, the walls are decorated with photos and posters of the singing trio for which the cafe is named.
Hmm…you might want to take the stairs that night…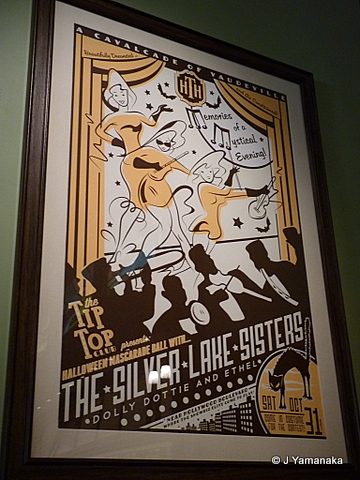 Cars Land is no less impressive. There are three ways to enter–through a bug's land, opposite the Vinery, or through Pacific Wharf. We were let in through the latter, and if you were going for the first time, it definitely packs the biggest visual impact.
It's hard to convey what a awe-striking vista awaits you. In a way, I'm almost sorry that the walls around the land will come down, because walking through that tiny door into that huge landscape was remarkable.
The impression of vastness is so great that for a moment, it hardly seems believable that you're still in a theme park. And for that matter, only in a part of what used to be the parking lot for a theme park.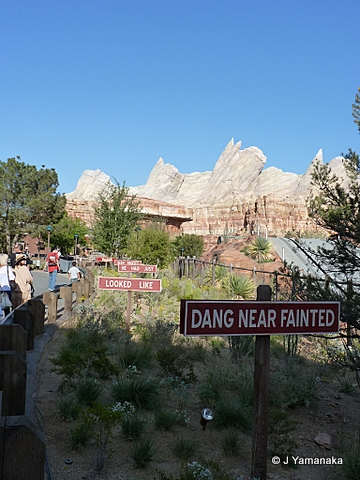 The main drag of Radiator Springs is charming by day, but gorgeous at night.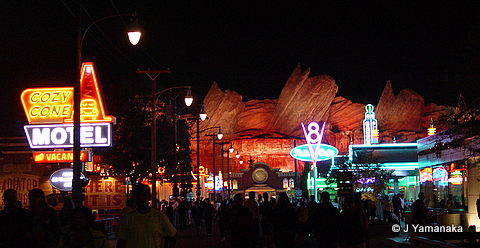 There are three rides in Cars Land: Mater's Junkyard Jamboree, Luigi's Flying Tires, and Radiator Springs Racers.
Junkyard Jamboree is a spinning ride with an interchanging turntable mechanism similar to Cars Quatre Roues Rallye in the Walt Disney Studios Park in Paris, but with the addition of a swinging variable, as the riders sit in a…thing that a tractor pulls.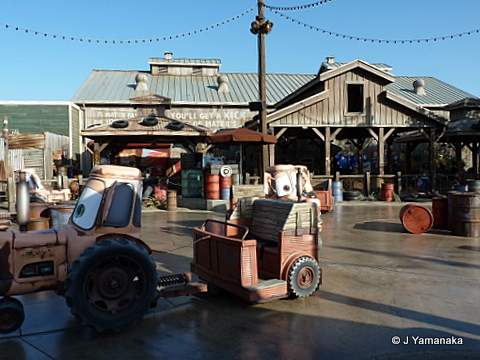 It's a pretty fun, somewhat low-key ride. The main detriment is likely to be the wait time, as it didn't look to have a huge capacity and like Dumbo, you have to wait through each cycle of riders before advancing in line.
Luigi's however, is a little problematic. Based on the old Flying Saucers ride, you board a huge inflatable tire that is puffed up on jets of air. You steer it by leaning in one direction, although they're quick to tell you that if you lean too much, it will act as a brake and you'll stop. What they don't tell you is that it's not just a matter of steering–if you don't/can't imbalance your weight enough, that tire is not going anywhere. I think the caution on leaning too much is probably for two riders, where there's more weight to throw around–with one person, you actually need to slide over to one end or the other of the bench to make it tilt enough to go. Unfortunately, it seems to take more than one ride to really get the hang of this, and until you do, the ride has all the fun of waiting for Dumbo, without actually getting to fly anywhere.
Talking with a CM, it appears that they almost expect guests to not enjoy it that much the first time, but figure that with practice, it will grow on them. I would be concerned that the wait time–likely to be even worse than Jamboree, because of the greater complexity of mounting and dismounting the giant inner tubes–would put people off trying it again, once they sat there motionless the first go-through. The beach balls are there apparently in the hopes that people will try to reach for them, shift their weight by accident, and start moving. In the initial designs, the tires had a joystick that also enabled the guests to spin, but which were removed because the guest assumed that they were there for steering and got frustrated. I would suggest replacing them–at least then, if someone is too light or otherwise unable to get their tire moving, at least they could spin in place, which would be something.
Anyway, on to the new "E-Ticket" attraction, Radiator Springs Racers. What surprised me about this ride, was the vague impression I had held that it was primarily a thrill ride. It is primarily, from my viewpoint, a dark ride, similar to the ones in Fantasyland.
In theory, it resembles Test Track quite a bit, with the indoor part having quite a few call-backs to various moments from that ride, and then a brisk outdoor segment. In reality, the experience is so much better, you can only think that Test Track looks like kind of a gyp next to it.
Without totally spoiling the whole thing for you, there are a number of variables throughout the ride that combine to make it highly repeatable. Again, the amount of detail that has gone into this is amazing–from almost all the cars inside being animatronic, to leaves rustling when characters you can't see are supposed to be moving beside you, to an entire mini-recreation of Radiator Springs. The outdoor environment is beautiful, and just as impressive.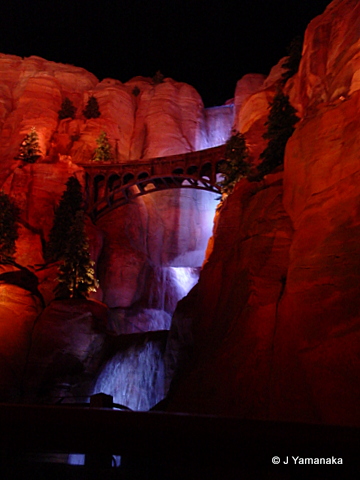 If you time it right, you might even see the Disneyland fireworks from the ride.
So altogether, thumbs up on Jamboree, huge high-five on Racers, and "needs improvement" on Tires. Admittedly however, I did manage to ride Tires again as the last ride of the night, and it was actually much better. I'd encourage more than one ride-through on that, if the lines aren't prohibitive.
Finally, there's the food.
The main eatery is Flo's V8 Café–a counter service with carving-station style entrees and small wheel-shaped pies.
I found the roast beef surprisingly good–not nearly the tough, dried out specimens you so often get with quick service food. The mud pie was more reminiscent of a flourless chocolate cake than a pie, but was tasty, if rich. The main problem here, as was with all the eating facilities in Cars Land, was the wait–the line stretched along the outside of the cafe almost to the main road. After a CM takes your order and marks it down on an order form, you then get to wait in line inside for a register. Then, after paying, you get to wait yet again at the counter for your food. The difficulty here is that if you happen to get behind someone ordering for a party of 90, you may end up sitting there forever while they get all the things for that order complete, while further away on the counter, you can see what is likely your order waiting haplessly for its turn.
One thing you can say for Flo's however, is that the views are admirable. This may ultimately work against it, as people will likely be tempted to rest here indefinitely throughout the day, taking up what are already a fairly small number of tables.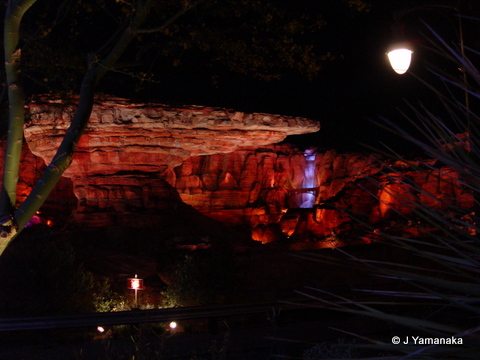 The other main eating facility is the Cozy Cone Motel.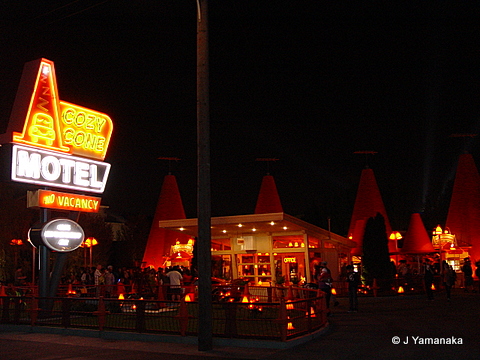 This is an adorable-looking place that ends up to be something of a functional nightmare. Each cone sells approximately one thing–popcorn, churros, pretzels, ice cream, or cone-centric entrees–requiring families (or individuals for that matter,) to stand in multiple lines if they want more than one thing. Each cone has one window, so the processing time is, to say the least, lengthy. Unfortunately, behind the the decorative-only lobby of the Motel is the main seating area, whose handful of tables takes up at least half of the room between the building and the cones. Between the snaking lines that overlap to the point of needing tape on the ground to separate them, the tables, and the occasional strolling vendors hawking popcorn and soda to the people starving to death in line, the area back there becomes almost impassible at peak times. I have no idea how good the food is, because not even for Kathy Mangum's famous "Chili Cone Carne" was I going to wait in those lines.
So in total, I would have to term both new areas of Disney California Adventure big successes. Not for some time has Imagineering been given the scope and budget to create environments this immersive and attractive. Coming from the old DCA where the overwhelming theme seemed to be "made for profit," these are huge improvements likely to draw the big crowds DCA has always wanted.
The crowding is likely to be the worst part of it, however–a lot of these areas have very limited capacity in an almost Potteresque manner, so forewarned is probably forearmed. My best advice: Use the single rider line in Racers; head for cycle loaders like Tires and Jamboree first; consider skipping Tires if you don't have time to ride it more than once; try to eat somewhere else entirely unless you can tag-team the food lines; look at everything, because details are everywhere; and enjoy this golden moment of redemption in DCA's history.