On Tuesday, June 5, I was fortunate to be part of a group of media who were invited to take a "Sneak Peek" at Buena Vista Street and Cars Land. While we were allowed to take photos and video, we were not permitted to share any of it with the public, or even talk about the experience, until Wednesday, June 13. And believe me, that's been very hard!
I'm not even quite sure how to write this blog entry…there's so much I could say, and not nearly enough space to do it.
So I'll say this: "Wow." Everything I've seen (and there's been a lot of it) in Imagineer sessions at D23, exhibits in Blue Sky Cellar, and from following the construction progress in Jason's photos, still did not prepare me for the reality of Buena Vista Street and Cars Land. Stepping into both for the first time was a thrill. And yes, I was able to ride Mater's Junkyard Jamboree, Luigi's Flying Tires and Radiator Springs Racers.
I think it might be easier to show you photos than to try to describe it. I apologize for the lack of some details – we were on a tight schedule and not allowed to wander around on our own. I was also trying to shoot video and stills at the same time.
We started on Buena Vista Street, entering near where real guests will enter the park. While I think 1920s Los Angeles wasn't quite as clean as Buena Vista Street, a lot of the elements are there that transport us back to that time period. There's a lot of familiar names. For example, just inside the entrance is this gas station – Oswalds!
The Chamber of Commerce – aka Guest Services.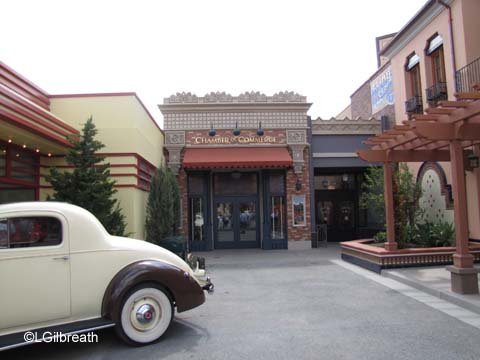 And the Los Feliz Five and Dime shop.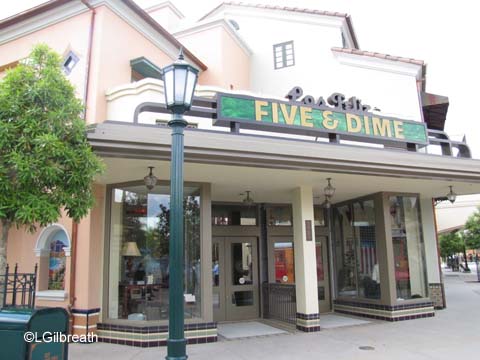 In the center of the street is a flagpole with a plaque on it, with these words:
"It was July 1923. I packed all of my worldly goods – a pair of trousers, a checkered coat, a lot of drawing materials and the last of the fairy tale reels we had mad – in a kind of frayed cardboard suitcase. And with that wonderful audacity of youth, I went to Hollywood, arriving there with just forty dollars. It was a big day the day I got on that Santa Fe California Limited. I was just free and happy!"
— Walt Disney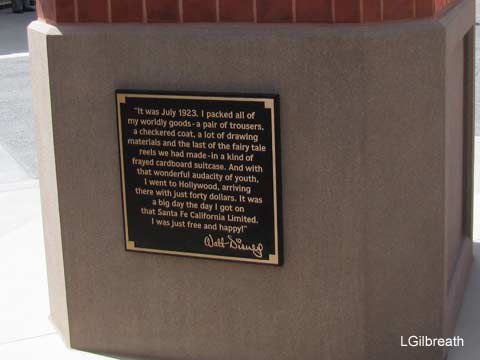 In front of the flagpole on the ground is another plaque. Buried underneath it is a time capsule:
"Disney California Adventure Rededication Time Capsule
June 15, 2012
May the hopes and dreams represented by the collection contained within the time capsule beneath this mortar inspire a future generation of dreamers when it is unsealed a quarter century from now, on June 15, 2037."
On the other side was the Red Car Trolley stop. (Lockers and restrooms are in their same location to the right of the trolley).
On that side is Mortimer's Market, a fresh fruit stand.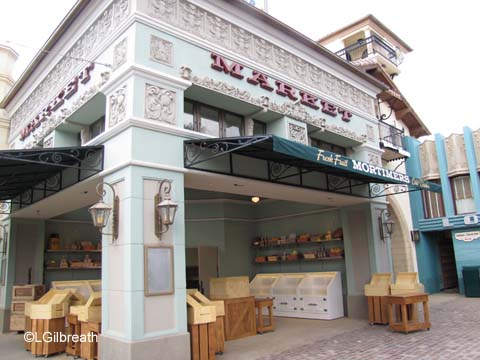 Just past that is the monorail bridge. The design is inspired by the Glendale-Hyperion bridge.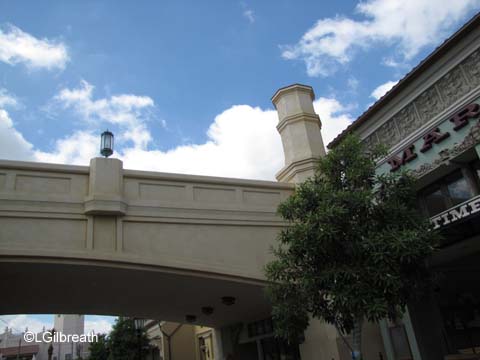 Underneath the bridge is Big Top Toys on the east side…
And Julius Katz on the west.
As the Katz family prospered they opened a new shop next door: Julius Katz & Sons.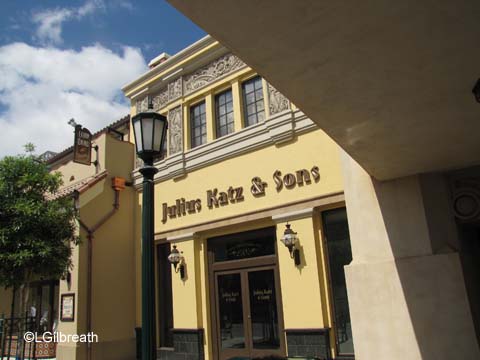 Atwater Ink & Paint (perhaps an homage to Lillian Disney, who worked in the Ink & Paint department).
On the corner is Trolley Treats, a candy store, though probably what it will become most known for is the "Candy Mountain" in the window.
Taking up most of the east block is the large Elias & Company department store, reminiscent of the Bullocks Wilshire.
Dominating the end of Buena Vista Street is the Carthay Circle Theater, though in its current incarnation it's a two-story restaurant and lounge rather than a theater.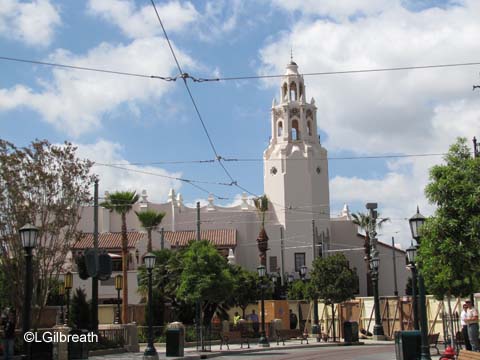 Looking back down Buena Vista Street towards the park entrance.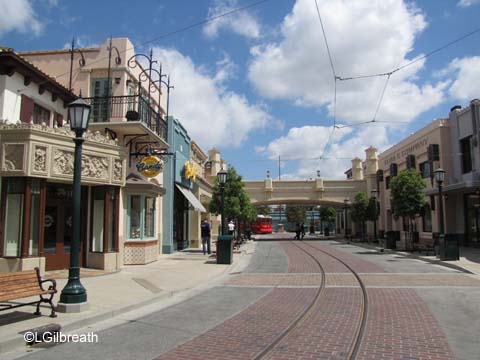 One of our really thrilling moments was getting to see the new Walt and Mickey statue. Walt Disney is life-size, and he's at ground level where guests will be able to pose with his statue. A young man with a dream, just like most of us.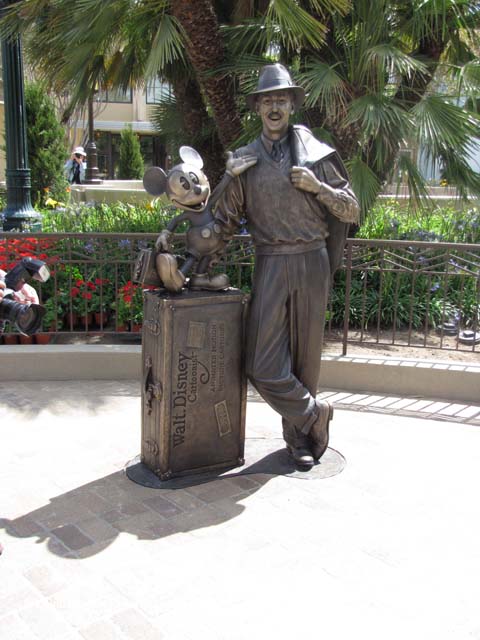 We were not able to go into any of the shops or the Fiddler, Fifer, and Practical Cafe.
We came out of Buena Vista Street and entered the Carthay Circle building, where we were able to tour 1901. This is the new private club which will be open to Club 33 members. (1901 is the year Walt Disney was born.)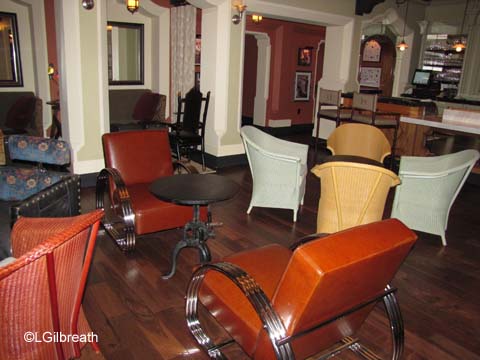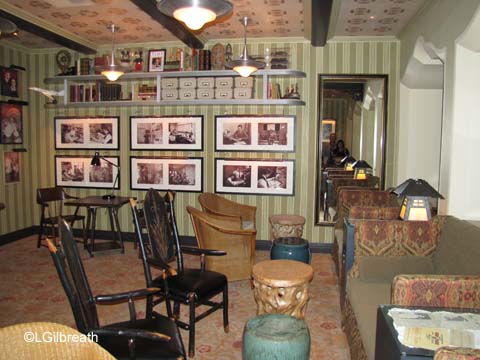 There's all kinds of great artwork, and the artwork will change periodically. In one big display case right now is the Snow White and the Seven Dwarfs storybook featured at the beginning of the Dutch version of the movie.
We went upstairs to the Carthay Circle restaurant.
It's quite large, and very elegant.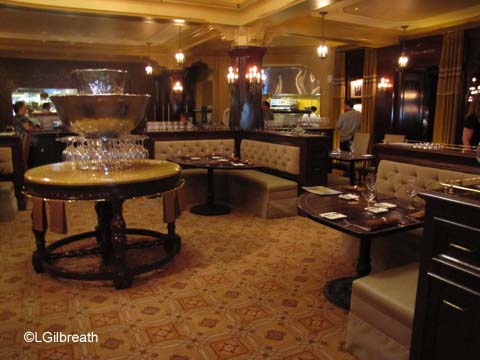 There's a private room that overlooks the parade route, with a table that seats up to 12.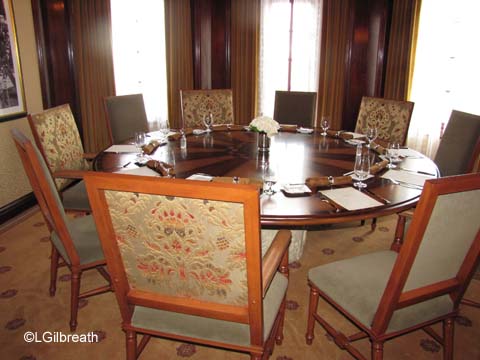 We had lunch there – we received a selection of appetizers to share, but ordered our own entree. Dessert also featured a selection to share. Andrew Sutton, the executive chef for both Napa Rose and Carthay Circle, spoke to us a bit about the menu. There will be more about the food later, but I'll say that the Fire Cracker Duck Wing appetizer (pictured below) was very good. And I had one of the sustainable fish dishes – Jerked Kingfish – which was also quite good.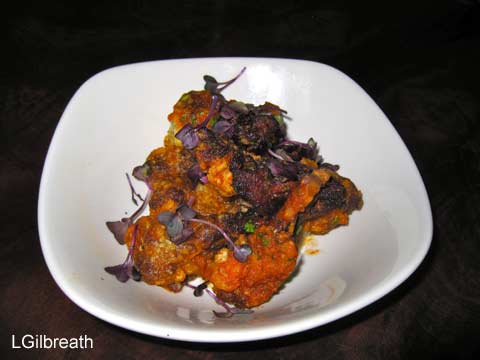 Unfortunately we really had to rush through lunch, but that's because we had a can't-miss appointment with Cars Land!
We came in what I consider the main entrance, looking right down Route 66. And there it was…Radiator Springs in its heyday.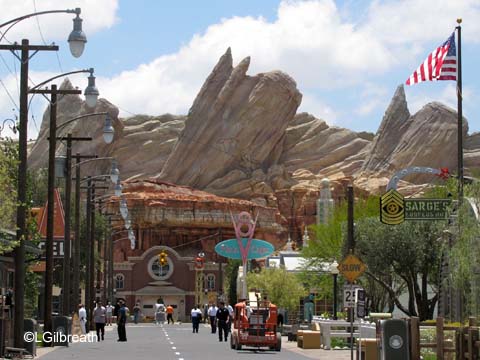 Fillmore's Taste-In was to our right.
On the left, Mater's Junkyard Jamboree awaited us.
We took a little time to stroll through the queue.
In the center, all of the little baby tractors were waiting for us.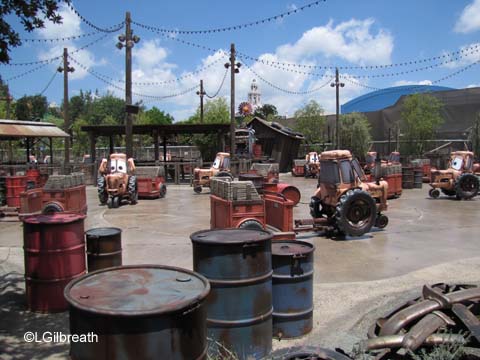 And this is Mater's jukebox. It plays seven original songs, all sung by the voice of Mater, Larry the Cable Guy.
Here is video of my ride.
It was a lot of fun! Everyone I saw was smiling as they rode. I was a little concerned it might make me dizzy (especially right after lunch) but I rode it twice in a row and didn't feel dizzy at all. Those who are sensitive to motion might feel differently, though.
Disney classes it as a "Mild but Wild" attraction. Riders must be at least 32″ tall. The bench seat will accommodate up to two adults and one child. All riders are secured by a single lap belt. Those in wheelchairs or ECVs must transfer to ride.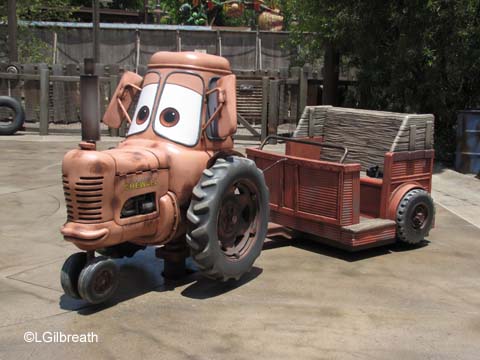 There are two "turntables", with 11 baby tractors per turntable. Each of the 22 baby tractors is slightly different.
Just outside is Mater's Petting Zoo, where a baby tractor poses for photos.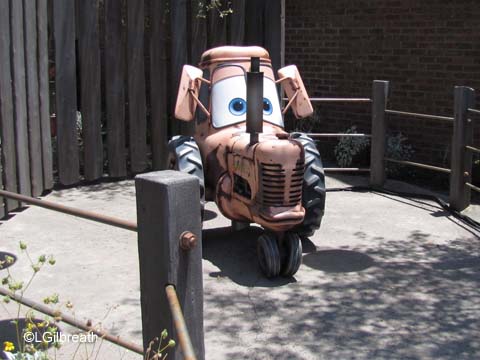 On the other side of the road is Sarge's Surplus Hut – "the headquarters for genuine Radiator Springs gear."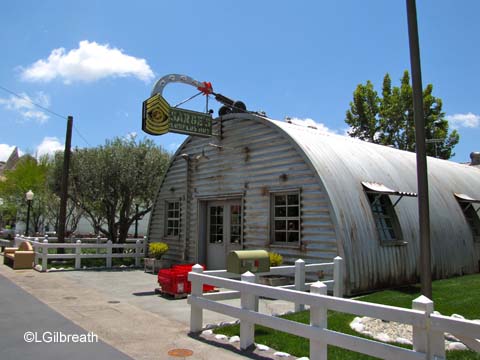 As we continued down Route 66 we passed Sally's Cozy Cones. Looks like the Imagineers had a lot of fun here – the lawn ornaments are cones, the scoops on the waterwheel fountain are cones – Sally is cone crazy! (I think the Imagineers missed a pun opportunity here, though – shouldn't it say "NO VACONE-CY" on the sign?)
We were not able to sample any of the treats at "Sally's Snack Cone-Anza", like pop-cone or chili cone carne. Next time! Here is the MENU.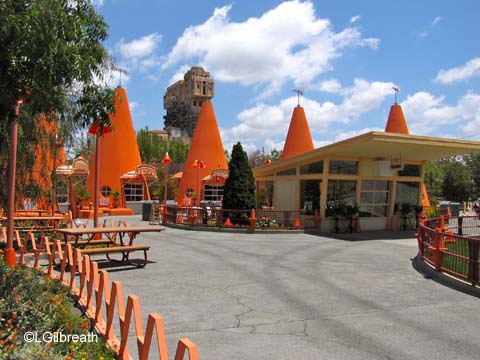 Radiator Springs Curios looks like classic Route 66 kitsch to me – it'll be interesting to see what's for sale inside, though I expect the usual selection that won't live up to the wonderful exterior.
Across Route 66 is Flo's V8 Cafe, the main dining establishment in Cars Land. The menu features rotisserie NY strip loin, pork loin, and turkey breast, with sides like peas & carrots, mashed potatoes and corn medley. There's also the "Veggie Tater Bake" with roasted vegetables and bulger wheat, topped with mashed potatoes and cheese. Here is the Full Menu.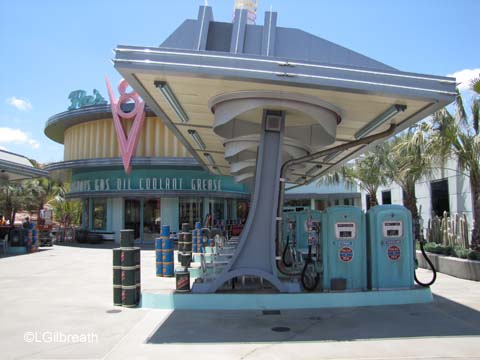 In the dining area is memorabilia from Flo's days as a Motorama Girl.
Including some gold records, like these for the albums "Brake it to Me Gently" and "Jeep Date".
Luigi's Casa della Tires is easily recognizable by the stack of tires in front of it.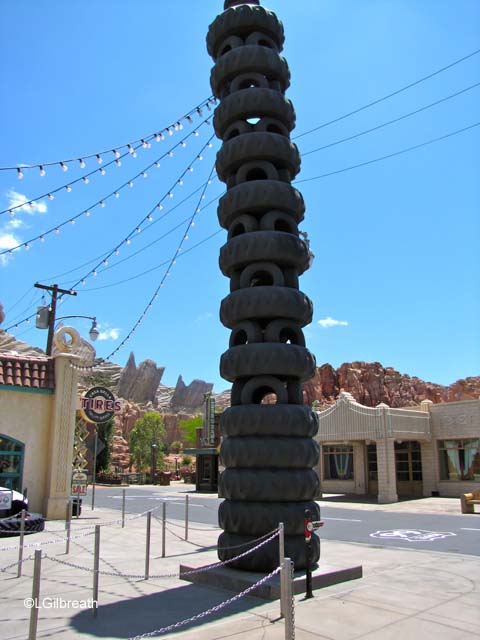 Inside, the queue for the Luigi's Flying Tires attraction winds around and around through a couple different rooms inside – like the tire showroom: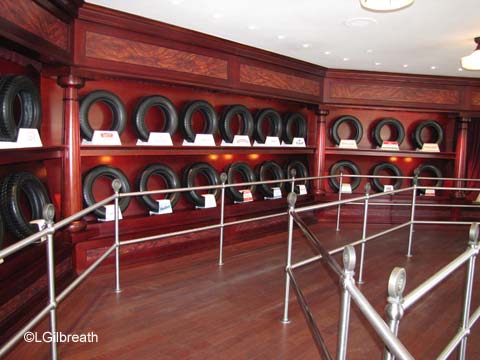 And outside, through the topiary garden. I found the length of the queue a bit scary…if it's that long, it's really going to be a long wait to ride the attraction.
Once we reached the attraction loading area the cast member gave us some brief instructions: get balanced on your tire, and then lean to make it move. After we sat down on our tire we were offered large beach balls to throw around.
Here's the video from my ride:
I have to admit that I was disappointed in this. I like the concept, but I didn't think the actual ride was very much fun. The tires don't move very fast and I couldn't get my tire to move much at all. I've heard that it takes 2-3 times to get the hang of it, so maybe I'll change my mind, but I'd have to say that for me it's not worth the kind of wait it's going to have.
The bench seat will accommodate two adults and a child. All riders are secured by a single lap belt. Riders must be at least 32″ tall. Those in wheelchairs or ECVs must transfer to the ride vehicle, which involves stepping up onto the tire. There is a compartment behind the seat for bag storage.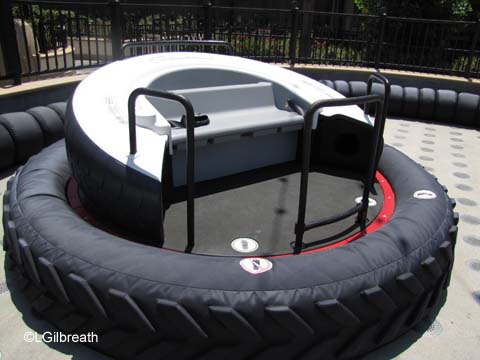 Ramone's House of Body Art is across the street from Luigi's Flying Tires. We didn't go inside, but it sounds like it's a clothing shop. Among other things will be items from the "Low and Slow" line.
At the end of the street is the court house/fire department/police department, with the statue of Stanley in front of it. The statue was covered when I was there, but Jason got a photo of it at the AP preview on Monday.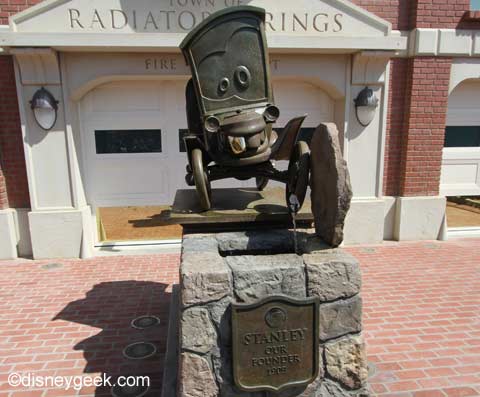 In between Ramone's and the court house is the entrance to Radiator Springs Racers.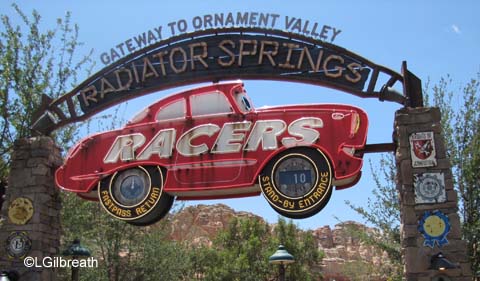 Wow…it was like stepping into the southwest with all of the great rock formations and the plants and trees. It's really amazing.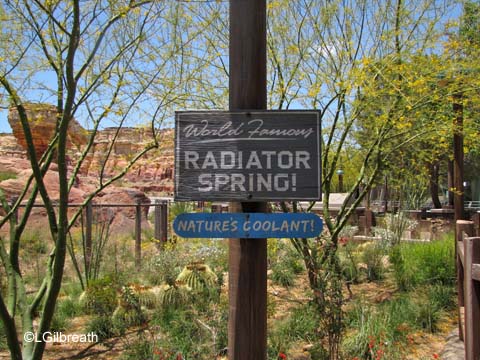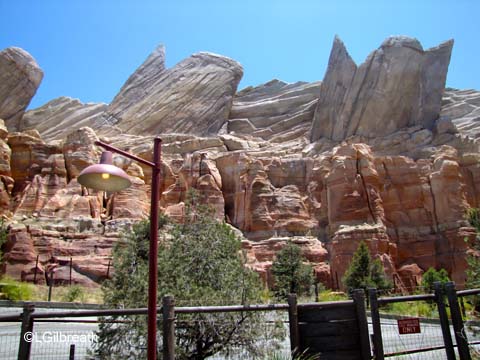 The queue, not surprisingly, is very long, but there's lots to see while you're waiting.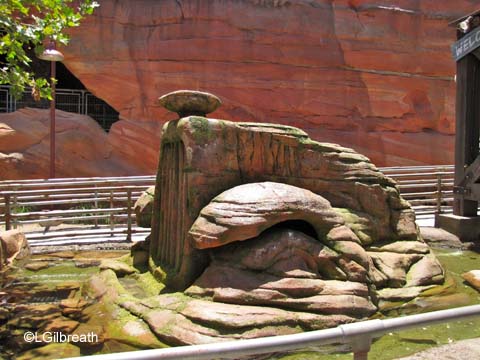 There was no line, but it still took us a while to walk the queue and reach the loading area. Radiator Springs is somewhat reminiscent of Test Track at Epcot, so the cars are the familiar six-seaters, each seat with its own seat belt. Since the Disney folks asked us to put our cameras away I don't have a ride video from this one. I don't want to spoil it for those who want to experience it for themselves first, so I'm not going to say too much. Though I don't think it's a secret that the ride includes encounters with some of the characters from Cars and culminates in a side-by-side race with another car around Ornament Valley before returning to the loading area. There are some great visuals.
This was the attraction I had most been looking forward to – and it was even better than I expected. A lot of fun seeing the Cars characters, and even more fun racing out on the track with another car. The lead exchanged several times, but in the end the car I was in won. It was all so much fun, but it all went by so fast I didn't have time to absorb it. I can't wait to ride it again!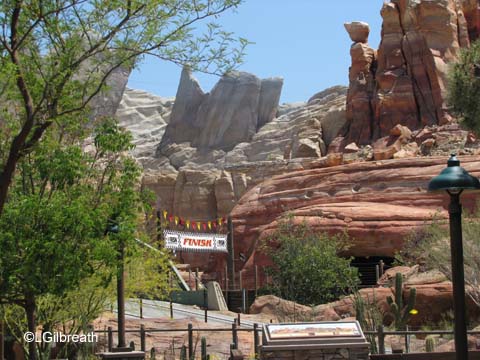 The height requirement for Radiator Springs Racers is 40″. Rider swap is available. As I mentioned before, the seating is like that on Test Track – each car has two rows, with three riders per row. For those in wheelchairs or ECVs, the queue is accessible, but riders must transfer to a car to ride.
Radiator Springs Racers is a Fastpass attraction. For now Fastpass distribution will be located in front of "It's Tough to Be a Bug", so guests won't even have to enter Cars Land to get one. A single rider line is also available.
All too soon it was time to leave Cars Land. There are three ways in/out of Cars Land – we came in from the entrance near the winery, and exited by Pacific Wharf (the third offers access from "a bug's land". While it was very cool to come down Route 66, I think my favorite is going to be the Pacific Wharf route – there are so many spectacular visuals when you enter from that direction!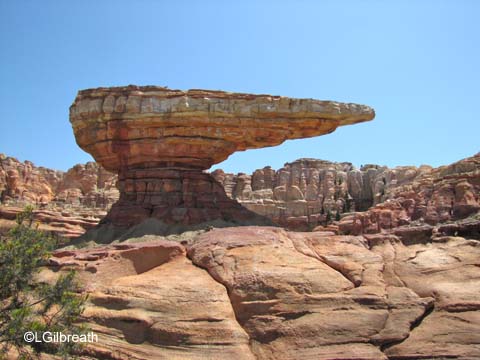 One of my favorite things was these "Burma Shave" type signs. Really fun.
And there's also a "pullout" with a map, just like you see at scenic vistas everywhere.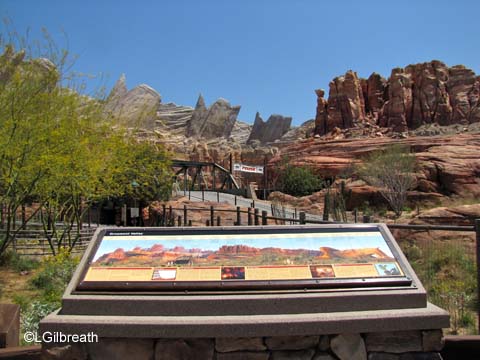 Just before we exited we took one last look back into Cars Land. What a great sight! All that "rock work" we saw going up over the last few years is really stunning.
I'm not sure what more I can say. I am really looking forward to having more time to explore Buena Vista Street and Cars Land. As I think you've seen, there is a huge amount of detail that went into both of them, and much more to explore.
DISCLOSURE: As an invited media guest, AllEars' Media Sneak Peek experience and lunch at the Carthay Circle restaurant were provided by the Disney company.