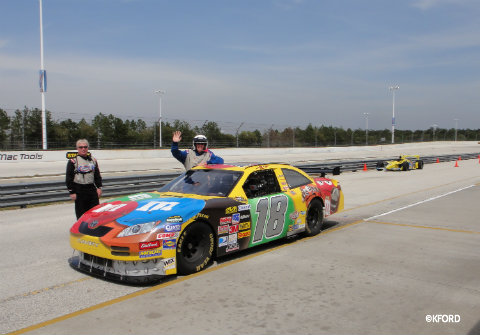 It's not too late to plan a fun-filled Father's Day weekend at Walt Disney World — and there are even some last-minute bargains to be had. From traditional pastimes in the most magical of locations to experiences created only by Disney, dads are sure to appreciate their happy day at The Most Magical Place on Earth. Let's consider some of the things most dads enjoy – fast cars, sports, beer and spending time with their loved ones.
Cars
If your dad or husband is into fast cars, visit the Walt Disney World Speedway and let him get inside a NASCAR-style stock car for three laps with a professional driver. Ride-alongs through the Richard Petty Driving Experience start at $109 and do not require reservations. Looking for a splurge? Put him behind the wheel, starting at $449. (My husband, who is not a NASCAR fan, has experienced the ride-along and was surprised by how much he enjoyed it.) By booking ahead of time at 1-800-237-3889, you can get the ride-along for $59 for Father's Day. Also, any drive experience qualifies for a second one at half off, if booked in advance this week.
The Exotic Driving Experience — allowing guests to drive supercars by Ferrari, Lamborghini, Audi and Porsche — is new to Walt Disney World Speedway this year. It is not available on Father's Day, but you can purchase a ride for later in the month by calling 855-822-0149. Prices range from $169 to $419. (Read more about these thrilling experiences at /btp/petty.htm)
Is your man more comfortable in the stands? Make sure you visit Disney's Hollywood Studios and watch the "Lights, Motors, Action! Extreme Stunt Show" that is performed multiple times each day. This is a fun look at what it takes to film stunts, and there are plenty of surprises along the way. FastPasses are available for the 40-minute show.
Golf
Men who love to golf can choose from five courses on Walt Disney World property: Disney's Palm and Magnolia, Lake Buena Vista, Osprey Ridge and Oak Trail. Last year, Arnold Palmer Golf Management took over the operation and maintenance of the courses. (Greens fees for the 9-hole Oak Trail are included in Disney World premium annual passes.)
If you want to spend time with the man of your family while he enjoys the game, why not try Disney World's family friendly miniature golf courses? Winter Summerland, located adjacent to Blizzard Beach water park, has 36 holes of wonderfully themed putting greens. Fantasia Gardens, located near the Walt Disney World Swan and Dolphin hotel, offers putting greens and a par-3 course. Cost is $12.52 per 18 holes for adults and $10.39 for ages 3 to 9. Passholders receive a 50 percent discount. Also, the second round on the same day is half off for all guests.(AllEars has more details about the courses here and here)
Drinking around the World
Dads who want to sample alcohol of different origins might want to consider an adults-only afternoon or evening at Epcot. With eleven countries represented in the World Showcase, there are quite a few options. Among the perennial favorites: La Cava del Tequila inside the Mexico pavilion for unique margaritas; Sommerfest in Germany for an Oktoberfest beer; Les Vins des Chefs de France cart in France for the Grand Mariner Orange Slush and the Grey Goose Citron Lemonade Slush; and the Rose & Crown Pub in the United Kingdom for various ales and lagers that can be combined.
Not going into a theme park on Sunday? There are many Disney hotels and restaurants that house cool lounges and bars. The Disney Food Blog gives us a list of the Top 10 here.
Family time
Maybe Dad's biggest desire for his special day is to make some unique memories with his children at Walt Disney World. At the Magic Kingdom, fathers might enjoy watching their daughters be transformed into the princesses of their dreams at the Bibiddi Bobiddi Boutique. He also might like to see his sweet little girl change into a menacing pirate at the Magic Kingdom's Pirate League.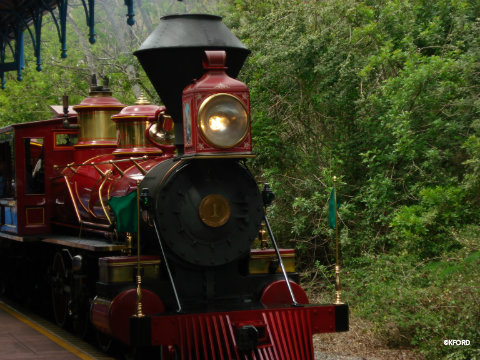 Others might like to share their love of trains with their kids, learning more about them through Disney's "The Magic Behind Our Steam Trains" tour at Walt Disney World (ages 10 and older).
Perhaps dinner and a show about fatherhood would be just the ticket. If so, "Finding Nemo — The Musical" is a Broadway-style performance daily at Disney's Animal Kingdom sure to entertain everyone in the family. Nearby, Flame Tree Barbecue offers the traditional favorite meals with outdoor terrace seating, and it gives Dad a break from manning the grill for a change. (See the menu here.)
These are just a few – and, granted, stereotypical – ideas, but there are so many more possibilities for celebrating Father's Day at Walt Disney World. With your imagination and all that Walt Disney World offers, you can create a very special day.