Dawn Bach, thank you for such a wonderful note! Have a wonderful trip; I know you and your daughter will have a ball!
And I did mean the 16th, Tom Higbee. LOL!
Quick note: I will be at the AllEars' New York events this weekend and I'm hoping I'll meet some of you! It's my birthday weekend and what a great way to celebrate it: special times with friends. 🙂
This was Challenge #181:

And here's the answer: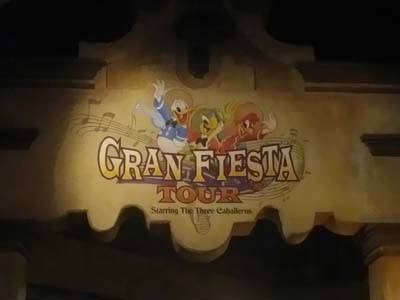 Copyright © 2010 Erin Blackwelli
You can see this is the entrance arch to the Gran Fiesta Tour ride, starring Donald Duck, Panchito Pistoles, and José Carioca of The Three Caballeros. It's my favorite ride in Epcot in my favorite World Showcase pavilion, Mexico!
Here's a couple fun details to look for in the ride, if you don't about them already. In the scene where Donald is taking pictures while wearing a few sombreros, the Aracuan Bird briefly pops up inside the hats! The Aracuan Bird is his nemesis from "The Three Caballeros" and "Disney's House of Mouse" when Panchito and Jose would appear on the show. (Coincidentally, I first fell in love with Panchito and Jose on the House of Mouse!) Also look around the rocks in the scene where Donald is diving with the baby octopus: you'll see his sailor's jacket and drink on the rocks where he left them to go swimming!
A number of Worlders said this same picture is in the queue in Mickey's Philharmagic. I can see where they would be there, and I sort of remember it myself. I'll double check it and add everyone's name to the monthly winners list if it's true, so you will be in the monthly drawing too. I'll let you know next week.
Kirsty Butler was the first to send in the correct answer for the challenge! Congratulations to Kirsty and all other readers who got the answer right: Sharon Pierce, Lee Anastasi, Daniel Record, Theresa Rucando, Susie Howard, Tina Santacroce, Christine, Austin Oblenis, Ed Suscreba, Kye Layton, Cathy Skiba, Cathy Skiba, Christine Dagney, Erin Dagney, Mary Beth Tarbet, Kris Nixon, Misty Mehelic, Jen Cerce, Dee Dee Kenney, Millie Tenreiro, Michael Gainey, Cara Richards, Brian Skinner, Robert Anderson, Amy Schweizer, Erica Sipich, Matt Holley, Evanna Huda, Jennifer Harmon, Brett, Danielle Ciotti, Dawn Bach, Agnes Ciotti, Belicia Cullen, Sharon Dale, Scott Cullen, Larissa Huda, Annette Nuenke, Tammy Kallenbach , Phyllis Masse, Dale Knight, Cynthia Hitchcock, Brendan Abel, Jennifer Rupert, Brian Gallant, Maureen Handy, Linda, Mia W., Don Whiteman, Craig, Ed Hogan, Karen Schlumpf, Ruth Woodhouse, Richard Memmory, Beth Mcmeekin, Shannon Milair, Caryn Schill, Karen Adamakis, Bryan Timko, Bruce Hinterleitner, Jessica Gruhlke, Alex Karr, Jennifer Kaufman, Tim Johansen, Jacquelyn Law, Derek Carty, Gloria Martin, Linda College, Matt Cofone, Pollyanna Buff, Maryann Eckenrode, Heather Young, Leigh Mertz, Ashley Hill, Ken Jackson, Becky Terjung, Louise Barton, Madi M., Jeremy Hardy, James Berry, Kathy Berry, David, Bruce Jones, Katie Bray, Jared Orth, The Perras Family, Elizabeth Howarth, Lauren Thomas, Christopher Barnes, Karen Nelson, Carol Baranowsky, Ashley P., Chris Kelly, Kelly Mager, Laurie , Rob Blundin, Anastasia Macneil, Doug Reichl, Mackenzie D, Vicki Edwards, Jen, Andrea Kruszewski, Elizabeth Macgregor, Debra Kuklinski, Michelle Wilinski, Danielle Aston, Mary Virginia Clause, Mike O'brien, Walter N. Clark, Tim Jeltes, Paul Dickson, Tracey Mayfield, Betsy Silvestri, Jeannine Reid, Amy Filliben, Michelle Thompson, Megan Krainski, Kelly Zanauskas, Jeanette Luce, The Moore Family, Linda Mac, Tracy Discher, Erin Loring, Dennis Loring, Jim Finley, Steven Bowling, Jenny Leek, Luis Rodriguez, Barrie Brewer, Ed Aleszczyk, Becky H, Gareth Richards, Bob Patterson, Leslie Stewart, Nathalie Periard, Jennifer Tremley, Brittany and Jesse Siminitz, Scott Junkin, Kelly Smith, Nicole Duddy, Jeremy Reichelt, Lori Rienhardt, John Dupre, Kerry Mccaffrey, Wendy Faler, Chris Connors, Karrie Duffey, Sherry Trapp, Kristen Mccoy, Carri Marotto, Patty Newton, Michael Kaczanowski, Chris Bauman, John And Tracey Roerty, Diane Ramos, Christopher Hall, Jullie Pudem, Ken Fischler, Mike Gillardi, Ashley M, Regina Allen, Darrell Shortt, Kameo Crea, Chris And Alison, Anthony Lipinski, Erin Hammer, Brian Yesutis, Caroline Burmester, Chuck Sands, Melanie Dunlap, Elaine Johnson, Alan Mize, Carla Nale, David Gould, Kyler S., The Hicks Family, Sarah Holodick, Chloe Brooke, Jennifer Bourg, Mitch Buska, Sandra Edwards, Paul Ignudo, Jr., Brian Grabowski, Michelle Roth-smoot, Jim Logue, Katie Bowling, Katrina Westervelt, Josh Weiss, Caroline Williams, Jennifer Mccurry, Sheila Saey, Patti Deluca, Jamie K, Elaine Kleinhenz, Margot Garofalo, Liz Moreau, Joseph M Zafia, Thomas Auckland, Jason Skow, Ronnie Schreyer, Sarah Smee, Barclay Bakkum, Shirley Garcowski, Maryann Daly, Jason Lenz, Ruth Cookson, Dan Diehm, Roye Ann Morris, John Foggo, Scott Sangston, Pizazz, Eleanor Karwowski, Denise Mudrey, Robert Burge Jr, Shaun Leake, Caitlin Rush, Hillary Waldroop, Carol J, Paula Massarelli, Claire Gregory, and Veronica Monteiro. Each of you are entered in this month's winners' drawing.
__________________________________________________________________________
Challenge #182: Where in the world is this?
Let's stay in the parks for another week: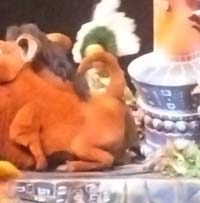 Do you know? Do you have a guess? Please send in your answer, before the end of the day on Thursday, June 23rd, by clicking on the blue box below. Please do not post answers using the Feedback Form link at the bottom of this post. Remember to be specific with your answer – just naming a park will not get you into the drawing.
See you next week, Worlders!


_______________________________________________________________________
Everyone who sends in a correct answer to a Where in the World Challenge this month will be entered in a drawing at the end of the month for some special AllEars® goodies and a cool Disney book!