Following up on my last blog.. today we'll look at the 1976 Magic Kingdom guide which is compliments of GAF. My copy is worn, but you'll be able to see the pages.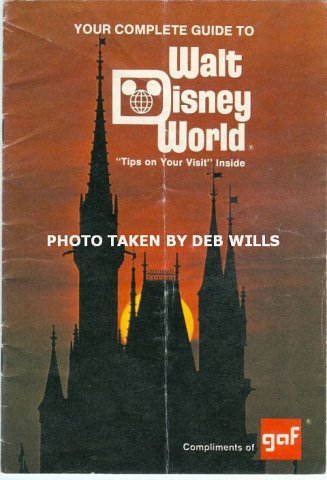 32 pages plus the front and back cover make up this treasure trove of information. Remember back then, no internet, cell phones or much of anything other than print and broadcast media, so the guide had to sell it all.
There is a table of contents (so you can locate the information you want) as well as a page of helpful information. Here are a couple of interesting tidbits from the information page:
** Locker Service – is available for checking purchases and garments — GARMENTS?? Can you image today someone asking to check a garment?
** Travel Service — car-map routing service and information provided, Gulf Hospitality House, Town Square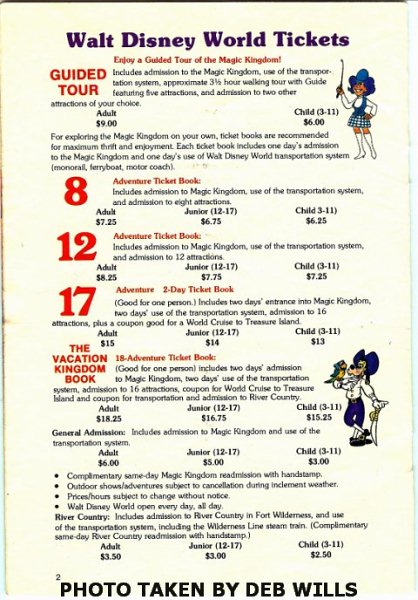 Now we get to see not only what types of tickets were available in 1976 but the cost as well! Attractions were still utilizing lettered tickets A-E.
One bargain was the $9 adult ticket for a guided tour of the Magic Kingdom. You not only got admission ($6) but a 3.5 hour guided walking tour that included 5 attractions plus 2 more of your choice!
Another page offered Tips on Your Visit. It was suggested you visit the following before noon or after 4pm at these popular attractions:
Skyway in Fantasyland/Tomorrowland (D Ticket)
Haunted Mansion in Liberty Square (E Ticket)
Country Bear Jamboree in Frontierland (E Ticket)
20,000 Leagues Under the Sea – Fantasyland (E Ticket)
Grand Prix Raceway in Tomorrowland (C Ticket)
One page is a special guide for guests in wheelchairs. You could rent a wheelchair for $1 per day.
Each land then had it's own page or 2 with a listing of the attractions(short description and ticket value), restaurants and shops. Later versions of the guide would also include a small map of the land as well.
Can you name the "free" attractions from 1976?
According to this pamphlet:
Main Street USA – Walt Disney Story
Frontierland's Diamond Horseshoe Revue
Tomorrowland the Carousel of Progress, If You Had Wings and the Circle-Vision 360.
And what guide wouldn't be complete without lots of photo tips for you to take pictures and buy more film! Look at the way the folks are dressed to visit a theme park! I'll say one thing though, the photo tips really are timeless!
And all this is just the first half of the guidebook!
The center section is a two-page map of the Magic Kingdom. You can see there was plenty of room for expansion. Look at the huge area on the left side where you can now find Splash Mountain and Big Thunder Mountain!
And those blue dots on the map? That's the GAF photo trail – the best locations for taking your still or movie pictures!
You can even find 2 pages called "How Do I Go From Here?" It was a lot simpler back then LOL. The map even showed the Magic Kingdom parking lot sections by "name". Lake Buena Vista was described as " a world of boutiques, country club dining…."
And there there are the Special Attractions!
Yes, the Electric Water Pageant has been around a VERY long time. Folks have been enjoying this simple light and sound show for decades.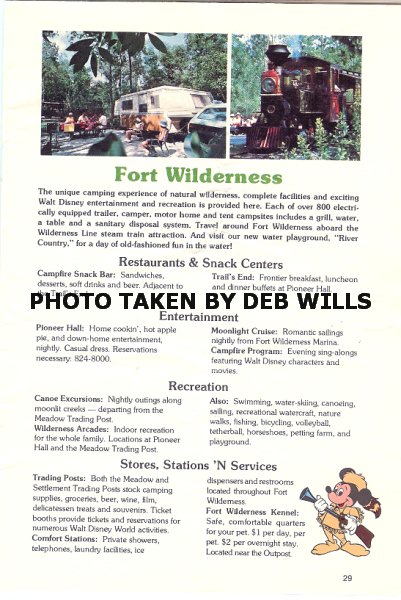 Each resort had its own section too!
You can even see a photo of the short-lived Fort Wilderness Railroad! "Travel around Fort Wilderness aboard the Wilderness Live steam train attraction."
I couldn't resist including the ad for the Shaggy DA movie!
That about concludes our look at the Magic Kingdom Guide for 1976.
Hope you enjoyed the journey back in time.