I'm getting ready for my Adventures by Disney trip to the Southwestern US which begins in less than 2 weeks. As part of that preparation, I've been looking for powdered "sports drinks" to bring with me.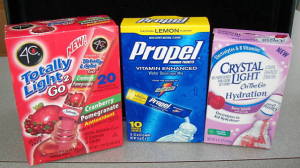 Just what is a "sports drink" anyway and does it really matter?! Ever since I can remember, we were "told" to drink Gatorade to replenish our electrolytes during periods of intense physical activity. When I trained for my 60 mile walks a few years back, we were told it was extremely important to drink sports drinks in addition to water. The reason? Simply put, you don't want heat-related illnesses. These beverages add some electrolytes back into your body.
Properly prepare for your activity and avoid issues with heat exhaustion! Signs of heat-related illness include heavy sweating, paleness, muscle cramps, tiredness or weakness, dizziness or headache, a "sick stomach" feeling or vomiting, and faintness. Untreated, the much more serious heatstroke can come quickly on the heels of heat exhaustion. (More information can be found reading the AllEars "Summer Sun Survival" page)
According to Wikipedia, "Sports drinks are not to be confused with energy drinks. Sports drinks are intended to replenish electrolytes, sugar, water, and other nutrients, and are usually isotonic (containing the same proportions as found in the human body). Energy drinks, on the other hand, simply provide lots of sugar and caffeine." Caffeine, like alcoholic beverages, can cause dehydration so be careful with those!
Drinking sports drinks becomes important when you are exerting yourself in the heat, be it on the trail or even at Walt Disney World!
Walt Disney World sells PowerAde, a Coca-Cola product. One regular size bottle has 30 Carbs! Gatorade is the brand name of another popular sports drink. It has approximately 14 carbs for every 8 ounces.
As a Type I Diabetic, I can't use the regular sports drinks.. way too much sugar. So, in preparation for my Adventures by Disney trip, I have been experimenting with the low or zero carbs sports drink powders that do not contain caffeine! I purchased 3 different ones to try out during my normal exercise workouts. Each powder packet empties into a bottle of water to create the "sports drink". The packets will be easy to carry when out and about — on the trail, or in the parks. They are small and easy to pack.
Here are what I tested:
Totally Light to Go – Cranberry, Pomegranate Antioxidant, sugar free, 0 carbs, 0 calories; sweetened with Splenda. For a 16.9 ounce bottle of water — 20 mg Sodium and 30 mg Potassium. This product is sweetened with Sucralose (think Splenda).
Propel Vitamin Enhanced Water Powder Packets (I had used the pre-mixed bottles before).
Lemon flavored – For a 16ounce bottle of water: 20 calories, 6g carbs, 4g sugars, 60mg Sodium, Niacin, B6 and B12. First ingredient listed: Sucrose.
Crystal Light "On the go Hydration". Crystal Light has several different varieties of the powder packs, so be sure you use the right one for you. I got both the Lightly Lemon and Lightly Raspberry flavors. For a 16ounce bottle of water: 10 calories, 150mg Sodium and 70mg Potassium 0 cards, 0 sugars. It's sweetened with aspartame, which surprised me, as I usually don't like aspartame.
I tried each one a minimum of two times – once during a one hour energetic step class and once during a 50 minute treadmill walk. Granted, this is not very scientific but then, I'm a traveler, not a scientist. Just thought I'd share what I tried and perhaps it will assist you as well.
Deb's Taste Test Results.
My least favorite was the Totally Light 2 Go. If there were other flavors, it might be ok, but this flavor was WAY TOO sweet for me. It might make a nice sugar free mix with club soda and ice for a refreshing summer beverage. But it wasn't my idea of a sports drink. Besides, it had no post exercise effect for me.
My 2nd least favorite turned out to be the Propel, also made by Gatorade. After using the premix bottles for over a year I was quite surprised this one didn't win out. I didn't care for the taste and it didn't help much with my post exercise recovery. I was really disappointed in the Propel website. All glitz and not much information.
Far and away the winner was Crystal Light on the Go Hydration – lemon flavored. I tried the raspberry, but that flavor was too sweet for me. Give me lemon flavoring any day. It not only tasted the best to me, but I felt it helped best with my after exercise recovery.
Each of these has different additives, dyes and what not, so be sure to read the labels carefully if you have allergies or other concerns.
Another thing with the powder packs is that the serving sizes can be screwy so brush up on your math! The serving size on the Totally Light 2 Go was half a packet for 8 ounces of water. Ok, so for 16 ounces of water I'd use a full pack. But wait, my bottle of water is One pint plus 7.7 fluid ounces – ummm. ok, so 16 + 8 = 24 ounces of water… ok 1.5 packs. Now what am I supposed to do with half a pack of powder in the Grand Canyon? (yes, I'll bring a small ziploc baggie).
My plan during the Southwest Adventure is to use the Crystal Light Hydration Lemon every other bottle of fluid, with water being the primary replenishment! If it works well, it will become a regular part of my luggage to Florida, especially during the hotter months.
As with everything, your mileage may vary. If you are under a doctor's care, be sure and check with them before trying any of these powder mixes. Please keep in mind, though, that this article is not meant to take the place of any advice from your doctor or other health care professional.
If you have a favorite NO/LOW SUGAR drink I didn't mention, let me know.