Star Tours – The Adventures Continue Disney's Hollywood Studios Archives
"Star Tours – The Adventures Continue" Officially Opened May 20, 2011
Opening Report
Grand Opening Ceremony Photo Gallery
Attraction Photo Gallery
Lucas: "New ride is sensational – better than expected!"
UPDATE MAY 14, 2011:
Reader Reports on Star Tours – The Adventures Continue!
(Caution: some reports may continue spoilers about the revamped attraction)
Visitors to Disney's Hollywood Studios report that Star Tours – The Adventures Continue is now in a "soft opening" phase, which means that riders are permitted on the ride at random times throughout the day for a "sneak peek" to test the renovated attraction before the official grand opening on May 20. The ride is not guaranteed to be open all day, so you may find it closed when you get there.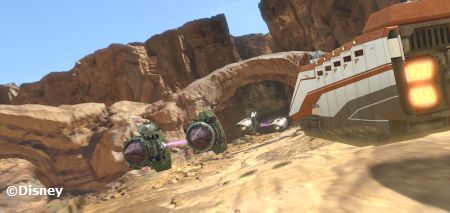 UPDATE APRIL 2011:
Read the Official Press Release HERE.
Additional destinations for the new Star Tours attraction were recently announced, in anticipation of the its upcoming May 20 relaunch at Walt Disney World. Previously, it was revealed that the attraction would take riders to Tatooine for the Boonta Eve Podrace and to Coruscant. Additional destinations include a visit to the planet of Naboo, a tour of the Wookiee planet of Kashyyyk, and a trip to the icy planet Hoth. There will also be a visit to the Death Star, as it hovers above the planet Geonosis. In addition, the new flights depart from a specially created Spaceport. These destinations will be combined in more than 50 different story adventures.
UPDATE FEBRUARY 2011:
Star Tours, which debuted at Walt Disney World Resort in 1989, has been closed for refurbishment since Fall 2010. From its beginning, guests on the attraction embarked on a journey to the Moon of Endor and beyond, with a trainee pilot named REX at the controls of 40-passenger Starspeeder 3000 spacecraft. Now the Star Tours attraction at Disney's Hollywood Studios puts a whole new twist on virtual space travel with Starspeeder 1000 craft — predating the Starspeeder 3000 because the new show depicts an earlier chapter of the Star Wars saga than the original Star Tours did. But fear not: Techno-wizards are equipping passengers on the 1000 with the ability to experience the new adventure in eye-popping 3D — wherever that adventure may take them. The destination is not necessarily what guests expect — unless they expect the unexpected — as C-3PO, a new pilot (by accident) takes the controls for a journey to the "metropolitan" planet Coruscant or to Tatooine (pronounced tætu'in), an arid planet on the "Outer Rim," or to some other planet within Star Wars' mythical universe. Even the outcome of the adventure may change from one "launch" to the next.
Introduction | Attraction | Touring Tips | Kids and Characters
Dining | Shopping | Interesting Facts
INTRODUCTION
Presented by Energizer, this popular flight simulator ride was inspired by the original Star Wars movie trilogy. It's situated on the far side of Disney's Hollywood Studios, beyond Echo Lake, and features R2D2 and C3PO, as well as other familiar Star Wars scenes and characters. Star Tours sends you to the Moon of Endor on anything but a smooth flight!
ATTRACTION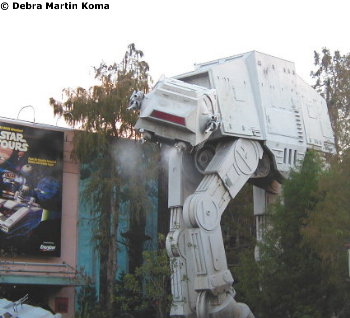 Queue/Pre-Show: The amount of detail in this attraction's queue makes it an attraction in itself! The outside queue winds around an Ewok village (you can even hear Ewoks chanting at night), eventually leading you under the enormous AT-AT walker standing guard at the entrance. Once inside, the premise is that you are walking through the hangar area of the intergalactic travel agency "Star Tours." You'll see familiar characters from the Star Wars films like C3PO and R2D2, while small droids are transported on conveyors, and still other droids perform equipment maintenance under the watchful eye of Admiral Ackbar and friend. You're directed to your transport area, and a few minutes before you board your starspeeder to Endor, a brief but entertaining video on overhead monitors describes the loading procedure and upcoming flight.
Star Tours: Designed by teams from both Disney and George Lucas, your 40-seat flight simulator combines with an action-packed video to send you soaring into hyperspace. Your pilot RX-24, or Captain Rex, a droid on his first solo flight, isn't yet used to his programming, which means that you and the other passengers are treated to more than a bumpy flight in an out-of-control starspeeder! Although the ride lasts only roughly (and we do mean roughly) 10 minutes, you travel past comets and icy asteroids, dodge Imperial fighters, get caught in a Star Destroyer's tractor beam, zoom through the trench of the Death Star, and help to vanquish the evil Empire, all before nearly crash-landing back home in the hangar bay.
Mini-Review: In our opinion, this is one of the best attractions in all of Walt Disney World, from start to finish — even repeated visits don't diminish its appeal! If you like Star Wars and/or thrill rides, put Star Tours on your must-do list!
TOURING TIPS
HIDDEN MICKEY: In the pre-boarding video, look for the second Ewok to enter the Starspeeder – he's clutching a stuffed animal… Mickey Mouse!
Star Tours is a FastPass Attraction. Even with Fastpass, the standby lines for Star Tours can still be pretty long. Try riding first thing in the morning before queues develop, or during the afternoon parade. The line for Star Tours also dwindles shortly before park closing – sometimes it's possible to ride several times consecutively late in the day!
Child Swap is available at this attraction. The usual Child Swap procedure at Star Tours is for one guest to wait with the non-riding child on a bench just outside of the simulator. When the ride is over, the non-rider is taken to the first guest, who exits into the gift shop, while the second guest rides. Be sure, though, to ask a Cast Member for the current procedure.
This ride is part of the Extra Magic Hour program at the park, which allows resort guests entrance to the park one hour earlier and three hours later than normal operating hours on designated days.
We think the roughest ride in the simulator can be had on the ends of the very back row – this also affords the best view of the action on the screen. Based on that, you can request from the Cast Member where you'd like to be seated – if you prefer a smoother ride, ask if you can ride in the middle or toward the front of the simulator. Cast Members usually accommodate you if at all possible.
Be sure you securely stow your belongings under your seat – things will definitely get jostled during this trip!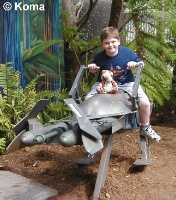 Don't miss the terrific photo opportunity when you exit from Tatooine Traders – immediately across from this shop is a replica of a speeder bike perfect for posing on!
Because the motion simulator can be fairly rough, pregnant women and people with other medical considerations are advised against riding Star Tours.
The Star Tours flight simulator may cause motion sickness. You may need to ride for yourself to judge! If it's not a terribly busy time, Cast Members may allow you to ride without the motion, so that you can at least experience the film.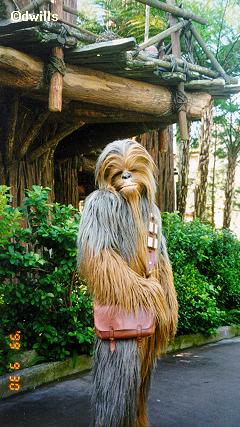 Star Wars Weekends are held annually at Disney's Hollywood Studios. During these special events, Star Wars characters are available for Meet and Greet opportunities. In addition, there are usually appearances by actors from the Star Wars movies. In the past, celebrities such as David Prowse (Darth Vader), Kenny Baker (R2D2), Anthony Daniels (C3PO), and Jeremy Bullock (Boba Fett) have attended, signing autographs and giving interviews.
The height requirement for Star Tours is 40 inches (102 cm). Children under 3 are not permitted to ride; children under 7 must be accompanied by an adult.
Guests using an ECV must transfer to a wheelchair to travel the queue of Star Tours. Guests in wheelchairs must transfer out to ride this attraction.
Reflective Captioning Available. Guest-activated captioning is available at this attraction.
Nearest restrooms are located in the adjacent Backlot Express restaurant.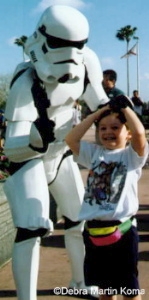 KIDS AND CHARACTERS
Characters from the Star Wars films, such as Stormtroopers, can sometimes be seen milling about outside of the Star Tours attraction. Also, if you have a youngster who would like to become a Jedi and battle Darth Vader, check out the area in front of Star Tours to participate in the Jedi Training Academy. You will also find lots of Disney Characters at a variety of Meet and Greet locations throughout the Studios. Check your Guide Map for times and locations.
Characters at Disney's Hollywood Studios
DINING
Immediately across from Star Tours is the Backlot Express, a counter service restaurant that houses props from many old movies, such as the bicycle from ET, the Extraterrestrial.
Dining at Disney's Hollywood Studios
SHOPPING
There is a gift shop located at the exit of Star Tours called Tatooine Traders, made to resemble the Mos Espa village in Star Wars Episode I: The Phantom Menace. The shop features memorabilia from all Star Wars movies, including t-shirts, toys, books, posters, mugs and stuffed creatures.
Shopping at Disney's Hollywood Studios
INTERESTING FACTS
Star Tours opened in Walt Disney World on December 15, 1989.
The flight simulator used in the StarSpeeder 3000 is the same used by the military to train pilots.
At the end of the film, as your transport comes to a standstill, there is an actor in a control booth that resembles Star Wars creator George Lucas — but in fact it is just a look-alike.
Paul Reubens, best-known as comedian Pee Wee Herman, is believed to voice the droid pilot Rex.
The Star Tours film was made by Lucas' special effects company, Industrial Light and Magic (ILM). The work crews shown in the docking bays and control rooms of the film are supposedly members of the ILM model shop staff.
The boxes circulating over you in the second queue area are all stencilled with letters and numbers, such as "PAD 61257" and "KMS 81850". These stand for the initials and birthdates of Imagineers who worked on the attraction.
While waiting in line at Star Tours, there are several humorous pages announced: 1) one page is for "Egroeg Sacul", which is "George Lucas" spelled backwards; 2) another page is for Mr. Tom Morrow, a pun on the word "tomorrow," which is also used several other places in Disney parks. (For example, on the Tomorrowland Transit Authority in the Magic Kingdom, a feminine voice pages Tom Morrow as you leave the Carousel of Progress area.); 3) a final page calling, "Will the owner of the speeder with the license number THX 1138 please move their vehicle, you are in a no hover zone." THX 1138 is significant in that it's the name of the first movie that George Lucas ever made.
Star Wars fans will recognize the line "I've got a bad feeling about this," uttered by Rex at the beginning of the flight. This line has been used in all 4 of the Star Wars films by various characters as part of a running gag.
If you have comments or tips to share with others about Disney's Hollywood Studios' Star Tours, please email us. Thank you.